'I Didn't Report My Rape Because I Was 7. I Could Be Murdered for This, but I Can't Stay Silent'
When she wrote poems against the occupation, she paid with her freedom. Now that Palestinian-Israeli Dareen Tatour has chosen to speak out about the rapes she was subjected to as a child, she fears she could pay with her life
Dareen Tatour as a child. She expected the story she wrote to trigger an earthquake, but she was disappointed.
Like all inmates, Dareen Tatour had to undergo a body search every time she entered the prison gate. First she would hold out her arms while the female warders, who worked on a rotating basis, swept a metal detector over her, and then she had to disrobe in front of them. The procedure was unbearable for her. Each time, the forced contact released a memory locked deep inside about what she had endured in her childhood. Once, when the memory left her distraught, she told the warder about her experience as a girl and asked her if she could skip the check, swearing to the woman that she was not carrying anything forbidden. The warder hesitated for a moment, then said, "All right, then just raise your blouse and lower your pants." Of course, even that prompted the childhood memory to burst forth painfully.
A few months later, following a hearing, when Tatour was being moved from the courthouse to the prison accompanied by a different warder, something else happened while she was waiting for the body search. This guard whispered to her, "Don't worry, I heard what happened to you when you were a girl and I won't check you." Stunned, Tatour thanked her and vowed that she would never forget that humane gesture. Such small moments of grace, together with incessant writing, kept her going during the three turbulent years of her trial and incarceration on charges of inciting to violence and supporting a terrorist organization.
When she arrived at the prison to begin serving the remaining two months of a five-month sentence (she had already been detained for three months during her trial)Tatour sought out that same kind warder and thanked her again. Not for a moment had she forgotten her and what she had done, Tatour told her. The warder said that she, too, hadn't forgotten Tatour.
Indeed, Dareen Tatour, 36, is not a woman one easily forgets. Above and beyond the charisma and the broad smile, which constantly flickers across her face and slightly narrows her burning green eyes, there's something enthrallingly contradictory about her. She seems so fragile – slightly built almost to an extreme, with awkward movements and body language seemingly articulating a wish to disappear and attract as little attention as possible – but at the same time she projects a solid, tough essence that stems from strength and courage.
'The male occupation and the Israeli occupation thought they would shut me up, but the opposite happened. They gave me more strength.'
Moreover, there is the disparity between the state's view of her – "a terrorist criminal," according to Culture Minister Miri Regev; "dangerous," according to the prosecution in the trial; "an inciter to violence," according to the indictment – and the good-heartedness she displays when one meets her in person, the compassion and love of humanity that she evokes.
The discrepancy between that feeling and her public image seems even more pronounced when I ask her directly, "Tell me, Dareen, do you want Jews to die, to be injured, to suffer? Is that what you tried to achieve in your poems and Facebook posts?"
Taken aback by the question, she grimaces and begins to tremble – as though shaking off the words I have just hurled at her. After she recovers, she asks me if I feel threatened sitting with her alone in a friend's home, where we had agreed to meet. No, I tell her, not for a moment during any of our conversations did I feel even a smidgen of hatred emanating from her or any sense that she was threatening.
"Do you feel that I am capable of hurting you, or the members of your nation, or anyone?" she wonders.
Of course her gentle manner cannot erase the harsh words this Israeli citizen of Arab background has written in some of her poems, among them the one that led to her conviction ("Resist, My People, Resist Them") and the accompanying YouTube clip, in which she reads the poem against a visual background depicting Palestinian violence against soldiers as heroic. Besides the poem, the charge sheet cites two other Facebook posts published by Tatour. In one she wrote, "God is great, Islamic Jihad declares the continuation of the intifada throughout the West Bank and its expansion to all of Palestine. We must begin within the Green Line" – a reference to the pre-1967 border of Israel.
The second contained a photograph of Asra'a Zidan Abed, from Nazareth, who was shot and wounded by police in October 2015 when she drew a knife in the Afula central bus station, with the caption, "I am the next shahid [martyr]." (It later turned out that Abed had wanted to commit suicide but her actions were initially seen as a terrorist attack.) The indictment stated that "the content, the scale of exposure to her [Tatour's] publications and the circumstances of their appearance established a concrete possibility of the perpetration of acts of violence or terrorism."
Still, you shared a post from Islamic Jihad, an organization that has sent suicide bombers to kill civilians, and you called for the expansion of the national struggle into Israel. It's not unreasonable to see that text as a call for bloodshed.
"The police misinterpreted it. I accepted their translation of it [from Arabic into Hebrew], but not the interpretation. I shared a news bulletin from Islamic Jihad, but as soon as they saw the name Islamic Jihad, they immediately thought that I support them. It doesn't mean that I support their activity."
Come on, Dareen. I wouldn't share a post of a Jewish terrorist group, that could never happen. It's not by chance.
"What's the point of my explaining, no one in Israeli society is listening, anyway. Everyone wants to interpret it according to the narrative of the Israeli right wing. The Israelis don't see the occupation, the wall, the suffering of the Palestinian people. And if a poet tries to show that in her poetry, she's an inciter."
Here's your opportunity to explain it in your words, without the mediation of the police or of politicians exploiting your case.
"The post was written in response to a ban on worship at the Al-Aqsa Mosque. I called for resistance to that ban."
Let's talk about this passage in your poem, "Resist, My People, Resist Them": "And I carried the soul in my palm. / For an Arab Palestine / I will not succumb to the 'peaceful solution' / Never lower my flags / Until I evict them from my land" [translation by Tariq al Haydar]. What do you mean by "I will not succumb to the 'peaceful solution'" and "evict them from my land"?
I'm sitting with you, and I am impressed by your sensitivity – but do you understand that a Jew who reads that text literally will conclude that you want him to get out of here and that there's no room for compromise?
"It's odd for me to interpret every word in my poems. Still, by 'peaceful solution,' I meant the Oslo Accords, which didn't actually help the Palestinians. The peace agreement I'm striving for is that of one state for the two peoples, an egalitarian state."
'Forest of wolves'
'I could be murdered at any moment, but I can no longer be silent.'
Dareen Tatour was born in the village of Reineh, near Nazareth, in 1982, one of five children. Her father is a carpenter and her mother, a homemaker. She was an outstanding student. She remembers that growing up, she loved to write poems and stories, to paint, take pictures, and play the oud and the guitar. At the Open University, she initially majored in computer engineering and programming, before switching to media and film studies; she continued to be engaged in writing, painting, photography and playing music. In the past she was proprietor of a shoe store and an administrator of another retail business.
Above and beyond the dry facts, Tatour has undergone two formative traumatic events in her life. The second is her much-publicized trial, which lasted for three years, 97 days of which she spent in detention, in addition to two-and-a-half years under house arrest and two months serving what was left of her sentence in prison.
The first trauma took place over the period when she was between ages of 7 and 12. It began the day an essay she wrote for literature class was applauded by the teacher and won her a special sticker for excellence, which she pasted proudly on her notebook. As she was walking home, excited and joyful, notebook in hand, she ran into a member of the family. He asked her why she was so happy, and after she told him he said he wanted to buy her a present in honor of her achievement.
Suddenly he dragged her into a room in an abandoned building, where he tore off her clothes and started to grope her. When he finished, he turned on the light, held a knife next to her tongue and threatened to slice it open if she revealed anything. This act, which included sexual penetration, was repeated time and again, sometimes on a daily basis. The impact of the systematic rape on Tatour was brutal. She was afraid to go anywhere alone, even to the bathroom at school, in case he was lurking there; for a long time she stopped talking altogether. She maintained constant silence. Her parents told everyone that she was shy, but the truth was more terrible than anyone could have imagined.
She continued to be raped for five years.
"I stopped it when I was 12," Tatour relates now, coiled up on the sofa, staring at the window behind me. "I learned karate and I felt I had a certain strength. One day I hit him and he became frightened. He was afraid of my voice and of my hitting him, and he stopped."
Did you file a complaint against him?
"A few years ago, I consulted with a lawyer about that. She told me, 'You will only suffer more and you won't get anything out of it; there's a statute of limitations and you don't have solid evidence. You're better off not filing a complaint.' I started to think about what I wanted to have happen to him and I realized that I wanted him to be ostracized by society. I wrote a story on Facebook called 'Girl in a Forest of Wolves.'"
This week, Tatour succeeded in accessing her Facebook account for the first time since the police blocked it, three years ago. (Oddly, they left untouched "Resist, My People, Resist Them," and other posts, despite the allegation that they are dangerous and inflammatory.) We scrolled her feed until we came to the story, which she published shortly before her arrest.
The story takes the form of a dialogue between an adult Tatour, and the girl Dareen, as she appears in a childhood photo that was posted beside the text – which she always carries in her purse. At the end of the sad story, Tatour provides Dareen with a few details about the "wolf." She doesn't mention his name, but anyone who's familiar with the specific community probably knows who's meant. Tatour expected the story to trigger an earthquake in her family and village, but to her disappointment most of her relatives and acquaintances went on talking to her as though nothing had happened.
A few hours before she was arrested, the "wolf" passed by beneath her window, cursed her and shouted, "You don't know what you're in for." The fact is that one line of defense presented by Tatour's lawyer, Gaby Lasky, during the trial indeed dealt with the connection between the two cases. The police chose not to respond to that claim.The story of the rape did come up in the many interrogations she underwent as a suspect.
"The police officers who heard it said that an investigator would look into it and that she would then talk to me, but so far I haven't heard a thing from them," says Tatour. An Israel Police spokesperson told Haaretz, in response: "If the accused feels that her allegations from three years ago were not fully dealt with, she is entitled to contact the relevant investigators at any time."
To my question about whether she knows of other women whom the "wolf" attacked, she says, to my surprise, that she herself was able to track down eight more women. For a time she worked as a self-styled investigator, collected clues and interviewed people, and thereby reached the eight women. She is certain that there are more. "I called each of them and told them that I had also gone through it, and I suggested that we go to the police together. They were afraid, so I said that I was willing to be the victim and do everything, to face him, all they had to do was agree to go along with me in the complaint. But each of them has her life, her place, her standing in society. They are so afraid."
Maybe the revelations here will give them courage?
"I hope so. I told them that collectively we have a great deal of strength, but they were still afraid. I understand them, because I know the damage he did to me. The male occupation and the Israeli occupation thought they would shut me up, but the opposite happened. They gave me more strength. My whole life people have been trying to silence me, but I'm fed up with being silent."
Are you worried that he will kill you after he reads this article?
"I could be murdered at any moment, but I can no longer be silent. I want to encourage other women to speak out. I am assuming responsibility, I am speaking out and I know I will be in danger. The state has allowed the real terrorists – the ones who are continuing their terror against women – to remain free. The main thing is they focused on my poem, as if it's the most dangerous thing happening around here."
The sin of writing
'Israelis don't see the occupation, the wall, the suffering of the Palestinian people. If a poet tries to show that in her poetry, she's an inciter.'
Do you follow the #MeToo and #WhyIDidntReport movements? What do you feel about them?
"Every day that I hear a woman talking about it, I am very happy for her and for other women. I'm sure that there are a great many other women, and I know that it will take time until we reach the Arab women – but it will happen. My plan is to establish an NGO to address this issue, to tell them in Arabic 'Ana Kaman' [Me Too]. It's not a matter of Dareen Tatour, but of all the women. I didn't suffer for three years in order to stay silent. I will fight against all the powers that want to impose means of silence on me – occupation, men, family. Arab society kills women, doesn't allow them to get ahead, piles obstacles on them. Of course it's not the entire Arab community, but it's large sections of it. What I saw in prison and heard from women is terrible. Even so, and even though the solution is still very far off, I am optimistic, because just as I started to talk, to break the silence, not to be afraid of anything – other women will do the same in the future."
This is the first time you're speaking about the violent abuse you underwent, with a newspaper, but not the first time your family has heard about it. How did they react when you told them as a child?
"At first they didn't believe me, and like every woman who undergoes rape or sexual abuse, I was both the victim and the one to blame. I was asked how it had happened, how I let him do that to me. My reply was, 'I was 7! I didn't understand what was happening.'"
Describe the moment when you told them. What did they say?
"With your permission, I don't want to talk about it. It was hard, but I won't say any more, to protect my family. You must understand: In Arab society, it's always the woman who's to blame. It makes no difference what men do to women, it will always be their fault. The turning point for some of my family was my arrest; then they understood something, they saw something. But there are many Arab women who believe the rape and abuse they endure are their fault."
How do you think that narrative can be changed?
"First of all by educating our boys."
Last week Tatour's story was told in a play, "I, Dareen Tatour," performed at the Tmuna Theater Festival in Tel Aviv. The work, which was created by the actress Einat Weizman and directed by Nitzan Cohen, had its premiere on Saturday evening not far from the large demonstration by artists against the "culture loyalty bill," which was recently approved by the ministerial committee for legislation. The bill enables the minister of culture, Miri Regev, to deny state funding to institutions whose activity is inconsistent with what she considers loyalty to Israel.
Several theater people who are knowledgeable about the details conjecture that Weizman's play will become the subject of the legislation's first show trial. Regev has already singled out the production in a letter she sent to Finance Minister Moshe Kahlon asking him to deny Tmuna funding because of the play. It wouldn't be the first legal precedent involving Tatour. The trial stemming from her Facebook post was the first to be held under the anti-terror law that took effect in November 2016 and mandates imprisonment for anyone expressing support for terrorism or identification with a terrorist organization.
Weizman wrote the play in the wake of her friendship with Tatour and after reading her diaries and meeting with her frequently during the poet's house arrest. The scene showing the assault on Tatour is difficult to watch, oppressive, fraught, and leaves the viewer cringing with sadness and anger.
"Two types of suppression are apparent in Dareen's story, and in certain ways they echo one another," Weitzman says. "Dareen was punished for trying to expose wrongdoing publicly. By revealing that she was raped, she threatened to break the conspiracy of silence in the surrounding society. Through the post for which she was punished by the State of Israel she also sought to express a forbidden voice, this time against the suppression of Palestinians. Lately we are seeing time and again signs of suppression of every voice that is critical of the occupation and of Israel's abuse of the Palestinians. People are being punished for posts and for being members of nonviolent resistance organizations, and creators are being threatened and deprived of funding because of the opinions they voice. Instead of standing firm, expressing remorse and punishing those who commit the crime, [the authorities] are punishing those who talk about it. It's important for me, and for Dareen, that this double silencing and suppression is given a voice."
Tatour is distressed by the attitude taken toward her during her three-year legal ordeal. It started when policemen entered her home at 4 A.M. on October 11, 2015, with weapons drawn, as though she were a dangerous criminal and not someone whose entire offense consisted of typing words on a computer. The Israel Police stated, when asked for comment by Haaretz: "The accused was arrested in suspicion of inciting to violence and supporting a terrorist organization, amid a concrete suspicion that she was liable to perpetrate a terrorist attack."
They took her to the Nazareth police station and made her stand in the courtyard for two hours, as police officers walked by, calling her, as she recalls, "dirty Arab," "terrorist" and so on. When she was taken inside, she was restrained with handcuffs and leg shackles. The lawyer from the Public Defender's Office who was appointed as her legal counsel advised her to lie, she says, and claim that someone hacked her Facebook account. The attorney told her how another Arab woman from Nazareth who had been accused of incitement via Facebook, had disappeared a few months earlier and no one knew what had become of her.
According to Tatour, the lawyer gave her a real scare, and she indeed decided to deny any connection with the posts. Only after she had appointed private attorney Lasky to defend her, she says, did she realize that she'd made a mistake and should acknowledge being the author of the poem, although to this day she continues to maintain vehemently that the poem was translated wrongly by the prosecution. In its summary, the prosecution maintained that the fact that she changed her testimony about the posts was suspicious: "Someone who is certain of the rightness of his way and in the good faith of his intentions, would admit in a consistent way to the publication of what's attributed to him and explain the underlying intentions," the prosecution wrote.
'The state has allowed the real terrorists – the ones who are continuing their terror against women – to remain free.'
Tatour and Lasky are currently appealing her convictions – for both support of a terror group and incitement to violence – before the Supreme Court.
"The judgment is a crude attempt by the court to interpret poetry the way a contract is interpreted," Lasky tells Haaretz. "Without depth, without the underlying background, as though it were a two-dimensional text with a single meaning, not poetry. Anyone who interprets poetry that way is missing the truth, and when a government puts citizens on trial for poetry, it infringes on the cultural wealth of an entire society. I was disappointed to see how culture was cheapened in an attempt to justify a conviction."
Tatour bestows the dubious title of "the most difficult experience" she underwent during the past three years to the rides in the van that takes inmates from their respective places of incarceration to court and back. The trips are long, as they involve stops at multiple prisons, and the passengers are crowded into the darkened vehicle, their hands and feet shackled. One of the worst rides took place on the day she injured her leg, in December 2017, during the time she was in detention during proceedings.
Her injury had occurred in her cell, where she slept in the upper part of a bunk bed that lacked a ladder. She would get in and out of bed by way of a plastic chair. One day, the chair slipped, and Tatour fell along with it, landing painfully on her left leg.
Twelve hours passed before the warders agreed to take her to a hospital. Again she found herself in the van, and the warder insisted on shackling her feet. Tatour told her that she was in terrible pain and that there was no danger of her being able to escape, considering her condition. The warder nevertheless shackled her good foot to the bench.
Since she was released from prison about six weeks ago, Tatour has been trying to create a new life for herself. She's looking for a job ("Jews don't want to employ me and Arabs are afraid to employ me"), working on the publication of the many poems she wrote in prison – "I was arrested for one poem and came out with 105 poems" – and editing the novel she has written, based on the 305 pages of memoir she wrote about the whole period.
"I need to get used to new people and to a new reality in my life," she says. "The whole family has changed. Everything has changed. Nothing remains as it was – feelings, life. Many friends abandoned me. People are afraid to be with me, because now I'm a 'terrorist.' No one really believes that, but they're afraid anyway. During this period I also met people I never thought I would get to meet – many Jews and Palestinians who helped me along the way, and who are now my best friends. For that I am grateful to the police and to the prosecution, thanks to whom I met them."
You also became famous in the wake of the trial, for good and for ill.
"So many people in Israel and abroad know my poems today after my imprisonment. I get dozens of letters every day from all over the world. When I was allowed to return to the internet [which she was banned from using during the three years of her interrogation, trial and incarceration], I was flabbergasted by the number of emails I received and by how much had been written about me around the world."
I know you're a vegetarian – can you tell me why?
"I've been a vegetarian since I was little. I think animals deserve to live and that we humans can get along without eating them. I can't bear to see an animal suffer and also to think that it's human beings who are making it suffer."
I can imagine the cynical reactions to your vegetarianism: "She wants animals to live, but not Jews."
Tatour becomes serious: "I don't want anyone to die. That's the truth. My intention in the poem was an uprising, to rise up against injustice, against the occupation itself. That's all."
Do you want to raise a family?
"I don't want children as long as we are living this kind of life here. I can't bring another child into the world to suffer. I also can't live with a man after what I went through. At first the family pressed for matchmaking, but I fought against it. It's tough in Arab society, because an unmarried woman is an embarrassment. She's always being looked after, as though the man gives her security and without him she's in danger, even though many times it's the exact opposite. I have good relations with my brothers and I love their children. I would be happy to work with children, but who's going to hire a terrorist to work in a kindergarten?" she says, laughing. "Children actually like me. I connect with them and they connect with me."
What did you think of the judge, Adi Bambilia-Einstein, and of the verdict she delivered?
"If she had a bit of logic and compassion, she could have convicted me without sending me to back prison. She knew how much suffering I endured in those three years and about the childhood incidents. I was surprised that, as a woman, she didn't understand the feelings of another woman who is fighting for freedom of expression and for her personal freedom. There's one thing I will never forget – the judge's smile. From that I learned that she too is imprisoned, even more than I. She imprisoned herself. I believe she did what she didn't want to do. She wanted to free me, but the decision wasn't in her hands. My feeling was that she did something she didn't want to do."
What is responsible for your political consciousness?
"I always wrote political poetry, I wrote about what I felt and about how I saw my people. I too am under occupation, because all my relatives are refugees who can't return to their villages. My grandmother always used to tell me about the conquest of the villages and about how she saw Jews shoot her family in 1948. I feel that, I live that."
What solution do you see? Are you in favor of two states for two nations?
"I am for a state of all its citizens, without difference of religion and race. Palestinians with Jews, Jews with Palestinians. A democratic state. I have poet friends abroad. Before my arrest, one of them, an Egyptian poet, read one of my poems and told me he envied me. I asked him what exactly he was envious of. He replied, 'You can write whatever you feel like, even if you're in Israel and there is an occupation. If I write criticism against my government, I'll go straight to jail.' That's really fortunate, I thought: I can write. We summed up by concluding that despite the bad things in Israel, it's a place where you can write poetry freely. A few weeks later he was free but I had been arrested."
Tatour's trial also dealt with the power of words. The near-philosophical question was raised in court as to what words are capable of fomenting, and whether writing poetic words is a crime. Tatour, asked for her take on this issue, as someone who paid a price for her words, replies assertively now: "I believe in poetry now more than ever. Before the arrest, I wondered whether words can alter reality. In its wake, I feel that the whole world connected with my words. I discovered that this is the most potent force there is. Words are the only means to convey a certain culture to others. Poets are those who convey moments from one place to another, and expose truths. That's what happened in my case. Now the truth has been exposed about Israeli democracy."
Click the alert icon to follow topics:
ICYMI
Ken Burns' Brilliant 'The U.S. and the Holocaust' Has Only One Problem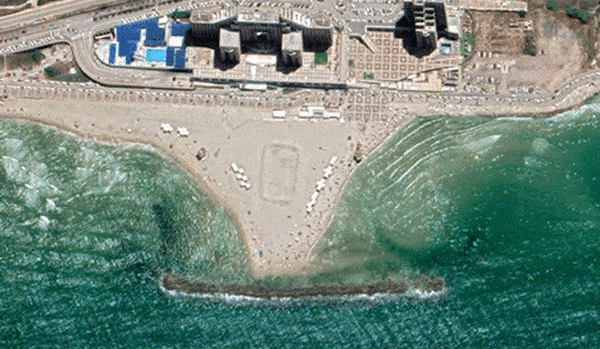 Facing Rapid Rise in Sea Levels, Israel Could Lose Large Parts of Its Coastline by 2050
As Israel Reins in Its Cyberarms Industry, an Ex-intel Officer Is Building a New Empire
How the Queen's Death Changes British Jewry's Most Distinctive Prayer
Chile Community Leaders 'Horrified' by Treatment of Israeli Envoy
Over 120 Countries, but Never Israel: Queen Elizabeth II's Unofficial Boycott