Analysis |
Planting the Seed of Netanyahu's Immunity From Corruption Charges
The seriousness with which top politicians are handling the idea that Netanyahu could be immune from prosecution demonstrates how Israel has gone off the rails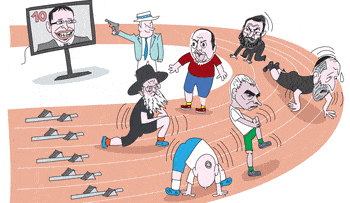 Illustration.
Credit: Amos Biderman
As the week draws to an end – the first full week of work following the extended holiday swoon – the political establishment and those who cover it are still no wiser regarding the date of the next Knesset election.
There is broad consensus among the heads of the coalition parties that the decision has been made. All signs point to February or early March 2019 at the latest. Before a decision by the attorney general on indictments in the corruption cases involving the prime minister, but after the appointments of both a new Israel Defense Forces chief of staff and a police commander, and following the imminent round of municipal elections. The coalition partners don't believe Prime Minister Benjamin Netanyahu, who said at the beginning of the week that he still has not made up his mind. So he said it. Big deal.
At the moment, the lack of clarity serves his interests. He's waiting for a decision by Agudat Yisrael's Council of Torah Sages, which will convene on Sunday to consider its position on legislation calling for the conscription of draft-age ultra-Orthodox men.
Netanyahu – prime minister and chairman of Likud – is already campaigning, albeit at low intensity. Nearly every evening, he shows up in some city at a gathering in support of candidates for local elections from his party. Midweek, he even made it to Tel Aviv, where Likud is not fielding a candidate for mayor, although it does have a city council slate, headed by longtime politico Arnon Giladi. The prime minister's attendance at an event in support of a city council slate is very rare, yet this week alone, he also was sighted in Netivot, Beit Dagan, Beit She'an and Safed.
And then, of course, there was the semi-spontaneous news conference Netanyahu held at the Prime Minister's Office, whose main importance was the fact that it took place, considering how rarely he gives press conferences. This was the first time that children who are already in kindergarten had the privilege of being able to see or hear Benjamin Netanyahu answer questions, in Hebrew.
His semi-divine advent was colored with conduct that bordered on the passive-aggressive. Any psychologist, whether in private practice or public service, could have easily diagnosed the following symptoms: grousing, defensiveness in the face of an anticipated attack (which didn't come), sarcasm, baseless accusations and general bitterness.
"Oh please," he came down surprisingly on the few financial reporters who bothered to come and hear him and Finance Minister Moshe Kahlon present their candidate for governor of the Bank of Israel. "You're always complaining that you don't get answers. So now I'm ready to answer any question you want to ask, all of your digs, all of your jabs…. Call your editors, and tell them to feed you embarrassing questions."
Reporters who accompanied the premier on his journey to the UN General Assembly attributed his turnaround to an epiphany he had following a long news conference held by his pal Donald Trump. For that, of course, he didn't need to make the long trip to Manhattan.
Trump, whose attitude toward the media, like that of Netanyahu, is rife with scorn, resentment and deep suspicion, is a serial granter of interviews. Every day and sometimes even more frequently, he responds to questions: at news conferences of his own or in the company of a foreign leader, on the White House lawn with the presidential helicopter whirring in the background, behind his impressive desk in the Oval Office, or at photo-ops during cabinet meetings.
His patience is limitless. He always relishes questions from those whom he says come from the "unfair media," "the enemies of the people" and producers of "fake news," and he always comes out the winner in those skirmishes. But why wouldn't he, actually? His remarks end up being quoted in the headlines. He gets all the airtime he could want – and also the last word. His message gets out and eventually sinks in. It's his remarks that get broadcast repeatedly and that set the agenda.
However, for some reason, in recent years, Netanyahu has adopted a childish approach of boycotting the press. He's angry at the media, and has in its place found comfort in the social media and in photo-ops where reporters are not permitted to ask him questions. With the beginning of the election campaign, that apparently is about to change. Soon, we won't be able to get our fill of him.
'It's tough, it's tough'
On Sunday, the heads of the coalition parties, minus United Torah Judaism's Yaakov Litzman and Avigdor Lieberman of Yisrael Beiteinu, gathered in the conference room at the Prime Minister's Office. They had already heard that Netanyahu had told Likud cabinet ministers that a decision on the date for the next election had not yet been made.
Usually, or always at such meetings, Netanyahu would have assumed the role of responsible adult, and defused any political land mines. He would have highlighted his fervent wish to see the current government, "the best there could be," serve out its term. He would have implored his partners to be patient in airing their differences of opinion and to settle their disputes. Frequently he would have his fixer, Tourism Minister Yariv Levin, delve into the nitty-gritty of the disagreement of the day and expedite the process of finding a remedy for it.
But this time, Netanyahu switched roles. Instead of clearing away the obstacles, he appeared to be trying to compound them. "I haven't yet decided about the election," he said at the outset of the meeting with the coalition leaders. "We have a problem with the conscription bill. I am waiting to hear what is decided there," referring to Agudat Yisrael. The prime minister's face expressed an artificial expression of defeat and powerlessness.
Naftali Bennett (Habayit Hayehudi) and Arye Dery (Shas) and Knesset Finance Committee Chairman Moshe Gafni (of UTJ's Degel Hatorah faction), well-known opponents of an early election, each in turn responded that solutions could be found, that there was a way out, that every effort simply had to be marshaled. "It's tough, it's tough," Netanyahu sighed. "And there's the conversion bill too, where we also have a problem" (at the Justice Ministry they say that issue too can be resolved).
Those who were present departed with the sense that this was it, that the party really was over. When the prime minister says he has not decided whether to move up an election, and when he exacerbates problems rather than trying to contain them, he leaves them no choice than to begin scheduling meetings with political consultants, pollsters, screenwriters and directors. Lieberman and Litzman (and the latter's Torah sages) have no interest in compromising and accommodating one another if the potential concessions don't result in the current government living out its term. When elections are in the offing, it's time to refine political positions not soften them.
It was in that context this week that an idiotic proposal was raised that an incumbent prime minister be allowed to evade criminal proceedings through recourse to parliamentary immunity.
According to Israel Television News Company reporter Amit Segal, certain political figures have uncovered this treasure in the statute books. It permits a potential defendant to ask the Knesset House Committee to grant him immunity from prosecution on the grounds that the charges were not drawn up in good faith or were filed in a discriminatory manner. If the committee backs such a request, it then goes to the full Knesset. Then with one quick vote, it's a done deal. After all, that's really what's required. Would that reflect any less good faith than the way the police and outgoing police chief Roni Alsheich have conducted themselves? They're the ones who have engaged in persecution and distortion and leaks and exaggeration in targeting their suspect. Their investigations are invalid, and they should be relegated to the garbage, better yet, the incinerator.
And what could more discriminatory than a future decision by Attorney General Avichai Mendelblit to indict this persecuted victim over such trifling matters as some small gifts and fruitless chatter between a politician and a newspaper publisher, when the current opposition leader Tzipi Livni and 42-plus other Knesset members voted in favor of a bill that would have constrained the Israel Hayom daily and somehow were never brought to justice?
What the prime minister and those serving him in the Knesset did in the current term to the police commissioner, Netanyahu and his colleagues plan to do during the next Knesset term to the attorney general. The basis for the "discrimination" claim is already being created.
The seriousness with which senior politicians, cabinet ministers and others have related to the idea only demonstrates how the State of Israel has gone off the rails during the Netanyahu era. That the idea that a prime minister against whom a bribery indictment is pending could continue to remain in office after charges are brought, as if it were a traffic violation, is perceived not as totally crazy and morally bankrupt, but rather as a legitimate scenario, is outrageous.
The suspect in question waited very patiently at his news conference until one of the reporters was kind enough to ask if the prime minister intended to resort to the immunity option if an indictment is filed against him. "I don't think an indictment will be filed," Netanyahu said, adding, "in any event, as the [comedy team] Hagashah Hahiver says, 'I haven't had the opportunity to consider it.'" With that, he sighed with relief and ended the conference.
It's both strategy and tactic at the same time: Keep the idiocy alive and talk about it ad nauseam, so as to get the public used to the idea. In another year, year and a quarter, it will already be deeply rooted in the public's consciousness.
And then there is a second Likud narrative, one that depicts Netanyahu during the campaign as the savior of the people, the redeemer of Zionism, the Messiah himself, someone without whom the country wouldn't continue to exist. And that's why Netanyahu needs 35 to 40 seats for his Likud faction in the next Knesset, certainly no fewer than the 30 it has now.
For his part, Kulanu party leader Moshe Kahlon, the finance minister, said again this week that a decision on an indictment following a hearing would spell the end of the Netanyahu era, that the premier could not remain in office. "Let's see how he talks," said one coalition colleague of Kahlon's, "when Bibi has 35 seats and he has seven."
A double threshold
After the holidays, according to a number of knowledgeable sources, Netanyahu sought to make one more attempt to further his goal of lowering the electoral threshold in the next election. The proposal, which would lower the minimum percentage of the vote that parties need for representation in the Knesset, was already dead in the water, for all intents and purposes, but Netanyahu was adamant. It was important to him.
For an entire Knesset term he had lamented how the roughly 100,000 votes that his friend Eli Yishai's Yachad faction received in the 2015 election went to waste because the party didn't pass the threshold. Yachad – which ran on a joint slate with the extreme-right Otzma Yehudit party, whose members include followers of the late Meir Kahane – had attracted just 3 percent of the vote, a quarter of a percentage point under the minimum required, which, if it had been reached, would have translated into four Knesset seats.
Netanyahu wants to lower the threshold to 2.75 percent, which would make the smallest possible Knesset faction three seats. He has faced a wall of opposition from three of his coalition partners. Naftali Bennett of Habayit Hayehudi has no interest in making things easier for his own faction colleague, Uri Ariel, to strike out on his own in the next election. The same holds true for Yaakov Litzman of the Agudat Yisrael faction of the UTJ party, vis-à-vis Moshe Gafni, head of that party's Degel Hatorah faction. And Shas' Arye Dery is determined to make things difficult for Yishai, his mythological predecessor and arch-enemy, with regard to election prospects in the next Knesset. (Yishai broke off from Shas when Dery replaced him as party chairman in 2014.)
On several occasions, Netanyahu has tried speaking to the hearts of his coalition partners, including Dery, who told him: "Are you counting on Eli Yishai's votes? On three lost seats? What if we were to bring in Yishai?"
Netanyahu's ears pricked up hopefully, but Dery quickly brought him back to reality. "I have no such intention, but what if I did? How many votes would he attract? 10,000? 15,000? 20,000 at most. What will that get us? Another seat?"
"And what if we really lower the threshold?" Dery asked. "Gafni will run separately from Litzman, Ariel will run without Bennett. If they make it past the hurdle that has been specially lowered for them, then what do you have? Splinters of parties, Kahanists in the coalition, Litzman and Gafni apart, Bennett and Ariel separate. At every meeting of the coalition party heads, you'll have to maneuver among all of them. It will be a mess, chaos. You won't get any work done. Stability won't result from this."
Dery's original thesis may or may not have convinced the prime minister. Either way, when the Knesset reconvenes on Monday, it's doubtful that the idea will still be a subject of discussion.
Netanyahu will have no alternative to crossing his fingers over Yishai's electoral prospects this time around. In the 2015 election, the premier injected himself into the bitter rivalry between Yishai and Dery in an attempt to help the former. Dery forgave but didn't forget. In the next round, Netanyahu will be less active in stirring up the ultra-Orthodox-Mizrahi pot – unless he just can't restrain himself.
Click the alert icon to follow topics:
ICYMI
'There Are Similarities Between the Hasidic Community and Pornography'
'RRR': If Cocaine Were a Movie, It Would Look Like This
Yair Lapid's Journey: From Late-night Host to Israel's Next Prime Minister
Lake Kinneret as You've Never Experienced It Before
Roe v. Wade: The Supreme Court Leaves a Barely United States
Yair Lapid Is the Most Israeli of All