What Netflix's Thriller 'The Angel' Gets Wrong About the Mossad and Its Top Spy
In recounting the life of alleged Mossad agent Ashraf Marwan, Ariel Vromen's disappointing film leaves the most interesting parts of the story off screen
Marwan Kenzari and Hannah Ware in "The Angel." Oh behave.
Credit: Nick Briggs / Netflix
The Mossad must be Israel's most high-profile export after Bar Refaeli. Its long arms extend everywhere (the "Institute's," not the supermodel's). And judging by the number of dramas about it on Netflix, business is clearly, well, booming.
It must be the only espionage agency that needs its own talent agent.
Next year, for example, Sacha Baron Cohen will play the Mossad's most famous agent, Eli Cohen (aka "Our man in Damascus"), in a six-part drama titled "The Spy." "Operation Finale" – about the abduction of Nazi war criminal Adolf Eichmann from Argentina to Israel – reaches Netflix in October. And "The Angel," Israeli director Ariel Vromen's film about Israel's most contentious asset, just dropped on the streaming website.
Much ink has been spilled in Israel over the years about Ashraf Marwan. He was the Egyptian diplomat widely credited with tipping Israel off about the pending attack by Egypt and Syria in October 1973 – which kick-started the 20-day bloodbath that became known as the Yom Kippur War.
And Marwan wasn't just any asset. He was the son-in-law of Egyptian President Gamal Abdel Nasser (who ruled the country from 1956 until his death in September 1970), and a confidant of his successor, President Anwar Sadat. Not that Nasser welcomed this tennis-loving chemistry graduate with open arms when Marwan met and fell in love with his daughter, Mona, in the mid-1960s.
Indeed, "The Angel" is on pretty safe ground when it suggests that Nasser's harsh treatment of his son-in-law was one of the reasons Marwan eventually became a Mossad asset.
Marwan had an eventful life, and death. He famously perished "in mysterious circumstances" in 2007 – after falling from the fourth-story balcony of his central London apartment, just three weeks after an Israeli court had confirmed him as the Egyptian secret agent feeding information to Israel in the 1970s.
Part of his mystique is that he never officially went on the record about his actions – and would you if you didn't live on the ground floor? Further, there is no consensus on whether he was actually a double agent working for both Egyptian intelligence and the Israelis, or just the Israelis. The film has its own bizarro theory, which we'll get to later.
"The Angel" declares at the outset that it's based on a true story (adapted from Uri Bar-Joseph's nonfiction book "The Angel: The Egyptian Spy Who Saved Israel"), but immediately plays fast and loose with the truth.
It opens in September 1973 with Marwan (played by Dutch actor Marwan Kenzari) using his diplomatic immunity to smuggle anti-aircraft missiles into Italy, to members of the Black September terrorist movement. So far, so true: Marwan did, with Israel's knowledge, get weaponry to the terrorists, who were planning to blow up an El Al Boeing 747 taking off from Rome International Airport in a revenge attack. (Israel had recently blown a Libyan airliner out of the skies over Sinai, mistakenly believing it was about to attack the country.)
Marwan is seen with the Palestinian terrorists as they stand next to the runway, getting the aircraft in their sights. But what actually happened suggests the truth was far stranger than this fiction.
When the real terrorists received the missiles and launchers from Marwan, they didn't have a vehicle in which to transport them to their apartment (which is where they were apprehended by the Italian police, before any such attack could take place). So instead, they improvised by wrapping them in freshly bought rugs and brazenly taking them home via Rome's subway system.
That's probably the kind of detail you would find in a TV series. But when you're trying to condense the story of one of Israel's most famous spies into less than two hours, it's a detail that has to be sacrificed.
And that's the biggest problem here: The film can only scratch the surface of this amazing story, and by doing so actually makes it seem much less remarkable than it really is.
Caesar without the Ides of March
Why Netflix decided to go down the film route rather than a four- or six-part thriller is almost as big a mystery as Marwan himself. Here is a rich, dramatic storyline that literally contains war and peace, high-level betrayal, the fall of a government and the assassination of an Arab leader. But rather than that, we get this superficial recreation of a super-spy's not-so-super formative adventures (and not that adventurous, come to that).
To recount the story without showing how the Angel's intel on the looming Egyptian invasion in 1973 sparked the biggest scandal in Israeli military history, leading to an official inquiry, and later how a disgruntled Israeli intelligence veteran "outed" Marwan as a spy, is akin to concluding the story of Julius Caesar on March 14.
"The Angel" – the film's title comes from Marwan's Mossad code name, which was itself taken from the Israeli name for the '60s British TV show "The Saint," with Roger Moore – presents Marwan as a rather anodyne figure.
Yet this portrayal is at odds with the one in Bar-Joseph's book, which stresses the Egyptian's charisma, good nature and sense of humor. It's as if all of Marwan's distinguishing features have been removed for fear of recognition.
Marwan's wife (played by Israeli actor Maisa Abd Elhadi) gets short shrift from David Arata's pedestrian script, the film preferring instead to focus on the relationship between Marwan and his Mossad handler in London. The latter is a rookie Canadian agent called Danny (an Arab-speaking Israeli called Dubi in real life), played by Brit actor Toby Kebbell – who, like Kenzari, struggles to make much of an impression here.
By all accounts, the two spies struck up a good working relationship in real life, but again that's relatively undeveloped here. Instead, we get some uninvolving spy games in which Marwan is followed across London by both suspicious Mossad agents and Egyptians working at the behest of a disgraced former Egyptian minister who (wisely, as it turns out) doesn't trust him. I've encountered more tension in the line at my local post office.
Worse, Marwan is occasionally assisted in his efforts by a glamorous young Brit called Diana Ellis (Hannah Ware), who seems to have escaped from the set of "Austin Powers: International Man of Mystery" in a red convertible. Oh behave, as Mike Myers might say.
"If you're going to play like you're James Bond, you have to go all the way," Diana tells Marwan at one point – and it's advice the film itself might have done well to follow.
Either that or stay totally true to the facts and stop with the embellishments (which would definitely rule out the film's depiction of how the Mossad blackmails Marwan into working for Israel, when he was actually a "walk-in" asset at the Israeli Embassy in London).
The film lacks the depth of a John le Carré spy tale or the trashy fun of a Robert Ludlum caper. What we get instead is a thriller without thrills and a drama where all of the real action takes place off-screen.
"The Angel" wants us to believe that, through his clandestine actions, Marwan was actually striving independently for peace between Egypt and Israel, and his efforts were intended to ward off war.
Yet this glosses over the fact that the Mossad allegedly paid him some $3 million for his services over the years, at $100,000 per piece of intel (according to Michael Bar-Zohar and Nissim Mishal's book "Mossad: The Greatest Missions of the Israeli Secret Service") – and that he later used some of this to launch a very successful, albeit shady, business venture in London.
The film prefers this reading to the idea that Marwan was a double agent actively following Egyptian orders (one strange scene sees a chemistry lecturer outlining the difficulties of being a double agent, citing "Garbo" as a rare example of where it worked – referring to the British spy who successfully misled the Germans about the Normandy landing in June 1944).
As further evidence of Marwan's supposed motives, the film shows him reading "The Boy Who Cried Wolf" to his young son – the suggestion being that he deliberately fed the Israelis two false reports about a pending war (one of which apparently cost Israel some $34 million after it mobilized its reserves), so they wouldn't believe him when he warned for a third time about the real attack.
The argument is that Marwan believed Israel would only come to the negotiating table if it were in a weaker position than after the wars in 1949 or 1967. Much as the theory itself makes sense, that's a stretch that even Mr. Fantastic might struggle with.
Let's hope someone eventually attempts to tell the full story of Ashraf Marwan – always remembering that when it comes to the Angel, the devil is in the detail.
Click the alert icon to follow topics:
ICYMI
Ken Burns' Brilliant 'The U.S. and the Holocaust' Has Only One Problem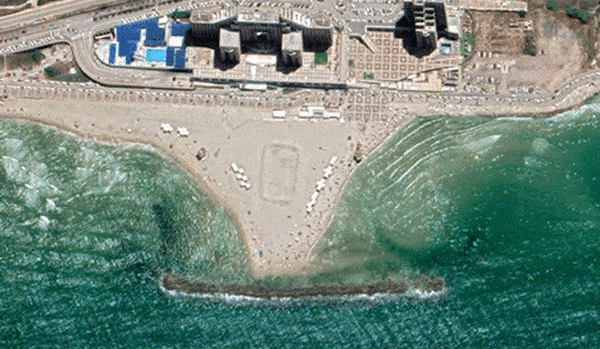 Facing Rapid Rise in Sea Levels, Israel Could Lose Large Parts of Its Coastline by 2050
As Israel Reins in Its Cyberarms Industry, an Ex-intel Officer Is Building a New Empire
How the Queen's Death Changes British Jewry's Most Distinctive Prayer
Chile Community Leaders 'Horrified' by Treatment of Israeli Envoy
Over 120 Countries, but Never Israel: Queen Elizabeth II's Unofficial Boycott