This Was Bibi's Best Year Ever. Next Year Could Be His Worst
The Jewish year ends with Netanyahu in his strongest position ever on the international stage and reigning supreme at home. But looming indictments might still bring his empire crashing down
Prime Minister Benjaim Netanyahu addressing a cybersecurity conference in Tel Aviv, June 2018.
Credit: Tomer Appelbaum
It's easy to select the best two days for Prime Minister Benjamin Netanyahu in the year 5778. More accurately, the best 53 hours of Bibi's year: The time that elapsed from when, on May 8, President Donald Trump stood up in the White House and announced that the United States would be pulling out of the nuclear deal with Iran, to the Israel Air Force operation in Syria against Iranian bases in the early hours of May 10.
Those weren't just the best hours of Netanyahu's year – they were almost certainly the pinnacle of his long career. In the space of just two days, the president of the United States had officially and publicly accepted the Netanyahu doctrine on Iran. Then Netanyahu flew to Moscow as guest of honor of President Vladimir Putin at Russia's Victory Day Parade, and flew back in time to green light the retaliation attack for the failed attempt by Iran to launch missiles against Israeli positions on the Golan Heights.
It was a clear exhibition of the unique position Netanyahu found himself in this year, as the only leader capable of working closely with both the blustery Trump and inscrutable Putin.
Both had given Netanyahu what he wanted against his sworn enemy, Iran. Trump had torn up the hated Iran deal signed by his predecessor, Barack Obama, and put Iran under renewed, severe economic pressure. Putin, who controls the skies over Syria, allowed Israel free rein to attack his Iranian allies there.
No matter the fact that many Israeli security officials prefer the imperfect Iran deal to any of the alternatives or that Iran is still entrenched in Syria, the level of coordination he has achieved with Washington and Moscow is unprecedented for any Israeli leader. Any international leader, come to that.
But the first half of 5778 had been much less encouraging for Netanyahu. The year had begun with increasing legal pressure, as the Israel Police stepped up their investigations into a lengthening list of corruption allegations against the premier. This included potentially the most damaging of all allegations: That the prime minister had been part of a conspiracy, with his personal attorneys, to influence deals worth billions of euros to purchase submarines and missile boats from a German industrial group.
Just two weeks before last year's Rosh Hashanah, Attorney General Avichai Mendelblit had announced his decision to indict Sara Netanyahu on suspicion of defrauding the state by ordering catered food for private meals at the prime minister's residence.
The attorney general soon cleared the prime minister of any involvement in the so-called submarines affair. However, together with police chief Roni Alsheich – who in February recommended indicting Netanyahu for bribery in two earlier police probes, cases 1000 and 2000 – he was planning yet another investigation.
At the end of February came two dramatic weeks in which the allegations of Case 4000 were made public. These stated that Netanyahu had demanded, and received, favorable coverage on the Walla website in return for regulatory decisions worth hundreds of millions of shekels for Shaul Elovitch, the owner of Walla and telecommunications giant Bezeq. At the center of the investigation was the testimony of two state witnesses – key members of Netanyahu's inner circle.
Shlomo Filber, the Communications Ministry's director general and Netanyahu's former campaign director, signing a state-witness agreement was a bombshell. After all, Filber had been one of Netanyahu's most faithful acolytes for over a decade. But when news came 13 days later that Netanyahu's spin doctor, Nir Hefetz, had also signed an agreement, and just hours before Netanyahu was due to meet with Trump in Washington, the shock was even deeper. Hefetz possessed dozens of hours of recordings he had secretly made in the Prime Minister's Office.
For weeks, each new day brought with it more explosive details and stark warnings from senior ministers that one more revelation and Netanyahu would be forced to resign.
But Netanyahu seemed imperturbable. When it was leaked that Hefetz had claimed Sara Netanyahu and son Yair had influenced a key decision on security matters, against the opinion of defense chiefs, Netanyahu responded in a statement that the only security matter Hefetz had been privy to was the condition of the family's late dog, Kaya.
Netanyahu, as he does, just brazened it out. With a bit of help from his friend Trump. It was a war of attrition between Netanyahu, the police and the media. Six months on, Netanyahu has won.
If the recent polls are anything to go by, Likud has never done better under him, receiving as many as 35 seats in the next Knesset. Most of the votes are coming from his traditional right-wing base, but deeper polling indicates that even some centrists who previously rejected Bibi are now planning to vote Likud – simply because they don't see anyone of his international stature and experience in any of the other parties.
An incredible phenomenon has developed in recent months. The investigations against Netanyahu are entering their final stages and indictments are almost certainly just a few months away. But that is all happening in narrow legal channels and having absolutely no effect on the public and political atmosphere. For all intents and purposes, the election that will have to be held at some point in 5779 has already been won by Netanyahu.
In public, the leaders of the main opposition parties – Zionist Union's Avi Gabbay and Yesh Atid's Yair Lapid – are going through the motions, promising they will form the next government. Those speaking to them privately are hearing very different things. In an interview on Monday, Gabbay seemed to be conceding already when he accused Lapid of planning to sit in Netanyahu's next government.
The opposition has given up even trying to attack Netanyahu over the corruption allegations. Lapid's campaign, which is already taking shape, will focus on the need to wrest control of the government coalition away from the ultra-Orthodox parties (Shas, United Torah Judaism). Zionist Union, meanwhile, will try to broadcast messages of mainstream values, with a campaign based on the Declaration of Independence.
How can they attack Netanyahu after a year in which just about every major issue worked for him? A year in which the U.S. administration not only abandoned the Iran deal, but moved its embassy from Tel Aviv to Jerusalem and ended U.S. funding for Palestinian refugees. A year in which European pressure on Israel was effectively neutralized by Netanyahu's populist right-wing allies in the European Union. When the Palestinians lost nearly all their diplomatic influence and attempts by Hamas to ignite the Gaza border fizzled out. When Israel had the discreet backing of the major Arab regimes in Egypt and Saudi Arabia.
Sure, the opposition can point to rising housing prices and more pressure on the middle class. But Netanyahu has cleverly shifted the blame for that to his coalition rival – finance minister and Kulanu leader Moshe Kahlon. Besides, in a year when Israel achieved a AA- credit rating for the first time ever (after enjoying a decade of uninterrupted growth), record exports and lowest rates of unemployment and inflation, criticism of the prime minister over his economic record rings hollow.
They can, and probably will, attack him for splitting Israeli society over the nation-state law. But the problem is that the split serves Netanyahu by safeguarding his nationalist base more than it works in the opposition's favor.
This was Netanyahu's best year because it ends with him in his strongest position ever on the international stage and reigning supreme at home.
As long as Trump is in the White House and Putin in the Kremlin, the Europeans are gripped by internal angst and the Palestinians paralyzed by the division between Fatah in the West Bank and Hamas in Gaza, Netanyahu can focus on the Iranian threat.
And as long there is no rival in sight on the political scene – and none emerged in 5778 – his only worry is the indictments, which, when they arrive, will drag Israeli politics into unchartered territory.
Israel has never had a prime minister serving under indictment, forced to plead his case before the attorney general in pretrial hearings and then in court. He will suddenly become much more vulnerable, at the mercy of both the High Court of Justice – which will hear petitions on the constitutionality of his remaining in office – and his coalition partners, who may decide to call time on the embattled prime minister.
Unlike his friend Trump, Netanyahu may have succeeded in neutralizing the public effect of his investigations. But an Israeli prime minister, unlike a U.S. president, can easily be deposed. There is no need for lengthy impeachment hearings. All it will take is 61 Knesset members agreeing to vote in favor of an alternative prime minister.
The year 5779, when the indictments arrive, could become a hellish one for Netanyahu. But at least over the Rosh Hashanah holiday, as he relaxes by the pool in his Caesarea villa, Bibi can reflect on his best year ever.
Click the alert icon to follow topics:
ICYMI
Ken Burns' Brilliant 'The U.S. and the Holocaust' Has Only One Problem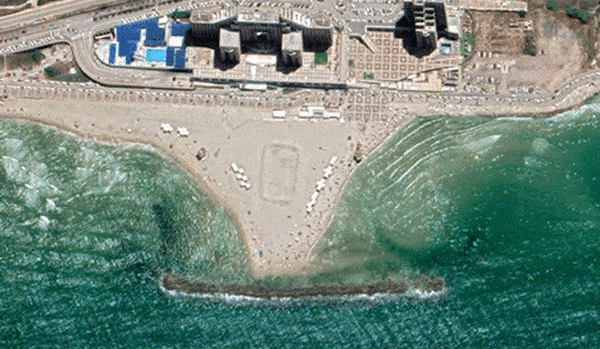 Facing Rapid Rise in Sea Levels, Israel Could Lose Large Parts of Its Coastline by 2050
As Israel Reins in Its Cyberarms Industry, an Ex-intel Officer Is Building a New Empire
How the Queen's Death Changes British Jewry's Most Distinctive Prayer
Chile Community Leaders 'Horrified' by Treatment of Israeli Envoy
Over 120 Countries, but Never Israel: Queen Elizabeth II's Unofficial Boycott