Nudists, Fishermen and Tranquility: A Trip Along Israel's Unregulated Beaches
Especially along the Mediterranean coast, it's hard to find a stretch of beach that isn't regulated or fenced off. We did
We began our sojourn along Israel's unofficial beaches at the nonexistent estuary of the Betzet stream. Along a path made of bits of plastic, we met fishermen, bathers, people looking for solitude and other late-August vacationers.
Israel is a very crowded country and its landscape has become increasingly policed and regulated: Open spaces have become parks, dirt roads have become highways, fences and warning signs have sprung up everywhere. For better or worse, the unofficial or "undeclared" beaches are about the last places left that retain a type of free, equal and unregulated access. The only noise we heard along the way, as long as no one decided to blare some music, was the sound of the waves.
The unofficial beaches are a refuge for fishermen, for jet-ski riders, for campers in trailers, for people who set up "zula" shelters, for weed smokers. But they are also the most dangerous beaches, where a majority of the drownings in Israel occur. Just last week, three people drowned at unofficial beaches.
Betzet: Olim from Texas
Maybe it was the rough sea or maybe the heat, but last Wednesday afternoon, Betzet Beach was surprisingly empty. The three Dan children from Beit Shemesh were practically the only ones there. They are new immigrants from Texas ("we decided to come for a year and check it out," says mom Marnie). A few hundred meters south we meet the Cohen-Aloros of Moshav Shokeda, in the south.
"Every year we take a trip north for a few days," says Ro'i, "and this year it's emptier than ever. Everyone's in Romania or Georgia. It's easy to see why — everything's more expensive here."
Yossi Ben-Shoshan, an affable fisherman from Acre, stands on the breakwater, reeling in another rabbitfish every few minutes. "If you get stung, your finger goes numb for 15 minutes, but they're delicious fried," he says. At the northern end of the beach, fishing is banned in an effort to repopulate the sea. In other sections, there are restrictions regarding the length of the rod that can be used and the size of fish caught. Like every fisherman we'll meet along the way, Ben-Shoshan has noticed the dwindling number of fish and speaks wistfully of the good old days. Unlike many other fishermen, he supports the limits that have been placed on fishing. "It's good that they created the nature reserve. Maybe the fish will come back."
Acre: Not a single fish
Thirteen kilometers to the south and we're standing on the Acre wall, pondering the spectacle of the kids who leap from the wall into the sea — a test of courage familiar to anyone who has visited the city. "The first time I jumped I was 5 years old. Now I'm 35," said one local who declined to give his name.
"A boy who doesn't jump is not from Acre. My 6-year-old jumps." His leg is broken and in a cast, but not from leaping into the sea — from tripping on a pothole in the street. Abdel Halil Mohammed, 11, demonstrates the jumping technique for photographers, and three Australian tourists make the leap too.
At Hof Hasusim, at the other end of the city walls, we meet fisherman Sa'id Abdel Hamid. "Up to about 2000, things were good," he says. "We'd come home sometimes with 40 to 50 kilograms of fish. Then it started to decline. I went out to sea a couple of days ago. I cast my rod a thousand times, but I didn't find a single fish. My father and his father were fishermen, but I don't want my children to be fishermen."
Haifa: A vacation for the kid
Adjacent to the Israel Oceanographic and Limnological Research Institute, we found Elinor Ranan and her three children in a small but well-equipped zula, with kiddie pool, kitchen, tents, sound system and a darbouka drum. The electricity comes from a generator; shopping trips are done on the electric bike tethered at the side.
"I'm a single mother and it's hard for me to go to a hotel with three kids. Kids need to know how to be in nature, too. People have kind of lost their connection with nature."
She's had plenty of experience in previous years with the authorities trying to kick her off the beach: "They don't live and let live here. I'm a mother who's giving her children a summer vacation. How am I bothering anyone?" Ranan takes pride in the spotlessness of her zula. There isn't a grain of sand on the mats. "Every morning I shake everything out and clean until noon." She carefully collects and disposes of all the trash — her own and others'. She says it's not just a certain group that leaves trash, It's everyone.
Atlit: Trailer park
At the spectacular Atlit Beach, a little bit north of the old fortress and naval commando base, we meet Or Keren, who is in the middle of running a surfing summer camp. The beach is littered with pieces of charcoal left behind by barbecuers. Keren says he has rescued a number of kids and adults from drowning. "The day that [popular entertainer] Amir Fay Guttman drowned was a day of crazy currents. We pulled out one guy who was already totally exhausted. Some people asked what took us so long – they don't realize that there is no lifeguard here."
He's also gotten into arguments with beachgoers who left piles of garbage behind. "I've seen people go into the gas station and buy a tent and a mat and chairs and sunflower seeds. They come and sit on the beach for a few hours and then they get up to go and leave a big mess behind."
In the next tent sit Avraham Nahum and his family, from Zichron Yaakov. He and his wife and son got here first and set up the encampment for a long stay. Twelve more relatives are due to arrive soon. On the side is a large bag filled with trash.
"It's only the minorities who deliberately litter, our folks have learned how to behave," says Nahum. "I was on a cruise in Italy and the French Riviera, but I didn't enjoy myself as much as I do sitting here smoking a cigar facing the sea."
Habonim: Waking with the flies
In recent years, the undeclared section of Habonim Beach has become Israel's beach capital of zulas and tent camps. There are dozens of camps spread out here. Many of the tents appear to have been built by companies that specialize in this kind of thing. Others are more pirate-type efforts.
At one of the large and well-built camps, we meet a large group of guys in their 40s, veterans of the same Nahal unit in the army, who have been vacationing together on the beach for 25 years. "We started as single guys with dogs and we would put up the tents ourselves," says one. Now everyone has kids and somebody else puts up the tents for us." The site includes one large central tent with a well-equipped kitchen (including an espresso machine with a milk frother), family tents, hammocks and a shower.
Everyone around here complains about the bachelor parties, whose participants come for a single one evening and leave behind tons of garbage. They also say that the bathroom issue is a big problem, and sadly point out the hill above the beach that absorbs a big amount of human waste.
Jisr al-Zarqa. Fishermen's fate
The fishermen's beach of Jisr al-Zarqa is one of the country's most beautiful. It's a small picturesque bay in which four fishermen's boats are anchored, with small stone pools in which the village children splash. In recent years the remote village between Highway 2 and Caesarea seems to be gradually losing its poor and violent image. Some of the houses have been painted in an inspiring blue and joining us in Musa Jubran's restaurant on the beach is a group of 11 workers and managers from an engineering firm in Hod Hasharon, enjoying a day off.
Jubran, who calls his restaurant Musa the Fisherman, complains about the fishing situation, like everyone else. But he still believes in the power of the sea and hopes that his son will be a fisherman, "otherwise we'll lose all this," he says, pointing to the restaurant, the beach and the sea. "I send all the girls to university, but the boys are here, on the sea."
Apollonia: Nudists and seclusion seekers
The Apollonia Beach under the ruined fortress is a narrow strip covered with flat stones, which are a result of the disintegration of the cliff above the beach. Here you can become familiar with one of the more serious problems of the Israeli coastal strip — the retreat of the cliffs. Every year the country shrinks on the western side by several dozen centimeters, as the waves eat away at the cliffs on the coast and occasionally cause their collapse.
The retreating cliff leaves a narrow strip that is well hidden from sight, beneath the Crusader fortress. That's why this beach is a favorite of groups of nudists and anyone who is seeking seclusion.
"I like the quiet, I don't like people around with their paddle balls and their nuisance," says Avi, 50, who has been coming to this hidden beach three times a week for the past 30 years.
At a distance of 100 meters from Avi we encounter a nude swimmer, another 100 meters away there's a couple swimming in the water — and that's all. A bevy of birds rises and a paraglider parachute passes above us. A young blue acacia tree clings to the cliff.
The acacia is an invasive and spreading plant that was brought to Israel by the British and since then has forever changed the landscape in a considerable percentage of the country's beaches, especially the unofficial ones. Hundreds of thousands of trees have easily conquered the areas of sand in back of the beaches. Another type of invader is the Indian myna — a small bird that we encountered on almost every beach from north to south, along with the crows and the seagulls.
Tel Aviv-Jaffa: A bong and afternoon prayer
The Sde Dov Beach in northern Tel Aviv is a long and wide strip, very clean and almost completely empty. The beach has been cleared in recent years of the infrastructure installations and trash, and a long promenade extending south to Bat Yam was built. The difference between this beach and Tel Aviv's unofficial beaches, which are packed with swimmers and vacationers on land and in the sea, is amazing.
Here there are about four kilometers of an almost totally abandoned beach. David, a tourist from France, cycled here; on either side there are dozens of meters of sand without a single person. "I came here because I'm looking for quiet," he says. "It's all right that there are people, but sometimes they quarrel and sometimes they play music and I don't like that."
The next undeclared beach is in Jaffa, the Ha'aliya Beach. Here the only swimmers we encounter are one family from Bat Yam and one from Elkana, a couple with a bong and a young ultra-Orthodox man who is reciting the Minha prayers. The children are warned not to go out to the waves.
Ashdod: Jet skis from Jerusalem
In the southern part of Ashdod there is a long unofficial beach. Almost every day you'll find owners of jet skis gathered here. Like the owners of trailers, they also complain about their needs being ignored. "From here to Netanya you can't use jet skis," complains one of them. Surprisingly, most of them are from Jerusalem. "Just because it's far it's more exciting," explains Ami Malka, 36. "Those who live near the sea no longer get excited." They complain about the rules and regulations regarding the use of jet skis. "Three hundred meters from the beach you're only allowed to ride slowly, but the whole idea is to do tricks, inside it's a downer because nobody sees," says Malka, a moment after returning from a spin in which he looked as though he was floating above the waves with his jet ski.
Five days later at another undeclared beach, slightly north of here, Yohai Elkayam drowned, after helping to rescue a young woman in distress.
Zikim: a military area
In the final twilight we arrive at the southernmost beach in Israel, Zikim, on the Gaza border. On the way we notice a large fire near the Ashkelon industrial zone. It turned out not to be an incendiary kite from Gaza. On the beach is a small family from Mitzpe Yair in the South Hebron Hills: Yoav and Avital Oren and their 1-year-old, Sinai. "We came to support the Gaza border communities, to show that we're not afraid," says Avital. "We're in favor of having all the beaches in Israel undeclared. They prevent people from being able to be independent. People have to learn by themselves, to take responsibility, no beach has to be declared," says Yoav, while arranging wood for a campfire.
The beach is very dirty, pieces of plastic of various types scatter in the evening breeze. Next to the Oren family there is a large red sign on the ground, party covered with sand: "Warning: The ocean and land area that begins a kilometer south of here and is marked by a wall is a military area, it is absolutely forbidden to enter and remain in the water."
Click the alert icon to follow topics:
ICYMI
Ken Burns' Brilliant 'The U.S. and the Holocaust' Has Only One Problem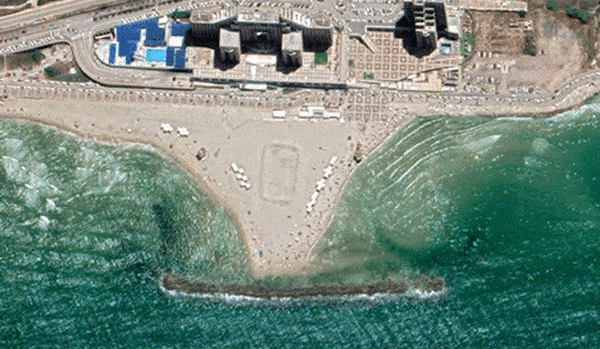 Facing Rapid Rise in Sea Levels, Israel Could Lose Large Parts of Its Coastline by 2050
Lapid to Haaretz: 'I Have Learned to Respect the Left'
The Mossad's Fateful 48 Hours Before the Yom Kippur War
As Israel Reins in Its Cyberarms Industry, an Ex-intel Officer Is Building a New Empire
How the Queen's Death Changes British Jewry's Most Distinctive Prayer