Analysis |
From Charlottesville to Nation-state Bill, Trump and Netanyahu Fiddle as the Fabric of Society Burns
Israel and the U.S. are separately but concurrently splitting into warring camps of majority supremacists against minorities and their defenders
Silhouettes of demonstrators are seen through a giant poster depicting Prime Minister Benjamin Netanyahu at a protest against the nation-state law, Tel Aviv, Israel, August 11, 2018.
Credit: AFP
In the age of Donald Trump and Benjamin Netanyahu, relations between Israel and the United States are taking a quantum leap. They are evolving from grand alliance to spooky symbiosis. Trump and Netanyahu are synchronized to perverse perfection in their Middle East approach.
Both face formidable legal hurdles, and are reacting identically. Both are resorting to their tried and trusted tactic of populist rabble-rousing, by assaulting the media, the rule of law and the liberal elites. Both are pressing all the wrong buttons of chauvinism, authoritarianism and racial and ethnic strife - and splitting their societies in the process.
There was something symbolic, after all, in the concurrence of the first anniversary of the Charlottesville riots and the convulsions that have gripped Israel over the past few weeks, after the passage of the nation-state law. The two events are unrelated and incomparable, of course, except in the ways that they are. Both mark eerily similar lines in the sand that draw new demarcations of a national divide. In the U.S., it's the majority of white people against minorities and those who would defend them. In Israel, it's the majority of Jewish people against minorities and those who would defend them.
>> Trump and Putin lead the league of nationalists, but Netanyahu Is their disturbingly enthusiastic enabler | Opinion
In August 2017, Trump told America that white-supremacist, neo-Nazis and anti-discrimination protesters were indistinguishable. "There are fine people on both sides," he insisted, in what was supposed to be his third or fourth clarification to his initial reaction, which was to ascribe the murder of Heather Heyer and the clashes in Charlottesville to "violence on both sides."
Trump put up much more resistance to retracting his vile analogy after Charlottesville than he did to switching from "would" to "wouldn't" after his debacle with Vladimir Putin in Helsinki. That's because he was reaching out to his base from his White House prison, in which he is held hostage and kept silent by political correctness and noblesse oblige.
It's not that Trump supports white supremacism, as many suspect, it's that he doesn't disown it, and worse, manipulates it when he sees fit. After Charlottesville, there was no more denying it, either. In one masterstroke, Trump had forged a new coalition between those who endorse white supremacism, those who tolerate it, those who view it as a lesser evil and those who are capable of denying its presence; he even managed to lump into that group those whose fear of encroaching non-White hordes overrides their distaste for Trump's vulgarity. Trump's statements since, especially his undeniable singling out of African-Americans for abuse, provide weekly replenishments for the basest and most basic dogma of Trump support, which often remains unspoken: We're all white, we know why we're here and, in the final analysis, nothing else matters.
This, in essence, is the same message being conveyed by the nation-state law and reactions to it. In another world, the law might seem relatively innocuous, largely declaratory and stating the obvious: Israel is undeniably Jewish, its flag and national anthem are under no immediate threat, authorities have always favored Jewish settlement, minorities are routinely shortchanged and Arabic, frankly, lost its official equal footing with Hebrew long ago. But it's not the letter of the law that matters; it is its mean spirit.
The nation-state law was just a medium for Netanyahu to get out his divisive directives. It allowed him to impose on Jewish Israelis a shibboleth, a test to tell friend from foe, Jew from non-Jew, to differentiate between those for whom Israel's Jewish destiny trumps democracy and decency and those for whom the death of these and other constitutional and liberal values spells the demise of Israel itself.
We're all Jews, Netanyahu is signaling, we know why we're here, and nothing else matters: Not my corruption, astonishingly mediocre cabinet, loony-bin Likud Knesset faction, anti-democratic outbursts, lackluster social performance, not even my unpopular wavering against Hamas in Gaza.
This is the fight for Israel's Jewish soul, Netanyahu is telling Jewish Israelis, and I am your crusader. I will defeat the Palestinians, contain the Druze and suppress the equality-shmequality mumbo jumbo that the left uses as its Trojan horse in order to infiltrate Jewish defenses and take over Israel from within.
A war between the races, in America, and between Jews and non-Jews, in Israel, entails, by definition, a clash of values as well. Supremacist politics deny justice, defy the rule of law, enrage liberals and energize the media, with the exception of Fox News, of course. In the wars of survival of the species that Trump and Netanyahu are invoking, democracy, equality and constitutional safeguards are not only expendable, they are marked for conquest, occupation and, if necessary, sabotage and degeneration.
The danger is compounded by the fact that, increasingly and almost hermetically, religion is lining up behind Trump and Netanyahu. Messianic Evangelicals are Trump's corner stone just as Israel's ultra-Orthodox and national religious are Netanyahu's bedrock. In both countries, the devout have not only traded in their moral sensibilities in exchange for support for their particularistic desires, they spur leaders onwards, enlist the masses to their side, proclaim the mission godly and sound the trumpets of holy war.
Trump and Netanyahu are managing the show. They are reading from the same playbook. They fabricate non-existing internal threats and then lead the assault against the perpetrators of their concocted conspiracies. They stoke the inherent ignorance and prejudices of their core constituents while toying with the fears of those who retain a moral code but are beholden to primal instincts. Netanyahu and Trump can count on the cowardice and cynicism of their fellow politicians, who are cowed into silence by the mob. These moral reprobates serve as role models for the undecided and the in-between, who learn to keep their mouths shut and go with the racist flow.
There are two Israels being forged today, just as there are two Americas. Longstanding divisions are hardening, mutual enmity is rising, clashes are escalating and the stakes get higher by the minute. Two opposing camps, each convinced of the justice of their cause as well as the threat to their wellbeing, are gearing up for showdown. Netanyahu and Trump are playing with fire. They fiddle, as the fabric of their societies burns.
Click the alert icon to follow topics:
ICYMI
Ken Burns' Brilliant 'The U.S. and the Holocaust' Has Only One Problem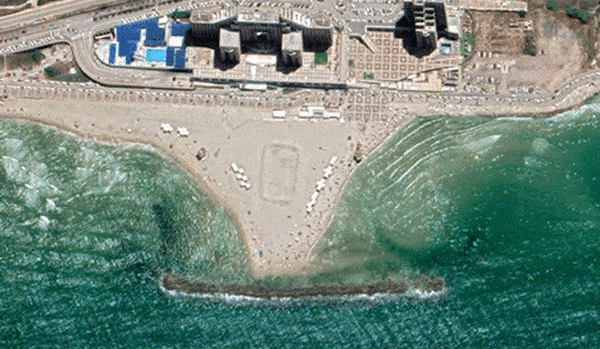 Facing Rapid Rise in Sea Levels, Israel Could Lose Large Parts of Its Coastline by 2050
Lapid to Haaretz: 'I Have Learned to Respect the Left'
The Mossad's Fateful 48 Hours Before the Yom Kippur War
As Israel Reins in Its Cyberarms Industry, an Ex-intel Officer Is Building a New Empire
How the Queen's Death Changes British Jewry's Most Distinctive Prayer