Opinion |
Dreyfus the Druze: For Israel's non-Jewish Minorities, Loyalty to the State Ensures Not Equality, but Radical Disenchantment
It took Jews in France 100 years after gaining citizenship to realize assimilation, patriotism and military service were no defense against discrimination. Now, 70 years after the Jewish state's founding, its 'loyal' minorities face the same realization
Leaders from the Druze minority together with others take part in a rally to protest against the nation-state law, Tel Aviv, Israel, August 4, 2018.
Credit: \ CORINNA KERN/ REUTERS
Consider these words:
"In vain are we loyal patriots, sometimes super loyal; in vain do we make the same sacrifices of life and property as our fellow citizens; in vain do we strive to enhance the fame of our native lands in the arts and sciences, or her wealth by trade and commerce.
"In our native lands where we have lived for centuries we are still decried as aliens, often by men whose ancestors had not yet come at a time when our sighs had long been heard in the country."
>> Israel's Nation-state Law Controversy Explained >> Israel's Druze No Longer Feel Like Blood Brothers
The words were not written by a Druze leader protesting Israel's nation-state law. Nor were they written by an angry Arab member of Knesset lashing at Israel's treatment of Arabs as strangers in their own homeland.
These were the words of Theodore Herzl, addressed to fellow European Jews in his famous pamphlet Der Judenstaat (The Jews' State), published over a century ago.
Like many Arab citizens protesting Israel's nation-state law today, Herzl, a young Jewish lawyer from Vienna, was writing in protest of anti-Jewish legal prejudice in Europe triggered by the Dreyfus affair two years before.
The affair marked the trial and imprisonment of Alfred Dreyfus, a French Jew artillery officer accused of treason and collaboration with the Germans. The young Herzl witnessed the trails as a correspondent for a Viennese paper in France, during which he had to endure the shouts of the anti-Semites crying out for death.
Herzl and his fellow Jews in France and Europe were shocked to see a prominent French Jew like Dreyfus, who had demonstrated his loyalty to the state and served in the military, being deprived a fair trial and subjected to such fervent anti-Jewish hatred.
For Herzl and his followers, the affair was a living reminder that assimilation was no defense against anti-Semitism, leading to Herzl's realization that Zionism and the creation of a Jewish State would be the only solution to the Jewish question.
It was the unfolding drama of the Dreyfus affair, accompanied by the violent resurgence of public demonstrations of anti-Semitism in France and Europe, which ultimately inspired Herzl to pen down his famous pamphlet in 1896 and convene the first World Zionist Congress in Basel a year later.
In a tragic irony, Dreyfus could serve as a metaphor for Arabs in Israel today.
In a moment of Herzlian epiphany, they too seem to realize that assimilation is nothing but a political fiction created by liberal Israelis, that the Israeli political system has failed them, that Israel's democracy is a masquerade for Jewish hegemony, and that legal injustices against Arabs, now enshrined by the nation-state law, are done in spite, not because of, their loyalty to the state.
>> Could the Dreyfus Affair Happen in Israel? | Opinion >> It's Now Every American Jew's Duty to Oppose Israel's Government | Opinion
To the current Israeli leadership, Herzl might sound as a false prophet. For unlike his Zionist successors, the First Zionist was a disciple of the Enlightenment, not of Donald Trump and Viktor Orbán. His State of the Jews proposal, while seemingly ethnocentric, was largely predicated on the secular tradition of liberal democracy and universal rights.
In a radical departure from his successors, Herzl envisioned the framing of a constitution, which Israel doesn't have, as the founding pillar of his future Jewish state. He even ridiculed Rousseau's "social contract" theory, which he dubbed "an antiquated view" that has no place in modern states where laws must be founded on constitutional rights, not "unwritten" prejudices.
Or consider his stance on religion. In a passage that would make the current Israeli leadership shudder, Herzl wrote: "Shall we end by having a theocracy? No, indeed. For Faith unites us, knowledge gives us freedom. We shall therefore prevent any theocratic tendencies from coming to the fore on the part of our priesthood. We shall keep our priests within the confines of their temples in the same way as we shall keep our professional army within the confines of their barracks."
In a prophetic manner that anticipates the nation-state law, Herzl warned that old religious dogmas and tribalism could be morphed into modern forms of political theocracy masquerading as patriotism:
"This is not sarcastically said; for the Anti-Semitism of today could only in a very few places be taken for old religious intolerance. It is for the most part a movement among civilized nations by which they try to chase away the specters of their own past."
Or consider his take on citizenship and minority rights. Unlike the nation-state law architects, Herzl envisioned a Jewish State in which, "Every man will be as free and undisturbed in his faith or his disbelief as he is in his nationality. And if it should occur that men of other creeds and different nationalities come to live amongst us, we should accord them honorable protection and equality before the law. We have learnt toleration in Europe."
Herzl's vision for Jewish statehood was so secular in character it led proud Zionists like Amos Oz to declare that, "Herzl's book was called The State of the Jews and not The Jewish State: A state cannot be Jewish, any more than a chair or a bus can be Jewish." Invoking Herzl, Oz added: "The state is a tool... and this tool has to belong to all its citizens - Jews, Moslems, Christians. The concept of a 'Jewish state' is nothing other than a snare."
Not only did Herzl warn of ethnocentric dogmas plaguing modern states, but in "The Jews' State," he even offered a code of resistance to such dogmas that Arabs in Israel today might want to consider.
In a rare flash of rebelliousness that rivals Bar-Kochba's, he wrote: "Action may be taken against individuals or even against groups of the most powerful Jews, but Governments will never take action against all Jews. The equal rights of the Jew before the law cannot be withdrawn where they have once been conceded; for the first attempt at withdrawal would immediately drive all Jews, rich and poor alike, into the ranks of revolutionary parties."
The Dreyfuz affair triggered a movement of awakening among the Jewish intelligentsia. A young Jewish writer named Bernard Lazare famously dubbed it at the time a "miscarriage of justice," a cry that also titled his book "The Dreyfus Affair - A Miscarriage of Justice," published in Brussels in the same year as Herzl's book.
Five years later, Herzl, still haunted by the Dreyfus affair, would reiterate his pluralistic vision in his utopian novel about the Jewish state, Altneuland (Old New Land), in which he envisioned the founding of a multiethnic democracy where Arabs and Jews enjoyed equal rights, culminating in his mantra: "If you will, it is no legend."
>> This Day in Jewish History 1945: Dreyfus's Widow Dies >> Israel's Humiliation of Arabic | Opinion
French intellectuals followed suit. Two years after Herzl and Lazare's books appeared, Emile Zola's published his historic appeal "J'accuse," which was printed in L'Aurore and sold 300,000 copies in one day.
Zola's vehement defense of Dreyfus was not only a plea for justice, but also a wide condemnation of the Republic: of ministers and generals, writers and journalists, all of whom he deemed complicit in crimes against the law, justice, tolerance, and humanist legacy of the enlightenment.
Zola's "Letter to the President of the Republic" ends with his memorable universal cry: "I have only one passion, a passion for enlightenment, for the sake of humanity which has suffered so much and has a right to be happy. My blazing protest is only a cry from the soul. Dare, then, to take me to court and let my trial be held in broad daylight."
The anti-Semites responded to Zola with pogroms in Paris, Nancy, Bordeaux, and Marseilles. The French justice minister, propelled by the army and anti-Semitic fractions within the French ruling elite, opened an investigation of the aged writer, and a new trial soon began.
Like Dreyfus, Zola was declared guilty, and a hysterical crowd took to the streets demanding his death and shouting: "Down with Zola! Down with the Jews!"
The Dreyfus Affair came a full 100 years after Jews in France had obtained equal rights as citizens in 1791. For a century, French Jews sang the praises of France and pledged loyalty to the Republic, believing that assimilation to French society was now complete, before the Dreyfus affair struck them as a radical disenchantment.
It would take Arabs in Israel 70 years to realize that assimilation is nothing but a distant mirage, thanks to the Jewish nation-state law. In a tragic historical twist, their present state of profound disillusionment bears uncanny resemblance to that experienced by French and European Jews over a century ago.
The legacy of the Dreyfus affair is nearly forgotten today, but its lesson is still alive: The equal rights of a people before the law cannot be withdrawn where they have once been conceded; for the first attempt at withdrawal would immediately drive all of them, rich and poor alike, into the ranks of revolutionary parties.
Or as Herzl would have put it: Resist!
Seraj Assi is the author of the recently published The History and Politics of the Bedouin: Reimaging Nomadism in Modern Palestine (Routledge Studies on the Arab-Israeli Conflict, 2018). Twitter: @Serajeas
Click the alert icon to follow topics:
ICYMI
Ken Burns' Brilliant 'The U.S. and the Holocaust' Has Only One Problem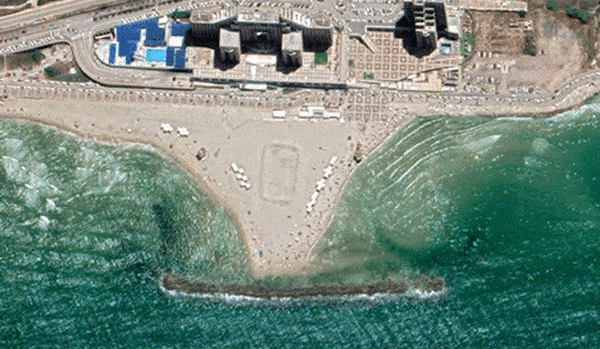 Facing Rapid Rise in Sea Levels, Israel Could Lose Large Parts of Its Coastline by 2050
As Israel Reins in Its Cyberarms Industry, an Ex-intel Officer Is Building a New Empire
How the Queen's Death Changes British Jewry's Most Distinctive Prayer
Chile Community Leaders 'Horrified' by Treatment of Israeli Envoy
Over 120 Countries, but Never Israel: Queen Elizabeth II's Unofficial Boycott