Israeli Druze in Golan Welcome End of Syrian War but Fear Future in Jewish Nation-state
Some of the elders in the Golan still dream of Syrian sovereignty, the younger people are not as passionate about it, but all agree on one thing: The real issue on the agenda is the dangerous nation-state law
Members of the Druze community walk next to the border fence between Syria and the Israeli-occupied Golan Heights, near the Druze village of Majdal Shams, as others watch the fighting in Syria.
Credit: REUTERS/Baz Ratner
A demonstration with Syrian flags took place in the Golan Heights town of Bukata last week – but the young Druze gathered at the town's Nems café said it didn't particularly interest them.
What they did notice, though, was that they've been hearing fewer and fewer of the explosions they had grown accustomed to from the Syrian side of the border. The Syrian civil war has been moving away as the fighting in the southwest Golan comes to an end.
>> Druze nation-state crisis: Israeli army chief forced to put out fire Netanyahu started | Analysis
Owner Taymur Alkesh, 21, who opened Nems just two months ago, said he had worked right on the border for three years, back when the Al-Qaida-linked Nusra Front controlled the Syrian side. "They killed people in Syria, and I felt I was in danger. Today, you still hear the explosions, but we're safe."
He prefers Syrian President Bashar Assad's regime to the jihadists, saying, "When Bashar was here, we had quiet."
But just last week, the Islamic State killed hundreds of Druze in Sweida, the heart of Syria's Druze region. And like many Druze residents of the Golan, Alkesh has relatives across the border.
"Nobody's protecting the Druze in Sweida, they protect themselves," he said.
"I'm happy because the border is quiet. I don't love Assad, but he's preferable. I do expect him to protect them in Sweida. He has Druze in his army. He should give them guns," said Alkesh.
Because he and his friends were born after Israel captured the Golan in 1967, they have never been in Syria or met their relatives there. That creates more emotional distance, they said, and explains why their views differ from those of their elders.
At Falafel Hagolan down the street, where a group of those elders were sitting, the differences in opinion were evident.
"I wish Bashar would come here tomorrow, all the way to Tiberias," said Sami Subah, a Bukata resident. "Only he can impose order."
>> Syrian government regains control of frontier with Israel ■ 'When we're in uniform they treat us well': Israel's Druze no longer feel like blood brothers ■ Israeli army suspends Druze officer who published Facebook post against the nation-state law <<
Subah blamed Israel, America, Saudi Arabia and other countries for Syria's civil war.
"Assad will remain," he said. "Syria was the quietest border; why was Bibi helping the Nusra Front and the rebels? It's coming at our expense.
"We had 200 martyrs in Khader," he continued, referring to a village in the Syrian Golan. "It's the fault of the politicians here. The whole massacre now in Sweida, it's Israeli and American arms."
Asked about Hezbollah and Iran in Syria, Yusef Farhat said heatedly that he didn't believe it. "It's all lies and politics and stories. America wanted them to help the Nusra Front. Bashar was Israel's border police."
Saleh Kilani, who owns the falafel stand, has been hurt financially by the war. His father opened the stand in 1948, after moving from Acre to Syria following Israel's establishment. In 1967, both family and stand moved from Quneitra to Bukata.
The stand used to be on the area's main road. But Kilani said the war made tourists prefer a different road farther from the border, which reduced his revenues. So he recently moved it inside the village and began relying more on local customers.
But Kilani didn't want to discuss politics. "I'm just happy the war is ending," he said.
Shortly before 5 P.M. in the largest Israeli Druze village, Majdal Shams, loudspeakers announced that donations were being collected for the Druze in Sweida. In the square with a statue of Pasha al-Atrash, who led a Druze revolt against the French in 1925, a sign with a Syrian flag lists the times when donations should be brought in.
When A., an elderly resident who declined to be named, was asked about Assad's return to the border, he was furious. "Don't call this a border. He isn't returning to the border, because it isn't a border, it's a cease-fire line. The Golan is occupied territory."
He's still awaiting the day that the Golan returns to Syria. "Turkey occupied Syria for 400 years and was ousted," he said. "The Israeli occupation will also end, and it will end peacefully.
"We want peace, but with the arrogance of your leader, Netanyahu, it won't happen," he added. "A great leader launches a peace initiative when he's strong. There's no such thing in Israel."
Is Assad such a leader? "Certainly. The Syrian government wants a just peace in the 1967 borders."
And what about Iran and Hezbollah? "Everything the government says about Iran and Hezbollah is an excuse to respond militarily to Syria. Israel and the Gulf states gave the rebels their arms. I'm angry. Whoever did this is a war criminal."
He doesn't blame Assad for not protecting the Druze in Sweida. The Islamic State simply snuck into the village before dawn, he said, and as soon as Assad found out, "he destroyed them. The right question is why the Americans sent them. You aren't asking the right questions."
Down the street at Salon Maher, young people waited for barber Maher Safdie. They, too, attributed the differing views of Assad and Syria mainly to age, and also to religious education.
Local demonstrations with Syrian flags, which once supported Assad, are now meant to show solidarity with Syrian Druze, they said. Moreover, they take place less often, and fewer people attend.
Ashraf Ayoub of Majdal Shams said 70 percent of the town's residents are secular and, like him, want democracy in Syria. Carpenter Yossi Marei agreed, adding that he blames Assad for the war.
"If he'd given up power like Mubarak when the war began, it wouldn't have happened," Marei said, referring to former Egyptian President Hosni Mubarak.
Not that everyone agrees, he noted. Even in his own family, he said, there are constant arguments between his father, who was a Syrian soldier but opposes Assad, and his older brother, who backs Assad.
Why do many people prefer Assad despite the hundreds of thousands of Syrians he's had killed in the war? "It's emotion, not reason," Marei said.
"Open the border now and let people from here cross, and nobody would go."
In the past, people here almost came to blows over Assad, the young men recalled. Now, said one, "There are still arguments on Facebook, but less. People don't want to fight."
As for Israel, "This country occupied us, but here, they take care of us," Marei said. "They treat a person like a human being." But then he recalled the nation-state law and grew angry. "It's not right," he said.
Lately, the young men said, residents have been talking more about that law than about Syria. Marei, who, like 80 percent of the Golan Druze, is a permanent resident, not an Israeli citizen, said he once wanted to become a citizen, but feared the reaction from his older relatives. Now, the nation-state law has made him less interested. "It's better this way."
Click the alert icon to follow topics:
ICYMI
Ken Burns' Brilliant 'The U.S. and the Holocaust' Has Only One Problem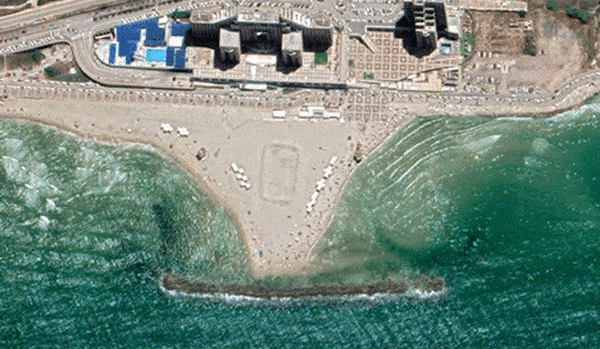 Facing Rapid Rise in Sea Levels, Israel Could Lose Large Parts of Its Coastline by 2050
As Israel Reins in Its Cyberarms Industry, an Ex-intel Officer Is Building a New Empire
How the Queen's Death Changes British Jewry's Most Distinctive Prayer
Chile Community Leaders 'Horrified' by Treatment of Israeli Envoy
Over 120 Countries, but Never Israel: Queen Elizabeth II's Unofficial Boycott