Driven Out by Rising Extremism, More Israelis Are Leaving Orthodox Judaism
Religious Zionists leaving the fold say they are increasingly accepted by their families, as community's push for stricter observance and hard-line views leads more young people to become secular
Members of Israel's religious Zionist community with their children.
Credit: Alex Levac
Noa Aviv remembers vividly the first time she desecrated Shabbat. She was in high school, it was Friday evening, and the rest of her family was out attending prayer services at the local synagogue. With the house all to herself, she did the unthinkable: She picked up a pen and notebook, and began writing.
Achiya Schatz was a bit older his first time. He was working as a counselor at a Jewish overnight camp in the Catskills, where he was surrounded – for the first time in his life – by many non-Orthodox Jews. It was an unbearably hot day, as he recounts, and sitting alone in his bunk with no one around to see, he allowed his bad impulses to take over: In blatant violation of the Shabbat ban on using electricity, he got up and turned on the air-conditioning.
Aviv and Schatz, both now in their early thirties, are among a growing cadre of young Israelis abandoning the Orthodox Judaism in which they were raised in favor of a nonobservant – or at least, less religious – lifestyle. For many of them, it is that first experience desecrating Shabbat – without getting hit by lightning, they often joke – that marks the beginning of that break.
In Israel, they are known as "datlashim" – an acronym for "dati'im l'sheavar" (formerly religious). The term refers specifically to Israelis who grew up in the religious Zionist community – the equivalent of Modern Orthodoxy in the United States. (Those who break with the ultra-Orthodox, or Haredi, community are more commonly known as "chozrim b'she'ela" – or "returning to questioning.")
A recent study published by the Taub Center for Social Policy Studies in Israel found that the number of Orthodox Israeli Jews leaving the fold, particularly amongst the religious Zionist community, is much larger than is widely assumed. According to the study, 20 percent of children who start first grade in state-run religious schools leave by eighth grade and 30 percent leave by 12th grade. The overwhelming majority of those who leave – about two-thirds – enroll in state-run secular schools.
Nachum Blass, a co-author of the study, says the recent campaign by prominent rabbis in the religious Zionist community to ban Orthodox women from joining the army should be seen in this context. "They understand that they are losing their hold on the community and are trying to buck the trend," he says.
Ne'emanei Torah va'Avodah – a religious Zionist movement more moderate in its approach to Judaism than the larger and better-known Bnei Akiva – blames extremist trends in state-run religious schools. "The fact that there are more and more gender-segregated classes in religious schools and stricter dress codes – that is causing many families to pull their kids out of these schools," says the organization's director, Shmuel Shattach. "But I don't believe that the number of religious Jews is declining."
This is not the first study, though, to draw attention to this trend. The Taub Center findings are in line with a first-of-its-kind study published two years ago by the U.S.-based Pew Research Center on the religious commitment and attitudes of Israelis. That earlier study found that only about half of Israeli Jews (54 percent) who were raised Modern Orthodox still identified as such.
Yair Sheleg, director of the religion and state program at the Jerusalem-based Israel Democracy Institute, estimates that anywhere between one-quarter and one-third of Israeli Jews raised in Modern Orthodox families eventually leave the fold. "We see this even more after high school," he says, "when for young people who are leaving the home for the first time, the freedom of the secular world is much more alluring than all the rules and prohibitions of the religious world."
Modern Orthodox Israelis are far more likely to leave the fold than their Haredi counterparts, he says, because they are much more integrated into the secular world. Unlike the ultra-Orthodox, they serve in the army (the boys do, at least), attend university and participate in the workforce.
Foothold in both worlds
In the past, it was common for datlashim to give up all forms of religious observance when they made their break. In recent years, however, many are choosing to maintain a foothold in both worlds, according to Sheleg. "It's not a coincidence that they call themselves 'datlashim,'" he says. "The word 'dat' [religion] is still part of their identity."
Poriya Gal-Getz, a member of this growing community, describes the phenomenon as "having Shabbat dinner and then going off into a room and texting with friends."
In 2011, she published a book that was the first in-depth look at the subject ("Hadatlashim," Am Oved). Based on her findings, she says, most Israelis go through their rebellion against religion between the ages of 17 and 20.
Gal-Getz believes the trend has become more pronounced since her book was published, and that the growing numbers are part of the pushback against extremist trends in the Orthodox world.
"What people define as religious today is a lot different from how it was defined when I was growing up," says Gal-Getz, 42, who works for a nonprofit dedicated to pluralistic Judaism. "There was a time in the religious Zionist world when men and women would dance together, when women didn't need to have their elbows covered. But things have become much more extreme over the years," she notes.
Another reason the ranks of datlashim are expanding, she contends, is that the phenomenon has become more accepted in the religious Zionist world.
"Even in some of the very religious settlements," Gal-Getz says, "it's common to find many cars parked outside the gates on Friday night. They belong to the nonobservant children of settlers who are visiting their families. In years past, they wouldn't have been allowed to drive there on Shabbat and make their desecration of Shabbat as public."
Gal-Getz, who grew up in an Orthodox home in an agricultural community in northern Israel, is the granddaughter of Yehuda Getz, the former rabbi of the Western Wall. In recent years, she notes, there have been several high-profiles cases of sons of prominent rabbis breaking with Orthodoxy – and this, too, has lent legitimacy to the phenomenon.
"Once their stories became public," she says, "you couldn't just blame the parents anymore, because it was obviously happening in the best families, too."
When children leave the ultra-Orthodox world, they are cut off completely from their families in most cases. It is not the same in the Modern Orthodox world, most certainly not in recent years.
Aviv, the pen-wielding Shabbat desecrator, says that despite their religious differences, she enjoys an "excellent" relationship with her family. "My mother is more upset by the fact that I've become vegetarian and can't eat her food than that I'm not observant," says Aviv, who lives in Jerusalem, where she lectures and runs a band.
Maintaining a foothold in both worlds was never an option for her, she says, and once she decided to abandon religious practice, she decided to go all the way. "Even though I don't like bread, I make a point of eating it on Passover," says Aviv, who describes herself as "very much on the left, an 'Arab lover' and all the other stigmas."
Schatz says that although he has no intention of going back to his past life, he still feels conflicted about his decision to abandon Orthodoxy.
"I felt like I was breaking a long chain of continuity in my family and throwing in the garbage something that my ancestors were made to die for," says Schatz, the director of communications at Breaking the Silence – the Israeli anti-occupation organization founded and led by former combat soldiers, among them, he notes, a large number of datlashim.
The Orthodox world is not only about rules and prohibitions, he says, and it can be very appealing for young Israelis. "You're given to feel that you're part of a chosen group," Schatz notes, "and that secular Israelis are what we often call an 'empty wagon.' There's also this great sense of togetherness in the religious Zionist community, which sustained me for many years."
His biggest problem with Orthodoxy was its attitude toward women. "I was in high school when I began questioning my beliefs," relays Schatz. "It struck me that women were not treated fairly in Orthodoxy, and for me this was a fundamental problem."
His parents initially took the news hard, feeling they had failed in some way, he recounts. But their sense of disappointment was not long-lived. "My dad, in particular, came around quickly and said that as long as I was a good person, that was what mattered," he says.
Schatz's partner, Yael Krieger, went through a similar process. "I always felt a conflict between Orthodoxy, on the one hand, and my beliefs in feminism and humanism, on the other," says Krieger, 31, who grew up in the West Bank settlement of Efrat and today works as a parliamentary aide to Michal Rozin, a lawmaker for the left-wing Meretz party. "The more I studied, the angrier and angrier I got," she says. "Not only the attitudes to women but also to foreigners and anyone not Jewish. At one point, I just decided I wanted no more of it."
Political transformation
Shabtay Bendet is still in contact with his religious family but says things aren't what they used to be. "They just don't get it," he notes.
Bendet, who grew up in a moderately religious home in Tel Aviv, got involved with Chabad, the ultra-Orthodox outreach movement, when he was somewhat older. He eventually left Tel Aviv and moved to Rachelim, an illegal outpost in the West Bank, where he lived with his now ex-wife and six children for many years.
"I was always searching for something but couldn't quite find it," recounts Bendet, 45. "At some point, I said to myself that instead of thinking about what God and the rabbis want from me, I want to start thinking about what I want for myself. It was never my plan to abandon religion, but after a few years I reached the conclusion that it's not right for me and that I don't believe in God."
He now has another partner, as well as another child, and says he "can't really" think about anything he misses in his old life. Once every two weeks, when his children visit for the weekend, he reverts back to his past life and keeps Shabbat out of respect for them. So even if he were inclined to miss that part of religious life, he says, there is no reason to.
As far as his family was concerned, Bendet's religious transformation was less of a problem than his political transformation. Today, he serves as the chief monitor of settlement activities for Peace Now, the anti-occupation group.
Itamar Avera, meanwhile, was in eighth grade when he made his break with Orthodoxy. As is often the case with male datlashim, he let the world know by removing his kippa.
The son of immigrants from Ethiopia, Avera says he was influenced by his older brother. "He was always a role model," he relates, "but I have to say that for me, it was also a matter of being drawn to the forbidden. I had always been very intrigued by the secular world."
Avera is a perfect example of the phenomenon highlighted in the Taub Center study: In ninth grade, he left the state-run religious school he attended in his hometown of Netanya (one he describes as "very religious") to enroll in a nonreligious boarding school, where he spent the rest of his high school years. Today, at 19, he is finishing up a premilitary gap year program on a secular kibbutz.
If there is anything he misses about his old life, he reflects, it's Shabbat. "I think it's good to have a day like that when you don't do anything," he says.
Gal-Getz says it's hard to predict, based on character traits, who is likely to break with Orthodoxy. More often than not, she says, the decision is influenced not by personality but by the type of religious life an individual experienced.
But, she concludes, "you do tend to find among datlashim individuals who are inclined to question things."
Click the alert icon to follow topics:
ICYMI
Ken Burns' Brilliant 'The U.S. and the Holocaust' Has Only One Problem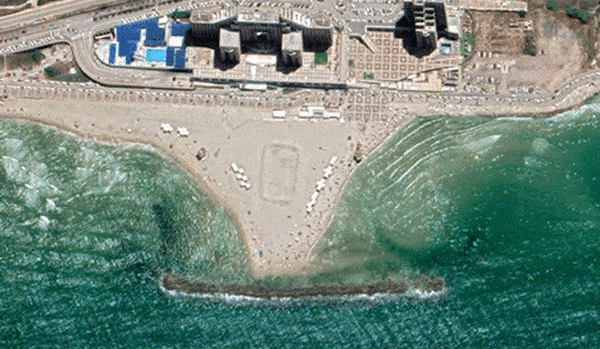 Facing Rapid Rise in Sea Levels, Israel Could Lose Large Parts of Its Coastline by 2050
As Israel Reins in Its Cyberarms Industry, an Ex-intel Officer Is Building a New Empire
How the Queen's Death Changes British Jewry's Most Distinctive Prayer
Chile Community Leaders 'Horrified' by Treatment of Israeli Envoy
Over 120 Countries, but Never Israel: Queen Elizabeth II's Unofficial Boycott