Israel Trolls Iran on Twitter With 'Mean Girls' Meme
After Iran's supreme leader tweets that Israel is a 'malignant cancerous tumor,' embassy responds with meme, breaks internet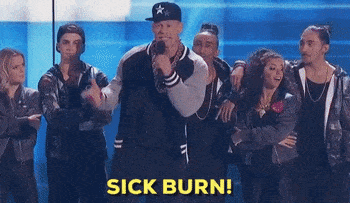 Prime Minister Benjamin Netanyahu continued Monday with his diplomatic campaign against Iran and its involvement in Syria during a meeting with German Chancellor Angela Merkel. However, Israel's most striking moment of the night happened on the internet in a response to Iranian supreme leader Ayatollah Ali Khamenei's message on Twitter. "Our stance against Israel is the same stance we have always taken," he wrote on his account.
"Israel is a malignant cancerous tumor in the West Asia region that has to be removed and eradicated: it is possible and it will happen," he warned, reiterating a position he has expressed many times before.
To really understand Israel and the Middle East - subscribe to Haaretz
Merkel, on the other hand, sharply criticized the malicious tweet. "We sharply condemn what the Iranian leadership said," she said, but reiterated her position in favor of the nuclear agreement. Germany still holds the position that the nuclear deal, which U.S. PresidentDonald Trump chose not to renew, is the best option for dealing with the Iranian nuclear program.
While Netanyahu has been campaigning against Iran and the country's nuclear efforts for years and attacked Germany's policy on stage with Merkel, the sharpest reaction came from the Israeli embassy in the United States, or rather from its Twitter account.
Taking a short line from the 2004 American teen comedy "Mean Girls," the embassy responded in an entertaining meme that read "Why are you so obsessed with me?"
It is hard to say if Israel's comeback changed the opinion of anyone who was convinced - whether Iran's supporters or Israel's supporters - but in the muddy arena of online diplomacy, the response was certainly appreciated. Even if there were those who wanted to remind Israel that Iran is not the only one obsessing.
Click the alert icon to follow topics:
ICYMI
Arab Voters Will Decide if Israel's Far-right Wins Power
Israel Is Heading for Its Most 'Jewish' Election Ever
El Al to Stop Flying to Toronto, Warsaw and Brussels
American Judaism Is in Decline. That's Great News for American Jews
U.S. Official: West Bank Entry for Palestinian Americans Unrelated to Israeli Visa Waivers
'My Jewish Grandmother Has a Number on Her Arm, Why Does Israel Greet Me This Way?'