Trade and Tirades: The Complicated Truth Behind Israel's Love-hate Relationship With the EU
In an interview to Haaretz, the EU's ambassador says Israel's biting criticism proves just how important the European Union really is to Israelis
Prime Minister Benjamin Netanyahu arrives for a news conference at the European Council in Brussels, Belgium, December 11, 2017.
Credit: Bloomberg
At the European Union Embassy in Israel, located at the top of a tightly-guarded high-rise office building in Ramat Gan, no one is surprised when another Israeli politician rails against them on television. Even so, it takes an entirely new level of audacity, or indifference, for one to say that the EU can go to "a thousand thousand hells" two weeks after delivering an especially jolly speech as guest of honor at Europe Day festivities.
Yet that is exactly what Energy Minister Yuval Steinitz chose to do during an interview with Ayala Hasson on Radio 103 FM Wednesday.
"The European Union's criticism of Israel yesterday was stomach-turning," Hasson told Steinitz. "They want information on what happened to Jafar Farah," she said, referring to the director of Mossawa, the Advocacy Center for Arab Citizens in Israel, who claims that a police officer broke his leg after arresting him during a demonstration in Haifa last Friday.
Steinitz responded bluntly: The EU can "go to a thousand thousand hells, and I'm saying that in a friendly way yet. It really is the epitome of chutzpah. The epitome of hypocrisy." Just two weeks before, speaking at the EU ambassador's home, Steinitz sang a very different tune.
All this is a perfect metaphor for Israeli-EU relations in recent years, a stormy love-hate relationship. One hand slaps while the other hand happily cooperates. Sometimes both hands belong to the same official, and that's no metaphor. But even Steinitz had to admit, talking with Hasson, that he doesn't feel the EU has been changing its tune on Israel: "Europe is very annoying sometimes in recent years, but it's also friendlier to Israel than ever before."
Indeed, by most objectively measurable criteria, since relations were established in the 1950s the trend is toward constant improvement. The EU is one of Israel's biggest trading partners: since the free trade agreement was signed in 1975, mutual trade has grown from 2 billion euros a year to 36 billion.
Israeli exports to the EU rose 20 percent in 2017 from 2016, lifting the EU's share in total Israel exports to a historic high of 34 percent. The EU member states are also responsible for nearly 40 percent of Israel's imports.
Much of the increase in exports is due to high-tech, but for the first time in ages, Israeli agricultural exports to the EU also rose.
Regarding Israeli investments, the EU is the primary destination by a mile, accounting for 40 percent in 2017, double the U.S. share of 20 percent.
Also, among the many agreements between the European Union and Israel are numerous cooperation agreements among government ministries and agencies. For example, Israel participates in two large EU projects, Twinning and the Technical Assistance and Information Exchange instrument of the European Commission, which help countries to adopt, implement and enforce EU laws and regulations.
Since 2007, Israel has participated in 11 Twinning and 100 TAIEX programs in areas including law, education, health, environmental protection, transportation, agriculture, data security, consumer protection and equal opportunity in employment. The idea is not only to learn from European expertise, but also to harmonize regulations closer and lower barriers. According to EU estimates, half of Israel's standard and regulations Israel are based on its own.
Most Israeli ministries participate in these programs at one level or another, usually at their own initiative.
Examples include projects carried out with Justice Minister Ayelet Shaked and Education Minister Naftali Bennett, both of whom are harsh critics of the territorial clause in all EU agreements, banning projects with entities beyond the Green Line. They sign them anyway. The only minister to torpedo a project with the EU was Culture Minister Miri Regev, and the main losers were Israeli artists. Many other projects also take place in local authorities.
The EU ambassador to Israel, Emanuele Giaufret, is an Italian diplomat who returned to Israel a year ago after serving in the EU delegation here a decade ago.
"To me it's clear that the relations between Israel and the European Union, if you look at facts, are extremely strong and diverse and growing," he told Haaretz. "They often don't match the perception that Israelis have, because there is an undercurrent of links, of interests, of affinities, that grows day by day, and is very deep.
"This is the real foundations of the relationship. Sometimes people tend to look at the Palestinian issue, the conflict, the region, and tend to identify those issues as revealing the nature of the relationship. To me, it's a very partial reality."
Israel and the EU have an understanding that they agree to disagree on certain things, but they can still cooperate for everyone's good, Giaufret says, adding, "I'm sure we will find more ways to do so in the future."
Giaufret insists that the diplomatic disagreements, which he believes are limited, are insignificant compared to the cooperation away from the spotlights. Even with the the territorial clause in the agreements, which excludes the settlements, he sees growth in projects with Israeli authorities.
"I don't think it's really only a question of money for Israel," the ambassador says, on why Israel joins EU endeavors. "It's the possibility of having partners. In academia, research, trade, innovation. Every country needs to cooperate with others. The programs are not imposed. It's a free choice. But we think it's good for Israel to participate."
The EU also provides shared frameworks for Israel and its neighbors in the Middle East, not all of which are friendly.
"In terms of the region, for example, to us the fact that Israel is a state that has all rights to be accepted by regional actors is a very strong political objective and we have built a place for Israel as a partner with all the actors in the region, to normalize the relations with everyone," Giaufret says. "We provided a seat for Israel in meetings related to trade for example with partners in the region."
Seeking dialogue
Since his return to Israel, where his eldest son was born, Giaufret has posted numerous photographs to his social media accounts in which he appears with right-wing Israeli cabinet ministers. The organization My Truth, which seeks to counter claims that Israeli soldiers regularly commit abuses, was documented leading members of the EU delegation on a tour of Israel's border with the Gaza Strip.
"I don't think I want to open a new page, but I think one of my tasks is to be able to interact with everyone here and I try to talk to everyone in the political arena," Giaufret explains. "I haven't been able to cover the full spectrum. I still have a few political streams I intend to meet in the government and also in the Knesset.
"What's important to us is to be able to listen to all the opinions. Not that we agree with all, but it's important to understand why people reach certain conclusions and decisions and to be able to explain to Brussels why they are made or not made. For a diplomat it's important to be able to listen to everyone.
"I was here 10 years ago and we also spoke to everyone, so yes, we do need to make an effort to reach out. The political landscape has been changing in Israel in the last 15 to 20 years, as in every country. ... you have to understand why opinions are changing, and also the election results. What is driving voters to make certain choices.
"So I think you need to adapt to the current situation and be able to meet with people who, in the past, were perhaps less visible, or had less of a role, and interact with them.
"One of the main characteristics of the European Union is dialogue. We are known for seeking dialogue with all legitimate actors, and we need to translate that also in the relations with Israel.
"We have also been trying to reach out beyond the political spectrum to civil society and local authorities. We have 12 municipalities coming here for briefings. This is part of our work to understand the local society, Arab society and Haredim as well. We want to be able to exchange with them."
They want to find out what people think of Israel and Europe in the business sector too, Giaufret says, adding, "Maybe it's less visible, But I try to travel as much as I can to what you call the periphery."
From his perspective as EU ambassador, the biting criticism just proves the symbiotic relationship.
"I believe Europe is important for the Israelis, even those critical of the European Union," Giaufret says. "If you think something is irrelevant, you don't waste your time criticizing it. The fact that we see criticism of the EU is an indication that people are interested and think it's relevant in their lives."
Talking to people about daily life, the EU context comes up a lot, he says. "55 percent of Israelis are either Europeans or could become if they wished so. There's a huge portion of Israeli population with a personal connection to Europe, and there are many others because of what they do — study, research, trade, and so on. Traveling for example is also a big revolution. Since I left my previous role in Israel in 2007 there's been an incredible change thanks to the Open Skies agreement that liberalized aviation. The number of Israelis going to Europe has gone up, and not only to the usual places but Eastern Europe too for example.
"Europeans are arriving more as well. Israeli investments in Europe have gone up. So all those different aspects — the connection is there. They feel close on a personal level. There are a lot of emotions in the relationship — it's not neutral — partly because of history and partly because we are actually the same.
"We share the same values. We believe in democracy, the rule of law and human rights. These are the fundamental values that we share. They're not easy to uphold. It's not something you reach once and can then be satisfied for the rest of your life. They are under constant attack.
"But fundamentally both in Israel and the European Union we are very attached to those values and share them. Sometimes it makes it more difficult. If you deal with a country with completely different values and system of governance then perhaps you think you can create an economic interest or new opportunities for the market but at the same time you know that affinities are limited."
But do we really share values? Giaufret is convinced the answer is yes. In his previous position he was involved in democracy and in charge of overseeing elections within the EU.
"We know that democracy is never fully accomplished. It's something that is always moving because it needs to adapt as societies change. But we need to find some pillars, some compass to guide us. So we have human rights and the rule of law.
"In Europe we face migration, financial crisis and terrorism. All these external pressures put the system in a difficult position. The tendency sometimes is to try and find shortcuts to respond to people that want solutions, which is the job of the politicians. The question is how you combine these needs of people's legitimate requests to be protected, to have jobs, to feel secure in their home - while not renouncing the fundamental principles of society. This is the challenge we all face.
"Israel is not different in that respect. It has huge challenges, perhaps greater," he says.
United Jerusalem, European Union
Meanwhile, the EU, he stresses, has not given up on trying to advance a solution to the Israeli-Palestinian conflict.
"We definitely remain very engaged in trying to promote a solution to the conflict. We believe it's the two-state solution," Giaufret says.
To the question of whether this vision has turned into an irrelevant phantasy today, he answers: "It's not a new concept. It's not something that we ideologically invented. It's something that the parties have created themselves. It is true there are doubts now about the viability, but according to opinion polls most Israelis still think this is the best solution. Mainly, no one has come up with a better idea that seems to be agreeable to the parties. So the EU's position is really out of sheer realism, because there's nothing else. So if you want to lead the two sides to a peaceful conclusion of the conflict, this is the viable end game. If we leave this open to other possibilities, the risk is that we are losing more time and going backwards."
As of late, it seems Israel has begun "dismantling" the consensus in the EU on different issues, first and foremost Jerusalem, with countries like Austria, Hungry, Romania and the Czech Republic being considered increasingly friendly to Netanyahu's government. Tzipi Hotovely, Netanyahu's deputy foreign minister, and the officials in Israel's diplomatic services are spending time and energy in these countries to have them relocate their embassies to Jerusalem – despite the EU's policy of objecting to the move – following Netanyahu's instructions. There's no topic that wipes the smile off of the faces of EU representatives then talk about cracks in the EU's united front. There is no policy revolt, it just doesn't exist – and if it does then in the long run its bad news for Israel, they say.
"The fact is we still have a consensus on the two-state solution at the level of heads of states and governments. They all confirmed last December that the position on Jerusalem has not changed. For the moment, this position is united. Also in Romania and the Czech Republic. This is not to say we don't understand the connection of the Jewish people to Jerusalem. We understand there is a deep connection in terms of history and religion and tradition. At the same time, we also know Jerusalem is also important to the three monotheistic faiths. It's also important for Muslims and Christians - and Palestinians. So we need to move to a solution through negotiation.
"I think a united Europe is important for Israel as well. The fact we can formulate policies applied by all 28 member states has a positive impact on Israel too. There's a tendency to think that perhaps bilateral relations with member states can produce benefits. Perhaps this is true in the immediate sense, but if you look at the long term, if you look at the trajectory, the benefits of unity are very clear. For example, almost every day we have a request by the Israeli administration to have an expert from the EU present solutions to problems we solved. These are the things that actually changes peoples' lives. How you drive in Tel Aviv, how you handle plastic pollution, you won't be able to do it on individually with each country on such a level."
Click the alert icon to follow topics:
ICYMI
Ken Burns' Brilliant 'The U.S. and the Holocaust' Has Only One Problem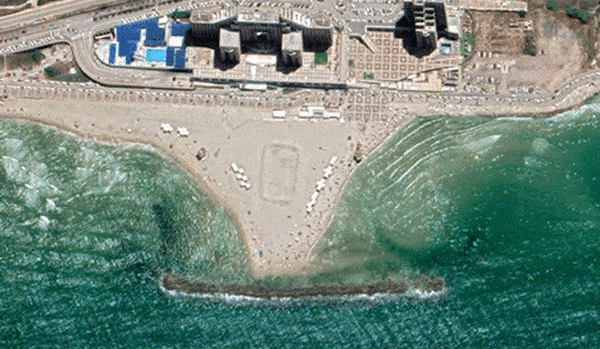 Facing Rapid Rise in Sea Levels, Israel Could Lose Large Parts of Its Coastline by 2050
Lapid to Haaretz: 'I Have Learned to Respect the Left'
The Mossad's Fateful 48 Hours Before the Yom Kippur War
As Israel Reins in Its Cyberarms Industry, an Ex-intel Officer Is Building a New Empire
How the Queen's Death Changes British Jewry's Most Distinctive Prayer