Why American 'Lone Soldiers' Are Still Eager to Join Israel's Army
Israeli officials encourage Israel's purported monopoly on Jewish military service. 'There is only one place that Jews can fight for their lives,' said former PM Ehud Olmert
Thousands attend Max Steinberg's funeral.
Credit: Olivier Fitoussi
In July 2014, following the kidnapping and killing of three Israeli teenagers, the Israel Defense Forces began a major ground invasion of Gaza, dubbed Operation Protective Edge. American Jews were glued to their news feeds. Thousands downloaded Red Alert, an app that notifies users of every rocket fired into Israeli territory. On day 13 of the war, Max Steinberg, an American-born IDF soldier, was killed in Gaza. Among Israelis, who supported the Gaza invasion almost unanimously, the response to Steinberg's death was one of overwhelming affirmation: The Times of Israel reported that 30,000 people attended his funeral in Jerusalem. It didn't matter that Steinberg's parents had never been to Israel before they attended his funeral, or that his Hebrew had been weak. Israel embraced him as one of its own. "He's a lone soldier," one Israeli told TOI. "He's part of us."
Nearly every obituary for Steinberg noted that he had been inspired to join the IDF following a Birthright trip to Israel. The evening before his funeral, Allison Benedikt, now Slate's executive editor, wrote that Birthright shared blame with Hamas for Steinberg's death. "What makes an American kid with shaky Hebrew and no ties to the state of Israel suddenly decide he is ready to make this sacrifice?" she asked.
Jewish young adults often learn about foreign-born IDF recruits, so-called "lone soldiers," through youth group programming while they're on youth group-sponsored trips to Israel or on college campuses. Every year, hundreds of American teenagers and college graduates decide to enlist in the IDF with the wide support of American Jewish institutions. To many Jews, Israel's need to defend itself is self-evident — and so is support for lone soldiers.
"Supporting lone soldiers is not making any political statement at all," said Amy Skopp Cooper, the National Associate Director of the Conservative movement's Ramah camp network. "Israel is always going to need an army, and my admiration is for anybody who serves in the Israeli army, whether they are Israeli by birth or whether they are lone soldiers."
According to the Anti-Defamation League, the most common stereotype about Jews is that they are "more loyal" to Israel than to their country of birth or residence. When it comes to military service, the numbers don't support this stereotype. Between 10,000 and 15,000 American Jews are currently on active duty the U.S. military, according to a report from the Jewish Welfare Board. The IDF has 890 American lone soldiers on active duty, according to an IDF spokesperson.
It is perfectly legal to fight for a foreign military that is not "engaged in hostilities" against the U.S. In the Spanish Civil War, roughly 3,000 Americans fought with the Republican government against General Francisco Franco and the rebels. Some Americans who don't make the grade in the U.S. military still try out for the French Foreign Legion. But Jews seem to be the only American ethnic group that routinely sends soldiers to a foreign military.
If you're a millennial Jew and you've attended a Jewish summer camp or been a member of a movement youth group — especially a Conservative or Orthodox one — chances are good that you know a lone soldier. Although American Jews have served in Israel's military since before the state's founding, only in the past 10 to 15 years has the existence of lone soldiers become widely known.
Rob Rees, a public school teacher in Minneapolis and former reporter for the Jerusalem Post, served in the IDF in the 1980s. He told me that most of the American lone soldiers he knew were budding kibbutzniks planning to spend much of the rest of their lives in Israel. Rees joined in 1985, after five years of living in Israel and learning Hebrew. He said he enlisted not necessarily because he felt the need to defend Israel but because he wanted to be an Israeli. "Then, as today, you really needed to serve in the army to really understand how Israelis think," he said.
In 1985, Rees had to shuffle through the bureaucratic enlistment process on his own. Now, organizations such as the Lone Soldier Center, founded in 2009, work in both the U.S. and Israel to streamline the process of obtaining legal documents, getting physicals and learning Hebrew. Israeli immigration organizations like Nefesh B'Nefesh offer summaries, in English, of the benefits, stipends and tax breaks a lone soldier can receive.
Israel has also increased the network of host homes that provide lone soldiers with a surrogate family for the duration of their service. Reese remembers being given less than a week to visit his family while he was enlisted; the IDF now offers lone soldiers a 30-day annual leave. Reese also doesn't remember receiving the widespread gratitude that some lone soldiers report experiencing, either in Israel or in the U.S.
"That kind of spotlight really didn't exist then," he said.
"It's Gadna, guns and war."
The explosion of interest in lone soldiers can largely be traced back to Michael Levin, a Philadelphia native who was killed in Lebanon in 2006. Levin was an active member of the Conservative movement's United Synagogue Youth and had attended a Ramah camp. (The Lone Soldier Center's full name is the Lone Soldier Center in Memory of Michael Levin.) His story is frequently recounted at Ramah camps and, for Americans who visit Levin's grave in Jerusalem, it has taken on the air of myth. According to a story told in a documentary about Levin, he broke into a recruitment center to speed up his enlistment process. When fighting began in Lebanon, Levin, at home in the U.S., was on the first plane back to Israel. The stories frequently culminate with a statement Levin reportedly wrote in his yearbook: "You can't fulfill your dreams unless you dare to risk it all." David Keren, the director of USY's Israel programs, told TOI that Levin's story helps motivate the roughly 20 students who participate in the Nativ gap year program and join the IDF every year. "Not that they met him," Keren said. "But his story paved the way."
In the U.S., youth groups from all backgrounds have programming centered around lone soldier education. Chapters of NCSY, the Orthodox youth movement, have held appreciation dinners for alumni who are lone soldiers. Chapters of NFTY, the Reform youth movement, have raised funds for organizations that support lone soldiers. Synagogues screen "Beneath the Helmet," a documentary about the IDF that features a lone soldier. In Israel, movement-sanctioned trips routinely include four days of Gadna, a paramilitary training course in a desert camp. The teenagers are organized into brigades with the names of real IDF units, learn IDF slang and fire semiautomatic rifles. "I got to wear an actual helmet and we ran around in the desert, hiding using our surroundings, learning different stances, and so on," reported one USYer in an online testimonial. "It was very cool to feel like a soldier."
Amy Skopp Cooper, of Ramah, said that Ramah is not celebrating lone soldiers, but olim, or immigration to Israel, in general.
"I wouldn't say that Ramah is only saying, 'Go to Israel and be a lone soldier,'" Cooper said. "What we're saying is, 'If you've made the decision to [immigrate to Israel], we're proud of you.'"
Major American Jewish philanthropic institutions also provide support to lone soldiers. The Jewish Federation supports Wings, a Jewish Agency program that provides support services to lone soldiers. Friends of the IDF allocates more than $4 million annually to lone soldier causes, including airfare for soldiers traveling home on break. Galita Brichta, tri-state executive director for FIDF, said in an email that, "FIDF does not promote or take part in the process of recruiting or encouraging soldiers to enlist in the IDF."
Several Jewish soldiers in the U.S. military I spoke to said they don't get the same level of communal support as lone soldiers do in the IDF. Robert Max, head of the Atlanta chapter of Jewish War Veterans, told me it depends on the community. Max said that Jewish communities in the South, which accounts for 40% of all new recruits, tend to show a higher awareness of Jews in the U.S. military. But the Jewish soldiers I have spoken to said the responses to Jewish veterans of the U.S. military are not as consistently enthusiastic as they often are for veterans of the IDF.
"For Jewish youth, when you go to synagogue and they talk about future choices, they will talk about going to the Israeli military as an option. But they won't talk about going to the U.S. military," said Anna Selman, a former registered nurse with the U.S. Army and the program coordinator for Jewish War Veterans of the USA. "They don't see it as giving back to your community."
Israeli officials seem to encourage Israel's purported monopoly on Jewish military service. "Jews are not safer in Israel than they are in other parts of the world, but there is only one place that Jews can fight for their lives as Jews, and that is here," former Israeli Prime Minister Ehud Olmert said in 2008. Israel's history of the lone soldier has also been combined with the mythology of the state: The memorial for Michael Levin is on Ammunition Hill in Jerusalem, the site of a pivotal battle in the Six Day War.
In Israel, it's hard to shake the military culture of the country. Soldiers in basic training are required to carry guns while they're on leave. Every Friday and Saturday night, soldiers swamp buses crisscrossing the country. But for American teenagers, Israel's military culture is equally hard to shake, and, for those young Americans, the lone soldier exemplifies that culture.
"It's militarized how American Jews understand their relationship to Israel," said one former lone soldier who asked not to be named. "It's Gadna, guns and war, when it should be a much more complex relationship than that."
"I know what I did it for."
For most recruits, the primary appeal of IDF service seems fairly clear: It's about protecting the one country where — theoretically — all Jews have the chance to become a citizen under Israel's Law of Return. Second, for Americans who love America like they love Israel, the political goals seem similar. AIPAC's website proclaims that "Commitment to democracy, the rule of law, freedom of religion and speech and human rights are all core values shared between the United States and Israel."
IDF service also offers a more morally straightforward reason to serve than the U.S. military. Israel is constantly monitoring direct threats from neighboring countries. The understanding is that they're defensive players; the IDF has never tried setting up free elections in Lebanon. "It's freedom and democracy for the Jewish homeland rather than" for anyone else, said Tali Zuckerman, a friend of mine from Camp Ramah in Wisconsin, who joined the IDF's foreign relations unit. She told me she doesn't envy soldiers who have been deployed overseas in America's endless wars. "They're like, 'Shit, what did I do this for,'" she said. "And I know what I did it for."
Even so, several IDF soldiers I spoke to say American lone soldiers in Israel — especially the ones who joined after college — come into the experience with a skewed idea of what it will be like. The IDF's three-month intensive Hebrew course is famously ineffective. The lone soldiers want to be in a combat unit; they get a desk job. "There's people that just didn't like their life in America and they want to try something new," said one lone soldier. It is easier to join the IDF than it is to feel part of it. A quarter of lone soldiers give a negative review of the army's assistance program, Israel's State Comptroller reported in March. According to a report the Israeli Knesset's Research and Information Center released in 2016, only a third of lone soldiers still live in Israel a year after their service.
I considered enlisting in the IDF after doing a study-abroad program in Jerusalem in 2010. I was 16 and very impressionable. My recollection is that enlisting in the IDF seemed so doable, and the arguments for doing it so unassailable, that the onus was on me to think of a reason not to do it. It took about a year to shake the idea out of my head. (I dropped it after I realized that my knee tendinitis might have prevented me from being in a combat unit.) Sometimes I think that because I didn't serve I have no right to say much of anything about Israel.
Ultimately, IDF service is a way to prove one's loyalty to the fate of Israel — a service one can do to earn the Right of Return. It is a seeming cure for the sense of voyeurism that afflicts many American Jews like me who visit Israel and manage to feel both at home and culturally and politically illiterate.
"Loyalty to Judaism"
While the American Jewish community's support for lone soldiers has grown over the past several decades, so has the divide between Israel and the American diaspora. American Jews have been dismayed by Prime Minister Benjamin Netanyahu's abandonment of the two-state solution and warm embrace of President Trump; Israel's treatment of African refugees; and the Chief Rabbinate of Israel's decision not to honor conversions performed by 160 Reform, Conservative and Orthodox American rabbis. "This [rift] is a serious issue for Zionism," said one Modern Orthodox rabbi. "Zionism is meant to relate to the Jewish people, not just the Jewish state."
Even lone soldiers are not safe from the growing estrangement between the U.S. and Israel. Stephanie Nelson, a fellow student on my study-abroad program in Jerusalem, found that out when she went to get a marriage license. On paper, Nelson was a textbook lone soldier. In eighth grade, she decided she would eventually move to Israel. She didn't take the SATs and didn't apply to college. "I wasn't looking at my American future," Nelson told me.
"My childhood in America — I appreciated that I was an American," Nelson said. "I understood that I was lucky to live in America. but I never felt this drive to defend this country, to protect this country, otherwise there will be no tomorrow. In Israel, the second you feel Zionism, you feel that Israel needs help. She needs people defending her."
Nelson enlisted in IDF at 19, and, by her own admission, drank the Kool-Aid. She said, half-joking, she saw her commanders — most of them only a year or two older than she was — as "gods," her "Zionist leaders." She says she pushed through basic training with a weak grasp of Hebrew through sheer belief in the cause. Her devotion was gratified when, in July 2014, all of her commanders suddenly disappeared. They had been called to Gaza. "That was the last push that made me feel like I was doing something really important," she said.
Nelson, whose mother converted to Judaism after Nelson was born, said she had an Orthodox conversion when she was an infant. She met her fiancé on the kibbutz where they were both living as lone soldiers. When they went to get a marriage license, the Rabbinate rejected her conversion. (Nelson's brother, also an IDF volunteer, also had his conversion rejected.) Nelson appealed to a beit din, a religious court, but her appeal was denied. The court told her she would have to get what she called a "just-in-case conversion" before the Rabbinate would consider her Jewish by its definition. She called the process "horrifying."
But Nelson had already made her decision. Although Israel wouldn't let her be a Jew on her own terms, she would still fight for it.
"It shows something crazy about our loyalty to Judaism," Nelson said.
For more stories, go to www.forward.com. Sign up for the Forward's daily newsletter at http://forward.com/newsletter/signup/
Click the alert icon to follow topics:
ICYMI
Ken Burns' Brilliant 'The U.S. and the Holocaust' Has Only One Problem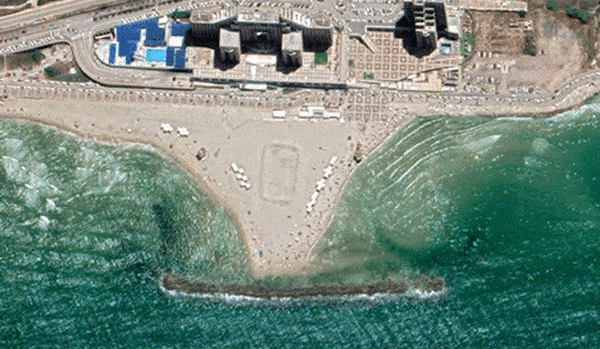 Facing Rapid Rise in Sea Levels, Israel Could Lose Large Parts of Its Coastline by 2050
As Israel Reins in Its Cyberarms Industry, an Ex-intel Officer Is Building a New Empire
How the Queen's Death Changes British Jewry's Most Distinctive Prayer
Chile Community Leaders 'Horrified' by Treatment of Israeli Envoy
Over 120 Countries, but Never Israel: Queen Elizabeth II's Unofficial Boycott