The Israelis Who Fought in the War of Independence – and What They Think of Modern Israel
From smuggling immigrants into Mandatory Palestine to working in underground bullet factories, these seven men and women all played a role in establishing the Jewish state. They recount their war stories and reflect on whether Israel has lived up to their hopes
Members of the Irgun receiving training near the Jaffa-Tel Aviv border, two months before the War of Independence started in May 1948.
Credit: Jim Pringle / AP
On the day Israel gained its independence, they already had their assignments. Some were fighting on the front line. Others were helping refugees from Europe reach the shores of the new Jewish state. Still others were producing the bullets that would help the country prevail.
In many cases, they were barely teenagers. Some were born in British Mandatory Palestine, while others escaped Nazi-occupied Europe. They gained their military experience serving in the Haganah (the pre-independence army of Palestine's Jews), the Palmach (the elite strike force of the Haganah) and the more extremist Lehi underground (also known as the "Stern Gang").
>> Independence Day: They fought in 1948. What do they think of modern Israel? ■ The forgotten story of the women who built Israel ■ A tale of two kibbutzim and how capitalism doesn't always trump socialism ■ These Israelis were present at the Declaration of Independence ■ Hidden Palestinian stories ■ Israel in 2048 ■ If we don't blow it, we have glorious high-tech future <<
In interviews with Haaretz, these men and women reflect back on those days and share their thoughts on the state of a nation they fought to create 70 years ago.
'We should be a model society'
On May 14, 1948, the day Israel gained its independence, Tamar Eshel was out of the country – and eating her heart out, as she recounts. "I thought it was unjust that finally there was a state of Israel and I was away in France," says the former Israeli diplomat and politician. "But in those days, you didn't argue. I was told it was important for the future of the yishuv [the Jewish community in the Mandate period], and I did what I was told."
As David Ben-Gurion read out the Declaration of Independence, Eshel was busy in Marseille, readying 1,000 immigrants to board a ship headed toward the brand new Jewish state. It was critical, she explains, to get as many able-bodied young people as possible into the country, to boost the fighting forces that were already suffering heavy casualties.
Eshel had been sent to the French port city several months earlier to oversee a huge illegal immigration operation based on false passports and certificates (the British, who controlled Palestine at the time, had imposed severe restrictions on immigration). "We had a laboratory there that could forge any paper under the sun," she recounts.
From her base in Marseille, Eshel also oversaw shipments of arms to Israel after independence was declared.
On the Friday afternoon that Ben-Gurion declared independence (to coincide with the end of the British mandate), she was so preoccupied with her mission of smuggling Jews out of France that she didn't have time to celebrate. "It was only on Sunday afternoon that we finally got around to raising a glass of wine to toast the new state," she says.
Aware of Eshel's outstanding work as an intelligence officer in the Haganah, Ben-Gurion had summoned her to his office in December 1947 – just after the United Nations had approved a partition plan for Mandatory Palestine – to present her with her latest assignment. "He asked me, 'Is it true you have a British passport?'" she recalls. "When I told him I did, he instructed me to go immediately to Europe."
From Marseille, Eshel was transferred to Algeria, where in June 1948 she oversaw a mass flight of Jews from Morocco and Algeria to Israel.
Born in London while her parents served as Jewish Agency envoys to Great Britain, Eshel grew up in Haifa. On her mother's side, she was the descendant of a prominent family of Jewish pioneers (the Feinbergs).
As an intelligence officer in the Haganah, her job was to spy on European diplomats stationed in Jerusalem. "I used to sit in the same room as Yitzhak Navon [later appointed Israel's fifth president] and he would tell people, 'I lead the espionage activities against the Arabs, and Tamar leads the espionage activities against the British.'"
She adds: "Never mind how we did it. We knew a lot about what was going on."
After the War of Independence, Eshel joined the Foreign Ministry and, in 1955, became a member of Israel's permanent delegation to the UN. In the 1960s she sat on the Jerusalem Municipality, serving as deputy to longtime mayor, Teddy Kollek. She later led Na'amat, the Israeli women's organization, and from 1977 to 1984 served in the Knesset as a member of the Labor Party.
She has one daughter from her marriage to Lionel Schwartz, which ended in divorce in 1955. She later married Arie Eshel, an Israeli diplomat, and raised his daughter as well. She has four grandchildren and six great-grandchildren.
Asked whether Israel has lived up to her dreams, Eshel, now 97, hints at her disappointments without getting into specifics. "I am one of those who still believes we should be a model and moral society, and that our leaders should set a personal example," she says.
But she has not given up hope, she adds. "I have always been an optimist, and I hope we shall enjoy better times."
'No country is perfect'
She came from Romania. He came from Turkey. They left family and friends to join the struggle for a Jewish state.
Born in 1930, Tehila Ofer (then known as Tita Greenberg) belonged to the left-wing Hashomer Hatzair youth movement, which operated underground in Romania when the pro-Nazi government was in power. During those years, she remembers wearing a yellow Star of David on her clothes that marked her as a Jew.
In 1946, Tehila bade farewell to her parents and boarded a ship for Mandatory Palestine. "That was the first time I ever laid eyes on Palmach fighters, and they looked just like the type of people I wanted to be – new Jews from Eretz Israel," she recalls.
While on board, she learned from these "new Jews" what to do in case the ship was intercepted by the British. "We were taught to throw whatever we had at them: pieces of metal, cans of food, anything that could hurt them."
The ship was indeed intercepted, and although she and the other passengers put up a brave fight, the British prevailed and they were diverted to Cyprus. When Tehila finally arrived in Mandatory Palestine a month and a half later, she was sent straight to a kibbutz to acclimatize herself to the new land. She joined the Palmach soon after.
On May 14, 1948, when statehood was proclaimed, the young men in her battalion were stationed on the Lebanese border, guarding against an anticipated infiltration. "I remember them telling us that a few hours earlier Ben-Gurion had declared independence, but it didn't make much of an impression on us at the time," she recounts. "Only afterward did we understand what a major event this was. What made a much greater impression on us was that we women were instructed to bring arms and other supplies to the men on the front. We did it all on foot, carrying everything on our backs."
In the battle that erupted on the northern border, three close friends of hers were killed. "These were people who lived together with us on the kibbutz. They were like brothers to us, and we had to identify their bodies," she says.
As refugees from Europe began flooding into the newly founded state, many were immediately recruited for military service. Because most of them did not speak Hebrew, the army found itself in dire need of Hebrew teachers. Tehila was enlisted in the effort.
"My first reaction was to laugh," she recounts. "After all, I myself had only been in the country for a year and a half. They reassured me I wouldn't need to teach any of the great literary works – just very basic Hebrew."
She now refers to it as "survivalist Hebrew."
"I taught them how to say things like 'Run for cover,' 'Beware of the mines' and 'Get me a medic, I'm injured.' Teaching Hebrew at that level definitely didn't require any sort of certification."
After the war, Tehila continued working as a teacher until her first and only child was born. To have more time at home, she began working as a translator and journalist. Following a two-year stint at Haaretz in the 1960s, she spent 23 years as a senior editor and writer for Maariv (and, in between, a few years in France where her husband, a career officer, was stationed).
Zeev, who joined the Palmach in 1945 after arriving in Mandatory Palestine two years earlier, fought in many battles during the War of Independence – "from Metula in the north to the Negev in the south," as he puts it.
When he retired from his extended career in the military in 1984, he had reached the position of commander of the Jerusalem Brigade. Since then, he and his wife have collaborated on several books on Israel's military history – their latest on the religious soldiers who fought in the Palmach under Zeev's command.
Tehila and Zeev – now 88 and 90, respectively – have two grandchildren and speak with great pride of their son Avi, who has recently gained prominence as an advocate for African asylum seekers in Israel. (He initiated a program to have them adopted by kibbutzim.)
Is Israel what they hoped it would be? Not in all respects, concedes Tehila, "but it is still home."
"When you live in a home and the windows are broken," she says, "that's not a reason to move to another home. If the windows are broken, you either fix them or learn to live with them broken."
Zeev tends to be less judgmental. "In 1945, I used to be scared to walk around Tel Aviv because of the British," he says. "Today, I walk around this city without any fears. There's no country that doesn't have something wrong with it."
'We're becoming a fascist state'
Emanuel Marx was pretty certain he would not survive the War of Independence. After all, many of the students he knew – who eventually became his comrades in arms – never returned from the battlefield.
Born in Munich in 1927, Marx not only survived but went on to become one of Israel's foremost anthropologists. In 1998, he received the prestigious Israel Prize for his groundbreaking studies on the Bedouin. "I had to shake Bibi's hand then," he says, referring to Israeli Prime Minister Benjamin Netanyahu. "But I guess you could say I was lucky, because my big fear was that I'd have to shake the hand of Ariel Sharon," he adds, referring to the controversial army general who also went on to become prime minister.
In November 1938, following Kristallnacht, Marx's father was imprisoned in Dachau. He eventually returned home but, according to Marx, "the experience changed him forever."
About six months later, Marx and his young brother were sent to England on what came to be known as the Kindertransport. "I thought I would never see my parents again," he recalls. But a few months later he learned that his parents had relocated to Mandatory Palestine, where the family was soon reunited.
Marx served in a student company in the Haganah, and only escaped near-certain death by sheer luck. In January 1948, the Jewish fighting force suffered a devastating blow when 35 of its soldiers (known as "the Convoy of 35") were ambushed and killed on their way to delivering supplies to the blockaded kibbutzim of Gush Etzion. The fighters were supposed to make their way there on two separate buses, with Marx on the second bus. "It never showed up, though," he says, "and so I am here today."
Marx also took part in the fighting at Kibbutz Ramat Rachel on the outskirts of Jerusalem – the scene of several fierce battles during the War of Independence. He had another close call then when, during the final battle, Jordanian forces burst into the kibbutz dining room where he was stationed and engaged in hand-to-hand combat while he was on the floor above it.
After the war, Marx served as an assistant to Prime Minister Ben-Gurion's adviser on Arab affairs for five years. He completed his doctorate at the University of Manchester, England, and went on to found the department of anthropology at Tel Aviv University. While conducting field studies on the Bedouin, Marx lived among a particular tribe for two years. In the 1960s, he moved with his family to Ma'alot – a poor town in northern Israel populated by Moroccan immigrants – for a field study he conducted on violence.
He is about to complete another project, to which he has devoted the last 10 years: a book on state-sanctioned violence in Nazi Germany. "Violence is a subject that has long intrigued me," he says.
He describes himself as "not very hopeful" about the future of Israel, but says it may be "a passing mood."
"We are moving very fast in the direction of becoming a fascist state, although we're not quite there yet," he observes. "This government has been in power far too long and what we're seeing now is a repetition of what we saw in the early years of the state, when the Labor Party ruled and there was lots of corruption."
When Likud rose to power in 1977, says Marx, he thought it would provide Israel with a "wonderful opportunity to recover." But he admits he was wrong. "Now it's time for another change," he says, "and I believe it will happen."
Recently widowed, Marx, 91, has three children, nine grandchildren and three great-grandchildren. He considers it "wonderful and astonishing" that all his children live within a half-hour ride of him. "They all lived abroad at some point, but they have all come back to Israel," he smiles.
'At least 200 years until we have peace'
Moshe Ben-Yehuda was just 14 when he joined the Lehi in 1946.
What drew him to the militant organization, he says, was the execution of Shlomo Ben-Yosef, an activist in the Irgun (another underground group from which Lehi broke off). Ben-Yosef was hanged for attacking a bus carrying Arab civilians and was the first Jew executed by the British in Mandatory Palestine. "I was only 6 at the time, but this had a big effect on me," recounts Ben-Yehuda. "If you talk to other members of Lehi, you'll hear the same thing from many of them."
Born in the Netherlands, Ben-Yehuda grew up in Tel Aviv, in a religious family. As a young member of Lehi, his main job was hanging up political posters that urged action against the British. He was also involved, he says, in "two minor confiscations" of British-owned equipment, adding, "that's the term we used."
Soon after Israel gained statehood, Ben-Yehuda, along with hundreds of other Lehi fighters, pledged allegiance to the newly formed Israel Defense Forces and was recruited into the Armored Corps. He was only 16 at the time. "I told them I was 17 and nobody bothered checking," he reveals.
Ben-Yehuda was injured in July 1948 during Operation Dani – an IDF incursion into several towns east of Tel Aviv. After he recovered, he returned to the military and became a career officer in the army's manpower division. After his discharge, he went on to become a licensed tour guide and later served as secretary of the Tel Aviv taxi drivers association.
Ben-Yehuda, 86, who lives not far from where he grew up in central Tel Aviv, has four children, six grandchildren and two great-grandchildren. On the eve of Israel's 70th anniversary, he says he does not see much hope for peace in the near future.
"As someone who grew up here and also speaks Arabic, I believe it will take at least another 200 years until we have peace," he says. "There may be all sorts of deals along the way, involving water, sewage and the like – but there is no Arab leader who can give up the right of return [for exiled Palestinians], and there is no Israeli who can agree to the right of return. Any Arab leader who agrees to give up on the right of return will find himself very quickly in the next world."
'Israel turned out better than I thought'
As fate would have it, Baruch Tirosh was not on the battlefield the day Israel became an independent state. He was engaged in a mission, as he views it, that was no less critical.
Several months earlier, the 19-year-old Palmach fighter (known by his nickname, "Boutrous") had been sent on a secret assignment to France, to prepare and train Holocaust survivors and refugees illegally bound for Mandatory Palestine.
This training, he recalls, consisted of basic lessons in self-defense, including how to throw hand grenades. Every woman and man heading for Palestine, from age 17 through age 50, was required to participate.
"But I would say the two most important things we taught them were how to sing songs in Hebrew, and how to sleep on a ship when there are no cabins and no beds and your entire space consists of a 50-centimeter-wide [20-inch] wooden plank," he recounts.
Tirosh accompanied one such ship of illegal immigrants all the way to the Holy Land. And after Israel gained its independence, he helped send over several others loaded with military cargo.
Born in Tel Aviv, he joined the Haganah in 1943, when he was 14. He became a squad commander a year later. "That wasn't enough for me though," he recalls, "so I joined the Palyam," the naval force of the Palmach.
Tirosh fought in a major battle against Iraqi forces in the Wadi Ara region during the War of Independence. "We fought against them with all our might and prevailed," he says.
He estimates he helped train thousands of illegal immigrants bound for Palestine during his time in France. Among the scenes forever etched in his memory from those days is one that took place at a Passover seder he was asked to run.
"There were 870 Holocaust survivors participating in that seder," he recalls. "I decided to teach them a popular Hebrew song called 'Yesh Li Kinneret' ('I have the Sea of Galilee'). Within five minutes, all 870 of them had memorized it and were singing along with me. Just thinking about it makes me choke up."
On the ship Tirosh accompanied to Mandatory Palestine, two women gave birth. "There was a young doctor on board who was an ear, nose and throat specialist," recounts Tirosh. "I tell him he had to go help with the deliveries, but he says he can't because he's not a gynecologist. 'Neither am I,' I told him."
Tirosh, 89, likes to boast that the illegal immigrants (also known as "ma'apilim") he helped transport across the sea played a key role in Israel's victory in the War of Independence.
"Of the 4,500 new recruits who signed up for the Palmach just before the war broke out, 2,000 were ma'apilim," he notes.
After the cease-fire, Tirosh spent seven years working for the Israeli secret services before joining El Al. As director of crew scheduling at the national airline, he was privy to the secret plan to abduct Adolf Eichmann, a mastermind of the Final Solution, from Argentina to Israel.
Since his retirement in 1994, Tirosh – who has three sons (one, a pilot, was killed in a flight accident) and nine grandchildren – has been active in the Palmach veterans association.
Looking back, he says, he has few complaints. "The truth is that Israel turned out much better than I thought. Seventy years ago, we were in a terrible situation, and I don't know how Ben-Gurion had the courage to declare statehood when he knew how few weapons we had at the time," he says. "So I'm happy with the way things turned out, and I believe things will get even better."
'Nothing to be ashamed about in the word Zionism'
Tzipora Dagan (née Greenberg) was born in Tel Aviv in 1930. Her father, a professional cellist, was one of the original members of the national philharmonic, and her mother was one of the city's first dentists. When she left home at 15 to join a kibbutz and later the Palmach, her nickname was "Tzipke." She was at Kibbutz Yagur, near Haifa, on June 29, 1946 – a day infamously known as "Shabbat Hashachor" ("Black Sabbath"). On that day, British forces rounded up the commanders of the Jewish fighting forces in Mandatory Palestine. One of their main targets was Yagur, where a major cache of weapons was discovered.
"When the British surrounded the kibbutz, they ordered us all into the mess hall," recounts Dagan. "They wanted to separate those who were in the Palmach from the others. Instead of following their orders, though, we engaged in passive resistance – we continued to sit where we were, and we burst into song to spite them."
She finally ran for cover, though, and from her hiding place watched a bunch of Palmach fighters being loaded onto a British truck – among them her boyfriend and future husband, Mati.
After the raid on Yagur, Dagan was moved to a kibbutz near Rehovot and recruited for work at Machon Ayalon, the underground bullet factory that supplied the Haganah. A kibbutz was built above it to conceal what was going on below. Her boyfriend, who was banned from combat duty because of health issues, eventually joined her there.
"On the floor right near the washing machine at the kibbutz, there was a hole through which we would descend to the factory on a ladder," she recalls. "We worked down there all day, taking short breaks just for breakfast and lunch. During the months of the war we would work day and night, producing anywhere from 14,000 to 16,000 bullets a day."
The factory, which operated from 1946 to 1948, has since been converted into a museum.
For many years, Dagan reveals, she and her husband never discussed with their two sons what they did in the War of Independence. "One reason we didn't talk about it was we were ashamed of the fact we were in the Palmach and didn't see any real combat," says Dagan, now 88. "Another reason was that we thought the existence of the factory was still a secret. Only when it became a museum in the 1980s did we start talking."
Tzipke and Mati were among the founding members of Kibbutz Ma'agan Michael, near Caesarea. They later moved to the city so that Mati, who died in 1990, could pursue a career in agronomy. Since retiring as a teacher, Dagan – who has eight grandchildren and 15 great-grandchildren – keeps herself busy blogging and volunteering for organizations that commemorate the fighters of 1948.
Asked if Israel had lived up to her expectations, she says: "Our dreams then were of a place that was much more beautiful, much rosier, much more idealistic and much more Zionist – and there's nothing to be ashamed about in the word Zionism."
Referring, albeit not by name, to Prime Minister Netanyahu, she laments the fact Israel has become "a state of one person rather than an entire people.
"It also pains me," she adds, "that the leaders today incite divisions within the people. That was not something that happened in the early days of the state."
Click the alert icon to follow topics:
ICYMI
Ken Burns' Brilliant 'The U.S. and the Holocaust' Has Only One Problem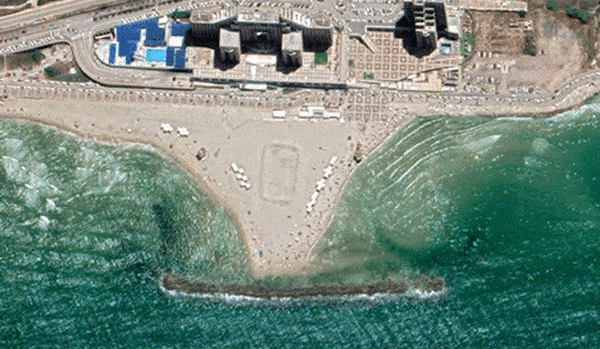 Facing Rapid Rise in Sea Levels, Israel Could Lose Large Parts of Its Coastline by 2050
Lapid to Haaretz: 'I Have Learned to Respect the Left'
The Mossad's Fateful 48 Hours Before the Yom Kippur War
As Israel Reins in Its Cyberarms Industry, an Ex-intel Officer Is Building a New Empire
How the Queen's Death Changes British Jewry's Most Distinctive Prayer