Analysis |
Israeli Ministers Revolted Against Netanyahu – but Saved Him From Humiliation
The ministers mulled a doomsday weapon they would use if Netanyahu called early elections after all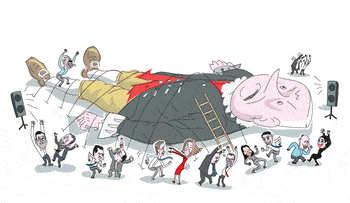 Illustration: Netanyahu is Gulliver and other Israeli lawmakers are Lilliputians having a dance party around him.
Credit: Amos Biderman
"They played poker with me," the defense minister said in a private conversation on Wednesday, when the Knesset crisis was already history. "They said, the polls give Lieberman five seats. He'll fold. He'll be afraid to risk the defense portfolio. The Haredim [ultra-Orthodox Jews] were wrong about me. They were wrong all along. They threatened, but their gun wasn't loaded."
Avigdor Lieberman's gamble paid off. He exercised brinkmanship and survived to gloat at his Haredi adversaries, and a day later flew south to view a joint Israeli-U.S. military exercise. Next week he's off to Africa, and after Passover, he will attend meetings in Washington with the top Pentagon brass. What can one say? Paradise – certainly compared with the alternative.
Success has many fathers, we know. The crisis surrounding legislation that would exempt yeshiva students from the draft, which ended with the defusing of the early-election bomb, engendered quite a few claimants to paternity.
For their part, Habayit Hayehudi ministers Naftali Bennett and Ayelet Shaked were very active in the preemptive operation. They scurried about frenetically with the aim of preventing an early election – for the good of the country, naturally. The fact that their party might have faced slaughter (non-kosher) had the election been moved up didn't bother them.
Earlier this month, by the way, when Shaked was in Washington for the AIPAC conference, she was asked whether she thought Prime Minister Benjamin Netanyahu would precipitate an election. "We won't let him," she asserted.
Arye Dery (Shas), Moshe Kahlon (Kulanu), Moshe Gafni (United Torah Judaism) and, at a later stage, also Lieberman (Yisrael Beiteinu) – who was seriously suspected of being in cahoots with Netanyahu in planning to dismantle the coalition – linked arms and closed ranks. It was a rare moments of unalloyed unity. The primary aim: to lift the threat of an early election. The target: Netanyahu; The secondary target: Yaakov Litzman, head of Agudat Yisrael (part of UTJ), who fomented the whole crisis.
Litzman emerged from the brouhaha with minimum achievements and maximum embarrassment. His reputation as one of the country's smartest and most judicious politicians is in tatters. True, the scandalous, totally unconstitutional draft law, of which little will remain in its final form, was approved in a preliminary vote in the Knesset. But the danger that the situation would deteriorate into an election was huge.
Litzman's colleagues in the Haredi parties are furious, even exulting in his suffering. He kept surprising them with an additional demand, one more ultimatum. Dery shouted at him during one of their meetings with the prime minister. Litzman's colleague Gafni slammed him publicly in a meeting of the Knesset's Finance Committee.
What got into you, they scolded him. Don't you see Netanyahu is just looking for a reason to call an early election? Why are you playing into his hands? What better government awaits us?
As the deal-making entered its final stages, he moved aside, exhausted. His senior adviser Moti Babchik, who is close to the Gerrer Rabbi, the leader of the Hasidic sect to which Litzman belongs, managed things. On Tuesday afternoon, in the final round of the negotiations, Finance Minister Kahlon was in Netanyahu's office. Babchik was on the speaker. They reviewed the compromise text clause by clause. Kahlon left, Lieberman arrived, Babchik stayed.
Only one obstacle remained: Sofa Landver. Lieberman insisted on having the absorption and immigration minister, from his party – who is also an MK (Lieberman is not) – oppose the draft-evasion bill in the preliminary vote. Not to be absent, abstain or come down with the flu. To vote against, and with an outstretched arm.
Netanyahu was in a bind. He'd promised that any minister who defied coalition discipline would be fired forthwith. To relent on that point would make him look like a wimp. The annoying pundits were happy to remind him of Ariel Sharon, who fired the Shas ministers in his first government for daring to absent themselves from a budget vote. If there's one thing Netanyahu doesn't like, it's being compared unfavorably to Sharon.
In the office of Netanyahu's chief of staff, Yoav Horowitz, was Nadav Sheinberger, Kahlon's senior assistant, waiting for his boss. He had an idea: Give the heads of the coalition parties permission to allow their members to vote freely. That would obviate the need to fire anyone, and the bill would pass anyway. Kahlon put the idea to Netanyahu, who jumped at it. "Tell your guy thank you," Netanyahu told him. A few hours later, on the Knesset podium, the premier thanked the coalition leaders for "behaving responsibly," and his confidant, Tourism Minister Yariv Levin, who got out of a sickbed to help. Levin left Netanyahu with a live coalition and a serious throat inflammation. There's no good without bad. Or the other way around. It's hard to know.
Anatomy of autonomy
Let's go back a few days. Interior Minister Dery, Education Minister Bennett and Justice Minister Shaked have reached the conclusion that Netanyahu wants an early election. On Saturday night two weeks ago, at the height of the whole crisis, the prime minister departs for Washington and then doesn't really bother to call anyone back home.
"We've seen him work when he really wants to solve problems," one party leader said this week. "He'll keep phoning from anywhere in the world, pressuring, threatening, begging. In this case he wasn't even felt."
Netanyahu came home last Friday, and on Saturday evening summoned the heads of the Haredi parties and coalition whip MK David Amsalem (Likud). Dery, who's known Netanyahu for almost 30 years, left the Prime Minister's Bureau that night with the feeling that the man wanted an election. Netanyahu was silent most of the time, while Amsalem (who had met with him earlier) put demand after demand on the table, heaping up obstacles.
The containment battle began the next day. Dery, Gafni, Bennett, Shaked and Kahlon inaugurated a hot line. Lieberman was brought in. The weekly meeting of leaders of the coalition parties, held on Sunday mornings, broke up immediately when Lieberman and Litzman failed to show.
On Monday they met again, this time with a full house. Netanyahu, who for well-known reasons was still angling for a June election (right after Independence Day and the festival surrounding the opening of the U.S. Embassy in Jerusalem, and before the attorney general decides whether to bring charges against him in the various investigations underway), suggested dragging discussion on the slew of controversial issues at hand to early May, following the Knesset's spring break.
Kahlon, who'd vowed that he would resign if the state budget was not passed this week, reacted with expected sharpness: "If you put off the budget vote, I'm handing in my letter of resignation, effective Thursday [after the parliamentary break begins]."
The meeting ended with everyone anticipating a major explosion. Kahlon rushed around between the defense minister's bureau in Tel Aviv and Bennett and Shaked's offices in Jerusalem. The operational plan went like this: Netanyahu clearly wants a June election; an October vote would be bad for him, because it might take place immediately after the attorney general makes his decisions. Accordingly and to whit, we will organize a bloc of parliamentary opposition to the June date. Elementary.
By now it was Tuesday. D-day. Bennett, Shaked and Dery informed their colleagues that a majority had been found that would prevent an election on the day Netanyahu chose: June 26. Zionist Union and the Joint Arab List were in on it.
With that settled, all that remained was to snatch from Netanyahu the pretext for an election, and the ability to pin the blame for it on one of the coalition parties, so that he would not appear to be dragging the country into an election campaign for extraneous, personal, unacceptable reasons.
The group was enthusiastic, fired up. A day or two earlier, it looked as though the prime minister was playing with them, tricking them. Now they had founded an autonomous region. A government within the government. Hurray! Three cheers! The Festival of Freedom had come early.
Honorable way out
At 1:30 P.M. on nerve-racking Tuesday, Kahlon was in Lieberman's 14th-floor office in the Kirya – defense establishment headquarters – in Tel Aviv. He wanted to ascertain personally, face to face, that Lieberman wasn't playing a double game. They speak a similar language: two former Likudniks both of whom worked very closely with Netanyahu and know their man.
"What do you want? An election or to go on?" Kahlon asked.
"To go on," Lieberman said. "I don't want an election. But I've committed to vote against this bad bill."
While they were trying to figure out what to do, the draft of a letter – more accurately, a kind of petition – was brought in for their signature. It was headed: "Joint announcement to the coalition parties Kulanu, Habayit Hayehudi, Yisrael Beiteinu, Shas, United Torah Judaism." The text:
"In order to avert dragging the country into an expensive and unnecessary election campaign, the heads of the coalition parties reached agreement on the [army-] draft law at midday (Tuesday):
"1. The draft law will be submitted for a preliminary vote today and will pass. The whole of the Yisrael Beiteinu party will vote against it.
"2. Minister Sofa Landver will remain in the government. The party heads have rescinded the demand for her dismissal.
"3. The budget law will be passed with the agreement of all members of the coalition.
"4. Subsequently, the draft law will move ahead with the agreement of all coalition parties."
Bennett, Shaked and Dery, who had drafted the document, demanded its immediate publication in the media, as soon as Kahlon and Lieberman signed on. It was the closest thing to a putsch, a revolt against the prime minister. In fact, they prohibited him from exercising his authority and firing Landver, even after she'd vote against the bill. Unprecedented.
No, Kahlon said. This statement must not be made public. It's like jamming a finger in Bibi's eye. He has to feel part of what's going on, not be forced to capitulate and be humiliated. Lieberman agreed.
Kahlon hurried to the Prime Minister's Bureau in Jerusalem. After meeting briefly with Netanyahu, he went to his own office in the adjacent Finance Ministry building. Bennett and Dery arrived. Friends, ease up, he told them, Bibi is already on our part of the playing field. We need to make a little more effort, preserve his honor. He's prime minister. Then Netanyahu called Kahlon in for another meeting, and Lieberman went in and out and in again, and then Sheinberger came up with the freedom-of-vote idea – and here we are, breathless, at the start of a relaxed spring break instead of being buffeted by an election storm.
There was also another idea that made the rounds of the ministers, as a last resort that would have been implemented had the premier turned his back on them, torpedoed their efforts to resolve the crisis, and gone ahead and dissolved the Knesset. The "letter of the 90," they called this unconventional weapon they kept in storage.
The idea was for 90 MKs – every Knesset member other than those in Likud – to write a letter to Attorney General Avichai Mendeblit urging him to publicize his decision regarding Netanyahu's involvement in Cases 1000 and 2000, and maybe also 4000, before an election. Two leaders of coalition parties confirmed to me that this option was considered.
As one minister explained, "We would have written to the AG: Please hurry, sir. We need to know what the prime minister's legal situation is before we decide whether to join him in the next coalition. You can't leave us in the dark, you can't leave the nation, the voters, without this crucial information about the person they are meant to reelect as prime minister."
"What was Netanyahu thinking?" he continued in a fraught monologue. "That he would drag us into an election because of his distress, as though we were spineless pawns on his private chessboard, and we would obey meekly? Go like sheep to the slaughter? Something went haywire in him. He was smart enough to pull back – actually, it's not as though he had a choice. We pulled the carpet out from under him."
Click the alert icon to follow topics:
ICYMI
'Strangers in My House': Letters Expelled Palestinian Sent Ben-Gurion in 1948, Revealed
What if the Big Bang Never Actually Happened?
AIPAC vs. American Jews: The Toxic Victories of the 'pro-Israel' Lobby
'This Is Crazy': Israeli Embassy Memo Stirs Political Storm in the Balkans
Israel Rewards Hamas for Its Restraint During Gaza Op
Gazans Are Tired of Pointless Wars and Destruction, and Hamas Listens to Them