Explained |
Israel Came 'This' Close' to a Snap Election Today, but Crisis Averted - for Now
On Tuesday morning, Prime Minister Benjamin Netanyahu seemed poised to plunge the country into a new election in June. Yet by the afternoon, compromise was in the air. So what changed, and what happens now?
Immigrant Absorption Minister Sofa Landver going to a cabinet meeting in 2016.
Credit: Marc Israel Sellem
In Israel's charged political atmosphere, a dizzying game of brinkmanship has been playing out to determine whether a general election would be called in June – a year and a half ahead of schedule.
The latest polls show Israelis have little desire or urgency to cast their ballot. In a television news poll Monday, a majority of respondents, 54 percent, said they opposed an early election, with only 30 percent in favor of campaigns and a trip to the polls. They say these will be expensive – costing millions of dollars – time-consuming, and distract the nation's leaders from formidable security and economic challenges.
And yet the political world waited with bated breath for the latest chapter in the drama to play out on Tuesday, expecting new elections to be announced that evening. At the start of the day, it seemed a meeting by a ministerial committee would likely determine the fate of the government.
If Immigrant Absorption Minister Sofa Landver – a member of Avigdor Lieberman's Yisrael Beiteinu party – voted against a controversial, government-sponsored bill on ultra-Orthodox (or Haredi) military conscription, it was thought it would lead to her dismissal and the withdrawal of her party from the coalition.
Yet in a sudden turnaround on Tuesday afternoon, senior members of Netanyahu's coalition said he is now seeking a solution to the crisis.
According to some coalition sources, Netanyahu flip-flopped and hit the brakes on the race to elections because he doesn't believe he can secure the majority needed to dissolve the Knesset needed to hold elections in late June. Others say he began to question whether an election could produce a stronger coalition than the one he has now – and began to fear the dangers of losing his grip on power. But the final word has not been said: Things could still change and Israelis still may find themselves in voting booths in the near future.
How did we get to here? And what does the prime minister really want?
In public, Netanyahu has repeatedly declared that he doesn't want an early election. But numerous politicians and journalists who have interacted with him all privately agree: not only does he want them, he has been the puppet master pulling the strings in an effort to make sure elections happen, stirring up an existing crisis that didn't need to reach its boiling point to move in that direction.
The narrative delivered by key Likud allies this week was one in which Netanyahu is being forced into a position to dissolve his government because of a crisis over one of the most contentious issues in Israeli politics: The exemption of the Haredim from military service.
It's true ultra-Orthodox parties in Netanyahu's government have used their considerable power over the prime minister (Shas and United Torah Judaism have 13 of the Knesset's 120 seats) to push for a law they have wanted for decades, which would formally exempt yeshiva students from serving in the Israeli army.
The proposed Basic Law on Torah Studies would declare that studying Torah is more important than equality under the law, and would thus preclude the court from overturning draft deferrals for yeshiva students on the grounds that they violate equality. After lengthy negotiations regarding the wording of the bill with various coalition partners, the Basic Law is now heading toward a full vote in the Knesset.
One coalition partner, Yisrael Beiteinu, vociferously opposes the bill. Lieberman's party's position was staked out by Landver. The Ministerial Committee for Legislation, which already approved the bill, had been set to meet Tuesday for Landver to appeal that approval, in an effort to prevent it being brought to the Knesset for a full vote. She and other party members vowed to vote against the bill – but it was specifically her opposition that mattered: ministers aren't allowed to oppose legislation backed by the government.
Landver, not Lieberman, found herself in the hot seat because the defense minister is not formally a Knesset member. But there is little doubt Landver was operating at Lieberman's behest. He has called on Netanyahu not to fire the minister, saying Tuesday morning, "If the prime minister doesn't want elections – he shouldn't fire Sofa Landver." It now sounds like the premier heard him, and backed off any intention to fire the immigration minister in a move that would have fanned the flames of a coalition crisis.
Why did this bill on the ultra-Orthodox draft become so urgent?
The matter has presumably become do-or-die because the (Haredi) United Torah Judaism party has threatened not to back the 2019 state budget in the Knesset if the draft law isn't passed. However, it stepped back from a threat to withdraw from the coalition over the issue.
But another coalition partner, Finance Minister (and Kulanu leader) Moshe Kahlon, has already threatened that if Passover arrives without an approved budget, he will not spend the holiday – which starts at the end of March – as a member of Netanyahu's coalition.
But beyond all the party posturing, nearly all of Israel's political pundits say the real urgency lies in the desire of one person to see elections happen: Netanyahu.
Why would Netanyahu want a snap election?
Sources around Netanyahu and the Israeli political pundits are saying the prime minister seemed to have decided that an early election was in his best interest, could save his political career and help him beat his growing pile of legal woes.
In an ideal world, presumably the last thing a sitting Prime Minister with a clear majority would want is to begin campaigning. Netanyahu should be sitting comfortably atop a solid coalition, one that would keep him securely in power for another 18 months. But his situation is far from ideal. Looming are recommendations by the Israeli police that he be indicted in two separate corruption cases. A third case, still under investigation, has the potential to result in even more serious charges. So far, three of his former confidants have turned state's evidence against him, trading damaging information about Netanyahu for more forgiving treatment by the prosecution.
If an election happens, it could signal how cornered the prime minister is feeling regarding his legal situation and how eager he is to show the police – and the rest of the legal establishment – that he remains the Israeli voter's choice and that any move to depose him would be interfering with the will of the people.
There is also speculation that the entire exercise is simply an attempt by Netanyahu to pressure his coalition partners into committing to stand behind him even if he faces criminal indictment. If this is the case – and his partners agree – an early election would be averted. That seems to be the situation- at least for now.
How is Netanyahu so sure he'll come out ahead in an election?
He isn't – and that may have fueled his hesitation to push for elections on Tuesday. But if current polls hold any weight, he and his Likud party are in a remarkably strong position, hanging onto their political dominance in the face of the barrage of damaging stories about Netanyahu and other scandal-embroiled figures in his right-wing party.
Monday's Israel Television News poll found that Likud would win 30 seats if an election were held tomorrow – well ahead of its closest rival, opposition party Yesh Atid, with 21 seats. All of the other parties trailed far behind, with fewer than 13 seats apiece.
A triumph in a June election and a renewed coalition would allow Netanyahu to return to the Prime Minister's Office in a strengthened position: As a freshly reelected, powerful leader in a better position to fend off any potential indictments and criminal proceedings.
So why is Netanyahu mulling an election in June?
First and foremost, he would like to capitalize on his current standing. Likud is polling strongly, so he wants the election to happen as quickly as possible under Israeli law (three months after dissolving the parliament).
He also has other incentives: Netanyahu is anticipating that spring will be good for his public image, repairing the damage of the police investigations. He will be the star of Israel's 70th anniversary celebrations in mid-April. Furthermore, the inauguration of the U.S. Embassy in Jerusalem, set for May, and a possible American withdrawal from the Iran nuclear deal would highlight his political accomplishments.
How many other parties want an early election?
Almost no other political party really wants a June election. Netanyahu's coalition partners enjoy wielding power in their influential ministries, but an early election threatens that power since a poor showing could take away their cushy jobs. Even ministers in Likud privately fear losing what they have now.
And yet, few are in a position to publicly oppose Netanyahu. The coalition parties derive their power from their support of the prime minister: If he wants an election, they have little choice but to go along with it obediently, if not enthusiastically.
Only one coalition partner, Habayit Hayehudi – led by Netanyahu's rival for the heart of the right, Naftali Bennett – has been vocal in its opposition to an election. Its leaders have called the unfolding crisis "fabricated" and a "historic mistake."
The failure of Netanyahu's election gambit on Tuesday was evidence that behind the scenes, coalition parties were quietly doing their best to stave off an election announcement.
On the flip side, the opposition parties – with the exception of the centrist Yesh Atid party led by Yair Lapid – are currently polling at alarmingly low levels. While Lapid's numbers are strong enough to make him the opposition leader, he has little hope of being able to put together a coalition that could challenge Netanyahu's hold on power.
The opposition is even less able to speak out against a June election than the coalition. Month after month, opposition lawmakers have denounced Netanyahu, initiated multiple no-confidence votes and called out for new leadership, calling for him to leave office. They risk looking hypocritical and weak if they abandon the chance to replace the prime minister when Netanyahu himself drops it in their lap.
Click the alert icon to follow topics:
ICYMI
Ken Burns' Brilliant 'The U.S. and the Holocaust' Has Only One Problem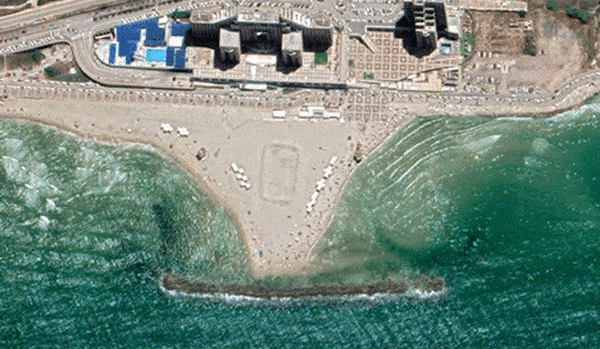 Facing Rapid Rise in Sea Levels, Israel Could Lose Large Parts of Its Coastline by 2050
As Israel Reins in Its Cyberarms Industry, an Ex-intel Officer Is Building a New Empire
How the Queen's Death Changes British Jewry's Most Distinctive Prayer
Chile Community Leaders 'Horrified' by Treatment of Israeli Envoy
Over 120 Countries, but Never Israel: Queen Elizabeth II's Unofficial Boycott