Israel Is Welcoming Record Numbers of Tourists – and It's a Nightmare
In 2017, 3.6 million tourists visited Israel, a 25 percent increase on 2016. But the boom is proving a headache at popular sites like Jerusalem's Old City and the Sea of Galilee
Chinese tourists standing in front of the remains of an ancient synagogue at the archaeological site in Capernaum.
Credit: משה מילנר / לע"מ
Israel is experiencing a tourism boom like never before – which should be a good thing. But not if you talk to folks in the industry.
To hear it from them, the Jewish state is woefully unprepared for the rush of visitors flocking to its shores. Rather than a blessing, they say, the situation has become a nightmare.
To really understand Israel and the Middle East - subscribe to Haaretz
Talk to them, and you'll hear that Israel doesn't have enough hotel rooms to accommodate all the tourists wanting to visit. Talk to them, and you'll hear about the endless lines outside every major tourist site, the inevitable pushing and shoving, the inadequate visiting hours and the lack of proper restroom facilities. Talk to them, and you'll hear about the tour buses that, for lack of available parking, are forced to drop passengers off in the middle of the road and have them make their way to their destinations by foot.
No wonder that Uri Bar-El, a tour guide who has been in the business for nearly 40 years, describes his job these days as "mission impossible." Or as Noam Ron, vice president for marketing and sales at Kenes Tours, laments, "With low investment in infrastructure for years, we sometimes find it difficult to provide tourists with the type of experience we would want them to have here."
According to the Central Bureau of Statistics, a record number of tourists, 3.6 million, visited Israel in 2017 – up 25 percent from the previous year. Hotel occupancy in cities like Jerusalem, Tel Aviv and Eilat was at 70 percent for large chunks of the year – basically the equivalent of being fully booked.
For other countries, 3.6 million tourists is hardly a drop in the bucket (Spain, for example, got 10.5 million foreign visitors last July alone). For Israel, though, such numbers could only be dreamed about until not long ago.
Indeed, every time tourism to the country appeared to be taking off, some war or spate of terror attacks would come along and set everything back a few years. Only in the past year has the tourism business made a full recovery from Israel's summer war with Hamas in 2014, industry executives note.
Two key factors explain the recent surge – which, based on early forecasts, is expected to continue and even gain momentum in the coming year as Israel celebrates its 70th anniversary (hotels are booked solid around Independence Day, which falls in mid-April).
One is the Open Skies agreement with the European Union, which has increased the number of flights to Israel while lowering the price of tickets significantly. Another is the relative calm Israel has enjoyed in recent years, in contrast to many other tourist destinations around the world.
"Security issues are no longer unique to Israel," observes Yossi Fattal, chief executive of the Israel Incoming Tour Operators Association. "Personal safety is no less an issue in Europe today than it is in Israel."
Large organized tours
Part of the reason the tourism boom has caught Israel unawares is that a significant percentage of the visitors – about a third, and growing – come on large organized tours. Not every hotel – particularly not the crop of boutique hotels that have sprouted up around the country in recent years, with limited numbers of rooms and little, if any, parking – is suitable for such groups.
"When you're talking about deluxe hotels, there's no shortage of rooms," notes Mushi Vered, a partner in Vered Hasharon, a tour operator that specializes in Christian pilgrimage groups. "The problem is with the lower-end rooms. There haven't been any new four-star hotels built in this country since 2000. On the other hand, there are thousands of new hotel rooms in Bethlehem [in the West Bank], and that's where more and more tourists arriving in Israel are spending the night."
Mark Feldman, the chief executive of Ziontours in Jerusalem, says he isn't aware of any tourists being turned away for lack of hotel rooms. "But I do know of many who are being charged outrageous prices or being put up in hotels 30 kilometers [18 miles] from Jerusalem or Tel Aviv for lack of accommodations in the big cities."
Hotels are clearly a risky business in a country susceptible to regular outbreaks of violence, which helps explain why investors prefer to sit on the fence. But Fattal says another reason demand for hotel rooms is outstripping supply is Israel's notorious bureaucracy. "It takes 10 years to build a hotel in this country from start to finish, whereas in other places around the world we're talking about a year or two," he says.
Mickey Nikolaev, who has been guiding groups from abroad for 20 years, says the situation is most dire near Lake Kinneret (aka the Sea of Galilee) – an obligatory stop on every Christian itinerary. "There haven't been any new hotels built there in ages," he says.
Asked to comment on these complaints, a spokeswoman for the Israel Hotel Association shifted the blame to the government: "Conditions must be created that are conducive to investment, while at the same time infrastructures must be built to support it," she said. "Since it takes 10 to 15 years to build a hotel in this country, the expansion of existing hotels needs to be promoted to accommodate future demand."
A spokeswoman for the Tourism Ministry said in a written statement: "In order to increase the supply of hotel rooms (and, as a result, reduce the cost of vacationing in Israel), the ministry has developed and implemented several initiatives designed to encourage investment in hotel construction, and shorten and simplify the approval process for the construction, renovation and conversion of hotel rooms."
Among other initiatives, she noted, the ministry has begun to subsidize investments in hotels and is spearheading legislative changes aimed at cutting the amount of time required to build hotels.
Some 85 percent of tourists visiting Israel make a stop at Jerusalem's Old City, where the main holy sites are located. But there is virtually no place for tour buses to park in the vicinity. "On Fridays [the Muslim day of rest, when big prayer services are typically held on Haram al-Sharif, known to Jews as the Temple Mount], you can't even approach the Old City," says Adrian Weisberg, a tour guide who specializes in English-speaking groups.
"Instead of trying to direct traffic, you have city workers handing out tickets to the tour bus drivers," he adds.
Nikolaev shares similar experiences. "Rather than help, they stand there and yell at the bus drivers," he says. "So what happens is that the drivers are forced to dump us at a public bus stop somewhere outside the Old City. Considering that most of my clients are over 60, it can be a very difficult schlep."
The problem, says Weisberg, is that many of the Holy Land's key tourist sites are not built to accommodate large numbers. "The Old City of Jerusalem – you just can't make it any bigger than it is," he says, by way of example.
But parking problems aren't unique to Jerusalem. "Take Capernaum – a must on every Christian itinerary," says Weisberg, referring to the village on the Kinneret's northern shore. "There's room for 25 buses in the parking lot there. But on many days you have 40 buses coming at once, so very often passengers are dropped off in the middle of the road, which can be pretty dangerous."
Now wait in line
And then there are the inevitable long lines. "It used to be that we'd have to wait about an hour to get inside the Church of the Holy Sepulchre," relays Weisberg, talking about the holy site thought to be the location of Jesus' crucifixion and resurrection. "Now we're talking about two and a half hours on average. The Church of the Nativity in Bethlehem used to be an hour and a quarter wait. Recently, I recorded three and a half hours there. At the church by Gethsemane, the crowds have become so huge you can't even hear yourself talk," he adds.
Masada is another popular site that has become a nightmare for visitors. Says tour guide Bar-El: "To control the long lines to the cable car, which can obviously accommodate only a limited number of visitors, they've started forcing the tourists to watch the movie about the place before they can go up. The problem is that the movie is only in certain languages, so for many of the people I bring there it's completely incomprehensible."
Making matters worse, tour guides say, is the fact that Israel's major attractions generally close as early as 4 or 5 P.M.
"The Church of the Holy Sepulchre and the Church of the Nativity – those are places that should be open around the clock," says tour operator Vered, "not just for a limited number of hours during the day."
Asked to comment on these complaints, the Tourism Ministry spokeswoman said: "The ministry works on an ongoing basis to improve infrastructure in order to enhance the tourism experience. This includes, among others, working with the relevant government and municipal bodies to improve parking and access to Jerusalem's Old City. Solutions include creating additional parking lots in the short term, while initiating projects such as the cable car to the Old City in the longer term. The ministry ensures that every new tourism project receiving government investment meets the necessary requirements in terms of bathroom facilities and ongoing maintenance."
She added that "tourists, both in Israel and around the world, are aware that they may encounter lines at popular tourist sites, especially in high season."
Independent travelers may not need large hotels and big tour buses to get around, but Israel has a long way to go to servicing them properly, says Fattal. "Getting to the country's main tourist attractions by public transportation is virtually impossible," he says, "and the signage on the roads is simply awful."
While Tel Aviv tends to draw more independent travelers from abroad than groups, it has a hard time offering them suitable accommodations, says Eytan Schwartz, CEO of the Tel Aviv Global and Tourism Company. "This is a city known to attract young tourists, but it doesn't have enough affordable rooms for their budgets," he says.
Beyond that, notes Schwartz, "there isn't even a bus that goes from the airport to Tel Aviv."
Ziontours' Feldman isn't overly concerned by the long lines and parking problems that clearly aggravate many of his colleagues. Such challenges are endemic to any popular tourist destination, he shrugs.
"I hear the same complaints all around the world," says Feldman. "The main problem here is the prices. Sure, that's not going to stop tourists from making their first visit – but they're not going to make a return visit because of those high prices. And that is something the government needs to understand."
Click the alert icon to follow topics:
ICYMI
Ken Burns' Brilliant 'The U.S. and the Holocaust' Has Only One Problem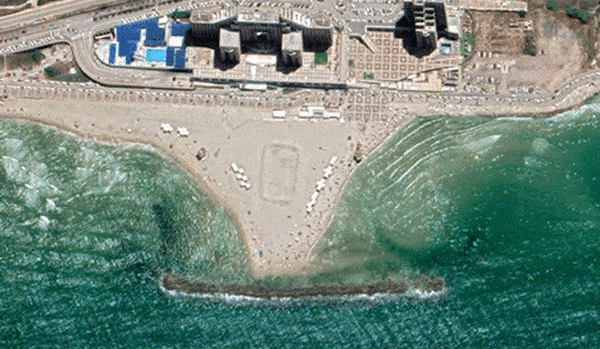 Facing Rapid Rise in Sea Levels, Israel Could Lose Large Parts of Its Coastline by 2050
As Israel Reins in Its Cyberarms Industry, an Ex-intel Officer Is Building a New Empire
How the Queen's Death Changes British Jewry's Most Distinctive Prayer
Chile Community Leaders 'Horrified' by Treatment of Israeli Envoy
Over 120 Countries, but Never Israel: Queen Elizabeth II's Unofficial Boycott