The Israelis Helping Rehabilitate Disaster Areas With Honey
A chance meeting with the Dalai Lama changed the life of this Israeli couple, inspiring them to travel the world to empower disaster victims with honey and rebuild destroyed villages
Reizy and Tete Dagani.
Credit: Tomer Appelbaum
For the past eight years, Reizy and Tete Dagani, until recently residents of the community of Tzukim in the Arava desert, have been helping the people in the small village of Ratankot, east of Kathmandu, in Nepal. "We fell in love with that place, I can't explain why," says Tete, 60, about the village, which during some seasons can take three hours to reach by foot from the nearest road, across steep ascents and descents.
Drawing on their architectural and management experience, the couple helped renovate the local school. When they discovered that there was no medical clinic in the area, they and their children taught first aid to the villagers in Ratankot and 20 nearby Himalayan villages. Thanks to Tete's background as a successful cheese maker, they also tried to establish a dairy to produce goat's cheese that would employ Tibetan refugees. Everything they've done has been on a voluntary basis, sometimes paid for from their own pocket. Sometimes they've succeeded, sometimes not. The cheese project, for example, failed.
In the end, the couple had an enlightening experience. "The agriculture there is at such a low level, and we understood that there was no point engaging in standard farming," explains Tete. "We really wanted cheeses, but we realized that it wasn't going to happen. Then we came up with the idea of honey. Honey doesn't need cooling, it's easy to store, doesn't require a lot of work, and fetches a relatively high price in Nepal."
'Our approach,' Reizy explains, 'is that people have to help themselves.'
They launched a search for the right expert, and eventually – after they set up a stand in the Arava where people could donate to the village – a beekeeper who is also fond of Nepal, Tim Cummings, approached them by chance. A resident of Kibbutz Sha'ar Hagolan in the Jordan Valley, Cummings has been keeping bees for 30 years, and though he's in his seventies he still goes on treks to Nepal. Cummings volunteered to give the Nepalese villagers a three-week course, and as a pilot program, 20 hives were installed in 2015, having been acquired in partnership with the Nepalese, who paid 40 percent of the cost.
But on April 25, 2015, 10 days after the Israelis returned home, the situation in Nepal changed drastically. A 7.8-magnitude earthquake ravaged the country, and it was followed by a second earthquake two weeks later; between them, they took 9,000 lives. The events were well covered in Israel, if only because of the Israeli hikers who were caught up in the catastrophes. But after the media left, the Nepalese had to face the calamitous consequences of the natural disasters. Of 180 houses in Ratankot, only one structure remained standing – a concrete house built by a young villager, whom the Dagani family helped send to Israel for studies.
"The earthquakes shook something very deep inside us," Reizy says now. The couple had kept visiting Nepal for long stretches on vacation, but Reizy continued to work as a landscape architect in the Housing Ministry, while Tete was development manager for the Mid-Arava Regional Council. But then, while they were only in their fifties, the two decided to leave their jobs and become full-time volunteers.
Reizy: "We decided to act and to devote all our time to Nepal. We were shattered by the devastation. We realized that with only our own resources it would be pretentious to help in a disaster of this scale. A fellow from the Arava connected us to an NGO called IsraAID. We told them we wanted to build shelters in the village. They asked how much we needed, and we told them $50,000. Within 48 hours they told us, 'Go ahead, you've got $50,000."
At the Daganis' initiative, every family in the village received a shelter, which is actually a hut that is intended to withstand up to three consecutive months of monsoon rains. Some of the locals still live in the huts. Each such structure was equipped with a solar lantern, which can also be used to charge cell phones. "Our approach," Reizy explains, "is that people have to help themselves, we are not Uncle Sam. Each family had to bring five bamboo shoots of a specified length, along with the window and door of the house that had collapsed, and stones from the rubble for building. We supplied cement and trained 20 local workers at a salary of $3 a day."
The shelters are an upgraded version of a basic model from Pakistan that the Daganis found on the internet, in the form of a 15-square-meter structure divided into two small rooms. The roof is made from bamboo arches, which allows construction of a spacious dwelling that by Nepalese standards is a luxury for a family of five or six.
"We created insulation between the bamboo and the tin by means of a thin mat, so that in the summer it's effectively air-conditioned and in the winter it's insulated. The problem with most rapidly constructed huts is that water leaks in. These structures are completely sealed. It was very important for us that there be no holes," says Reizy. No less important in such cases is the speed of assembly and the modest cost: $250 per hut. Within a short time, before the monsoons, which begin in June, 700 shelters had been built in Ratankot and the surrounding villages. The NGO sent a photographer, and a delegation of donors was pleased.
Saying no to bribes
Still, it wasn't all smooth sailing during the construction process. "Sometimes you need to be aggressive, too," Reizy says. "I managed the construction with a tough hand. People in Nepal don't get angry. There's no such thing as making snide comments. You have to be pleasant and bring a cup of tea – but there was no time for that. It was an emergency. I explained that I only wanted for them to be comfortable, and that when I say 45 centimeters, it had better be 45 centimeters. I was rude, but it was because before the huts were built they lived under plastic sheeting. They understood, but even so they were stunned that a woman was doing the managing and getting angry at them, too."
The success of the building project showed IsraAID that the Daganis were serious people, not just a couple with good intentions. In the same way, the honey project also moved from experimental to practical stages, along the way picking up the name HoneyAID. The Daganis received $50,000 for what was termed a female empowerment project by means of beekeeping. According to Reizy, "There are women in Nepal who didn't earn a rupee and didn't have a thing of their own. Beehives are a small tool for adding to the family income."
Reizy and Tete went to Nepal for three months, and together with Cummings conducted courses in beekeeping. To date, some 350 local women have completed the intensive training, and all of them now have more or less thriving beehives, which are organized within a cooperative.
'At first the women are shy and don't talk, but by the time the course is finished, they stand differently, daring to ask questions and ask for things.'
No few problems arose in the course of moving from a small, low-profile family project to a broad, institutionalized enterprise. The Daganis, says Reizy, found that "the bureaucracy and the corruption are shocking," and that it's "far from simple to carry our humanitarian work in Nepal." They were unwilling to give bribes, they say, "and of course IsraAID also refused. It's especially infuriating when you're a volunteer who's come to help and people ask you for money."
Another problem that arose was that the locally produced beehives (the term refers to the man-made structures that hold bees' nests) weren't strong enough. However, instead of importing modern ones, it was decided to establish a beehive workshop in a nearby town that was equipped with up-to-date technology – a project that provided additional jobs for local residents.
"Our beehives are of the highest quality available in Nepal. It's not easy to build hives that will be able to withstand all types of weather," Reizy notes. So successful has the venture been that it now sells hives to other beekeepers in Nepal who are not even connected to the project. The couple emphasizes that this too is a not-for-profit enterprise, and that the price of the hives only covers the costs.
The impact of the women's empowerment program has been no less important than the honey business. "At the start of the course," according to Reizy, "we distributed notebooks to female beekeepers from the ages of 16 to 60, and we asked them to write their names on the cover. We discovered that many of them, including the younger ones, signed with a fingerprint, because they didn't know how to write. On the other hand, a girl who was literate turned out to be a dominant leader, and she became a reading and writing teacher. Now she gets a good salary in the course for teaching the others how to read and write. It's thrilling to see a woman of 60 take pride in knowing how to write. Now they can also help children with their homework."
But good intentions aren't necessarily enough: The couple has to be careful not to create new problems. The whole issue of female empowerment "calls for caution," they explain.
Reizy: "We were afraid that what we were doing would anger the men, who had their sense of privilege taken from them. They were used to the women doing everything. So we held meetings in advance with psychologists and therapists, and spoke to the men and women. For example, we explained to the women how to present the subject at home, in way that wouldn't be seen as lording it over the men. It was important for us to have them understand that they needed to share with their husbands and make it clear that the extra income would help the whole family. It's very easy to make mistakes when you come from the outside and intervene. Happily, the husbands came along to help. They and the older sons lugged the hives from the truck."
How did the project change things?
Reizy: "The economic improvement is not very significant. Economically, the profit from the honey is the equivalent of a few kilograms of rice a year. The revolution is one of consciousness. In the initial meeting, the women are shy and don't talk, but by the time the course is finished, they stand differently, daring to ask questions and ask for things, understanding that they are allowed to talk. Now they have beehives of their own.
"There's a serious problem of alcoholism in Nepal. So it was important for us that it be a cooperative venture, so the husband wouldn't sell the hives, which cost more than $100, and buy alcohol. Fortunately, there were no cases like that. We are also constantly in support mode; there's a team that comes once a month to review our work."
Aid to the poor of the world doesn't always help, and sometimes even causes harm. Weren't you concerned that the same might happen in your case?
"Things are done very poorly in the realm of aid. The aid organizations have all these jeeps, and their staff stays at five-star hotels, while a shelter that can save people costs $250. That's hard for us to accept. Many organizations exploit the situation to make a bundle of money. Not only foreigners, locals too. There are orphanages that are a business. Children are taken from their parents and orphanages are established because it photographs well for donors, and the volunteers who work there even have to pay 800 euros.
"On the other hand, we know a serious orphanage in Nepal that is run by Swedes. In Kathmandu, we bought children's meals in order to give street children a hot meal. But you also understand that you're not helping, even making things worse and creating a habit of not having to work. In the end, there are local folks who bug the Westerners, because they understand that money comes easily from there. A mother approaches a tourist with a baby girl and tells him that she needs to buy powdered milk. But she took the baby from a trafficker who deals in children. As soon as you buy her the powdered milk and leave, she takes it back to the store and gets the money back."
'The problem is that they don't milk goats in Nepal. When I showed people how I milk goats, they looked at me as though I were milking a dog.'
Tete, you were a successful cheese maker in Israel. How did you fail with the dairy?
"The problem is that they don't milk goats in Nepal. When I showed people how I milk goats, they looked at me as though I were milking a dog. We brought in better goats and improved the breeding conditions. But some people didn't agree to work with the methods we introduced. They preferred the traditional approach of raising goats that are tied with a rope in a way that pressures the goat so that it stops producing milk. The young people said they would try our method, but the elderly and the veterinary service objected. The veterinarians told us that if we continued like that, 'We will not treat your goats.' About 10 goats remained from the project. We are vegetarians and we didn't want them to be sold to the meat market, so they remained with the farmers as pets. Actually, I was vegan during part of the project."
How does a vegan establish a dairy project?
"On our farm in the Arava, we treated animals humanely."
Eilat's 'Sing-Sing'
Tete (whose birth name is Shay) grew up in Kiryat Ata, a Haifa suburb, and Reizy is from Ashkelon. They met when Tete was in Kibbutz Grofit, north of Eilat, as a soldier in the Nahal infantry brigade.
The couple married in 1980. He attended university (Reizy: "I understood that it wasn't my thing") and afterward became a prosperous restaurateur, owner of a restaurant and three espresso bars, around the country. Afterward, Tete founded a construction company that specialized in building restaurants.
Tete: "In 1999, a banker friend of mine told me that a new community was being built and that plots were being distributed. That turned me on. What was to become the community of Tzukim was then a hill in the Arava, there was nothing there. But we wanted to get away from the city. We didn't want our children hanging out in malls, we realized that riches don't lie in a Mercedes and in parties. And I really did have a Mercedes. So I closed down the business and we moved to the Arava." Theirs was the third house in the community, which has since grown considerably.
The couple took note of the surplus fruits and vegetables that piled up in the nearby communities – a sharp contrast to a destitute neighborhood in Eilat, to the south. They joined a project in which hundreds of kilograms of Arava produce were distributed weekly to needy residents of Eilat, particularly the elderly, new immigrants and African asylum-seekers who lived in a poverty-stricken apartment complex dubbed "Sing-Sing." At first the initiative was opposed by local right-wing activists, who demanded that the food be given only to Israelis, and even summoned the police, but the organizers were able to overcome this resistance.
Buddhism and flowers
A chance meeting 10 years ago changed their lives, recalls Tete. "We went with the children to India, to Ladakh. We knew that the Dalai Lama was speaking there, and we went to hear him as tourists. On the way we saw his convoy. It stopped next to an army base, and we came upon a small gathering of the Dalai Lama and some Indian soldiers. I said, 'Let's go try to grab a picture with him.' I didn't really know who he was. So Reizy, the children and I started shooting video. The Dalai Lama passed by us, looked in our direction and asked me, 'Where are you from?' From Israel, I told him. He responded in Hebrew, 'Shalom, shalom,' and shook my hand. I dropped my camera. When he continued on his way, I had a real crying jag. I couldn't stand up. I just cried."
That encounter led Tete to become a Buddhist, which certainly helps account for the intensity with which the couple is trying to save the world. Ratankot, too, is a Buddhist village, making its residents a minority in country that is largely Hindu, and he and Reizy went there at the recommendation of a Buddhist monk. Reizy does not define herself as a Buddhist. "I have a problem with being pigeon-holed," she says, "I'm just a human being."
"I've been searching since I was 16," Tete says. " ... After the meeting with the Dalai Lama, I read books about Buddhism. On every page of every book, I said to myself, 'Wow, this is what I've been looking for.' I don't call Buddhism a religion, but a way of life. To be a Buddhist you don't need prayers or special clothes, only to be a good person who looks after others and spreads goodness. I am also a Jew, because that's the way I was born, and I don't deny it."
After the success in Nepal, IsraAid sent the Daganis to Fiji to deal with the damage caused by Cyclone Winston – a horrific, Category 5 storm that slammed into a village on the island in February 2016 and destroyed 90 percent of its houses. People are tough in Fiji, so the work went really fast, and 34 homes were built immediately, the couple says. While the construction was in progress, however, another storm struck, this one Category 2. Says Tete, "You close the windows and doors, put up a tent inside the house and watch how all the pails fly around outside. You can't imagine what one of these cyclones is like."
The Daganis relate that they were very popular in Fiji, and not only because of the aid they offered: "The Fijians are great lovers of Israel. Our construction team was covered on national TV, we were superstars. It means a lot to them that we came from the place where Jesus was born."
One day, the two were taken to the island of Ovalau, site of Levuka, the colonial capital of the Fiji archipelago. Reizy recalls how, "We were told that the chief of chiefs was coming and were asked to sit quietly. When he arrived, we were instructed to crawl up to him and shake his hand. As you see us here, we crawled."
'Altruism is the greatest egoism. I feel absolutely egoistic and derive a great deal of satisfaction when change occurs.'
Making change happen
The next stop, last May, was Ecuador, which is still recovering from a severe earthquake that struck the country last year. There the Daganis encountered new challenges, including crime and violence.
"We feared for our safety," Reizy recalls. "In Nepal that wasn't a problem. But Ecuador was scary. A taxi driver explains that he doesn't stop at intersections if he's carrying white passengers, because he's afraid of bandits ... Even the police were afraid to enter the neighborhood." And amid those harsh conditions they managed to establish a small cooperative "honey village" for women.
The initial beehive project in Ecuador began with 40 families. "They chose to call the cooperative 'The Working Queens,' and as a logo we chose, as part of their empowerment, a heart with a crown" – which Reizy shows me proudly. "We had the logo emblazoned on T-shirts for them. Ecuador is considered a paradise for bees, and they produce a lot of honey, but if in Nepal the bees are lazy but are still capable of reaching an altitude of 1,500 meters – in Ecuador they're very aggressive. We also taught first aid there. And we equipped each group with an injection in case of stings. So far that hasn't been a problem."
As the Ecuador project has been underway only for six months, it isn't yet producing clear results. "The beekeepers are very satisfied, they collected a nice amount of honey. They learned how to market it, and they're making money. Now we're teaching them how to turn each hive into two hives. A salaried person visits the hives and reviews the situation at regular intervals. The intention is not to give something and leave. We are volunteering as a full-time job."
In the midst of all these disasters, are there moments when you enjoy yourselves?
Reizy: "Altruism is the greatest egoism. I feel absolutely egoistic and derive a great deal of satisfaction when change occurs. Even something small that can very much help one or more person. Just to think about a mother who is able to read and write and will pass that on to the next generation."
How have you survived two years of volunteering without earning anything?
"We are renting out the house in Tzukim and the house in Hod Hasharon. Living is cheap in Nepal, and even in Holland, it's half of what it is here."
I'd been trying to meet with the Daganis since last July, but it was a disaster-packed year, and they went from one calamity to the next, not managing to stop off in Israel. Finally we met about three weeks ago in Tel Aviv, when they were here for a very short visit to collect equipment for the tiny Caribbean island of Dominica, population 78,000, which was struck by two hurricanes, Irma and Maria. About 95 percent of the island's structures were destroyed in the storms, in which winds reached 300 kilometers an hour (186 mph). They're planning to build structures there, organize a beekeeping project and along the way to create a children's playground from recycled materials. "We found a population in a form of shell shock who haven't yet digested what happened to them and aren't capable of starting rehabilitation processes," they told me in an email.
'You want to lend a hand'
I must conclude on a somewhat pessimistic note.
Too often, when you investigate who's selling arms to despotic regimes or helping to suppress human rights, you don't have to look too hard before you find a depraved Israeli who's making a killing. One reason I wanted to meet the Daganis was to try to show – to show myself, too – that there are also Israelis on the other side, people who leave the comforts of home to help others whom they don't know in a remote village, and utilize Israeli resourcefulness beneficially.
But the Daganis say that they don't fit into my lovely thesis. IsraAID, they say, has nothing to do with the Israeli government, but is funded mainly by American Jews. They also relate with sorrow they recently decided to leave Israel and base themselves in Holland. "We are not doing what we do as Israelis, we are not motivated by Israeliness. We do it as human beings," they say.
When I pressure them a little more, and mention other cases of Israelis who are working to help others in the world, they loosen up a little: "Maybe there is a Jewish soul, something in the Jewish genome – from what this nation underwent you understand what disaster causes. Maybe it comes from there. It's easier for a nation that endured a great many disasters and calamities to identify with others. For example, the plight of the Rohingyas, a million people who are thrown out of Burma to Bangladesh – the world's most backward country – tugs at the heartstrings. You want to lend a hand."
Yet Israel has sold arms to the regime in Burma.
Reizy: "It's appalling. We are making a great many mistakes. That's perhaps one of the reasons that we left the country and are moving to Holland. It's hard for us to continue in Israel, as left-wingers who support peace and don't want to be afraid to say so."
Your leaving certainly doesn't help. It's effectively a surrender.
"When Stav Shaffir [MK, Zionist Union/Labor] is elected prime minister, we'll come back ... To be candid, you can say that we have given up. The situation doesn't look promising."
I thought the Arava was a relatively affable region.
"Even there you can see influences of religious influence. Parents are asked not to bring homemade birthday cakes to school, because two kids in the class keep kosher. That is not Jewish and not nice. Our liberalism is being exploited. In Holland, the elderly and the disabled receive a package of support from the government. In Israel, the disabled beg for money to be able to get through the month. Holocaust survivors beg for medicine. How will that end? Our daughter already lives in Holland, our son is talking about leaving. We very much hope to return, we love the country."
The couple won't be taking it easy in Holland. They're already planning to establish a free ranch for retired farm animals, such as sheep who have given the last of their wool and cows that are no longer being milked. Animals will be able to live there in dignity until they die.
Aren't there any old animals in Israel?
"We tried to establish a similar free ranch in the Arava. We found land that no one wanted, and we went through 13 years of requests and promises that 'Another year and it'll all be arranged.' In the end, we were asked to deposit 250,000 shekels [$71,000] and pledge not to build anything on it. In Holland, they're welcoming the idea with open arms. Not only will we get permits, but also funding from the EU, from the state and from the municipality, which will help us buy a farm. It will be a kind of old-age home for animals, with volunteers and employees with disabilities. People will be able to come and adopt an old sheep or goat."
ICYMI
Ken Burns' Brilliant 'The U.S. and the Holocaust' Has Only One Problem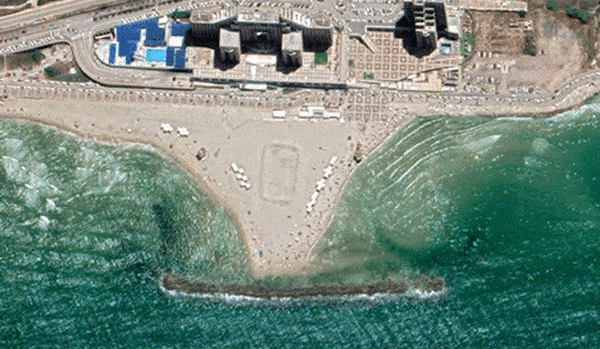 Facing Rapid Rise in Sea Levels, Israel Could Lose Large Parts of Its Coastline by 2050
As Israel Reins in Its Cyberarms Industry, an Ex-intel Officer Is Building a New Empire
How the Queen's Death Changes British Jewry's Most Distinctive Prayer
Chile Community Leaders 'Horrified' by Treatment of Israeli Envoy
Over 120 Countries, but Never Israel: Queen Elizabeth II's Unofficial Boycott