Time to Stop Being 'Napa Valley Copycats,' Urges Renowned Wine Expert During Israel Visit
On a recent visit, Master of Wine Jancis Robinson praised Israeli whites but had some suggestions for producers of reds
Wine Master Jancis Robins.
Credit: Benjamin McMahon
"Jancis Robinson? We don't have a guest in the hotel by that name at the moment," the polite receptionist at the American Colony Hotel in Jerusalem tells me firmly, unwittingly revealing that despite the fact that in the wine world, Robinson, a journalist and wine critic, is a global star on the level of Messi or Ronaldo – in other worlds she is still an anonymous British woman.
I persist and after a few failed attempts it turns out that her room is registered to Nicholas Lander, the Financial Times restaurant critic, who is also Robinson's husband. The couple arrived in Israel on a clandestine visit in September defined as private, and that's how they managed to avoid a flood of invitations from local wine producers and restaurateurs.
Still, their stay wasn't so secret: They visited the wineries that are members of the Judean Hills Quartet – a joint branding initiative recently launched by the Domaine du Castel, Tzora, Flam and Sphera wineries, which earlier this year held a tasting in London and invited Britain's most senior wine writers.
They also attended an extensive tasting of Israeli wines organized for them by the sommelier Shira Tsiddon at Tel Aviv's exclusive Norman Hotel, together with other leading figures in the local world of wine.
Among all those people, and for the Israeli industry in general, Robinson's opinion wields an enormous influence internationally – and with good reason.
For more than four decades, she's been counted among the wine world's most influential people. She began her career as a journalist writing about wine in London in the mid-1970s, and by 1984 she was the first Master of Wine – the highest title in the field – who did not emerge from the wine trade per se.
Since then, Robinson, 67, has forged an impressive career in what has mostly remained a male-only occupation. She has appeared widely in the media, written for every well-known wine magazine, and has published dozens of books for which she has been awarded almost every possible prize from the wine-related media.
Even if there isn't room here to list all her accolades and achievements, if there is one that stands out as her legacy it's Robinson's "The Oxford Companion to Wine," co-authored with Julia Harding, which was published in a fourth edition in 2015, and is considered the bible of the wine world.
Robinson has also crossed over successfully into the digital world, and in the course of the last 15 years her website, jancisrobinson.com, has become a huge source of information and has attracted a loyal following among oenophiles around the world.
In fact, in the Purple Pages, as the site is known to its readers because of its lilac hue, Robinson has cracked the code that many others in this age of free, accessible content, would like to master: how to grow a site based entirely on paid subscribers, and to dizzying success.
Whether on her website or in print, Robinson's style doesn't change. She is minimalist, and her tasting notes are for consumers, not producers. She says that she's sure that her comments are sometimes boring because, "I refuse to play the game of writing 20 kinds of fruits which don't differentiate. My notes are meant to give the reader an idea as close as possible to what I was thinking about the wine." By this she means that in the past, for example, she tried to persuade writers not to go to wineries in Bordeaux for the annual en premieur tastings – before bottling, while the wine is still in the barrel – "because we are like dancing monkeys. They just get us along to help them sell their wines."
Even though her attempt didn't succeed as hoped, she admits that her biggest pride is the fact that her website is independent and does not rely on any commercial materials. That admission is the closest thing to a pat on the shoulder that Robinson gives herself during our conversation.
Indeed, every attempt to get self-congratulations out of her elicits a response that recalls good British comedy series. On the other hand, the attempt to elicit a compliment with respect to local wine production doesn't always draw the expected response.
'Great big monsters'
You might be the most highly regarded wine critic in the world. What do you think makes you special in relation to all the others?
"Hard work! I work very hard. No secrets. And I would say that I'm not absolutely brilliant at any one thing but I'm quite good at a lot of things so I think that helps. Whether it's writing or tasting. You also need good health and a good constitution to be a wine writer; it's quite tough. And I know the general reader isn't going to sympathize and will say, 'Oh, it's such hard work tasting wine, traveling and eating' – but you need to be quite strong. What people don't realize is the massive gap between tasting wine and drinking wine. I still love drinking wine, I enjoy it, I relax and I'm enjoying and I want to make the most of every positive aspect. When tasting, I'm trying to find the negative as well as the positive and I'm really concentrated."
How actually do you define yourself best? A wine critic? A wine writer?
"I don't like the word critic, it suggests a negative approach. I like writing so I would call myself a wine writer, and I hope that with my writing I entertain and inform – those are the two main things. I want people to find my writing amusing, easy to read, and if they get information out of it that is great."
What's your impression of Israeli wines, in terms of style and character?
"White wines were impressive, much better than I remembered, and I think the Mediterranean varieties shone out. I really enjoyed some of the Rhone blends as they seem to have good freshness. With the red wines, I think they ought to be deliberately making some fresh red wines, as well as these great big monsters [i.e., the big, bold wines]. It's time that they grew out of the Napa Valley copycat phase. Because of the local climate and the food.
"It's a shame that they have a bad clone of Grenache, because I think a light Grenache could work really well here. A bit like the Gredos Mountains near Madrid where they have some old vines of Grenache. And they are making minerally refreshing Grenache wines [there]. You could also make some refreshing Syrah wines, it does not have to be massive."
Have you been following the Israeli wine industry over the years?
"I always tried to taste as much as possible. Occasionally, an Israeli wine producer contacted me and sounded quite interesting, and then sends wine and I could see that they were getting more and more interesting The Judean Quartet came to London last March, and I think that lit the fire. It was the trigger. Meeting some Israeli wine producers who seemed sympathetic and not members of big companies."
And yet on your website there's no regular coverage of Israeli wines.
"There is no regular coverage of Israeli wine in my website because it [the country's wine industry] is very small. You don't see them in the UK. We see very few interesting Israeli wines in the UK."
And how would you, who travel quite a bit in your career and meet wine people, define the reputation of Israeli wines in the world?
"Nascent, embryonic. Still so many people only had Kiddush wine or maybe some Yarden. Those are the sort of wines they could meet in the supermarket of a Jewish neighborhood."
At the moment, Robinson adds, she doesn't see a major demand for Israeli wines.
"I don't see an extent, there isn't a strong demand for Israeli wine. Obviously, with what I write I would try to educate people and make them realize that there are some nice and interesting Israeli wines and if they have interest in the wines of the world – if they are wine geeks or in the restaurant or wine-bar business and want to have a truly extensive wine list – so they should take notice of what's going on in Israel today. But it would be quite a tough sale, partly because of the price and partly because most of the wines are international grape varieties so they are going head to head with some other international variety wines from producers all around the world."
So perhaps it would be easier to export or interest wine people in indigenous wines, Dabuki for example?
"That would get your foot in the door with wine geeks and people that love wine. But I don't want to over-emphasize this. It would be crazy for everyone to pull out their Cabernet and Syrah and plant obscure varieties. I think it is definitely worth leaning over backward to encourage these varieties but obviously the mainstream would be the more known varieties."
But if we leave the commercial aspect for a moment and think in cultural terms, there's also some sort of added value to varieties that belong to the history of the area.
"I think it is definitely worth leaning over backward to encourage these varieties, but obviously the mainstream would be the more known varieties."
Another thing that's hard to find in Israel are women at wine-tastings. Is there a way to get them to join in?
"One thing that make me really sad is that even today, when there are so many women interested in wine and everyone says on public record that women taste really well and women are doing really well in exams of WSET, still only 15 percent of the members of my website, the Purple Pages, are women. And you would think a woman who is interested in wine would definitely favor my website more than others. That makes me sad.
"I used to say until very recently that in Britain women do most of the work in the wine trade but they never get the really top-level jobs, but actually now in Britain the CEO of at least three of the most important companies in the wine trade are women."
Still, do you see more women choosing wine and knowing what they like?
"I would say women know what they like much more and they are not as influenced as the average man. I'm not talking about professionals, but the average man when choosing wine is more likely to worry about which wine he ought to order, the social status, what it says about him, will his boss be impressed. Whereas women, in general, order what they want to drink. As oppose to, is it smart enough, did it get good score, is it fashionable and I'm quite pleased about that. Women are more relaxed around wine and men get very tense about wine and [about what] their choice says about them. It's very much like cars."
To conclude, are there still some wine regions to be discovered in the future? Are there any deep, dark secrets?
"I think Spain and Italy still have a lot to reveal, they are so varied. China going to be exporting very soon."
Click the alert icon to follow topics:
ICYMI
Ken Burns' Brilliant 'The U.S. and the Holocaust' Has Only One Problem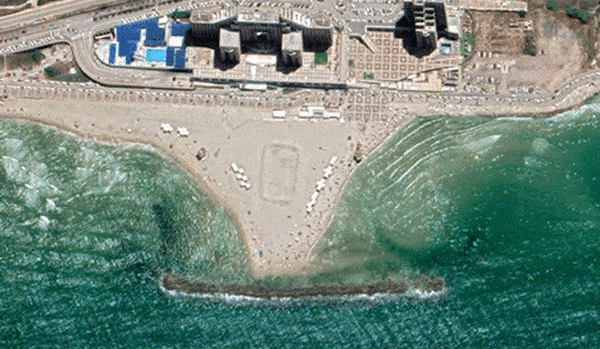 Facing Rapid Rise in Sea Levels, Israel Could Lose Large Parts of Its Coastline by 2050
Lapid to Haaretz: 'I Have Learned to Respect the Left'
The Mossad's Fateful 48 Hours Before the Yom Kippur War
As Israel Reins in Its Cyberarms Industry, an Ex-intel Officer Is Building a New Empire
How the Queen's Death Changes British Jewry's Most Distinctive Prayer