This 'Inglorious Bastard' Hunts the Few Remaining Nazis, No Matter How Old They Are
Thomas Walther, 73, is a gentile lawyer who's driven to pursue justice for the victims of the Shoah: 'There is no statute of limitations on murder,' he tells Haaretz
Thomas Walther in Tel Aviv, November 2017.
Credit: Ofer Aderet
Thomas Walther chalked up another victory last Wednesday when a German court ruled that Oskar Gröning, "the bookkeeper of Auschwitz," was fit to serve his four-year prison sentence, paving the way for the 96-year-old to go to jail. "There is no statute of limitations on murder, and even old age is no protection from punishment," Walther told Haaretz by email last week.
The 73-year-old lawyer was responsible for Gröning's July 2015 conviction for his part in the murder of 300,000 Jews – even though Gröning's role at the death camp was "only" sorting the bank notes seized from trainloads of arriving Jews.
Thanks to Walther, since 2011 it has been possible to prosecute former Nazis in Germany for "aiding and abetting murder," even if there is no proof that they actually killed anyone. All that needs to be proven is that they served in any capacity at a camp where people were murdered.
In an interview with Haaretz last month in Tel Aviv, Walther explained the philosophy behind the prosecution of people who were "small cogs" in the Nazi murder machine, noting: "When a car factory manufactures 300 cars every day, everyone in the plant plays a part." In other words, not only plant managers but also workers on the assembly line, finance officers, maintenance workers, management and marketing personnel all play a role in producing the final product. Similarly, "anyone who worked in a death camp, regardless of his role there, was a partner in the final product: human ashes."
For the victims' sake
Walther was in Israel to collect material for two new trials currently underway in Germany. They involve the prosecution of three guards who worked at concentration and death camps. During his visit, he met three survivors from Stutthof – a concentration camp located near the city of Danzig (now Gdansk in Poland). Last month, charges were filed against two former SS members, aged 92 and 93, respectively, who served as guards at the camp. They are charged with being accomplices to the murder of hundreds of Jews, Poles and Soviet prisoners of war who were held at the camp.
The material collected by Walther will help the prosecution support its claim that living conditions at the camp, including forced labor carried out by the inmates, killed many of them.
Anyone who worked in a death camp, regardless of his role there, was a partner in the final product: human ashes.
On the face of it, there is no need to collect new testimonies from survivors regarding the events that took place over 70 years ago and which have already been well documented by historians. No one disputes the fact that tens of thousands of Jews were murdered at Stutthof. But there is another factor here, one Walther sees as crucial.
"These trials are not only against the criminals but also – and perhaps mainly – for the sake of their victims," he explains. "We could probably make do with more limited evidence, but the power of these trials is in the living testimonies of survivors and the relatives of victims."
German law allows survivors and the families of victims to appear in court as co-plaintiffs in trials of Nazi criminals. "They enjoy almost the same legal rights as prosecutors do. They can ask questions and provide evidence and influence the entire process," explains Walther. Since 2009, he has represented dozens of such plaintiffs in a string of trials held in Germany. His fees are paid by the courts. Survivors and their families don't pay a penny either – in fact, their expenses are also covered by the German government.
Survivors and relatives of victims who were brought to Germany by Walther in recent years told him how meaningful it was for them. "They told me they were liberated from Auschwitz but remained prisoners in their own minds, not getting real freedom," Walther says. "In that respect, their participation in a trial removes the baggage they've been carrying for decades, giving them some closure and the desired inner peace." He says some of them say "we've changed their lives at the age of 90."
In contrast to the type of "Nazi hunter" portrayed by Brad Pitt in the Quentin Tarantino movie "Inglorious Basterds," Walther doesn't keep a weapon on his person and doesn't search for Nazis in dark forests. His pursuit takes place in courtrooms, where he presents the evidence, testimonies and stories he has collected from victims.
In addition to locating survivors from Stutthof, Walther is also trying to track down survivors from another death camp, Majdanek, who witnessed the mass shooting there on November 3, 1943 (known as Aktion Erntefest). These witnesses are needed for the trial of a 96-year-old German who served as an SS soldier in Majdanek for six months between August 1943 and January 1944.
The trial opened in October and the man – who, like the other SS soldiers, has not been named due to privacy laws – is charged with "knowingly and willingly" contributing to the massacre, in which an estimated 17,000 Jews were murdered. "It's very difficult finding witnesses for this trial," admits Walther.
Walther is aided in his quest for witnesses and evidence by people like Israeli Nazi hunter Dr. Efraim Zuroff and Lili Haber from the Association of Polish Jews in Israel. "He's a gentile doing everything so that we, the Jews, get a bit of justice. His work is very impressive," Haber says.
Walther's family background explains his late-life's work. He was born in the German city of Erfurt in 1943. "The day after I was born, they built the railway line connecting our neighboring city, Weimar, to the Buchenwald concentration camp," he relates. "I was born, but thousands of others were sent to their deaths."
After Kristallnacht in 1938, his father Rudolf – a practicing Christian – hid two Jewish families who feared for their lives. "I heard this story as a child, but thought my father had saved some good friends. I didn't understand the significance of being Jewish and the dangers that hovered over them." As he grew older, his father taught him that whenever he encountered an injustice, he had to act to correct it. "One must act, not just talk" says Walther, recalling his late father's words.
Walther, whose partner is the daughter of an Auschwitz survivor, found an opportunity to live up to his father's words very late in his professional career. In 2006, after decades spent working as a judge, on the eve of retirement he saw an ad published by Germany's Central Office for the Investigation of National Socialist Crimes – a federal agency that has operated since 1958 with the aim of prosecuting criminals of the Third Reich.
"I thought it was an opportunity to do something meaningful," he remembers, but he quickly ran into a bureaucratic wall that robbed the office of any meaning. "I was told that only a few Nazi criminals were still alive and there were hardly any witnesses – and that in any case you could only convict someone who gave direct orders to commit murder," he relates.
However, legal doubts soon started to haunt him and he decided, based on his professional experience, to challenge the system.
Consequently, he started collecting evidence for indictments against people who until then had been considered only "small-fry" – the likes of death camp guards who could not be prosecuted due to the lack of evidence linking them directly to specific murders.
"The truth is that I didn't have to convince anyone of the justice of my path, it was so obvious and clear," he says. "I merely followed my father's advice: always do what is right and just."
The Demjanjuk test
His first "victim," in a trial that turned out to be a real game-changer, was John Demjanjuk. In the 1980s, Demjanjuk was sentenced to death in Israel for being "Ivan the Terrible" from Treblinka. However, he was acquitted by the Israeli Supreme Court in 1993 and returned to the United States, to where he had emigrated after World War II. He was never held accountable for the crimes he committed at the Sobibór death camp in Nazi-occupied Poland. In 2008, though, the Americans wanted to deport him and looked for a country that would ask for his extradition. Walther realized Germany now had a historic opportunity to do the right thing.
The following year, Demjanjuk was put on trial in Germany for being a guard at Sobibór. Thanks to Walther, the charges included "assisting in the murder" of some 28,000 Jews at the camp during his time there as a guard, even though there was no proof he personally murdered anyone.
Demjanjuk was convicted in 2011 and sentenced to five years in prison. He died in a nursing home in Bavaria while appealing the sentence, but the legal precedent paved the way for action against other former Nazis. "In the time that has elapsed since then, we have opened 12 more legal proceedings," says Walther, though most of these have not resulted in any incarceration.
There were some cases in which defendants' medical conditions prevented trials from taking place, while in others they died during the trial or after being convicted.
Auschwitz guard Reinhold Hanning, who was convicted in June 2016 for being an accessory to the murder of 170,000 people, was sentenced to five years in prison, but died last June at 95, before he was able to start his jail term.
In September, the prosecution of another Nazi who served in Auschwitz as a medic, Hubert Zafke, 96, was halted after he was found unfit to stand trial due to his dementia.
Walther doesn't let any of this weaken his resolve. For him, it's simply business as usual. "I am now looking for survivors among the 550 Jews who were transferred from Stutthof to Dachau on August 18, 1944," he explained in his email last week. And the rise of the extreme right in Germany, with the Alternative for Germany party entering the Bundestag in the recent general election, only increases his resolve.
"The situation all over Europe should be of concern," he says, adding that in the past he received responses such as, "When the Fourth Reich rises, you'll be one of the first people we take care of."
Click the alert icon to follow topics:
ICYMI
Ken Burns' Brilliant 'The U.S. and the Holocaust' Has Only One Problem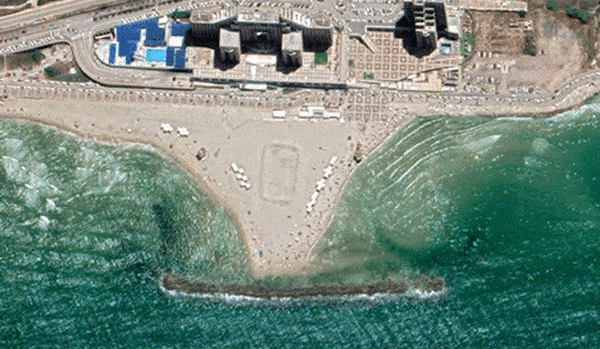 Facing Rapid Rise in Sea Levels, Israel Could Lose Large Parts of Its Coastline by 2050
As Israel Reins in Its Cyberarms Industry, an Ex-intel Officer Is Building a New Empire
How the Queen's Death Changes British Jewry's Most Distinctive Prayer
Chile Community Leaders 'Horrified' by Treatment of Israeli Envoy
Over 120 Countries, but Never Israel: Queen Elizabeth II's Unofficial Boycott