Analysis |
Netanyahu Owns Hotovely's Arrogant, Hypocritical anti-Semitic Attack on U.S. Jews
Deputy Foreign Minister Tzipi Hotovely simply gave voice to Israeli right-wing's contempt for liberal American Jewry when she talked about their 'convenient lives'
FILE PHOTO: Prime Minister Benjamin Netanyahu gestures as he attends a question and answer event on Israel's foreign policy at Chatham House in London, Britain, November 3, 2017.
Credit: TOBY MELVILLE/REUTERS
Prime Minister Benjamin Netanyahu chose the young, arrogant, inexperienced right-wing radical Tzipi Hotovely to serve as his top Foreign Ministry official, so he shouldn't be surprised when she behaves accordingly.
>> Get all updates on Israel and the Jewish World: Download our free App, and Subscribe >>
At a time when Israel's relations with U.S. Jews are in critical condition and require patience, tact and nuance, he has allowed an outspoken and tactless anti-diplomat like Hotovely to set the tone. His quick denunciation of Hotovely's bombastic bile against American Jews on Thursday, and even her possible dismissal, won't remove the mud she has left on Israel's face, as well as his own.
>> Netanyahu's unforgivable scuffle with liberal American Jews | Opinion <<
In one short interview on the English language i24 News, Hotovely managed to step on each and every conceivable land mine. She slandered the American-Jewish campaign for egalitarian prayer at the Western Wall, describing it as a purely political ploy. She used the recent cancellation of her appearance at Princeton University to lambast a so-called "liberal dictatorship" that stifles free speech on U.S. campuses. She undermined the legitimacy of American-Jewish criticism of Israel with the stale rationale that they don't live here. But worst of all was her assertion that American Jews not only refrain from sending their children to fight in the Israel Defense Forces; they don't send them to fight for the U.S. Army, either. They lead "convenient lives," she said.
>> A Torah-Based Foreign Policy: Who is Tzipi Hotovely? <<
Of all her statements, this was the most egregious – and not because it's factually wrong. Statistically speaking, American Jews comprise roughly 2 percent of the U.S. population, but less than 0.5 percent of its armed forces. There are myriad reasons for this, including the simple fact that American Jews have fewer children. But there is no denying that since the Vietnam War, the American-Jewish community has contributed to American society in ways other than sending their children to serve in a voluntary army.
The only people who use this issue to denigrate American Jews are dedicated anti-Semites and, it seems, the person in charge of Israel's diplomatic corps and its relations with American Jews.
Which shouldn't really come as a surprise: In the year since Donald Trump's election, Israel's right-wing government has shown nothing but affection for white supremacists who share their admiration for Israel and, it often seems, their disdain for liberal American Jews.
Anti-Semites will delight in Hotovely's statements, using them to attack unpatriotic, combat-shirking American-Jewish sissies.
>> Divorcing the Diaspora: How Netanyahu is finally writing off U.S. Jews <<
For a right-wing nationalist like Hotovely, the only valid litmus test for determining whether one can comprehend life in Israel – and thus knowledgeably criticize it – is apparently military service. Those who don't partake are condemned to the "convenient lives" she sneers at.
American Jews may have played, and may continue to play, an oversized role in American arts and letters, academia and intelligentsia, medicine, law, philosophy and the entertainment industry; they may have been among the pioneers of minority rights, women's rights, LGBT rights and many others; they may have staunchly stood up for equality and against discrimination; indeed, American Jews may have contributed to modern American society and democracy above and beyond any comparable religious or ethnic group. And they have certainly supported Israel through thick and thin, especially in times of need. But they should shut up, as far as Hotovely is concerned, because their kids haven't patrolled Hebron and Nablus, haven't looked at the enemy through gun sights, haven't actually felt the sensation of pulling the trigger.
In point of fact, hundreds of American-Jewish volunteers serve in the Israeli army at any one time, and many thousands have already served. If Hotovely would have limited her comments to serving in the Israeli army, rather than portraying the entire American-Jewish community as slackers, she would have at least been on more solid ground, Zionistically speaking. Not only would such an assertion be viewed as acceptable by many Israelis, it was the focal point of the original confrontation that defined relations between the new Jewish state and the largest Jewish Diaspora.
Although David Ben-Gurion appreciated American Jews, cultivated them and even agreed to curtail Israeli statements and activities regarding American Jews in his famous agreements with American Jewish Committee leader Jacob Blaustein, he couldn't bring himself to abandon his core Zionist belief in an ingathering of all the exiles, including American Jews. He never discarded his vision of American youths coming to Israel in multitudes to toil the land and defend it. And when he got particularly angry with American-Jewish leaders, he would threaten to go over their heads and recruit American-Jewish children directly. He would then respond to the ensuing uproar by claiming his words had been taken out of context – an excuse that held up well until another one of his speeches to Israeli audiences was translated into English.
But this was almost 70 years ago, and many things have changed – though not for Hotovely and many others of her right-wing settler ilk. They adhere to Ben-Gurion's Zionist credo that the only Jewish life worth living is in Israel – some would say only in Judea and Samaria – but they have added numerous other prisms, besides principled negation of the Diaspora, through which to look down on the bulk of American Jews.
Hotovely and her kind are ultra-nationalist conservatives who scoff at liberal, pluralist and cosmopolitan American Jews and their values; they are mostly Orthodox, who thus mock the modernized Reform and Conservative movements and sympathize with the Haredi claim that they're not really Jewish.
In many ways, they represent the antithesis of the most widely held American-Jewish position and beliefs. They support Jewish settlements, oppose a two-state solution, abhor illegal immigrants, endorse a fusion of religion and state, and couldn't give a fig about the personal freedoms and democratic safeguards that are cherished by American Jews. In this regard, Hotovely was simply representing the true attitude of many right-wing Israelis, including a majority of Netanyahu's governing coalition.
But Hotovely's name is nonetheless hypocrisy. She rails against abrogation of her alleged right to speak at Princeton, but ignores her own government's efforts to stifle dissent in Israel – never mind the war it's waging against boycott, divestment and sanctions supporters and other anti-occupation critics around the world.
Supporters of Hotovely's line of thinking have virtually expelled proponents of left-wing views from American-Jewish institutions by threatening to cut donations. And one wonders if the list of American Jews who live "convenient lives" and should mind their own business encompasses right-wing magnates such as Sheldon Adelson and the late Irving Moskowitz, who not only voice their opinions but pour hundreds of millions of dollars into Israeli causes and campaigns that have boosted the right and changed Israeli history.
Netanyahu has allowed Hotovely to wreak havoc on Israeli hasbara and to paint Israel – accurately, perhaps – as a country run by right wing reactionaries, but she may have crossed too may red lines this time. The fierce condemnations by everyone from Netanyahu and President Rivlin on down indicate their distress. This may ultimately cost Hotovely her job especially if American Jews, incensed by Netanyahu's decision to renege on the Kotel deal, decide to go to town on her statements, which they might.
The fault, however, lies not in Israel's deputy foreign minister – no matter how outspoken she may be – but in the Netanyahu government itself.
The prime minister has arrogantly precipitated and presided over an unprecedented breach in relations between Israel and American Jews, which may no longer be repairable.
Netanyahu can distance himself from Hotovely all he wants. But he is ultimately responsible for the discord and damage, and the hurt that both of them have sowed.
Click the alert icon to follow topics:
ICYMI
Ken Burns' Brilliant 'The U.S. and the Holocaust' Has Only One Problem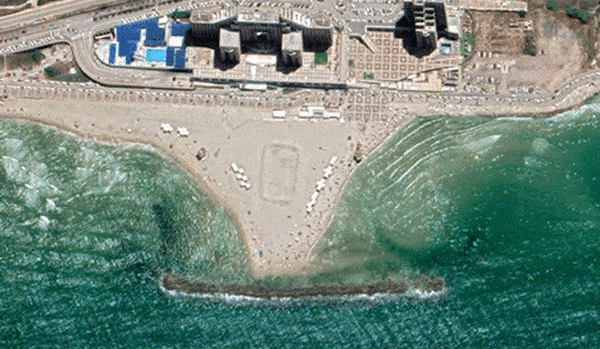 Facing Rapid Rise in Sea Levels, Israel Could Lose Large Parts of Its Coastline by 2050
As Israel Reins in Its Cyberarms Industry, an Ex-intel Officer Is Building a New Empire
How the Queen's Death Changes British Jewry's Most Distinctive Prayer
Chile Community Leaders 'Horrified' by Treatment of Israeli Envoy
Over 120 Countries, but Never Israel: Queen Elizabeth II's Unofficial Boycott