'It's Like Uber, but for Weed': Meet the Man Who Revolutionized Israel's Pot Trade
Telegrass, an Israeli app-based weed delivery service, has the makings of a legit business, including an HR department and a sexual harassment prevention program. The former yeshiva student who runs it remotely from the U.S. describes his vision
Amos Dov Silver.
Credit: Asaf Shacham
This has been a revolutionary year for the marijuana market in Israel. Since last March, it's been possible to order home deliveries of the drug via a smartphone, even though according to Israeli law, marijuana trade can land you in jail for up to 20 years. It's done with the encrypted message app Telegram, through which the Telegrass community, as it's called, conducts it business. Its aim: to allow its members to buy and sell recreational marijuana. As of today, Telegrass has more than 70,000 users and over 1,300 dealers – and the numbers are constantly on the rise, its administrators say.
Telegrass operates very simply: All you do is download Telegram to your phone. Telegram is an encrypted-messaging application that can be programmed to automatically erase sent messages. Users identify themselves with a user name, rather than their actual name. The app gained some notoriety in recent years when it became known as a favorite among both ISIS supporters and journalists interested in guarding the anonymity of sources.
After downloading Telegram, you join the Telegrass channel by clicking on a link that you can find online. It functions similarly to a Whatsapp group. Once you join Telegrass, you are invited to join one of its sub-channels, some of which are based on your location in Israel; a partial list includes Tel Aviv, the West Bank and the Coastal Plain. Others focus on subjects relating to use of marijuana, legalization and merchandise.
It is in the geographical sub-groups that Telegrass gets really interesting, as this is where dealers display their produce: images of different strains of cannabis and hashish. The names and descriptions are updated every few minutes, along with price, pickup point and delivery fees. "Dear Friends: In light of the heavy demand for Patrick Lemon Haze [a strain of cannabis], deliveries to the Tel Aviv area, 5 grams, 500 shekels [$142]," reads one post. Users contact the seller via encrypted message, order the goods and generally receive them at their door within 40 minutes, cash on delivery.
"Right now we have 25 sales channels, three of them for trade in large quantities, in kilograms, and there's no end to requests for expansion – people wanting additional channels, people who want channels on related topics, stores selling equipment for growing weed, the entire field flows into Telegrass," explains Amos Dov Silver, the former ultra-Orthodox Israeli who founded the community.
"There's a new channel for food [containing grass], 100 percent vegan," he adds, laughing. Naturally, the edibles are available for home delivery. There are also groups for purchase of psychedelic drugs, discussion groups about the legalization of marijuana and review groups, where users can discuss the quality of the goods and the service provided by different dealers.
Silver is behind these dramatic developments. The 33-year-old man from Safed, who's been living in the United States for the past two years and calls himself a nomad, spoke to me via Skype from the Oakland, California motel where he was staying. He answers my call at 6 A.M., California time. He sleeps little, he explains, gets up early and works according to the time in Israel. When we speak again, a week later, he's in Berkeley. He moves around a lot, because he doesn't like to stay in one place for long. "You start getting strange looks from the people in the motel," he says, adding that Berkeley is his favorite place. There's plenty of vegan food and marijuana – the two things he needs.
To ensure that everything runs smoothly and securely, the Telegrass community has created a ramified structure of administrators, dealers, clients and members who deal with cases of theft and sexual harassment, and who have created independent judicial and enforcement mechanisms, far from the eyes of the authorities – who would naturally be happy to close down Silver's life's work.
Would it be accurate to say that you're the head of a crime organization? I ask him.
"Yes, I suppose so," replies Silver. "I don't know the definitions or how you categorize something like this, but if the state defines it as a crime and I'm the head of the organization, I don't care whether they label me head of a crime organization or Mother Teresa."
Silver, who runs things remotely, is in the United States – he holds dual American and Israeli citizenship – largely because of Telegrass. He moved there shortly after his release from prison in Israel after serving seven months for trafficking in marijuana. Since launching Telegrass, he hasn't visited Israel for fear that he'll be arrested: "The police claim that there's an international arrest warrant against me. I don't know if that's true or they're just trying to intimidate me – it's what I've heard from people who've been questioned by police. I do know that it keeps me from [taking the risk of] flying."
From his perspective, he asserts, Telegrass is an ideological project, another step forward in the fight to legalize marijuana. That struggle has been the hub of most of Silver's adult life. He grew up in an ultra-Orthodox family in Safed and attended yeshiva in Jerusalem. He left the institution when he was 15 but instead of going home, he found a job in the capital and also started smoking marijuana, which he says helped him stabilize his life.
From Silver's perspective, Telegrass is an ideological project, another step forward in the fight to legalize marijuana.
"I was always very extroverted with it," he says. "I was in a combat unit in the army, which is a stage when people generally hide their smoking, but everyone knew I smoked. I even smoked on the base – I would go on guard duty with a bong," he says in reply to my question about when he started to become active in the campaign to legalize marijuana.
A major hurdle to legalization is shame, says Silver, or, more precisely, the fact that few people will openly admit to their habit, even though it's relatively widespread among the Israeli population. Indeed, in a survey conducted last March by Israel's Anti-Drug Authority, 27 percent of respondents between 18 and 65 years old said they had smoked marijuana in the past year. That statistic makes Israel one of the world leaders in cannabis consumption, despite the relatively strict legal status here, under which possession of marijuana for self-use can land one in jail for up to three years.
In January 2012, Silver relates, he was forcibly hospitalized in a psychiatric institution for five days and his driver's license was revoked because he told a psychiatrist that he smoked grass while driving. He was also detained that year for growing a cannabis plant at home. He incriminated himself during his interrogation, admitting that he had sold 100 shekels' worth (about $25) of cannabis. He was also placed under house arrest for nine days.
"When I was under house arrest for trafficking, I no longer had any inhibitions or fears about publishing photos of myself smoking bongs," says Silver. "I decided that I wasn't ashamed of it." If "I'm under house arrest for dealing," he reasoned, "no one will send me back to a detention cell for smoking a bong."
"Five years ago, it was completely off the wall for someone [in Israel] to publish a picture or a clip of himself smoking a bong," he explains. "It drew attention, and the attention led to my increased activism and so on, and that was how the project started to take shape."
Did you make a living from selling marijuana before your arrest?
"You could say I was supplementing my income. I sold here and there. I bought in larger quantities [than needed for personal use] and supplied to friends, but that wasn't my main source of income."
In 2014, Silver organized the "Big Bong Night" in Jerusalem – a demonstration calling for legalization, together with a smoke-a-thon. Slightly more than a thousand people showed up. "At that event, we told the politicians that we weren't waiting for them," Silver told Haaretz at the time. "We came to carry out 'civic legalization' – we're not protesting and not asking, we're just coming to smoke." Silver himself was in custody for "insurrection and soliciting an offense" at the time of the demonstration.
Silver's 2012 case came to trial that same year, and led to his conviction and imprisonment for three months. By then, however, he had been arrested again, this time for selling three or four grams of cannabis on three separate occasions to the same person, and for being in possession of 150.8 grams of cannabis not for personal use. Again, Silver admitted to the offense, which the judge noted in his favor in the verdict, sentencing him to nine months in prison (the sentence was heavier because it was a second conviction).
Silver served seven months. He consistently maintained that his motives were ideological. Shortly after his release, he moved to the United States, where he launched the most significant chapter of his influence on the Israeli pot scene.
As he moved from motel to motel, Silver allowed dealers to use his Facebook wall to offer their wares to buyers under false names. To contact clients, they tagged his profile and posted photos. When the volume of traffic grew to about 30 dealers communicating with clients via Silver's Facebook page, he consulted a friend who's an expert in managing information systems and transferred the trafficking arena to Telegram. Soon afterward, the encrypted message channel acquired the name "Telegrass."
"I never dreamed – we never dreamed – that it would become anything like this," Silver says. "The idea was just to take some of the load off me."
The Telegrass people found themselves with sensitive personal information about users and dealers, which would be a gold mine for the authorities.
Do you make a living from Telegrass?
"I don't get money regularly, but I do live from it, without knowing when or how much I'll be getting. It's not easy, because you can't plan a budget. It's not something fixed, but more like, 'Amos, I want to give you $500 here.' I would like to regularize it – for that $500 to go to Telegrass and for me to get a salary or what have you from Telegrass. I think it's quite legitimate to make a living from it, and I can even say it would be the fulfillment of a dream."
So when you get money it's simply from the kindness of some dealer who wants to give you a kind of commission?
"Yes. For example, one dealer offered me a kilo [of marijuana] as a gift. Now, I am not the only one who benefits from the same pool the money goes into. Many administrators also get economic help. There are plenty of donations, and they go to different places, one of which is my personal economy."
Filtering out narcs
Telegrass has been growing apace. Though Silver remains the head honcho, there's now a team that runs the service, without any of its members needing to meet in real life. The hard core consists of 70 administrators and another 10 unit heads who manage the community's diverse activities. The great innovation that Telegrass offers the smoker community is the reviews: Users can do a search of dealers by name and find reviews of their operations. The result: competition among the dealers in service and product quality, just like in legal commerce.
Would-be dealers are subjected to a verification process by the administrators before becoming "authorized" on Telegrass in an effort to block undercover police from entering the system. As part of the check, they have to send a photo of their ID card to administrators, who do a background check, Silver says.
Telegrass also has a help wanted channel, where the community can post ads for various volunteer positions, such as a Python programmer, or people with medical training. The ads characteristically open with the salutation, "Greetings, Stoners," and include such requirements as "database experience" and "high level of motivation based on a sense of mission regarding legalization."
Besides you, the treasurer, the administrators and the dealers, are there other employees, too?
"There's the unit that amuses me the most, because it's the most serious: the human resources branch. Every administrator who wants to join the system goes through that branch, where he's authenticated and assigned, and his details are kept on file. We have an information server of administrators that contains everything – who's managing where, who he is."
Are the administrators paid?
"No. They're all volunteers. They're people who either know me through my Facebook activity or from afterward; by now it's like one person brings another. Every administrator goes through comprehensive checks that include looking at his Facebook likes from five years ago, and more."
What are you trying to prevent?
'I'll even support what's called violence, if needed. If someone uses violence against innocent people, I think justice will be served if someone stronger than him uses violence.'
"We want to prevent or reduce the chances that someone whose intentions are to collect information or damage the system will enter. In a word: a policeman."
Each new potential administrator fills out a questionnaire of marijuana-related information: experience in growing or dealing, how he got involved, motivation. "The jobs here deal with people's personal details, and it's all very dangerous – it's very important to make sure that they're good people," says Silver.
The Telegrass people find themselves with a large amount of sensitive personal information about users, some of whom are also dealers – information that would be a gold mine for the authorities. According to Silver, the encrypted servers of the Telegrass administrators provide an adequate solution. He also maintains that the police would not be allowed to arrest a dealer just because his name appears in the Telegrass database – they would have to investigate and apprehend a suspect in the act of selling.
But the administrators and Silver are not the only ones in this game who are in possession of personal details of those involved in Telegrass activity – the dealers are, too. A regular Telegrass deal starts with the dealer advertising his merchandise. The potential client then contacts the dealer via a private message, after which the dealer verifies the client, to reduce the risk that he's an undercover police officer. As part of that process, the dealer usually asks the client to send him a selfie, a photo of his ID card and, in certain cases, also a photo of a salary slip.
Is that enough?
"I'll tell you what, there's a tip I got from the police a year ago, and so far no one has been able to debunk it: An undercover agent cannot use his real details. So, if you get a true Facebook account or a true ID card, you can be sure that it's not an undercover agent. You meet at a place that you can scope out in advance to make sure there are no surprises waiting for you, maybe you'll switch the meeting place at the last minute if needed. The combination of checking the details and checking the area should be enough to protect people."
When I point out to Silver that the dealers are in possession of personal details of drug consumers – people who could be arrested and convicted for purchasing grams or kilograms (there's a special channel for purchasing large amounts) – he admits that the system exposes the users to risk. "My aspiration is that the dealers will not do the verifications, that we will do them for everyone. I know it's a jungle. A jungle. There are 1,300 dealers, each of them wants photos, I don't know what they do with them, I don't know what happens. It's a weak point – it's a lot of personal details about people that are floating around. Problem. Problem."
'Detectives vs. humanity'
The creation of Telegrass did not escape the notice of the authorities. Last July, the Israel Police stated that an undercover agent within Telegrass had brought about the arrest of 23 suspected drug dealers. Two months earlier, reports circulated that the police had arrested a young woman from Jerusalem when she landed at Ben-Gurion International Airport on suspicion that she administered a Telegrass group. Silver claims that the police distorted the facts of the first arrest and that in fact, in the second case, only one Telegrass-related dealer was taken into custody.
When I contacted the police for this article, they would not provide any information about their activities against Telegrass. What they did say, somewhat bitterly, was that the media was busy promoting the app. More substantially, a spokesperson for the police stated that they do not compile information about Telegrass-related arrests separately, so they don't have accurate information on the subject.
According to Silver himself, a Telegrass dealer is arrested about once a week – "but that happens without Telegrass, too," he insists. "It's not that before Telegrass dealers of grass walked around freely and happily, and now they're suddenly being arrested. On the contrary: Today they're a lot freer and happier, but even so, you're still at risk."
How do you feel with the responsibility, given that it's not legal and there's police enforcement?
'Anyone who wants can be a dealer; every girl of 13 can be a dealer, as far as I'm concerned.'
"I feel no responsibility with regard to the criminal aspect. They're all big boys and girls; you chose this occupation. I also don't get excited when people send me hysterical messages: 'My friend was arrested,' or 'I've been arrested.' That's part of the risk and everyone knows it, it's on the table, no one is hiding it. Statistically, a certain percentage will be caught by the police, and people also know that statistically, a certain percentage will be stung. Those are things that happen."
Despite Silver's seemingly complacent approach to the possibility of getting into trouble with the law, Telegrass operates a channel called "Detectives Against Humanity," in which the name of a different detective in the Central District is published every day. "We have a police officer who simply provides the names of the detectives in all the cities and also the intelligence officers – the people the dealers have to beware of, the people who are trying to bring down the others."
Is the fact that other drugs besides marijuana are sold on Telegrass also part of your vision?
"It developed in that direction because that's what people wanted, and it's also very defined and limited specifically to psychedelia," he says, referring to halluciniatory drugs like mushrooms and LSD.
According to Silver, substances such as cocaine, opiates and even Ritalin will not be sold, and the app's psychedelic community is trying to promote an approach of responsible drug use. To that end, two separate groups were formed, the first one more open and broad, containing only information and discussions about psychedelic drugs. But anyone who wants to buy or sell has to be personally verified by an administrator. "The administrator ascertains all kinds of details, looks at the applicant's age and experience to see who the person is, to see that it's someone who knows what he's buying and what he's doing," he explains.
As of today, Silver adds, the open group has more than 10,000 members. The team subjects the merchandise sold in the closed channel to random checks, sending it to labs, and the results of the examination are made public.
Even when it has dealings with criminal elements (involved in theft, for example), Telegrass will not go to the authorities for fear of incrimination. Its administrators have therefore created their own alternative enforcement system that includes filtering and punishment. To that end, Silver established a special unit, "Lahav 420," evoking the Israeli police fraud investigations unit Lahav 433 and 4:20 P.M., which is a kind of code word for marijuana consumption among the smoker community.
From his base in California, Silver is also an occasional judge and enforcer. Transactions are often marred by the theft of marijuana (a "sting"), cheating and the collection of debts under threat. Still, this is merchandise that sells for 100 shekels a gram. According to Silver, the largest theft in Telegrass to date – "it's still being dealt with" – was of 86,000 shekels.
What can you do if someone steals?
"We have two levers of threat against dealers. One is to block them from being able to make deals, which is a very serious threat for them, and the other is publicity. We don't usually need to get to the second."
Making their true identity public?
"First name, Facebook, identifying document. It's according to scale. Sometimes we only publish a picture of the guy, with what he did. There are cases in which we make everything public, including phone number and address."
So you're actually providing the authorities with his name.
"It's not really handing him over to the police, because I don't give them proof of any crime he committed, but it does provide a focus for them, and that's part of the threat. When we do something like that, we warn them beforehand: Your details will be made known to your family, your friends and also the police. It's as though the moment it enters into the world there's no control over where it will go, and no one has any idea about how long it will have an effect, and of what kind."
'It's a virtual Uber, Gett, Lyft – all those, only for weed.'
You also mentioned that sometimes you turn to the family of the person who perpetrated the sting.
"There was a case two weeks ago – I published it on my Facebook page – not of a sting, but of someone who stole substances worth 10,500 shekels [about $3,000] at gunpoint."
He presented himself as a client and then carried out the robbery?
"He was a registered dealer with us, but in that case, he was representing a client. He wanted to buy 200 grams for 10,500 shekels. The dealer arrived with the green, the buyer pulled out a pistol, took the merchandise and simply flew to Thailand. I spoke to the dealer. He (A) threatened that if his ID card were published, he would take revenge on me; and (B) he said, 'I'm on the way to Thailand now anyway, and I don't care what you do.'
"We published his details, and within about an hour another dealer contacted me and said, 'Listen, that dealer's family called me and asked whether the message can be removed, because it's bad for the family's reputation.' Well, an hour later the father went to the person who'd been stung and gave him all the money back and promised he would deal with his son, who was just a boy of 19. I rely on him being more effective than the police."
While surfing the app I encountered an ad that promised a commission to anyone who could help collect debts. Here, the method of community enforcement is painted in darker colors. In the absence of police and courts, someone has to see to deterrence, and ideology and goodwill don't always help.
Drugs are connected to the criminal world. How do you prevent that from trickling into Telegrass?
"In the first place, it does trickle in, unequivocally. They won't forgo a slice of the pie like this. The major volume of commerce in grass in Israel has moved to Telegrass. So I will tell you that there are people from the criminal world who are full partners – not at the legal, contractual level – but they are full partners in Telegrass."
Meaning?
"That they work hand in hand with Telegrass. I asked for help from the criminal level in the case of a 86,000-shekel sting, when the guy disappeared into a network of Bedouin villages in the Negev. One of the dealers, who's connected to the criminal world, told me, 'If you need help with these things, I know all the people there, I can use my connections.'
"I will sometimes even support what's called violence, if needed. Let's say, if someone uses violence against innocent people, I think justice will be served if someone stronger than him is able to use violence on him. That's actually the idea of the police – the idea of the police is to be violent. The idea of prison, the guns and all that, is for there to be a violent body. As long as you behave according to the laws and rules that I can work with, that we set in Telegrass, you will get all the protection, and if someone does something to you, I will also help. The moment you embark on the road of theft or stings or robbery, I won't be there to protect you."
In addition to coping with theft, Silver posits a high bar with regard to handling sexual harassment. The first sexual harassment complaint Silver received, he says, was from a young woman: A dealer offered to supply her for free if "she could pay him in a different way." In response, he made the case public, including the dealer's commercial details. There have been other cases since, such as dealers who asked clients to send nude photos as part of the verification process.
Have you ever kicked anyone like that out of the app?
"We did give one dealer the boot, but brought him back. He insisted that it wasn't him at all, that it was his employee and that he had dealt with him. The essence of the allegation doesn't matter, but the principle is that he disavowed the action totally and also gave the girl seven grams in compensation, which is honorable."
The person in charge of dealing with sexual harassment in Telegrass, whose app name is Iron Flower, is currently busy drafting the regulations. "All the regulations are based on the ideas in the sexual harassment prevention law," she says. To come up with the rules, the women of the team mapped six or seven commonly perpetrated forms of sexual harassment. They include: an offer in return for sexual favors, sexual overtures, references to sexual proclivities and so on. Sexual harassment of a client by a dealer stems from power-based relations, Iron Flower says, and therefore the treatment is clear. In cases where the delivery person is the harasser, the responsibility devolves – as it does in Israeli law – on the sender, namely the dealer. Sanctions will include removal from the application for a week.
I'm certain that drug dealing outside Telegrass is also connected to the criminal world. Now you're depriving these people of their livelihood.
"Yes. Some people have threatened me, some have said that they will come to the United States and deal with me. I'm not afraid, because that's a waste of energy. I am not going to stop with Telegrass."
So there are people or organizations who see Telegrass as a threat to their income?
"Yes, definitely. And more than that, a threat to their control. It's opened the market in a way that has taken control out of the hands of private people here and there, and made things a lot more decentralized. Anyone who wants to can be a dealer; every girl of 13 can be a dealer, as far as I'm concerned."
You would accept a 13-year-old girl as a dealer?
"If she's mature enough to come to me and say that she wants to be a dealer and can provide me with what I need."
Really?
"I say this without a drop of shame. I'm in favor of minors smoking grass, the way I did. Beyond that, I think that our society's ability to control it is very low. You won't prevent minors from using drugs, and it doesn't matter if it's drugs in the sense of Oreo cookies, Bamba, Coca-Cola, or grass or cigarettes. It makes no difference. I have no problem with the drug being grass. What I mean by that is, I prefer the drug to be grass and I have no problem being the one to supply them with the platform. I don't oblige anyone to sell, not in general and not to minors. I do explain all the time, unequivocally, that I'm in favor of dealers selling to minors. I know how it kept me going. Living alone and providing for yourself at the age of 15 is very rough, and I don't believe I'd have come through it sane without smoking grass every day."
Silver has a few clear goals in regard to Telegrass. "The aspiration is to create a type of readymade model and sell it to other countries. This model is appropriate for countries in which it's legal and also those in which it isn't. It's a virtual Uber, Gett, Lyft – all those, only for weed."
Another goal of Silver's in terms of expanding and enhancing Telegrass is a shift to commerce with Bitcoin, the virtual currency, encrypted and decentralized. "Once people start working with Bitcoin, it's removing the state from the equation in so many spheres, and I will be very happy to be part of that."
So you've lost hope of making changes by institutionalized means – via the Knesset or the police?
"Change won't come through either of them. It will come through everyone, because it will come through the people, not through the politicians or the establishment. Already now, they don't control anything, already now there's a platform on which tens of thousands of people buy freely and publicly. The law has become a big joke. When it's going to crumble, and how – that I don't know, but the foundation of this law is crumbling, because the nation is crumbling with it, crumbling from below."
ICYMI
Ken Burns' Brilliant 'The U.S. and the Holocaust' Has Only One Problem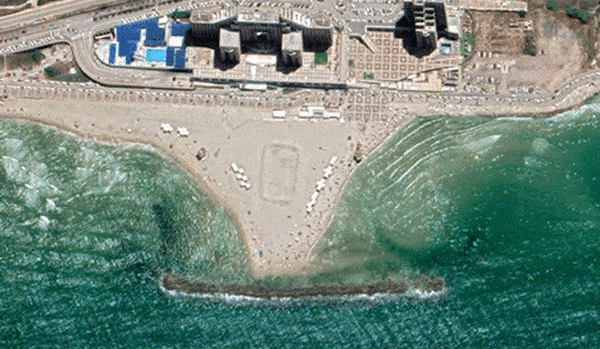 Facing Rapid Rise in Sea Levels, Israel Could Lose Large Parts of Its Coastline by 2050
Lapid to Haaretz: 'I Have Learned to Respect the Left'
The Mossad's Fateful 48 Hours Before the Yom Kippur War
As Israel Reins in Its Cyberarms Industry, an Ex-intel Officer Is Building a New Empire
How the Queen's Death Changes British Jewry's Most Distinctive Prayer