Jewish and Arab Students Cross Cultural Boundaries at Model Bilingual Jerusalem School
Leaders of the Hand in Hand school, among the highest-ranked in Israel, talk about contending with differences and the atmosphere during times of tension: 'We're an incubator, but we're not a bubble'
A classroom at the Hand in Hand bilingual school in Jerusalem.
Credit: Dave Brown / Pears Foundation
"Nadia, Nadia!" cry two girls as they run toward us and pounce with hugs on Nadia Kinani, the principal of the Max Rayne Hand in Hand elementary school in Jerusalem. It seems a bit strange at first, but over the course of our visit we grow accustomed to such scenes, since they keep recurring: Children approach Kinani, sometimes just to give her a hug before moving on, sometimes with a request. Several address her in Hebrew, and she replies in Arabic. "You give a lot of hugs," we note. "Yes, that's how I am," she laughs, not making an issue of it.
Kinani, who was first a teacher here, became the school's principal 12 years after it was founded. The Hand in Hand compound includes a kindergarten, an elementary school and a high school, all of them bilingual. The challenges of running a bilingual school only start with the curriculum and textbook choices. When the external world seethes with diplomatic and security crises, outside issues affect pupils and staff – but not always as anticipated.
"During security events or wars, as Arabs and Jews on the outside distance themselves from one another like two poles of a magnet, in our school it's important for us not to live in a bubble and to let reality in," says Arik Saporta, the principal of the Hand in Hand high school for the last seven years. "These events make us realize that there is great strength in being together. For example, following Operation Protective Edge, which took place over the summer break, an Arab student came to me and said: 'Finally, summer break is over. I couldn't stay at home any longer and I wanted to be here together with you.' I think that precisely during difficult times students want to be here. For them, school is a place where they can say things that are not necessarily agreed upon by both sides."
Saporta is a founder and former head of Bakehila, a nonprofit educational group that operates in poorer Jerusalem neighborhoods. "After the 2014 terror attack in a synagogue in Jerusalem's Har Nof neighborhood, in which six people were murdered, I entered one of the classes and talked about what had happened," he says. "One student refused to use the term terrorist. I felt a tightening in my stomach – what does she mean? He was a terrorist, he murdered people. I asked her why it was hard for her to say the word and she replied that even though he had committed an extremist act that she disagreed with, it was hard for her that only one side is always labeled as terrorists.
"This is not an easy exchange for me as well, but it's important that it takes place. There is a blanket consensus among all students that violence is wrong, but both sides must be understood, which is why the school enables this exchange. We are an incubator but we're not a bubble. The idea is to introduce these topics in a manner we can work with. We teach civics and political issues from the fourth grade, with the highest number of course hours, with the understanding that this is an instrument for talking about things," he says.
According to Kinani, "we open up a dialogue about terror attacks, wars and human rights violations. We have mechanisms that enables this, such as guidance by our staff and community work with teachers and parents. No teacher enters a classroom and talks to the children without undergoing appropriate training in dealing with these issues."
The most traumatic event for the school happened three years ago, when the building was set on fire by activists from the extreme right-wing Lehava group. The school was badly damaged and hate graffiti was sprayed on the building's walls. "It was a shock. For us it signified the end of this school," remembers Kinani. "We were afraid it would be shut down. What parent would send his child to a school that was torched?"
"After the arson attack we came to the school," says Kinani. "We were there with firefighting crews, police and city officials. We were closed off inside and had no idea what was going on outside. As soon as the gates opened there was a flood of people from the community, from the neighborhood, including parents and students. It was very moving. The warmth and love we received amazed us. The next day everyone came to school and mobilized to help out. Other schools in the area came to help as well."
She adds: "We then realized we'd come out of this stronger. Following this incident we discovered our strengths even more pointedly. We discovered that we have responsibility for things that happen outside the school. Since then we have been going out to talk about our school and its model."
Are students exposed to violence for studying here?
Saporta: "Yes, there were cases of violence against students wearing the school shirt. In one case a woman spat at and assaulted three female students, physically and verbally. We organized volunteer escorts for them and allowed them come to school in plain shirts without the school logo."
Which side does most of the anger toward the school come from?
Saporta: "Most of it comes from the Jewish side. Hate graffiti also usually comes from the Jewish side. Kinani: "It exists more on the Jewish side since the Arab population is an oppressed minority which lacks the courage to say things openly. A Jew can write 'death to Arabs' on Facebook or in graffiti."
The education minister was moved
"We've come a long way since we set out, when establishing such a school seemed impossible," says Kinani. "When I interview teachers for a position here I feel that they are moved by this place. It really is an exceptional place which succeeds in bringing together two groups that are locked in a painful conflict. We're not afraid of talking about differences."
Questions of language are central to the issues of the curriculum and communication between students and teachers. When Jewish students address Kinani in Hebrew she always answers in Arabic. "We don't want to blur our identities, but rather to sharpen them," she explains. "Every student learns his own and the other's language, starting in kindergarten."
In what language do they learn math?
"It depends on the teacher and his or her mother tongue."
In other words, a Jewish student may have to study math in Arabic and vice versa?
"Yes. When students arrive here, from kindergarten through junior high school, they learn Hebrew and Arabic. In each class there are two teachers, an Arab one and a Jewish one."
And yet, says Kinani, Hebrew is the dominant language. "Arabic fights for its place here. An Arab child can come here and start speaking Hebrew within a month but for Jewish kids it's more difficult. The dominant language outside school is Hebrew. Arab teachers know Hebrew, but Jewish teachers can't speak Arabic. It's the same with parents. We try to instill Arabic as a matter of principle, out of a sense of equality."
What do you do about textbooks? Hebrew books have a lot of content that addresses Jews. How do you handle that in an egalitarian manner?
"It's a dilemma, since the school system in Israel operates under total separation, so that what is written for Jews is not always suitable for Arabs. For example, this year we chose a certain book for teaching Hebrew and already on the first day one student's mother called and said that most of the book contains biblical texts and references to Jewish holidays and topics, so we changed the book." The school is also developing its own curriculum for subjects such as history. "It's a program that includes multiple narratives," explains Saporta. "We approached the Education Ministry with a request to hold our own matriculation exam in history and literature, based on our curriculum, instead of the regular one."
Kinani says the school enjoys the full cooperation of the ministry, "which is very supportive and enabling. Education Minister Naftali Bennett came on a visit a few months ago, and our impression was that he was very moved by the visit. There is always, however, some worry that one day there will be a minister whose worldview is not so agreeable. Bennett asked how we address racism and we laughed, since that is the symptom, not the problem. Racism will disappear on its own when the two sides meet, when they get to know each other, become closer and talk to one another." Saporta: "Nelson Mandela said that one is not born a racist and that people should be taught how to love."
What do you think of the way the school system handles Arab-Jewish issues?
"Outside of school, the topic is neglected and not addressed," says Saporta. "The ministry allocates the smallest budget to addressing racism and these issues are not dealt with. My vision is that every district will have a school like ours as an alternative for parents and that every school, even if it serves only one sector of the population, will deal with content that we deal with. The solution to the problem lies in schools. Through education one can change conceptions and reality in this country. My ambition is that Arab and Jewish schools will bring this content to their daily discourse, regardless of whether the two populations meet."
Holidays of all three religions
Hand in Hand's elementary school is a state school and relies on funds from the Education Ministry, as well as on relatively high supplements paid by parents. Despite the inherent difficulties of running a bilingual program, the school has reached a number of achievements in recent years. The high school placed among the top schools in Israel in the latest rankings released by the ministry. The percentage of those who received outstanding results on their matriculation exams is four times the national average – almost a third of the students versus the 7.5 percent national average. A relatively high percentage of students pass the matriculation exam (87.5 percent as compared to the national average, 66 percent), and 69 percent of the school's pupils matriculate at the highest level of math (5 units), compared to the national average of 33 percent.
In contrast to significant gaps between Jewish and Arab students in the general school system, these gaps are absent at Hand in Hand, says Kinani. These accomplishments are particularly significant in light of the small budget the school is allocated compared to others in Jerusalem.
What do you do about the holidays?
Kinani: "There are Arabs and Jews here, Armenians, Christians, Muslims, Bedouin – it's a veritable multicultural school with room for everyone. We obviously note the holidays of all three religions."
Are there any school days left after that?
Saporta: "Overall, we have the same amount of vacation days while also noting Muslim and Christian holidays. We adapt the school year to the calendar. For example, we begin two days earlier than the official school year or shorten other breaks. There is a message behind this. Imagine a Jewish student at home on a Muslim holiday, the neighbor asks why and the kid says it's because of Id al-Fitr. There is a message there. It's an egalitarian approach to everyone."
What about friendships between the children? Do they cross national borders?
Kinani: "Obviously. They visit each other and meet after school. There are also connections between parents, since there is a very supportive and involved community here."
So are there mixed couples in high school?
Saporta: "Not among the children. There are some mixed couples among the parents, and their children study here. But there are no mixed couples among the students. Our impression is that the meeting of Jewish and Arab students focuses their identities and enables each side to be secure in its identity without blurring it."
Click the alert icon to follow topics:
ICYMI
Ken Burns' Brilliant 'The U.S. and the Holocaust' Has Only One Problem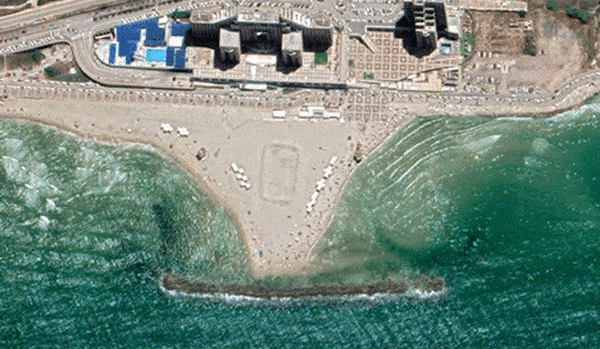 Facing Rapid Rise in Sea Levels, Israel Could Lose Large Parts of Its Coastline by 2050
As Israel Reins in Its Cyberarms Industry, an Ex-intel Officer Is Building a New Empire
How the Queen's Death Changes British Jewry's Most Distinctive Prayer
Chile Community Leaders 'Horrified' by Treatment of Israeli Envoy
Over 120 Countries, but Never Israel: Queen Elizabeth II's Unofficial Boycott