Opinion |
A Settler Farm Sows Fear Among Palestinian Shepherds, With Help From the Israeli Army
Thirteen years ago Omer Atidiah situated his private farm on Palestinian land north of Jericho; since then his name has terrorized the area
Ahmed Najadeh with family members and part of the Auja flock this week
Credit: Emil Salman
The voice that answered the phone sounded very pleasant. Omer Atidiah listened to my request to meet and talk with him and politely responded that he'd rather not. A tour of his farm, Einot Kedem? With pleasure, but only a personal tour, not an interview for publication.
He isn't a media consumer, he stressed, but he suspects the media distorts what people say. He didn't recognize my name, but said he appreciated my frankness when I told him he shouldn't be where he is, and that his words would be reported accurately nonetheless.
Amid all this, Atidiah nevertheless answered some questions over the phone about lands belonging to the village of Auja, north of Jericho, where he established his private farm 13 years ago. We have no conflict with the area's Bedouin shepherds, he said. On the contrary. We came to make the area more fertile, and to have good neighborly relations with everyone.
The ones who ruined the peaceful relations that prevailed until recently were those activists from Ta'ayush, Atidiah said. This view precisely was echoed by both the Israel Defense Forces Spokesperson's Unit, or rather by the new commander of the Jordan Valley Brigade, Udi Tzur, who last month issued a series of orders declaring the area a closed military zone to Palestinian shepherds and their Israeli escorts from Ta'ayush.
"I tried to explain to the Bedouin how to graze their flocks without hurting the flora and the land," Atidiah said. "They didn't listen to me. You know, it's a matter of culture." When the Jordanians ruled the West Bank, they required shepherds to graze an entire area for two weeks and then move elsewhere, so they didn't develop a commitment to any particular place, he said.
"The problem is with those black goats they have," which don't trim the grass, but tear it out by the roots, he added. That leaves the earth more vulnerable to erosion.
Blaming the black goats and their ignorant Arab owners for natural disasters echoes Zionist myths that have long been disproven. In April's issue of the journal "Eretz Vateva," Yadin Roman discussed the political correlation between the myth of the harmful goat and the authorities' plans to remove the Bedouin from their lands. He cited Israeli scientists who explained back in 1978 that black goats actually prune vegetation, enabling it to grow better, rather than killing it.
Today, we know it's not the goats that are harmful, but overgrazing, which must be prevented, Roman wrote. And for that very reason, shepherds from the Kaabneh tribe decided two months ago to resume grazing in an area that had been open to them until the farm was established. They asked Ta'ayush to escort them.
In their home in Auja this past Wednesday, brothers Ahmed and Mahmoud Najadeh grinned with astonishment at the stories of good neighborliness and rejected lessons in shepherding. They have almost no goats left, they explained, because goats aren't as profitable as sheep.
When sheep graze, they stay in one place and the shepherd relaxes. After just two months of grazing, they can be sold for about 1,000 shekels ($280) each. Goats run around, exhausting the shepherd, and need four months of grazing before being sold for a maximum of 600 shekels.
For the last 13 years, the name "Omer" has terrorized the area, because he and the young men with him use intimidation tactics – such as firing in the air and galloping horses or racing vehicles among the locals' houses, or even worse, among their flocks. The Najadeh family, which belongs to the Kaabneh tribe, says that 12 or 13 years ago, unknown persons broke into their relative's house, kidnapped him and broke his leg. They understood this as a message from their new Israeli neighbors.
In 2015, two children from the family were beaten by unknown Israelis near a grocery store on the main road from the settlement of Yitav, which runs through village lands. Complaints to police about harassment multiplied.
Kaabneh shepherds, who have lived in the Auja region since the British Mandate era, had to reduce their grazing grounds and buy expensive fodder instead. Since 2000, they have also stopped bringing their sheep to Ramallah every summer. Expanding settlements, growing Palestinian villages and IDF movement restrictions barred the way, said Hmed Najadeh, the father.
Since then, theirs and their relatives' flocks have shrunk, from about 5,000 sheep 20 years ago to less than 1,000 today.
The Najadeh brothers yearn for the days when they could take their flocks right up to the fence around a nearby army base and nobody bothered them. Children shepherded flocks on their own; they didn't fear army jeeps. Today they are afraid, the adults said, "because the army works for Omer."
The base was dismantled in 2003, and in 2004 Atidiah built his farm where it used to be. Every year since 2005, Israel's Civil Administration in the West Bank has issued demolition orders against the farm buildings, according to data it gave Dror Etkes of the Kerem Navot organization last year, pursuant to a freedom of information request.
But these orders haven't stopped soldiers and officers from buddying up to Atidiah. Nor have they stopped the farm from portraying itself as an educational center for Israeli youth.
Atidiah told Haaretz he has a rental contract for 2,300 dunams (568 acres) of state land to graze sheep for meat production and another contract for a few hundred dunams for agriculture – dates, olives, mangos. The settlement of Yitav leased the lands from the state and then sublet them to him, he said.
Yitav's area of jurisdiction (fragmented into four disconnected "bubbles") contains some state land, declared so by the Jordanians. But most of its land was either expropriated by the army in 1977 or still belongs either to the Waqf or to individual Palestinians – including, Etkes surmises, Palestinians who are considered absentees because they were abroad in 1967. Had this land been state land, it would have been registered as such.
The farm buildings are mainly located on Waqf land seized 40 years ago for Israeli military purposes, which immediately became agricultural purposes. Parts of its orchards are within Yitav's jurisdiction boundaries and parts are outside it. Atidiah's grazing grounds are also outside Yitav's boundaries, on either Waqf land or private Palestinian land.
When the Kaabneh recently tried to graze their flocks there, the settlers were initially surprised and tried to drive them away. Soldiers and Civil Administration officials prevented friction, sometimes driving the settlers off, and told the shepherds only to stay away from the farm.
But on August 1, Jordan Valley commander Tzur signed an order declaring thousands of dumans a closed military area for one month. Eitay Mack, a lawyer, wrote to the IDF's Central Command, claiming the order was illegal, and a month later, the IDF Spokesperson's Unit told Haaretz the order had been canceled "after reevaluating the situation."
Yet since then, Tzur has signed a new order almost every day closing certain areas to the shepherds and activists. Last week, soldiers detained three Najadeh shepherds for three hours in the punishing heat; the sheep scattered.
On the night of August 8, soldiers raided the Najadeh's home in Area A – the part of the West Bank that is ostensibly under full Palestinian control. The elderly parents, who were sleeping outside, were awakened by soldiers poking them with rifles. "Don't go to Omer, and we won't come to you," the soldiers warned, according to family members. They also photographed each family member with his ID card on his chest.
A few hours earlier, the family said, Atidiah had accompanied soldiers into another Najadeh neighborhood, also in Area A. Atidiah denied ever having entered it.
The IDF Spokesperson's Unit said, "The area was quiet for years until, in recent months, anarchist activists began coming and creating violent disputes. To prevent such incidents, the area was closed by military order, to maintain order and security."
The 5,000 dunams (1,235 acres) the IDF has systematically closed to Palestinian shepherds attests to Einot Kedem's expansionist ambitions.
Click the alert icon to follow topics:
ICYMI
Ken Burns' Brilliant 'The U.S. and the Holocaust' Has Only One Problem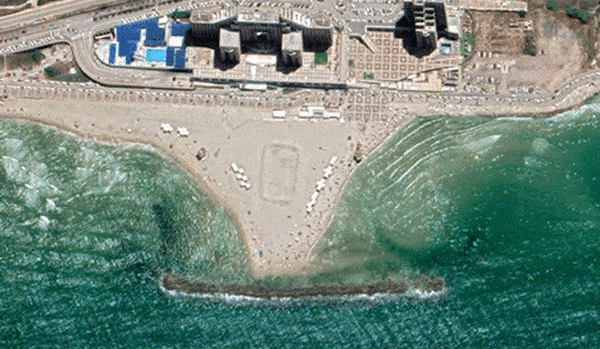 Facing Rapid Rise in Sea Levels, Israel Could Lose Large Parts of Its Coastline by 2050
As Israel Reins in Its Cyberarms Industry, an Ex-intel Officer Is Building a New Empire
How the Queen's Death Changes British Jewry's Most Distinctive Prayer
Chile Community Leaders 'Horrified' by Treatment of Israeli Envoy
Over 120 Countries, but Never Israel: Queen Elizabeth II's Unofficial Boycott