The Last Jewish Community Holding Out Against Zionism
The ultra-Orthodox group Eda Haredit does not believe in the State of Israel, Zionism or the Israeli army. One of its most prominent members, Rabbi Mordechai Mintzberg, says the group will never sell out, unlike the rest of the Haredi public
Rabbi Mordechai Mintzberg at his home in the ultra-Orthodox neighborhood of Mea She'arim, Jerusalem. "We've succeeded in getting through the past 200 years in the same fashion."
Credit: Emil Salman
Defense Minister Avigdor Lieberman paid a shivah call to the ultra-Orthodox Jerusalem neighborhood of Mea She'arim last week. But while Lieberman was there, several dozen members of the extremist Haredi group Eda Haredit started gathering in protest. The minister's bodyguards summoned the police, who forcibly dispersed the protesters and allowed Lieberman to safely leave the scene.
Hours later, police raided the offices of an organization that provides legal, financial and social assistance to yeshiva students who have gotten into trouble with the military authorities, arresting six suspects. There, too, there were violent confrontations between police officers and Eda Haredit members.
"When police arrived at the scene, dozens of ultra-Orthodox [or Haredi] men gathered around the building, screamed at the police and started to throw whatever they could get their hands on at them – stones, objects, iron bars and eggs," the police said in a statement.
From the other side, though, what happened during Lieberman's shivah call to Rabbi Avraham Elimelech Firer looked totally different.
"There were maybe 20, 30 guys – I can promise you none of them have worked out in the last 20 years. If you'd brought fourth-graders, they could have gotten rid of them," according to Rabbi Mordechai Mintzberg of the Eda Haredit.
"Police came to rescue him? Rescue him from what? No one here was in danger and no one had to rescue anyone. He can threaten Hezbollah and Iran, but he can't take someone yelling, or a tomato? Then the police come with clubs, teargas and grenades. So of course they throw things – that's the minimal defense there is here. They pounce on a population and then they portray it as violent. What happened? Someone threw a water bottle? An egg? No one here was in danger."
In recent months, there have been violent confrontations between policemen and Mea She'arim residents almost daily. They are usually provoked by some police activity, but sometimes because of Haredi demonstrations. The demonstrators are not from the Haredi mainstream but the Eda Haredit community, which is not large but whose families are drawn from the Yishuv (the Jewish community in Ottoman Palestine and British Mandatory Palestine) and the more radical Hasidic groups who constitute the most conservative wing of the ultra-Orthodox community.
Members of Eda Haredit strongly oppose the Israeli state, Zionism and the Israel Defense Forces. From their perspective, these clashes with the police are the peak of a general attack on them – an attack they see as being aimed at eliminating them as the last remaining Jewish force resisting Zionism, after the mainstream Haredi community succumbed to the pressure.
"Over the past five years there has been a serious attack [regarding] academia and education," says Mintzberg. "They are trying to assimilate us into Israeli society. They want to break us, to make it so there's no longer a concept of a non-Israeli Jew."
Mintzberg is considered a "blueblood" among Haredi zealots. He is a great-grandson on both sides of Rabbi Amram Blau, the founder of the extremist Neturei Karta sect, which believes Jews must not have their own state until the Messiah comes. He is 44 and lives in the heart of Mea She'arim; he has 11 children, two of whom were recently arrested during anti-draft demonstrations. "We very much encourage this at home," he says with a smile.
"We're people of the Old Yishuv who have been here for generations, and our ideology is isolationism," he adds. "There is the reality and there is Zionism, but we have to separate ourselves."
'It drives them crazy'
Two aspects of this isolationism are boycotting elections and refusing to take money from the government for their educational institutions.
The division between the Eda Haredit and general Haredi community has indeed widened in recent years. The feeling within the former is not just that the ultra-Orthodox public has defected to the other side, but that its politicians and media are spearheading the attacks against them.
"They bought off the Haredi public to bring them into Israeli society," says Mintzberg. "It started with education, from textbooks. They got into the [educational] content – something that once, from a Haredi perspective, was a mortal sin. Now it passes quietly. People who in the past were killed for these things now go like sheep to the slaughter, it's unbelievable. They bought their silence with massive budgets for the yeshivas. We put a mirror in front of them, because we are coming from the same place, and it drives them crazy."
Indeed, it is hard to find much sympathy for the Eda Haredit in the ultra-Orthodox media or on Haredi websites.
Mintzberg categorically rejects the claim that the Eda Haredit has earned its fanatical and violent reputation by attacking soldiers in Jerusalem and women in Beit Shemesh who don't dress modestly enough for its taste. "No soldier has been hit. That hasn't happened yet," he says. "Show me a single indictment of someone who was arrested for hitting a soldier. Show me one picture."
At the same time, he defends the right of the community's members to yell at soldiers who pass through Mea She'arim. "It's true, they are received with catcalls and contempt," he admits. "If someone who lives here would leave religion and set up a stand to sell pork, it would be less serious than [becoming] a soldier. Because any [ultra-Orthodox] soldier who walks through here is a liar. He is conveying that you can be Haredi in the army, and he is trying to sell you that story.
"Where have they yelled at soldiers? On Jaffa Road? On a military base? No. Here in Mea She'arim," Mintzberg continues. "I pay a price for living here; I pay tens of thousands of shekels for an apartment; I pay for it in my lifestyle. I give up things because I want this, I want this product. I oppose the essence of what is called the State of Israel. I oppose the concept of the army. I don't agree with their wars and operations; they are fighting against me. Look at the struggles within the army, how the women walk around and how they dress. Here, 90 percent of the people can't even imagine that there are questions like that in the world."
Surrender to Israeliness
According to Mintzberg, in the overwhelming majority of cases, the soldiers attacked weren't innocently passing through the neighborhood. "Ninety percent of the cases aren't soldiers who are going to their homes; it's a provocation, or to boast 'I went through the Haredi neighborhood.' If you [a non-Haredi Jew] would come here in uniform, it would pass quietly; no one would have the least bit of resentment toward you. But the minute you're Haredi, it's a different story."
He ticks off the changes in the ultra-Orthodox community that he considers a surrender to Israeliness: volunteering for rescue organizations like Zaka and Hatzalah; the attitude toward Israeli holidays; the Haredi media's attitude toward the IDF, and more. "They are undergoing an Israeli revolution," says Mintzberg.
Nevertheless, he is convinced that when it comes to serving in the Israeli army, most of the ultra-Orthodox public still sees an inherent contradiction between being drafted and being Haredi. He perceives the battle against the Eda Haredit as an effort to distinguish between it and the general Haredi community, and to portray it as a radical, violent group. That way, the rest of the Haredi community looks like a reasonable public that is getting more connected to Israeli society. This blurs the fact that most of them continue to oppose the draft as well, he notes.
"Someone had an interest in bringing up the army, as if to say here's an extremist group that's fighting against the army. But it's not true – everyone is still against the army, despite all the temptations," says Mintzberg. "There's an interest in turning us into extremists. That way they can come at us with all their might and also divide us. Who wants to be linked to extremists?"
The struggle between the police and the Eda Haredit came to a head over the force's alleged actions in Mea She'arim. These include sending "bait" – a detective wearing an army uniform – into the neighborhood. If he encounters a violent response, undercover cops then swoop in and start making arrests. According to Mintzberg, the attacks by locals start when the detective is recognized as a provocateur; the violence generally erupts when the arrests begin, he adds.
In recent months, there have been a number of people injured on both sides and several dozen arrests. Some of the suspects have been charged with assaulting policemen.
In addition, the police have started conducting arrest campaigns using methods previously used in East Jerusalem: Raiding homes late at night to either arrest active members of organizations that fight the draft, or as chaperones to military policemen who have come to arrest deserters.
The community has developed ways to cope with these operations. They use a system that sends telephone messages and manage, at any hour and sometimes within minutes, to organize hundreds of demonstrators to try and disrupt the police operation. One group focuses on obstructing the "drafters" – Haredi activists who work to get young men to enlist. Another provides legal, financial and even spiritual help to those who've gotten into trouble with the army and been arrested, while a third holds protest and propaganda vigils near the draft offices.
Mintzberg cautions people not to feel sorry for the Eda Haredit group. "We've succeeded in getting through the past 200 years in the same fashion; it's unparalleled courage, progress and modernity," he says. "And it's not that we're preserving something that's dying, folkloristic, from a museum – it's something alive and dynamic. No one here feels that this is primitive. Everything here is vital, vigorous, liberal, educated and enlightened. When people here picked up an academic text, it was like taking them back to the Stone Age. It was boring."
When asked whether Zionism hasn't triumphed, he rejects the question. "What triumph? What's changed? Do you think we prayed for 2,000 years for Bibi [Prime Minister Benjamin] Netanyahu to be our savior? For these soldiers we prayed? For this government?"
Referring to the comment by religious-Zionist spiritual leader Rabbi Zvi Yehuda Kook that the State of Israel is the base for God's Throne of Glory, Mintzberg says, "There is no throne and no glory."
He continues: "Zionism is exile among Jews, and that's the worst type of exile. [Theodor] Herzl saw a solution to the Jewish problem, but we don't have a problem – we are Jews, and Zionism is a total failure.
"Once they would yell 'anti-Semitism, anti-Semitism, anti-Semitism.' But today they're yelling the same thing. What difference does it make if you're yelling it from the Ukrainian Steppe or from the shores of the Middle East?" he asks.
Zionism did have one success, he concedes: capturing the minds of the Jews; here it has had 99 percent success. "That's why I think Zionism isn't here to be a solution, it's here for one thing: to destroy authentic Judaism," he says. "There's a saying from our sages that a live baby is better than a dead Og [the Amorite king of Bashan and biblical-era warrior]. A baby can resist; he'll start to scream and move his arms and legs. So long as we are fighting, repeating, resisting, there'll be war. And as long as there's war, we have hope."
Click the alert icon to follow topics:
ICYMI
Ken Burns' Brilliant 'The U.S. and the Holocaust' Has Only One Problem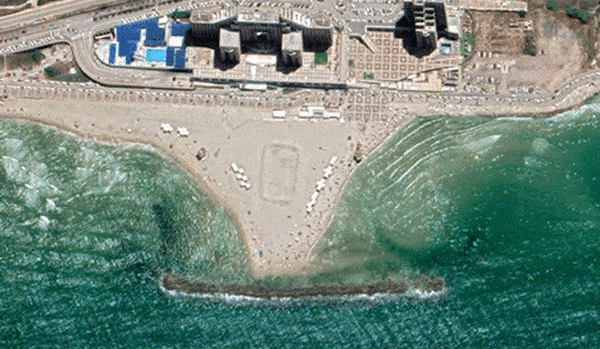 Facing Rapid Rise in Sea Levels, Israel Could Lose Large Parts of Its Coastline by 2050
Lapid to Haaretz: 'I Have Learned to Respect the Left'
The Mossad's Fateful 48 Hours Before the Yom Kippur War
As Israel Reins in Its Cyberarms Industry, an Ex-intel Officer Is Building a New Empire
How the Queen's Death Changes British Jewry's Most Distinctive Prayer