Analysis |
By Savaging Europe, Netanyahu Joins the Putin-Trump Assault on Liberal Democracy
The founding fathers of the Israeli right also admired nationalist regimes in Eastern Europe, even when they were tainted by anti-Semitism
Prime Minister Benjamin Netanyahu and his spiritual brother Viktor Orban at a signing ceremony in the Parliament building in Budapest, Hungary, Tuesday, July 18, 2017.
Credit: Balazs Mohai/AP
Zeev Jabotinsky, also known as Vladimir, published an article in 1911 marking the 50th anniversary of Ukrainian poet Taras Shevchenko, who happens to be a distant relative of Andriy Shevchenko, one of the finest footballers in European history. Taras Shevchenko was an anti-Semite but Jabotinsky lauded his revival of the Ukrainian language and his contribution to the Ukrainian nationalism that opposed Moscow's 19th Century Russification campaign. In this article, Jabotinsky formulated his concept of "natural nationalism". This nationalism, fortified by flags, symbols and anthems, is the key to the peoples' hearts, unlike the abstract liberal values that Russian intelligentsia tried to impose, to no avail, on the Ukrainian masses.
Jabotinsky, who was born in Odessa, maintained close ties with Ukrainian nationalists even after the massacres and pogroms carried out by their leader, Simon Petliura, who is a hero to Ukrainians nationalists but a persecutor of historic proportions for Jews. In 1921, Jabotinsky signed an agreement with his boyhood friend Maxym Slavinsky, who was a minister in Petliura's cabinet, to establish Jewish gendarmeries that would accompany Ukrainian forces in their campaign to take Ukraine back from the Bolsheviks. Jabotinsky defended his deal, which was never implemented, by citing the imperative of protecting Jews and the opportunity to set up another Jewish military force, like the Jewish Legion he had helped establish in Palestine during World War I. His rivals on the left, on the other hand, savaged Jabotinsky for his willingness to collaborate and legitimize Petliura, a dedicated anti-Semite with Jewish blood on his hands. The controversy, which left Jabotinsky bitter and isolated, eventually led to his decision to quit the Zionist Congress and to set up the Revisionist movement, which spawned the Herut party which gave birth to Benjamin Netanyahu's Likud.
Petliura's partner in the invasion of Ukraine was the venerated Marshall Josef Pilsudski, the father of modern Poland. Pilsudski was not an anti-Semite, but he gradually transformed from an admirer of democracy to a champion of autocracy. As President of Poland, he allowed far right nationalists to start legislating against Polish Jews, but much worse, he signed a non-aggression agreement with Nazi Germany in 1934, which eased the international blockade against Berlin and prohibited, among other things, anti-German reports that might have warned the Jews about the catastrophe that would soon devour them. Like Italy's liberator, Giuseppe Garibaldi, Pilsudski was admired by Jabotinsky, and even more so, by his successor, Menachem Begin. Pilsudski's pre-war heirs, who instituted far harsher anti-Jewish measures after his death in 1935, nonetheless maintained close ties with Revisionist leaders and even discussed a possible "solution to the Jewish problem" which mirrored Nazi plans at the time and would have seen masses of Polish Jews emigrate to Palestine. Nothing came out of these talks, but they provided the Poles with convenient cover against growing allegations, especially in the United States, about their anti-Semitic policies.
The historic irony comes around full circle when one considers that it was Pilsudski who first proposed a coalition of Eastern and Central European countries that could serve as a counterbalance to both Nazi Germany and the Soviet Union. Dubbed Intermarium for spanning Europe from the Baltic to the Black Seas, Pilsudski's unfulfilled idea was the inspiration for the Visegrad Group whose leaders heard Netanyahu's stark anti-European tirade in Budapest this week, which was or wasn't intended to reach the ears of the Israeli journalists who heard it. And while the comparison might insult admirers of what's known as "Jabotinskyite majesty", Netanyahu was walking in his predecessor's footsteps when he chose to accept political backing from the leaders of Poland, Hungary, Slovakia and the Czech Republic that comprise the Visegrad Group and in exchange to turn a blind eye to the complex attitudes of some of them to their own Jews and to their nations' roles in exterminating them during World War II. And even though the analogy might infuriate Jabotinsky fans who emphasize his liberal positions, which grew more prominent in his last years as he tried to shake off his rivals' depiction of him as a fascist, Netanyahu was emulating his movement's founder, whose private secretary was his father Benzion Netanyahu, when he fulminated against the liberal supra-national European Union and embraced the kind of "natural nationalism" that is practiced by his hosts.
This ethnic, if not race-based nationalism, which Jabotinsky approvingly called chauvinism, is the glue that binds the four countries together and supports their combined defense against Muslim refugees that would have swamped them all, Netanyahu said, were it not for Israel. A reporter who recently visited the Slovakian capital Bratislava, for example, described it as a city in which one sees more "white faces" than in any other part of Europe, and the Slovakians have no wish to change the status quo. The Visegrad Group has accepted only a minuscule portion of the 12,000 quota of refugees allocated to them by the EU. Brussels is threatening to punish them in return, but like politicians everywhere, those in Warsaw, Budapest, Prague and Bratislava fear their voters' rage much more.
But Netanyahu's empathy for his hosts isn't limited to the issue of Muslim immigrants. His day of kumbaya with the Visegrad leaders wasn't confined simply to their shared contempt for the arrogant bureaucrats in Brussels, who are Israel-haters to boot. Warsaw, for example, is acting out the dreams of Justice Minister Ayelet Shaked and far too many of her coalition partners, by destroying the independence of the Polish judiciary and unabashedly suborning it to the will of the government. In Slovakia, coalition partners can openly say what their Israeli counterparts dare mention only behind closed doors, such as Josef Rydlo of the Slovak National Party who told Politico last year, "Muslims simply won't fit in here." On his wall, Rydlo keeps a portrait of Josef Tiso, the Catholic bishop and wartime Slovakian leader who actually paid the Nazis 500 marks for every Jew they deigned to spirit away to the death camps. Pressured by the Vatican, Tiso soon changed his mind, refusing to hand over more Jews, just like Hungarian Regent Miklosz Horthy who surrendered hundreds of thousands of Jews to the Nazis before realizing that they were losing the war. The same Horthy who was recently lauded by his successor and Bibi's new best friend, Hungarian Prime Minister Viktor Orban.
It is Orban, more than the other Visegrad leaders, who is Netanyahu's spiritual brother. Like Netanyahu, he fights the hostile press and wages war against leftist NGOs that corrode the spirit of the Hungarian people. It is Orban who ordered the poster campaign with its anti-Semitic overtones against Hungarian-born billionaire George Soros, which Netanyahu last week cheered on. And it is Orban who is the champion of the so-called "illiberal democracy" which has taken root in several countries in Russia and Eastern Europe and which appeals to an increasing number of Israelis who are also tired of foreign-funded human rights NGOs as well as the nagging High Court of Justice. To stay competitive, Organ said in a now famous 2014 speech, Hungary must escape outdated notions such as the superiority of individual rights over collective needs and shake off liberal "Western European dogmas", as he described them.
But Orban, apparently, isn't just your garden variety Eastern European ethnocentric nationalist seeking to free his country from the shackles of the Brussels bureaucracy. The New Republic last year dubbed him Vladimir Putin's "little helper" in Europe. Moscow contributes generously to Orban's Fidesz party - as well as to Jobbik to his right - and Moscow plies the Budapest oligarchy that supports Orban with lucrative infrastructure projects that keep them rich and happy. In exchange, Orban spearheads the kind of populist anti-liberal nationalism that Putin delights in. He opposes the sanctions that the European Union has imposed on Moscow because of its intervention in Ukraine and Crimea and he has pledged to block any new anti-Russian measures, which require approval by consensus, anytime in the future. He is on a warpath against the European Union and wants to see it weakened, if not replaced, with a looser confederation of countries that maintain higher levels of independence and sovereignty. Putin couldn't ask for more.
In this context, Netanyahu's outburst against the "crazy" European Union that will lead the continent to ruin because of it's perceived bias against Israel also serves Putin's interests. It creates a common front that unites Moscow, nationalist regimes in Eastern Europe, populist parties in Western Europe and Brexit supporters in the United Kingdom with the American right, which has never liked Europe anyway. Netanyahu has his own agenda for attacking Europe, but doing so on the home turf of countries that are at war with the EU over immigration turns him into one more foot soldier in Putin's crusade to undermine the liberal democracy that defeated the Soviet Union in the Cold War, to sow confusion and dissent in the EU and the U.S., Russia's chief global adversaries, and to directly and indirectly promote the kind of corrupt, anti-liberal autocracy and plutocracy that Putin has installed in Russia.
But while Netanyahu may have his own reasons for savaging the EU, including his Revisionist background, public sentiment in Israel and his conformity with Republican dogma, it is much more difficult to apply the same presumption of innocence to Trump, who does his best to implicate himself at every turn. He met with Putin in Hamburg last week, beaming like a groupie with his rock star, then it turned out he had another unreported meeting and then, according to what Russian Foreign Minister Lavrov said on Friday, it seems he may have had much more. He agreed to appoint a joint commission to fight cybercrime, which is like allowing Russian cats to guard American cream, and only retracted when faced by a public outcry. A few days later, he fulfilled Putin's dream by unilaterally cancelling a CIA program to arm and train Syrian rebels who oppose Bashar Assad and as far as is known, didn't ask for anything in return. It's time for another rendition of that worn out cliché that if Barack Obama had appeased Putin like Trump, Republicans would have burned down Washington long ago.
Never mind the truly bizarre interview that Trump gave the New York Times, which was both daring and stupid at once. Trump more or less lambasted his attorney general Jeff Sessions for recusing himself from the investigation of Trump's ties with Russia instead of shutting it down, presumably, as Trump would want. Then he seemed to be openly trying to intimidate former FBI Director Robert Mueller, who leads the investigation against him, by alluding to mysterious conflicts of interest and by warning him against venturing into Trump's shady business empire. Less than 12 hours later, the media reported that this is exactly where Mueller is headed.
The best case scenario is that the U.S. is being led by pathological narcissist who harms himself and his country but is doing so because of personality issues and not because he is beholden to a foreign dictator like Putin. The worst-case scenario is that Trump is a pawn in Putin's arsenal of those who would destroy liberal democracy from within. By savagely attacking Europe and by bolstering the regimes that oppose the European Union - which Trump did as well in his visit to Poland before the G-20 Summit in Hamburg - Netanyahu is partner to the plot as well.
Most Israelis, who bear their own historical grudges against Europe, will probably cheer Netanyahu's confrontational approach, but those who fear for the future of democracy, and not the ersatz version now being pushed by Putin, Orban, Erdogan and sometimes Netanyahu as well, have no choice but to pray for Western European leaders such as Angela Merkel and Emanuel Macron. They lead the countries that are now the last bastions of liberal democratic values, and they are under siege.
Click the alert icon to follow topics:
ICYMI
Ken Burns' Brilliant 'The U.S. and the Holocaust' Has Only One Problem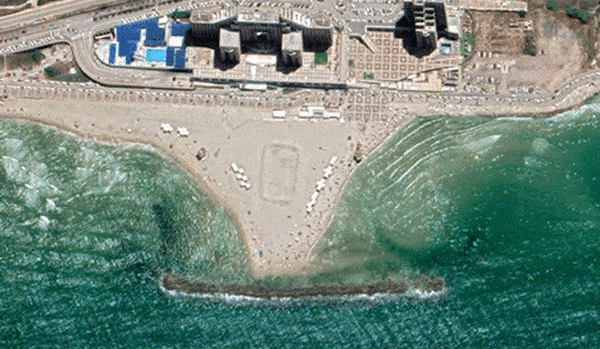 Facing Rapid Rise in Sea Levels, Israel Could Lose Large Parts of Its Coastline by 2050
Lapid to Haaretz: 'I Have Learned to Respect the Left'
The Mossad's Fateful 48 Hours Before the Yom Kippur War
As Israel Reins in Its Cyberarms Industry, an Ex-intel Officer Is Building a New Empire
How the Queen's Death Changes British Jewry's Most Distinctive Prayer