Analysis |
Why Netanyahu Wants This Candidate Elected as Labor Leader
The Israeli prime minister is preparing for the renewal of the peace talks, and for that he needs to divide and conquer the opposition
Illustration.
Credit: Amos Biderman
Avi Gabbay is undoubtedly the story of the week. It's an extraordinary story, politically and journalistically, surprising and juicy, in a party long bereft of such adjectives – in addition to voters. Anonymous even when he served as environmental protection minister in the present Netanyahu government, until May last year, Gabbay managed to do this week what no one before him did in similar circumstances: As a new member of the Labor Party, he finished second in the first round of the party's leadership primary, leaving in his wake three serious contenders who are flesh of the party's flesh, notably the current leader, MK Isaac "Bougie" Herzog.
Gabbay himself seems to have been taken aback by his achievement on Tuesday – garnering 27 percent of the vote, not far behind the winner of the round, MK Amir Peretz. All of Peretz's vast experience in election campaigns – his organizing, the support offered by a large part of the Histadrut labor federation, his dominance in the Arab and Druze communities, and the efforts expended on his behalf by MKs Itzik Shmuli, Nachman Shai, Revital Swid and Eitan Broshi – didn't suffice to net him more than a 5-percent gap over Gabbay, which represents fewer than 2,000 votes.
Gabbay had never even run in an election campaign or participated in a primary, lacks a party infrastructure and doesn't have legions of supporters from all the population groups represented in Labor. Indeed, most members of the party didn't know him until recently: a novice politician who until a few months ago was a member of the center-right Kulanu party he helped to found, which is part the government coalition. Gabbay didn't even seem to try very hard in the race this week. He projected a kind of nonchalance, albeit juxtaposed with considerable ambition and confidence.
This should be enough to cause Peretz plenty of concern. Gabbay emerged from the first round riding a tailwind, with heightened curiosity and a buzz surrounding him. That doesn't promise victory, of course, or an easy race.
"I made it into the second round," he said the day after the vote, "but if I don't make it through the second round, we accomplished nothing."
He claims that he did not know in advance about the bombastic and enthusiastic announcement of support for him that former Prime Minister Ehud Barak sent his Facebook followers. Backing from Barak – who early on in the race said that Avi Gabbay was the perfect candidate, one that any search committee would have picked – is important for the contender. Gabbay has absolutely no record when it comes to national politics, and still less in the realm of security. So, when a former prime minister, defense minister and chief of staff, who is enjoying a resurgence of late in the center-left camp, gives him such resounding support, it's a clear expression of legitimization.
What didn't surprise Gabbay, he tells me, is Herzog's poor showing. In surveys conducted for him by Camil Fuchs of Tel Aviv University, and which Gabbay was happy to show anyone who asked, he and Peretz were in the lead – though each with smaller percentages than the actual results – with Herzog and MK Erel Margalit far behind.
I asked him what he will do if he's elected the party's leader in the second round next Monday. "To begin with, it's necessary to build up the Labor Party. I will stump the country and persuade people to return to it," he said.
What about the center-left bloc that Herzog talks about creating? "There is no such bloc. [Yesh Atid leader] Yair Lapid won't join, [Kulanu chair Moshe] Kahlon won't join, [MK] Orli Levi-Abekasis won't join, she wants to run independently," Gabbay replied, mentioning some of the names that Herzog had cited as potential partners. "In the end we'll remain with [the nonpartisan group] Commanders for Israel's Security. You call that a bloc?"
I reminded Gabbay that, as he is not an MK, he would not be able to serve as leader of the opposition in the Knesset and, as such, would not take part in key events, won't go head-to-head with Prime Minister Benjamin Netanyahu in the plenum, won't be part of what's known as the symbols of governance.
"There is no opposition in this Knesset," Gabbay declared. "Lapid is Lapid, the Arabs are Arabs. There is no one body that operates harmoniously under one person. I don't attach much importance to that role [leader of the opposition]. Obviously it would be good if I could be there, it would help me, but there will be someone else. In the meantime, I'll do grass-roots work."
On Thursday, he announced that he if is elected Labor leader, he will ask Herzog to stay on as leader of the opposition – by dint of being head of Zionist Union, which includes Labor and Tzipi Livni's Hatnuah party – for the duration of the present Knesset. Gabbay may be a novice in politics overall and in the Labor Party specifically, but he has style, and he understands what makes people tick.
Shalom, Haver
About two months ago, Gabbay met with Herzog. "It's finished, you won't get through, let's run together," he told the party leader. Herzog turned down the idea. In fact, he seriously considered not running at all. He knew where he stood with his voters. But Herzog was hopeful he'd be able to escape the fate of his predecessors and lift the curse of the one-term tenure in Labor. He embarked on a private Via Dolorosa, a long day's journey into a night of declarations of remorse, of self-justification and of explanations for his comportment in the past two years – particularly with regard to the endless talks, in several rounds, that he held with Netanyahu about the possible establishment of a unity government.
The longer the road became, the more difficult it grew. Day after day, evening after evening, Herzog would attend party gatherings and parlor meetings, speak his piece, set forth his reasons, look for understanding, solicit forgiveness. The task became Sisyphean: The heavy rock was rolled up the hill, but it never reached the top.
On Tuesday, Herzog garnered less than 17 percent support, only 5,200 votes, most of them from the party's old-timers. He got a serious kick in the pants from the others. "Shalom, Haver," they told him. It was a vote of no-confidence in his performance as leader of the opposition.
He could be an excellent foreign minister, maybe even a pretty good prime minister in an imaginary world, but what does Bougie want with the opposition when, with every fiber of his being, he longs to be part of the government? Even when he spoke in the Knesset and took aim at Netanyahu between the eyes (metaphorically) with blistering words, he wasn't really convincing. The tongue lashed, but the eyes said: Bibi, take me. Take me!
In the past few weeks, as the despair grew and the fear mounted, his campaign staff, and Herzog himself, began to market a new narrative: "Bougie is getting stronger." His colleagues looked for evidence of this growing strength, but found none. Not among the voters, not among the party activists, not in the polls.
Take the 350 or so activists and volunteers who support MK Shelly Yacimovich, for example. The vast majority, about 80 percent, did volunteer work for Gabbay. A few hooked up with Peretz, a few with MK Omer Bar-Lev, a very few with Erel Margalit. Only one member of the Yacimovich group, however, a kibbutz woman, decided to assist the efforts of the Herzog campaign staff.
On Thursday afternoon, Yacimovich announced – as expected – her unconditional support for Gabbay. The fact that it is Peretz, whom she aspires to destroy politically, that Gabbay is running against, clearly didn't make her decision any harder. But she probably would have gone with Gabbay anyway. She praised him warmly for his public commitment to retain Herzog as opposition leader. If she had harbored the hope that Gabby might bestow that position on her, she didn't allow that shattered dream to deter her from her course. Although she and Herzog had torn each other to shreds (Herzog went "on all fours to Netanyahu"; Yacimovich was "the president of tweets"), she even had a kind word for him, by way of her gesture toward Gabbay. It was a rare moment of reprieve for the humiliated chairman of the Labor Party.
The prevailing atmosphere in Labor was: We're not voting for Bougie. He's affable, he's decent, he's a mensch, he's a prince, he's loyal to the party, he never left it only to return when the other options didn't pan out. It's all true, but he doesn't deserve another chance. Party loyalty plays no part in our time.
I asked a Herzog supporter whom she planned to vote for in the second round. She was silent, sighed, fell silent again. "It's a problem. I know Amir Peretz all too well," she said. "And I hardly know Avi Gabbay at all."
After sleeping on it, Herzog endorsed Peretz on Friday morning. It didn't come as a surprise: Peretz has been loyal to him since returning to the part. Margalit, too, threw his weight behind Peretz. Both chose the familiar over the new.
Divide and conquer
On the morning of the Labor primary, Regional Cooperation Minister Tzachi Hanegbi (Likud) was asked in a radio interview for his opinion of the race. Experienced politicians usually deflect questions like that. Hanegbi, who has unrivaled experience, was happy to go into details. He said he hoped Peretz would not become party leader, as he's the only one of the contenders capable of attracting new voters to his own party: in other words, capable of attracting Likud voters.
When Netanyahu's human message box utters those words, you have to suspect something's afoot. And, in fact, later on Tuesday, Netanyahu, speaking at a conference sponsored by the newspaper Makor Rishon, pulled out of nowhere some sort of half-baked reference to Peretz that naturally made immediate headlines in the media and at the polling-station sites. The message that Hanegbi and Netanyahu wanted to get across to the comrades in Labor, each in his own style, was: Go and vote. For Peretz.
Naturally, underlying this exercise are vested interests and motives, not praise and friendship. A source who knows a thing or two about what goes on in the Prime Minister's Bureau helped decipher the riddle. Netanyahu is now preparing for a resumption of the peace talks. It's clear that things are cooking on the axis between Washington and the Gulf states with regard to our region. U.S. President Donald Trump this week tweeted that he'd spoken with the Saudi king about peace in the region. "Interesting things are happening!" he summed up.
On the assumption that the Israelis and the Palestinians will be called upon to return to the negotiating table, the coalition could be damaged. There's no knowing what Habayit Hayehudi leader Naftali Bennett will do: He doesn't miss a chance to tease, provoke and deride Likud and its leader. If he thinks leaving the coalition will benefit him politically, he won't hesitate to slam the door and drag the country into an election while flaying the ruling party from the right.
Netanyahu is thinking about reinforcements. Not only thinking, but talking about it. He concluded some time ago, undoubtedly with the help of opinion polls, that Herzog is history. "Bougie is done, I regret to say," the premier told a politician from his party about 10 days ago. He had hoped that Herzog, who hadn't abandoned his longstanding dream of becoming foreign minister, would be reelected and, buoyed by the new mandate he'd received, would join the coalition when the need arose.
But with the Herzog option gone, Netanyahu started to promote an alternative plan: to help MK Peretz get elected. Peretz is not a candidate for coalition co-option – the very opposite, in fact. But if he were elected, it's reasonable to think that Livni, who can't abide him and has accounts to settle with him, would bolt from the Zionist Union, together with her four Hatnuah MKs. With them operating as a separate Knesset party, Netanyahu could more easily make her offers. He always prefers his partners divided, sliced up, weakened. That way they're more dependent on him.
Livni served as justice minister in Netanyahu's previous government and was in charge of peace negotiations. If her good friend Jason Greenblatt, Trump's special envoy to the Middle East, shows up soon with a tempting package, why shouldn't Livni return to the government, this time as foreign minister, who would naturally be in charge of the negotiations, should they erupt?
That idea has been discussed in Netanyahu's close circle – and also in talks between the premier and American diplomats who are wondering what the fate of the coalition will be if the peace process is renewed. It's not clear whether Livni is aware of the plans Netanyahu has for her, and for personal reasons, she was unavailable for comment on Thursday.
Sara's teahouse
There's no limit to the holy wrath of the Netanyahus, and no level to which they won't descend, as the noose of police investigations involving them tightens around their necks. The latest example came this week in the form of a response by the couple to a Channel 10 TV report that the state prosecutor, Shai Nitzan, is expected to support an indictment of Sara Netanyahu in the case involving alleged financial improprieties at the couple's residences.
"It's a shame and a disgrace that this kind of orchestrated leak should appear during the historic visit by the prime minister of India at the Prime Minister's Residence in Jerusalem," the two stated, through a spokesperson. "And it will be an even greater shame if the recommendation is made to place the prime minister's wife on trial for a few cups of tea that a caregiver served to Mrs. Netanyahu's late father, Shmuel Ben Artzi, on his deathbed."
Really, Mr. Nitzan. A nice cup of tea and a cookie to dunk in it. Over that you get so petty? The suspicion, however, is that all the expenses relating to the private caregiver who nursed the aged father were billed to the state. The couple with the small hands and deep pockets know no other way than to bill, bill and bill again.
This case also includes furniture that was supposedly bought for the official residence on Balfour Street in Jerusalem and miraculously ended up in the couple's private mansion in Caesarea; the affair of the electrician who's a member of the Likud central committee and was employed in the Caesarea residence contrary to accepted procedures; and apparently also matters having to do with expensive food ordered from restaurants, all billed to the state, of course, ostensibly for guests from abroad.
What all this (alleged) stench has in common is chronic miserliness. Under its aegis, the police are putting together an unequivocal recommendation to indict the prime minister in Case 1000, involving gratuities received from Hollywood producer Arnon Milchan and perhaps from other magnates as well. Last Friday, Gidi Weitz reported in these pages that evidence is mounting against Netanyahu in both Case 1000 and Case 2000 (the latter involving conversations with the publisher of the Yedioth Ahronoth Group, Noni Mozes). The word "bribery" appeared in that report, as well as in other items during the past two weeks,
The leaks show that, despite the assumption in the grumbling Twitter community to the effect that the investigators and the state prosecutors are deliberately dragging their feet, the investigations are actually ongoing all the time, and in several spheres. Witnesses are being questioned in Israel and abroad. Some claim that by the end of this month, an announcement will be made that will generate a huge storm. The signs to that effect are intensifying.
This week, the attorney general, Avichai Mendelblit, told a conference of accountants in Eilat, "The investigation [in the cases involving the prime minister] is progressing professionally and vigorously. The police investigators are continuing to work to collect documents, to depose witnesses in Israel and abroad, to analyze economic data and to clarify other facts on which I will not elaborate."
We've known for some time that the investigators in Netanyahu's cases think there's fire. It was also recently reported that attorney Liat Ben Ari, from the state prosecution, who is working with the investigating team, is treating Case 1000 with the requisite severity. This week, then, another brick fell out of the wall when it was reported that Nitzan tends to support the filing of an indictment against Sara Netanyahu.
On top of this, Netanyahu's primary supporter in the media is no longer what it was. The chilly wind blowing between the prime minister and casino tycoon Sheldon Adelson – his patron and underwriter of the prime ministerial mouthpiece, Israel Hayom – was palpable a week ago in the dedication ceremony for the faculty of medicine at Ariel University in the West Bank. It is also increasingly obvious in the pages of the freebie daily.
In any event, one by one the walls of defense around the couple are collapsing. The collapse is slow and quiet but also simultaneous, systematic and dramatic.
Advise and consent
MK Shuli Moalem-Refaeli is the head of Habayit Hayehudi's Knesset delegation. At this week's meeting of the heads of the coalition parties, she noted that Sara Netanyahu saw her at the Ariel University ceremony last week, and scolded the MK for the criticism she occasionally levels at her husband, the prime minister. It's substantive criticism, by the way, concerning construction in the territories and the like. But not below the belt or between the eyes.
This is a regular habit of the prime minister's wife. The résumés of many politicians' partners, too, contain similar incidents. Michal Herzog, for example, was reprimanded on more than one occasion after her husband slammed the prime minister in the Knesset. Sara Netanyahu is unable to grasp how any mortal can allow herself or himself to level criticism at "the prime minister." Who are they compared to him? How can they not see his virtues, his greatness?
I called MK Moalem-Refaeli to ask what had happened. "I wasn't reprimanded," she said.
But what did Sara say to you?
"She said, 'Shuli, I won't allow you to attack the prime minister all the time.'"
You attack him? All the time?
"I level criticism. There are subjects we agree on, there are subjects we disagree on."
Did you take it to heart? It's not easy being scolded by Sara.
"All is well," Moalem-Refaeli said. "We even hugged and kissed. I will go on expressing my opinion."
Click the alert icon to follow topics:
ICYMI
Ken Burns' Brilliant 'The U.S. and the Holocaust' Has Only One Problem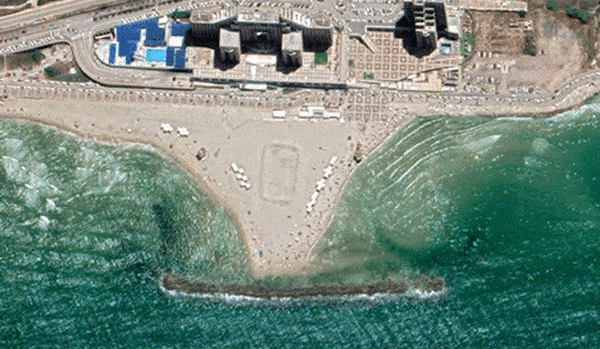 Facing Rapid Rise in Sea Levels, Israel Could Lose Large Parts of Its Coastline by 2050
Lapid to Haaretz: 'I Have Learned to Respect the Left'
The Mossad's Fateful 48 Hours Before the Yom Kippur War
As Israel Reins in Its Cyberarms Industry, an Ex-intel Officer Is Building a New Empire
How the Queen's Death Changes British Jewry's Most Distinctive Prayer