India Is the Biggest Opportunity in the World - and Israelis Are Missing It
India is the fastest-growing major economy in the world, with many of its needs seemingly overlapping with Startup Nation's strengths. So why are so many Israeli businesses loath to take the passage to India?
A man walking on the promenade next to a lake in Mumbai, India, January 2, 2017.
Credit: Danish Siddiqui/Reuters
This article was originally published in Jan 2017, and is re-upped ahead of Prime Minister Narendra Modi's visit to Israel
MUMBAI – Last September, Pakistani terrorists attacked an Indian army base in Kashmir, killing 19 soldiers. The Indian army responded with "surgical strikes" against terrorist organizations on the Pakistani side of the border. Indian Prime Minister Narendra Modi brimmed with pride at the precision capabilities of his forces, saying in October, "Everyone is talking about our army. We used to hear about similar feats of Israel. But now everyone knows the Indian army is" equally good.
>>Follow Haaretz's live updates and analysis of Modi's historic visit to Israel
His remarks went unnoticed in Israel, which is a shame. For one thing they marked a sea change in India's attitude toward Israel, which for years had been anathema in the subcontinent. But the Indians also admire Israel for its military prowess and technological skills, too. In fact, top officials at the Indian Foreign Ministry say that if there are three countries admired on the Indian street, they're Singapore, Japan and Israel.
The second reason is that Modi himself is a superstar. Given the crisis shaking the world's democracies, he's probably the most powerful, popular democratic leader in the world right now. As governor of Gujarat (one of the 29 states comprising the Indian federation), he drove the fastest economic growth in India.
As an Indian nationalist and ardent supporter of the free market, privatization and small government, Modi gets a rare billing in Indian politics: the man who drove great economic growth without being personally corrupt.
Corruption is rife in India; hardly a government ends without accusations of rot being bandied about. Modi's clean image alone makes him a superstar to the masses and, for the first time in years, the incumbent government has a majority in Congress. Modi's clout is so great that many experts think he might achieve the unthinkable and get reelected in the 2019 general election.
Being a Hindi nationalist, conservative, supporter of the free market and security-oriented, Modi also tends to strongly support Israel. There is a good reason his relations with Prime Minister Benjamin Netanyahu are so robust, and why there were reciprocal visits from the Indian and Israeli presidents.
Modi has driven several gigantic economic reforms since his election in 2014, all aimed at one thing: opening up Indian business and bringing in foreign investment. He has sought to reduce bureaucracy, privatize whole industries and advance backward India by light years. All of these aims chime with the strengths of the Israeli economy and India has been coming a-courting. But their ardor may go unanswered.
Great security relations
Last month, an Israeli-Indian forum met for the ninth time in Mumbai, featuring leading businessmen from both countries. The event was run by Tel Aviv University, the Confederation of Indian Industry (CII) and Ananta Aspen, an American-Indian philanthropic association. Participants included people from the Indian giant Tata and Triveni Engineering, representatives of Israeli and Indian universities, and more.
Although the venue was packed with businessmen, politicians and academics, the real question was why – if the forum has been convening for nine years – economic relations between India and Israel have failed to develop.
Since 2010, Israel-India trade has run at $4-5 billion a year – adding a billion dollars more if we tack arms onto that. It hasn't shifted from there, though. Israeli exports to India totaled $2.2 billion in 2015, down from $2.9 billion in 2010.
India is the second-most populous country in the world, with 1.3 billion citizens; in a decade, its population is expected to outstrip China's. India attracted $44 billion in foreign investment in 2015 – more than China. Yet despite also being a flourishing democracy and viewing Israel as a partner, Israeli exports to India only totaled $1.2 billion last year, just 3% of total Israeli exports.
In fact, Israel and India have only enjoyed diplomatic relations since 1992 – and even then they were on a low flame. India used to be heavily influenced by Russia, which led to chilly relations with the United States and Israel, and a general inclination to take the Palestinian side over Israel's.
The turning point was the Oslo Accords in 1993 and also the border conflicts with Pakistan that erupted in 1999. The Indians needed arms, urgently, and Israeli defense officials scrambled to help. Since then, security relations between Israel and India have been wonderful – in fact, the only successful trade between the two countries is weapons systems.
Satellites in space, no toilets
Civilian trade has been going nowhere, but India is opening up to the world and positioning itself as one of the five big economies, with aspirations of fighting poverty with the help of high-tech.
The failure of Indian-Israeli business to take off is largely due to cultural differences, but there are also differences in needs.
India is a country of vast contradictions, something the country itself is first to admit. It's the largest democracy in the world, featuring high voting rates, and the tolerant culture encourages debate. It also has dozens of minority groups; a large Muslim minority (about 15% of its population); and incessant simmering tension with Pakistan over Kashmir.
And there is the grinding poverty. About half of India lives below the poverty line. Remote villages have no water supply or electricity and, according to Deloitte Israel, some 75 million Indians have no access to flowing water at all.
Some 400 million Indians relieve themselves in the wild. The Indian government invested heavily in building toilets in villages, as did the Bill & Melinda Gates Foundation: not only does the habit contaminate the environment, and water and food supply; it also leads to rape as women venture outside in the dark to relieve themselves.
But it didn't help. Hating the filth of the toilets and reluctant to clean them (a job that had been the task of untouchables in the past), Indians – including city dwellers – continue to do their business outside. Nowadays, not even untouchables will clean toilets.
Paradoxically, India is also a technology superpower with some of the best universities in the world. Silicon Valley has nearly as many Indian engineers as American ones (and lots of Israelis, too). India is also a nuclear and space power; it's one of the few countries that has shot satellites into outer space.
Yet it can't supply clean water to its people and has barely any social rights. It has no national insurance, no pensions and, although there are state-funded schools and health care, they're not good systems. Hospitals in far-flung villages have no equipment. Or doctors – they don't want to work in rural India. India has built about a million schools in recent years, but most have no electricity, 60% of the teachers don't show for class and 70% of the kids drop out by eighth-grade.
'Middle class' but no fridge
India is proud of its rapid growth in recent years and its prosperous middle class – but "middle class" is a slippery concept.
The Indian middle class is supposed to include about 300 million people. But as Arunabha Ghosh – a doctor of economics at Oxford, and adviser to the Indian government on the environment and energy – points out, less than 10% of Indians have a refrigerator at home, while only 2% have a car; only 15% have a vehicle that isn't a car (usually a motorbike), and only 4% pay income tax.
"We are able to build a satellite but didn't provide clean water," he said, adding, "But there is a huge Indian achievement: We are the world's poorest democracy – and we are able to remain democratic despite the disparities and poverty."
Things are definitely improving, though. With average growth of 7% a year, even without a public willingness to pay taxes, the federal government has enough income to invest more in infrastructure. A recent move was to scrap its two biggest bank bills. Another is to reach a flat sales tax rate in all Indian states, a vast move that would enormously reduce paperwork.
Revolution in digital banking
Modi's major program is "Make in India," which is designed to turn India into a manufacturing powerhouse for global corporations (like China did two decades ago). The goal is to double industrial manufacturing to represent 25% of GDP within a decade. With that in mind, Modi is opening the Indian economy to foreign investment, through large-scale privatization, reducing government regulation, granting tax exemptions to foreign investment and obligating foreign corporations to invest in Indian firms. Due to India's semi-communist past, the government controls most of the economy and has prevented foreign investment in Indian firms.
This has been a dramatic and hugely successful step: Within a year of its September 2014 launch, foreign investment in India soared by 50% – reaching a record $44 billion in 2015. Modi is leading a surge of investment in Indian infrastructure, including the construction of smart cities, power stations, a fiber-optic network, clean energy and advanced agriculture technologies, and a huge professional training network, all in an attempt to provide employment for 100 million young Indians.
The numbers are dizzying: 500 new cities will be built in Israel within a decade, most of them smart cities. The number of power stations projected for India in the next 15 years is double that of all the existing power stations in the entire United States. Each year, India builds power stations whose capacity is 50% greater than Israel's total electricity production.
In addition, Modi has introduced banking reforms demanding that all banks in India open accounts even for those without any income – as a means of paying allowances to the poor directly to their bank accounts, and as a basis for the growth of small businesses in villages. For that purpose, 1 billion Indians have already undergone biometric identification, making India the most comprehensive biometric ID system in the world.
Indeed, banking was the key issue at one of the Israel-India forum's meetings. India's banking system is backward and suffers from huge debts – most of the banks are government-owned and are so poorly managed, the international rating agencies are threatening to lower the whole country's rating due to their situation. Yet it is about to jump two generations ahead in banking, to digital banking.
If China leads the world in the use of the digital wallet and in payments by mobile phone, India is now likely to become the world leader in digital banking and the use of "fintech" (financial technologies).
That is likely to be one of the most important and unpremeditated successes of Modi's currency exchange program. Uday Kotak, chairman of the Kotak Mahindra Bank – one of India's most successful private banks – told the forum participants that he estimates the curse of exchanging currency is likely to develop into a blessing in the new era of digital banking.
Kotak says that of the $220 billion in bank bills scrapped by Modi last October, about $180 billion to $200 billion was exchanged by the banks, with about $75 billion of that remaining in bank accounts. (In other words, the amount of cash in India shrank by about a third.) This represents additional interest revenues of about $2-$3 billion annually for the Indians.
The use of fintech enjoys a relative advantage in India, due to the biometric ID database of the entire population (so there is no problem opening digital accounts) and the widespread use of Unified Payments Interface (UPI), which enables accounts to be transferred among banks by digital means, with the banks unable to prevent the transfer.
"India is going to be at the summit of global fintech," declares Kotak. "In China, we saw the breakthrough of the digital wallet; in India, we'll see the revolution in digital banking."
No shortage of bureaucracy – just like Israel
This assessment highlights the issue of potential trade between Israel and India. There's no question that the potential is extremely promising, if only in terms of culture: Indians are warm, open and tolerant, and Israelis feel naturally comfortable with them (as distinct from their relationship with the cold and rigid Chinese).
The geographical proximity and similar security concerns – both countries are in conflict with neighboring Muslim states – create a natural identity of interests. Both countries boast an advanced higher education system and outstanding human capital. And, finally, the Indians are desperate for advanced technology to help them make the quantum leap they need in the areas of water, agriculture, renewable energy, banking, biotech, nanotech, advanced materials, and more.
Despite all this, commerce is sputtering – for many reasons. First, Indian bureaucracy – which is quite often accompanied by corruption – makes it difficult to do business in India. In order to overcome these problems, investments in India must be made in cooperation with a local partner or intermediary, and often these partnerships go awry – with horror stories of Indian intermediaries brazenly stealing the technology they represented in order to start their own businesses.
In order to successfully penetrate the Indian market, you need a lot of patience and an investment of several years' relationship-building before it is possible to see any return. Most Israelis are in a huge hurry and aren't willing to undertake the necessary investment in building relationships.
The Israeli side has its bureaucracy, too. Indians complain bitterly about the difficulties of receiving business visas for Israel, as well as the humiliating security checks at Ben-Gurion International Airport. The fact that most Indians have dark skin, and some have Muslim names, makes them the subject of abuse by Israeli security staff, they say. This applies even to the richest Indian tycoons, who can find themselves humiliated by young Israeli security guards – which certainly doesn't increase their desire to do business with Israel.
Right technology, wrong price
Also, what India needs is often quite different to what Israel has to offer. Israelis are at the cutting edge of technology and knowledge, and develop the most expensive technologies. The Indians need cheap, simple and accessible technologies, which can be distributed in enormous quantities in poor rural areas.
"Can you offer us the same technology but at a third of the price?" asks James Abraham, an Indian investor in the field of solar energy. "If the answer is probably not, then you should remember that here you can reach 30 times the volume of sales that you planned on."
The challenge of adapting Israeli technology to a low price but on a huge scale is foreign to the Israeli DNA – and Israelis are often condescending to those who think otherwise. "We are building technology that can take us to the moon," admits Aaron Mankovski, a partner at Pitango Venture Capital. "And if the customer doesn't see the genius in the technology, we tend to dismiss him as stupid." The Indians are not stupid. They simply need different solutions.
The difference in needs is expressed in other areas, too. India needs fiber-optic cable networks, power plants, solar power plants and transportation in incredible quantities. Israel cannot offer all of this. Even in sectors similar to those that Israeli businesses operate in, such as agricultural and water technologies, Israel is a much smaller power than it likes to represent itself: The number of startups in Israel in the areas of water and agrotech isn't big, and we have yet to learn how to leverage development centers such as the Volcani agricultural research center.
The Indians have invited Israel to join them in developing inexpensive and accessible agricultural and water technologies, and say that in addition to the huge Indian market in those sectors, the next market that will need these same solutions is Africa.
The Israel Innovation Authority (previously known as the Office of the Chief Scientist) has identified the potential of the Indian market for Israeli high-tech firms. Consequently, it has established two programs to encourage cooperative business plans between the two countries.
One program is conducted with India's Global Innovation & Technology Alliance (GITA), in which both countries allocate funding for cooperative Indian-Israeli business ventures. Still, the innovation authority says that despite the good intentions, this program is finding it difficult to get off the ground: Indian bureaucracy has made it almost impossible to receive Indian government funding, even for joint ventures that have already been approved by both sides.
The other program is meant to overcome the differences in needs: the fact that Israeli high-tech is involved mostly with leading technologies, while the Indians need cheaper products. To solve this problem, a program has been funded – solely by Israel, without a need for Indian approval – to adapt existing products for the requirements of the Indian market. Because this involves only adapting existing products and not developing new ones, the sums involved tend to be small, but there are less uncertainties: those without Indian partners can still submit a request, and the likelihood of the request being approved is quite high.
In reality, though, this program also contains a major flaw – this time on the Israeli side: Too few Israeli businesspeople are aware of its existence, so only a few requests for funding have been submitted to date.
At the same time, because of the sustained economic growth in India, the innovation authority is working on overcoming the difficulties of working with GITA. One idea under review is to establish a joint investment fund, which could budget money through a short approval process and bypass Indian government bureaucracy. The innovation authority hopes such a fund could be launched within a few months.
But it seems the biggest barrier to doing business is the lack of awareness. Israeli industry, mostly technological industries, is almost completely unaware of the existence of the enormous Indian market, so companies don't look to adapt their products to the needs of the Indian market, or to develop long-term business relationships in India.
Tomer Tzur, of the Boston Consulting Group in Israel, cited this lack of awareness as one of the most problematic obstacles in an analysis he conducted on behalf of the Israel-India forum. "Israelis don't recognize the potential of India, and the minute they hear the numbers – their heads spin," said Tzur.
Tzur's analysis focused on 100 million Indian households (about 1 billion people), who earn $2 to $4 per person a day (less than $100 per capita a month). Despite the poverty, this is a population growing in numbers as well as consumption habits: They buy agricultural, health and energy products, and they're growing consumers of technology. This is a generation that's moving outside the borders of their villages through the use of the internet on their cellphones to conduct e-commerce, as well as digital banking.
44% with bank accounts
The growth rates in these sectors is astonishing: The number of poor Indians with debit cards climbed by 47% within four years – and still only 11% have such cards and only 44% have bank accounts. The number of those using the internet jumped by 30% in three years, and now totals 462 million people. This is still only a third of the country's population. Cellphone use rose 10% in six years to 680 million users, just half of the population. E-commerce climbed by 55% within a decade, but this includes a 30% jump in cellphones in just three years – and still comes nowhere near its potential, with revenues of only $350 million.
Boston Consulting's conclusion is that Israel has a rare opportunity to find a place in the rapidly growing cellphone and internet market in India, mostly in the communications, e-commerce and fintech sectors, along with the more traditional industries of water, agriculture and renewable energy technology.
But in order to exploit this opportunity, which is currently the largest in the entire world, Israeli businesses must become aware of the Indian opportunity and learn how to deal with the problems associated with it. For now, both parties are still finding it difficult to bridge their cultural and consumer differences.
The writer was a guest of the nonprofit Ananta Aspen Center of India.
Click the alert icon to follow topics:
ICYMI
Ken Burns' Brilliant 'The U.S. and the Holocaust' Has Only One Problem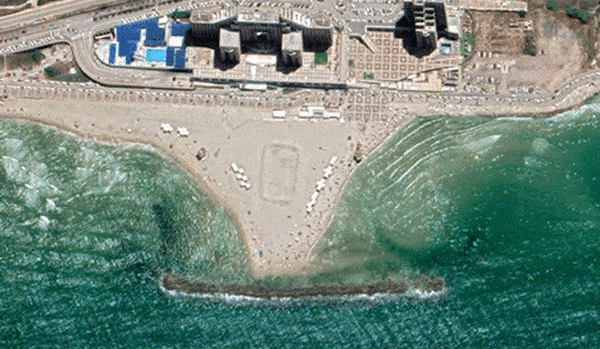 Facing Rapid Rise in Sea Levels, Israel Could Lose Large Parts of Its Coastline by 2050
As Israel Reins in Its Cyberarms Industry, an Ex-intel Officer Is Building a New Empire
How the Queen's Death Changes British Jewry's Most Distinctive Prayer
Chile Community Leaders 'Horrified' by Treatment of Israeli Envoy
Over 120 Countries, but Never Israel: Queen Elizabeth II's Unofficial Boycott