Gideon Levy |
Palestinian Family Left in the Dark After Teen's Horrific Death at Checkpoint
Israeli agents told the family their 15-year-old son was wounded after waving a knife at border police; four days later, they returned his bullet-riddled body
Raed Radeideh's mother, Azaya. Raed's photos are on the closet and door.
Credit: Alex Levac
This boy's killing passed almost unnoticed in Israel. Raed Radeideh was shot to death by the Border Police on May 22, the day U.S. President Donald Trump arrived in Israel, and public attention was focused far away from him. Very few also knew about the circumstances of the teen's killing. No one bothered to update his family, apart from the Shin Bet security service agents who interrogated the boy's father, and told him his son had been wounded. Four days later, the family received the body at a checkpoint.
When did he die? How? Did he die at the scene of the incident or in the hospital? The family doesn't even know that. According, Raed's father, the boy's body was riddled with bullet holes: There were some 15 bullet wounds – in the head, shoulders, hands and legs. Raed's right leg was almost completely shattered from the shooting. Why was he shot to death? And why was such massive firepower used on a teenger?
He was 15 years old, a 10th-grader "who didn't even have an ID card yet," says his father, Ahmed Radeideh, a 54-year-old handyman who's worked for years in Jerusalem and has many Israeli friends. And eight daughters and two remaining sons, living in a spacious home in the town of Al-Abadiya, east of Bethlehem, at the foot of the Herodion archaeological park. Raed's mother, Azaya, 44, joins the conversation.
Restraint rules in this house of mourning; pain and grief abound, but there are no tears.
Raed wanted to be a doctor. In the meantime, he had been preoccupied with his appearance. He got his hair cut four times a month, his father relates. "That's something I can't get a handle on. It's not the money – 10 shekels ($2.85) for a haircut – but why go to the barber every week?" Raed's father says uncomprehendingly. "He wanted to be handsome. He was blond and had blue eyes. 'Yo, I'm a hunk,' he would say. If he were with us now, he would speak to you in fluent English. If he'd met you, he would talk to you as an equal. He was an excellent student."
Raed's hair is well groomed in the photos that now cover the living room windows. He liked clothes and sunglasses. His closet looks like that of an adolescent Israeli: numberless T-shirts and Adam deodorant.
Did he talk about the occupation? "Fifteen years old – what occupation? He was an entertainer. He played with his sister's children and made them laugh. That's what he liked to do."
Ahmed's tone of voice is soft and sympathetic to the surprise guests from Israel. His Hebrew is excellent. He worked for years in the Kadouri brothers' building materials store on Shamgar Street in Jerusalem, near the old Israel Television building. On the day Raed died, there was a school strike in the West Bank in solidarity with the Palestinian prisoners' hunger strike. Few in Israel grasped how deeply the strike trickled down into Palestinian society and resonated with the public, especially the younger generation.
Since there was no school, Raed slept in that day and remained in bed even after waking up, while he prepared for his approaching final exams. His father was at work in Jerusalem. His mother said she was going to a neighbor's house for coffee, to which Raed replied, "Go ahead, I'm staying home." She would never see him again. It was 2:30 P.M.
He told his younger brother Mohammed that he was going to visit their grandmother, who had returned from a visit to Jordan. She lives a few hundred meters from their home. Raed never got to his grandmother's place. What happened? What were his plans, and where was he headed? How did he end up at the so-called Container checkpoint, located a few kilometers from his home? Who took him there? His parents have no answers. In this situation of total uncertainty, his mother even raises the possibility that her son was kidnapped.
Raed hadn't returned home by the time his mother returned. Taking her two youngest sons, she went to her mother-in-law's house. Raed hadn't been there. After 4 P.M., Ahmed, who had come home from work, heard that someone had been killed at the Container checkpoint.
"I told myself that it's a long way off," he recalls now. "The person who was killed is probably from Hebron or Ta'amra. Then they said they had made a mistake, and had misidentified the victim."
Ahmed went to the mosque to pray. Of all the worshippers, he was the one who was approached by a neighbor who told him about the fatal incident at the Container checkpoint. He has no idea why. The thought occurred to him that Raed didn't have an ID card and it would have been impossible to identify him. The hours went by, but Raed didn't return. His parents called friends and relatives – nothing. No sign of Raed. Evening fell.
"By now I was already very anxious, and so was his mother. We had a very bad feeling," Ahmed says. He called the local Palestinian police station, but they didn't know the name of the dead person at the checkpoint either.
Then the phone rang. On the line was "Imad" from the Shin Bet security service. He ordered Ahmed to come to the interrogations facility at Etzion, near Bethlehem. He only asked him if Raed was his son and said he should come quickly. With a relative, Ahmed sped to Etzion. Agent "Imad," in the role of casualties officer, showed him a photograph on his cell phone. It was Raed. His face was unblemished. Imad said he had been wounded. There was another agent in the room, too.
"They were nice," Ahmed recalls. "They weren't bad. They asked how many children I have, and then showed me the photograph. I saw it and was frightened. I saw Raed on his phone. He was alive. There wasn't a single wound. I said to the Shin Bet: Why did you shoot him? Why not fire into the air? A shot in the air, a shot in the leg – a small wound and then catch him. They weren't angry. They said: It's the security of our soldiers and police officers. We need to protect ourselves.
Ahmed was sent on his way a few hours later, at 3 A.M., without getting detailed information about his son's condition or his whereabouts – only that he'd been wounded.
For the next three days the family was left in the dark about their loved one's fate. On Thursday evening, a soldier or an officer named Anan, apparently from the Civil Administration, called to say, "You can come to Mazmuriya checkpoint to get your son. He is dead."
An autopsy was later performed on the body at the forensic institute in Abu Dis, adjacent to Jerusalem. As of this week, Ahmed had not yet received the results of the postmortem. There were about 15 bullet wounds on the body, he says, with numbers marking them on the skin. Two in the head, two or three in the left foot, two or three in the shattered right foot, and more.
"It drove me crazy," the bereaved father says. To the female soldier at the checkpoint where the body was handed over, he said, "Isn't it a shame? Why do something like this? Why? Do you not have a heart? You put the finger on the [trigger of the] M16 and shoot." She placed a hand on his shoulder and said, "There is nothing to do. Maybe it's a mistake, but there is nothing to do." And to us, he says: "Raed was a terrific kid," as though lamenting the neighbors' boy.
Ahmed heard that Raed had a knife, and says he saw a photograph of a fruit knife. But he doesn't understand why he's not being shown the footage of the security cameras at the checkpoint, so he can see what happened. "We want to see a video. We want to know who took our boy, and why ... I don't know anything. Who let him go there?"
The parents say they've heard numerous versions about what happened at the checkpoint. As far as they know, Raed was not endangering anyone, even if he brandished a knife. He was shot from a distance, they say, while he was still in the plaza in front of the checkpoint, and with the police officers protected in their positions.
In response to a query from Haaretz, the Israel Police provided this statement: "According to an investigation, the terrorist approached the Border Police force while brandishing a knife. The force responded as is expected of them, proportionately and professionally, in the presence of an attempted knifing attack, and immobilized the assailant as their lives were in danger. The warped attempt to portray the incident in a surreal manner that misleads readers will not deter the Israel Police or the Border Police from their ongoing battle against terror attacks."
On the wall behind Raed's bed, his father has hung a drawing made by his son. Friends from the store in Jerusalem where Ahmed worked – Itzik Kadouri and Yoram Nissim, and also Shimon Merek – called to offer their condolences.
"I haven't cried since Raed was killed," Ahmed says. "But now that I am telling it all in Hebrew, I feel like I want to cry."
Click the alert icon to follow topics:
ICYMI
Ken Burns' Brilliant 'The U.S. and the Holocaust' Has Only One Problem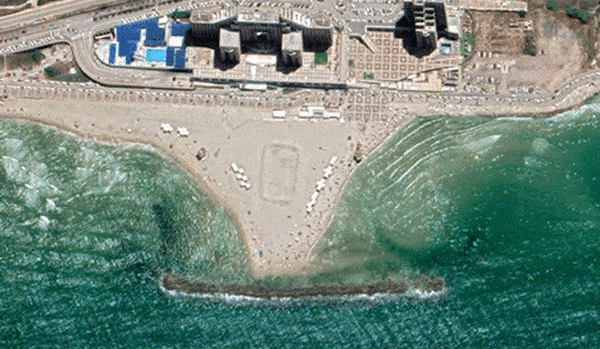 Facing Rapid Rise in Sea Levels, Israel Could Lose Large Parts of Its Coastline by 2050
As Israel Reins in Its Cyberarms Industry, an Ex-intel Officer Is Building a New Empire
How the Queen's Death Changes British Jewry's Most Distinctive Prayer
Chile Community Leaders 'Horrified' by Treatment of Israeli Envoy
Over 120 Countries, but Never Israel: Queen Elizabeth II's Unofficial Boycott