Opinion |
The Truth Behind Israel's Desperate Plan to Set Off a Nuclear Device to Save Itself in 1967
Could Israel really have detonated a nuclear device on the eve of the Six Day War? The lead researcher for this explosive contention describes exposing what's still Israel's biggest taboo: its nuclear capabilities
The Dimona nuclear power plant in the southern Israeli Negev desert.
Credit: AFP /Thomas COEX
This week, on the 50th anniversary of the 1967 War, the Woodrow Wilson Center in Washington DC is releasing half a dozen testimonies and documents shedding light on the largely unacknowledged nuclear dimension of the Six Day War.
The most dramatic item, cited by the New York Times as "the last secret of the 1967 war," was an interview I conducted in the summer of 1999 with the late General Yitzhak Yaakov (Ya'tza) in which he openly revealed the existence of a crash effort during the 1967 "waiting period" to assemble Israel's first nuclear device. Ya'tza also elaborated on his own role on behalf of the IDF to transform the new evolving capability into an operational plan –codenamed "Shimshon", of a nuclear test for demonstration purposes in a desolate part of the Sinai desert.
>> Six-Day War - 50 Years on: Special Coverage >>
The story generates, in and out of Israel, two diametrically opposed kinds of reactions: either overstatement and exaggeration, or sheer disbelief and dismissal.
For example, there were grossly exaggerated headlines to the effect of "Israel planned to drop an atomic bomb in the Sinai during the 1967 war". Or others, such an historian-turned -politician Michael Oren dismissed the story entirely as one that "doesn't hold water", and is "unacceptable" because he couldn't trace a reference to it in the "tens of thousands of declassified documents" he reviewed. He objected that the nuclear test story was based on just one source.
As the lead academic researcher behind the Wilson Center's 1967 War Digital Archive Collection, and given radically different reactions that this story has provoked, I think it is worthwhile to place Ya'tza's testimony in its broader historical context and try to assess its historical value and veracity: How real is it? How important is it? These are not simple questions given the layers of taboo, secrecy and inhibition that have accumulated over this subject.
To begin with, few Israelis know of the nuclear drama that took place in Israel on the eve of the 1967 War. In fact, even those handful who do know, they hardly ever talked about it, even in private. Most ministers in then-Prime Minister Levi Eshkol's cabinet knew very little about it. There were few documents, and none of those have been declassified – as Michael Oren should know. "Shimshon" fell into oblivion; even those few who knew, it was as if it never happened, just another casualty of the Israel's big nuclear taboo.
For Ya'tza, however, those 1967 events were never forgotten. For some decades the memories lay dormant, but gradually they came back to life. When I met Ya'tza in 1999, 32 years after these events, he considered "Shimshon" one of the two most compelling memories of his life; the other was the fall of Gush Etzion in the 1948 war. By the late 1990s Ya'tza started referring to Shimshon as his "legacy."
Listening to Ya'tza's recollections made me reflect on memory, narrative and history, and the relationship among them. Long-term memory seems to be made of narrative anchored in distinct and vivid moments - events, situations, encounters. People vividly recall these individual moments, but the narrative is larger than the sum of those moments and it always has blanks, holes and fog. Often, humans fill those holes by guesses disguised as memory.
Both Ya'atza and I - he as the interviewee and I as the interviewer - talked much about the fragility of human memory. It was clear that while some moments he recalled vividly, others he hardly remembered.
He was aware that his narrative about the 1967 events was at certain points more conjecture than memory. He conceded having doubts about some of his claims. Realizing the difficulty in uncovering the past, my job was often to challenge him by raising issues - puzzles, inconsistencies, etc. - with his narrative and forcing him either to provide explanations or to admit memory lapses. The interview sometimes sounds more like an interrogation. At times Ya'tza tried to address those difficulties by digging deeper into his memory and at times by proposing logical explanations. Often it was truly difficult to reconstruct what happened.
At the end of the day, how should we assess Ya'tza's testimony? Here are some fundamental questions:
- How close was Israel to demonstrating nuclear capability on the eve of the 1967 war, really?
- Was the Shimshon plan just a kind of conceptual and technical exercise, or was it a true operational plan that could have been executed?
- How much did the political side -- Eshkol and later Dayan – know about it?
- In retrospect, how historically significant were those events?
There are no simple and clear-cut answers to these questions because very little evidence is available. Even Ya'tza himself sounds sometimes unclear on how real was it all. On some occasions, he talked about Shimshon as a genuine military plan that could have been executed under some, however unlikely, circumstances. But on other occasions he referred to it as an amateurish and improvised plan, conceding implicitly that nobody at the top would or could have taken it too seriously. Ya'tza always referred to Shimshon as a "doomsday scenario," meaning, an option in case all other options fail.
My own view today - based to some extent on the limited, sketchy evidence that is available beyond Ya'tza's testimony - is that "Shimshon" was more a technical exercise for an unlikely scenario than a genuine, military contingency plan. Furthermore, people such as Israel Dostrovsky (the nuclear chief), Zvi Tzur ("Chera" as he was known, Moshe Dayan's point man) and, of course, Yitzhak Rabin and Ezer Weizman, not Ya'tza, would be the ones to advise the political decision-makers - primarily Eshkol and Dayan - about the newly formed capability, whether "Shimshon" was truly feasible or primarily a theoretical exercise.
Unfortunately, these key players are not with us now. While alive they hardly said anything explicitly about "Shimshon." However, in a rare and obscure oral history interview that Tzur gave for the Rabin Memorial Center in 2001, which is part of our new collection, he shed light on this issue. In that interview Tzur acknowledged – but without going into too much detail – that on the first day of the 1967 war (June 5, 1967) he appointed a two-man committee – Dostrovsky and Ya'tza -- to examine "if something [i.e., a test] can be done, but not to do it."
It is evident that, compared to Ya'tza, Tzur minimized the significance of that "status checkup." He emphasized that the nature of the "status checkup" was technical and theoretical: just to know what was there, what was feasible, noting that the checkup did not address the issue of the political consequences for conducting a demonstrative test.
Moreover, it is apparent that Tzur viewed the technical capability as quite embryonic and rudimentary, implying he would not have recommended using it. Nor did Tzur feel it made sense politically for Israel to demonstrate its capability. It appears, but we are not sure, that this was also the view of Prime Minister Eshkol who, as another document in our collections hints, was aware that Israel had a special weapon that "other countries have in hundreds or even thousands."
But not all knowledgeable Israelis agreed with Zvi Tzur and Eshkol that conducting a nuclear test would make no sense politically. Shimon Peres, then a former Deputy Minister of Defense and the founding father of the nuclear program, was an opposition leader in 1967 and quietly advocated Israel's use of a nuclear demonstration to prevent the war.
While I tentatively conclude that Ya'tza's testimony, as fascinating, dramatic and intriguing as it is, does not indicate that on the eve of the 1967 war the Israeli leadership was seriously considering conducting a nuclear test, it does reveal - and for the first time from an identifiable source -- that in June 1967 Israel did have the capability to create (some would say, improvise) a rudimentary nuclear device, even if just for demonstration purposes.
While it might be an overstatement to suggest that the eve of the 1967 was one of those "almost" moments in nuclear history, it is fair to say that it was a key milestone in the history of the Israeli nuclear program.
It was then, on the eve of the Six Day War, that Israel became a nuclear power.
Dr. Avner Cohen is Professor of Nonproliferation Studies at the Middlebury Institute of International Studies at Monterey (MIIS) and a Global Fellow with the Woodrow Wilson Center in Washington DC where he is editor of the Digital Archive's 1967 War Collection. He is the author of among other books Israel and the Bomb (Columbia University Press, 1998) and The Worst Kept Secret: Israel's Bargain with the Bomb (Columbia University Press, 2010).
Click the alert icon to follow topics:
ICYMI
Ken Burns' Brilliant 'The U.S. and the Holocaust' Has Only One Problem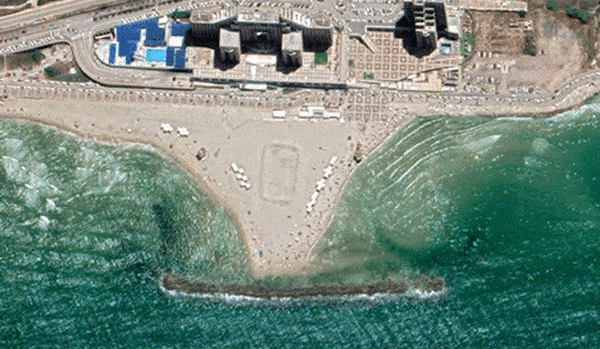 Facing Rapid Rise in Sea Levels, Israel Could Lose Large Parts of Its Coastline by 2050
As Israel Reins in Its Cyberarms Industry, an Ex-intel Officer Is Building a New Empire
How the Queen's Death Changes British Jewry's Most Distinctive Prayer
Chile Community Leaders 'Horrified' by Treatment of Israeli Envoy
Over 120 Countries, but Never Israel: Queen Elizabeth II's Unofficial Boycott