I'm Sorry, BDS My Dear, but You're Up for Elimination: RuPaul's Drag Queens Come to Tel Aviv
Sharon Needles and Jinkx Monsoon are in Tel Aviv to take part in the LGBT film festival, despite calls to boycott the event. They talk about Trump's incitement, Kathy Griffin's freedom of speech and reveal their favorite to win season 9 of RuPaul's Drag Race
Jinkx Monsoon and Judy, one of the contenders, exchanging chewing gum.
Credit: Tomer Appelbaum
The average height of those present last Saturday in the small and improvised VIP room at the far end of the Tel Aviv Cinematheque easily exceeded 1.9 meters. Gigantic women with platform shoes and endlessly long legs, their tall wigs brushing the ceiling, were busy with preparations for the evening's event. Soon they would choose Israel's next drag queen at a ceremony held at TLVFest, the city's international gay film festival, which is celebrating its 12th anniversary, with guests arriving from all over the world.
Sharon Needles: "People say Kathy Griffin crossed the line. There's no such thing as a line. If there was I would have snorted it. No one gets to determine this so-called line.'
Gloria Viagra, for example, stands at 1.97 meters, without heels. She came especially from Berlin donning a Princess Diana-style blond wig, to which she matched a genuine Clark Gable-type mustache. Peaches Christ, a filmmaker, playwright and underground drag queen, who was anxious to take to the stage and strut her stuff ("I don't plan to go up after the audience is already tired") came from San Francisco, while Sherry Vine – a TV creator, musician and beautiful drag queen – arrived from New York.
But it seems that for the Israelis who attended, the biggest stars of the evening were two American guests who owe their fame to the TV hit "RuPaul's Drag Race." Now in its ninth season, the reality show, in which the famous drag queen searches for America's next drag superstar, has succeeded in bringing drag performances to the masses.
The two American stars who grabbed the attention were Jinkx Monsoon – or Jerick Hoffer – the winner of the program's fifth season, and Sharon Needles – birth name Aaron Coady – who won the title the year before thanks to dozens of costumes and breathtaking (and frequently offputting) performances, like when she walked down the catwalk with artificial blood streaming from her mouth.
We sat down in order to talk about Kathy Griffin, the restrictions on freedom under the Trump administration, and pinkwashing – but just a minute, who am I actually interviewing? Jerick Hoffer and Aaron Coady, or their fictitious personas?
'Just like I don't want to be defined by my government, I don't think the open-minded, progressive, liberal queers of Tel Aviv want to be defined by their government. To boycott this festival would be punishing the people who need pride in their life, not the government. '
"Well, there's something to be said about whether it's real or not," says Needles, straightening her large eyeglasses, her face covered with a thick layer of makeup. "I mean, none of this is real, you know. Like RuPaul says, you are born naked and the rest is drag. The truth to that is, you know, gender is a performance, in clothes or just a costume. I think just like a bride on her wedding day who can be soft and demure and someone on Halloween can be a vampire. We have a great duality with the other person who lives in our head. It's a dangerous relationship, one that I treasure very much. Is it a character? Yes, but the character is here so often that it has become reality. Because really, what is reality when it comes to a person's personality?"
Even without any connection to their colorful appearance and their razor-sharp humor, the arrival of the two at the festival was a joyous occasion for its organizers and their head, Yair Hochner, who founded the festival. Their arrival to Israel came against a backdrop of cancellations (five performers pulled out of the event) amidst pressure from Pinkwatching Israel, an arm of the BDS movement.
"I was approached by someone who asked me to boycott the festival and not come," says Monsoon. "And I fully respect him reaching out to me and asking me that, and I hope that he respects me saying that I am not going to boycott the festival. Because, just like I don't want to be defined by my government, I don't think the open-minded, progressive, liberal queers of Tel Aviv want to be defined by their government. To boycott this festival, which is a celebration of pride, and a celebration of diversity, and a celebration of culture, would be punishing the people who need pride in their life, not the government.
'I love being able to live in a country where assholes and small-minded and tiny-dick weirdos are allowed to say whatever they want, because it reminds me and reinforces for me exactly what I am not.'
"The government doesn't care if I come or not. The only people who are going to care are my fans who were looking forward to me coming," continued Monsoon. "So, as much as I believe in the movement to get the word out about pinkwashing, maybe we should find a new word for it because to celebrate pride, that's only good for the people here. And I know it has been used as a tactic to distract people, but that doesn't mean we should punish the people that are actually counting on this event. You know there are people who are probably coming from surrounding cities, who wait all year for the pride event. We can't punish them."
"Well, and I think what they're forgetting is their very first pride, which can be important," adds Needles. "Any younger person — let's say if you're over the age of 30, pride is a great excuse to go day-drinking. But no one forgets their first pride and how much they felt that they were included and that the future was bright. I think that's important: Giving younger fags and queers a sense of visibility and to make them realize that they are not alone."
An openly Jewish drag queen
As far as Jinkx Monsoon is concerned, drag is commedia dell'arte. "I took a clown class in school based on the Italian classical clown form. And I realized that that's what drag is. You create a persona that is not only you in a costume, but it's a whole separate person. And they have a name, and they have life, and they have a back-story and a history that is unique to them. And when you become this character, you have to juggle, you have to manage both frames to be yourself, and make on-the-spot decisions as a human being, but you also have to make on-the-spot decisions and reactions as a character that you have created. So it's like giving yourself, like Sharon said, a duality, and having to constantly manage both."
The dual management that Hoffer refers to becomes even more complicated when he juggles other personas in addition to Monsoon. Another character he brings to life in his performances is based on Edith Bouvier Beale, aka "Little Edie," an early-20th century American socialite, whose life of poverty with her mother in a luxurious but neglected villa in the heart of the Hamptons was recorded in "Grey Gardens," the pioneering 1975 documentary by Albert and David Maysles.
Jinkx Monsoon: 'No violence has occurred because of Kathy Griffin posting this image. If anything, violence is going to happen towards her, not towards Trump. Yet what Trump has said has incited violence towards minorities that are disenfranchised.'
What complicates things further still is the fact that Hoffer's mother, upon who the character of Jinkx Monsoon is based, is Jewish. Hoffer was raised a Catholic and only discovered his mother's Jewish origin at the age of 18. The decision to emphasize Monsoon's religion, Hoffer said, was mainly due the uniqueness of the combination — Jewish drag queens are just not that common. Most of her performances range are of classical jazz and 1920s-style arrangements of contemporary rock and pop songs, which she sings live.
Needles describes herself as a combination of Marilyn Monroe and Marilyn Manson, and counts Lady Gaga among her fans. She began her career as a particularly gothic drag queen, and in recent years has been performing to wide range of styles, including electronic arrangements as well as heavy metal. She also likes to weigh in on social issues, when the opportunity presents itself.
Do you think that what you do is art?
Monsoon: "Oh absolutely, for me. It's art just to be a man dressed as a woman, or a woman dressed as a man, or a woman dressed as a hyper-feminine woman. It's all about presentations. So there's no way to be a drag without being an artist and an actor and a clown a little bit.
Needles: "Yeah, I'm below a Bob Ross painting, but above a paint by numbers."
Sharon Needles: 'I like Trinity, she's got a vile mouth, she's mean, she mixes beauty and humor, she is completely made out of plastic and she speaks in her confessionals the way drag queens speak without a camera rolling.'
Do you think that you'll enjoy the same freedom and openness that has existed in recent years in the United States under the Trump administration too?
Monsoon: "Well, it's like this. First of all, he's so full of contradictions. He says one thing one day, if it's what he wants to say and if he thinks it's going to get people on his side, and then the next day he will say something that completely contradicts that. So how are we supposed to know how he actually feels and thinks? All we can look at is the rhetoric he generates, and the reactions that he gets from the public, you know, when he gives people permission to be racist."
Needles: "Exactly, it's not like he invented new racists or new bigots. He has just given them — he just opened the Pandora's box allowing them to have a louder voice than they used to have. But you know, I've always been proud to live in a country where the Westboro Church is allowed to do such disgusting, distasteful acts as protesting at funerals and to try to antagonize people at pride parades, and all sorts of different events, because it allows me and my country to see exactly what I am not," she says, referring to the extremely homophobic Baptist church known for its hate speech, in Topeka, Kansas.
"So, I love being able to live in a country where assholes and small-minded and tiny-dick weirdos are allowed to say whatever they want, because it reminds me and reinforces for me exactly what I am not. That creates a greater exposition and dialogue."
Monsoon: "To answer your question, if he continues to condition our country to believe the way that he believes, or just believe the way that they speak — I don't think he's going to get rid of us, because you can't take away freedom once it has been given. We will fight tooth and nail to keep at least what we've had. No one is sitting by — no one I know — is sitting by and watching this, and letting it happen. Even if it's on a tiny scale, even if it's just posting as much as we can. I don't think we're ever going to let him take away our rights, because we worked really hard and we fought for years and decades to even get to the place where we are now."
Needles: "And historically, America has always proven that the future always goes one way and that's forward."
Needles reacted recently to comedian Kathy Griffin's image of herself holding a decapitated head of Donald Trump by posting her version on her own Instagram account. She also wondered on Twitter whether the comedian had gone too far, and posted a picture reminding people of the reception Barack Obama received by his detractors when to took to office.
"People say she crossed the line. There's no such thing as a line," says Needles. "There's no line. If there was I would have snorted it. No one gets to determine this so-called line. I can't speak for everyone, but the kind of comedy that makes me laugh are the ones that kind of make me cringe, and kind of make me look inside my own fears, my own anxieties.
Jinkx Monsoon on her favorite S9 queen: 'I will say my favorite was Valentina, not just because her drag was amazing and that she brought a lot to it, but I really love her in her confessionals, with that little beret and that turtleneck.'
"And if she is crossing a line, I am shocked that we are not putting more responsibility on our own president who is constantly doing damaging things with his words and actions as opposed to Kathy Griffin who is a shock artist. And I love shock art. I feel, at the same time, a little disappointed in her for stepping back and apologizing, but who knows what's going on behind closed doors. There's a new normal in America, and that's very scary. And thank god for drag queens who crush that."
"You can say anything you want about the image, but you can't say anything about her right to do it," says Monsoon. "If she lives in a country that glorifies freedom of speech, then why isn't she allowed to post a picture like that. No violence has occurred because of her posting this image. If anything, violence is going to happen towards her, not towards Trump. Yet what Trump has said has incited violence towards minorities that are disenfranchised. People actively behaved violently against Muslims and acted out against Muslims because of things that Trump said and the mentality Trump is representing. If you want to talk about who is inciting violence, then I don't think it's Kathy Griffin."
Let's talk a little about your appearance. Do you think that this type of hyper-femininity is feminine?
Needles: "No. What woman have you ever seen look like this? We are starting to enter some very politically correct times, where people want to point out who is not playing the game of life correctly and keeping everyone's feelings intact. Drag can be considered so many dangerous things, which it isn't. But the one thing we're never called is misogynist, which might be the only thing that we truly are. Because no woman looks like this. You have so many real biological everyday women say: 'Oh I wish I would look like you.' They would look ridiculous if they looked like us. I don't think we're an example of femininity. I think we're an exaggeration of the Western concept and expectations of what a woman is supposed to be. So that's why it's funny. It ain't that serious, we're cartoons."
Monsoon: "Well, I have to disagree with Sharon, because I've seen drag queens get called misogynist all the time. It's from people who think that it's a mockery of femininity to be a man dressed as a hypersexual woman. You know, we don't do that; we do this to be beautiful. And it kind of skews the idea of what makes a woman. Like does a woman have to have giant hair and press-on nails and too much makeup and corsets and stuff? Absolutely not. But I don't think this is misogynistic because I think of it as a celebration of the feminine form.
"And like Sharon said, this isn't like — we aren't trying to look like real women. We're trying to look like the embodiment of femininity. And I think the best thing drag does is show us that gender is fluid. And you can look like a man in the morning and look like a woman in the evening and that's completely fine. The genitalia you are born with does not define your gender. That only defines your sex. And only your sex as what you were born with. But gender is defined by the society you live in, and the individuals around you, and the way that you dress, act and behave, and present yourself. But what people need to realize is that we're in complete control over our own gender."
Needles: "Drag really isn't just about exaggerating and celebrating femininity. Some drag queens want to look like monsters, some drag queens want to look like hot dogs. Really what it is is just dipping your toes in all the swimming pools of identity and allowing yourself. Because society really tries to compartmentalize humans in a certain way. You can be dressed as a slice of pizza and that's what makes it so fun and so fringe."
Monsoon: "And I've seen her dressed as a slice of pizza."
Let's blame it on Marlene Dietrich
Two hours later the two were received by the audience with tremendous cheers when they entered the hall where the contest for Israel's number one drag queen was held. Many of the contestants — talented, moving and original, each in his or her own way — had come from Be'er Sheva and Jerusalem in order to perform for one evening on the central stage as a drag queen or king. What turned the evening into an exceptional event was the warm and enthusiastic audience that filled the central auditorium of the Cinematheque.
It was hard to find anyone who didn't come in a special outfit; some outfits were clearly the result of many hours of work, while some guys only swapped their regular sneakers for pink high heels.
Drag Queen Galina Por De Bra (Gil Naveh) successfully organized the entire evening and moderated the competition alongside the entertaining Celine la Divine. The big winner of the evening was Assis D'Orange whose energetic performance as an obsessed woman who is constantly pulling out slips of paper with her phone number on from her décolletage to give to passerbys had the audience in standing ovation. In spite of the song she performed, "Call Me Maybe," she hasn't answered her phone since then.
Anyone who missed the event can see the drag related movies on Thursday in Tel Aviv's Cinematheque, or the performances of the drag queens who participated, along with other artists, at an alternative queer party to be held on June 9 at the Bascula bar in Tel Aviv, as part of the Pride festival events.
So who is your favorite from season 9?
Monsoon: "I will be honest, normally I play diplomatically and I..."
Needles: "Is this the first you haven't though? Cause it's mine."
Monsoon: "This is the first year."
Needles: "Me too, I always say I won't answer, it's a fair game."
Monsoon: I will say my favorite was Valentina not just because her drag was amazing and that she brought a lot to it, but I really love her in her confessionals, with that little beret and that turtleneck."
Sharon: "You got a crush on her."
Jinkx: "Well, maybe I do. Maybe I have a crush on her. But I really loved her, I thought she was really endearing and eccentric in the most wonderful way. And now that she's gone, I think for me it's a tossup between I don't know, I love Trinity, I love Sasha, I love Shea, I love Peppermint. I think Sasha probably won my heart the most right now. Because of Marlene Dietrich. Let's blame it on Marlene."
Sharon: "Let's blame it on Marlene. I like Trinity, she's got a vile mouth, she's mean, she mixes beauty and humor, she is completely made out of plastic and she speaks in her confessionals the way drag queens speak without a camera rolling. And I love someone who doesn't try to kiss America's ass and to try to make America's next drag superstar a sweetheart because a true strong drag queen is not that fucking sweet."
Click the alert icon to follow topics:
ICYMI
Ken Burns' Brilliant 'The U.S. and the Holocaust' Has Only One Problem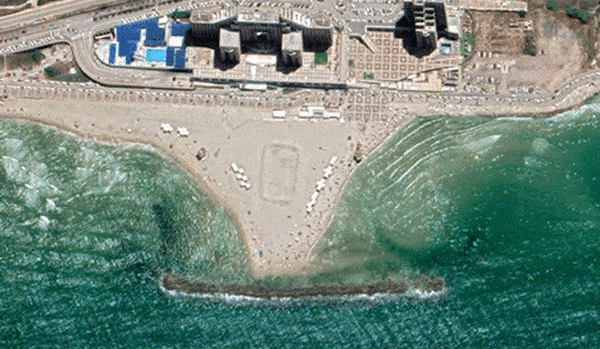 Facing Rapid Rise in Sea Levels, Israel Could Lose Large Parts of Its Coastline by 2050
As Israel Reins in Its Cyberarms Industry, an Ex-intel Officer Is Building a New Empire
How the Queen's Death Changes British Jewry's Most Distinctive Prayer
Chile Community Leaders 'Horrified' by Treatment of Israeli Envoy
Over 120 Countries, but Never Israel: Queen Elizabeth II's Unofficial Boycott