These Are the Voices Whispering in Trump's Ear About Israel and How to Make the 'Ultimate Deal'
Jared Kushner, Ronald Lauder and David Friedman are a few of President Trump's men influencing him in the run-up to his May 22 Israel visit
Trump's Israel team.
Credit: Haaretz
WASHINGTON On May 22, U.S. President Donald Trump will arrive in Israel as part of his first overseas trip since he entered the White House. As the visit approaches, Trump's Israel policy remains a mystery to many, including the top ranks in both Jerusalem and Ramallah.
Lacking a clear and consistent policy to go on, many observers are looking for clues by examining what the president's advisers on the Israeli-Palestinian peace process are calling for. And while most U.S. administrations in recent decades have housed different schools of thought, the diverse range of opinions in the Trump administration seems truly extraordinary.
So who are the people advising the 45th president on Israel, and what are they telling him? Here's a list from both inside and outside the administration.
The son-in-law
The first name that comes to mind is Jared Kushner, Trump's son-in-law and senior adviser. According to the president, he is the most qualified person in the world to bring peace to the Israelis and Palestinians. "If you can't produce peace in the Middle East, nobody can," Trump told Kushner before a full ballroom on Inauguration Eve. The fact that Kushner, 36, had never dealt with the Israeli-Palestinian issue before and had no diplomatic background didn't seem to concern Trump.
But since Trump took power, Kushner has been too busy dealing with an ever-growing portfolio of responsibilities. He's still one of the most trusted people around Trump some say the most trusted so the president seeks his help on issue after issue, crisis after crisis, leaving Kushner with very little time to broker Israeli-Palestinian peace.
Still, administration sources told Haaretz that Kushner hasn't totally given up on the ultimate deal. "From time to time, we will get a request to look into this issue or that issue, and it will be emphasized that 'This is for Jared," said one official, speaking on condition of anonymity. Kushner has also briefed reporters about Trump's Middle East priorities and is expected to join the president on his trip, which also includes visits to Saudi Arabia and the Vatican.
The negotiator
While Kushner is busy trying to save the world (and his father-in-law's presidency), the person leading the administration's day-to-day communications with Israelis, Palestinians and other regional players is Jason Greenblatt Trump's special envoy to the Israeli-Palestinian peace process.
Greenblatt is a New York attorney who has been working for Trump for many years and is considered one of his most trusted advisers. He comes from an Orthodox Jewish background and has family ties to Israel.
Like Kushner, Greenblatt has no professional history when it comes to the Israeli-Palestinian conflict. Still, since he began working on the issue, he has received praise from every direction. Israelis, Palestinians, Arabs in the broader region and even the toughest crowd Middle East experts in Washington have expressed pleasant surprise about his first working visit to Israel and the West Bank, and his overall involvement.
The ambassador
During the presidential campaign, Greenblatt was one of Trump's two advisers on Israel policy. The other was David Friedman, another New York attorney with a years-long relationship with Trump. Friedman has since been appointed Trump's ambassador to Israel.
Unlike Greenblatt, Friedman's positions on the conflict have been well documented, and are far to the right of the mainstream both in the United States and Israel. The articles he wrote for the pro-settlement website Arutz Sheva became famous during his confirmation hearing at the Senate, which ended in a historically polarized vote (only two Democrats voted in favor of his appointment).
Friedman stated during the confirmation process that once he became ambassador, he would put his personal opinions aside and implement the president's policy, even if he disagreed with it. Friedman has reportedly made similar statements in conversations with Israeli officials.
Despite his strong support for moving the U.S. Embassy to Jerusalem, Friedman plans to live in the ambassador's residence in Herzliya for the time being and stay at the King David Hotel in Jerusalem when he spends nights in the capital, just as his predecessors have done.
The national security team
When the Israeli Embassy in Washington held its annual Israeli Independence Day celebration earlier this month, U.S. National Security Adviser H.R. McMaster represented the administration. His speech contained a lot of the statements of support a White House official is expected to make, but he created some headlines by calling Trump a "disruptor" and stating that the president has very little patience. He also asked the pro-Israel crowd to have faith in Trump and Greenblatt as they work to bring peace to Israel and its neighbors.
Israel-Palestine isn't a leading issue on McMaster's agenda, which contains more urgent crises such as North Korea, Iran, Syria and Russia. Still, if and when negotiations get serious, his combat experience in Iraq and moderate approach on Islam (compared to his predecessor, Lt. Gen. Michael Flynn and other senior figures in the White House), could make him a trusted figure in the eyes of all parties.
McMaster's deputy is Dina Powell, a former Bush administration official who was born in Egypt and is fluent in Arabic. She's considered close to Trump's daughter, Ivanka, and is emerging as an influential voice in the White House on Mideast-related issues. Powell took part in Trump's recent meetings with Arab leaders, including with Palestinian Authority President Mahmoud Abbas, and accompanied U.S. Secretary of Defense James Mattis on his recent visit to Egypt and Saudi Arabia.
Powell didn't continue on with Mattis to Israel, however, since she was asked to accompany aid worker Aya Hijazi – an American citizen who was jailed in Egypt for three years and freed during Mattis' visit – back to the United States. She is expected to join Trump on the upcoming trip.
The National Security Council's senior director for Middle East policy is Derek Harvey, a retired colonel appointed by Flynn. Harvey holds hawkish positions on Iran and believes the Obama administration hurt Washington's ties to key allies in the Middle East, such as Israel and Saudi Arabia, by trying to appease the Iranians. Harvey's positions on the Israeli-Palestinian conflict aren't well known, but he's considered very close to retired Gen. David Petraeus, who has previously expressed strong support for a two-state solution.
Until the beginning of May, the person in charge of the NSC's Israeli-Palestinian file was Yael Lempert, a career diplomat with years of experience in the Middle East who was brought on during Obama's presidency and asked by Trump's team to stay on board for three months. Lempert has since returned to the State Department and is expected to be replaced by Col. Kris Bauman, an air force officer who's an expert on the history of the Israeli-Palestinian peace process. He currently teaches at the National Defense University.
The cabinet members
When Trump met Abbas for lunch at the White House this month, Vice President Mike Pence and Secretary of State Rex Tillerson were also present. Trump asked both to speak briefly in front of the cameras at the beginning of the event.
Tillerson, who so far hasn't been a leading figure in the Israeli-Palestinian discussion, said he believes there's a real opportunity for peace, while Pence recalled positive memories of a West Bank meeting with Abbas during a Christmas trip with his family a few years ago.
Pence is seen by right-wing politicians in Israel, and their supporters in the United States, as perhaps the administration's most senior person who shares their view of the conflict, thanks to a combination of his past statements and strong evangelical beliefs. After Pence complimented Abbas at the lunch, Trump jokingly said "he's already making progress" – a possible reference to the vice president's previous hard-line statements.
The administration is aware of Pence's standing with right-wing Jewish organizations, and made sure to send him to represent it at this year's AIPAC policy conference and at a White House event celebrating Israel's 69th Independence Day. At both events, Pence said Trump was seriously considering moving the U.S. Embassy to Jerusalem, but provided no further details or a time frame.
Besides Pence and Tillerson, another senior official who will likely become involved if and when Trump's peace efforts make progress is Secretary of Defense Mattis. The retired four-star general visited Israel last month and met with Prime Minister Benjamin Netanyahu, President Reuven Rivlin and Defense Minister Avigdor Lieberman.
Mattis has previously said that the West Bank settlements could lead Israel into an apartheid reality. During his confirmation hearing at the Senate, he said that Israeli-Palestinian peace is a vital interest of the United States. While these positions are frowned upon by Netanyahu's people, senior Israeli officials appreciate Mattis' tough line on Iran, and he has many friends among the Israeli army brass.
Two other very senior administration people have a voice on Israel-related matters: UN Ambassador Nikki Haley, whose vocal defense of Israel at the United Nations has made her a megastar in the pro-Israel community; and CIA Director Mike Pompeo, who in his previous role as a congressman visited Israel to express support for the country during the 2015 wave of stabbing and car-ramming attacks. One of the very first things Pompeo did as CIA chief was travel to Ramallah for a meeting with Abbas in February, which took place a day before Trump hosted Netanyahu in the White House.
The billionaires
U.S. casino magnate Sheldon Adelson bet big on Trump during the final months of the 2016 election campaign. He donated tens of millions of dollars to Trump's campaign and added another $5 million in the form of a donation to Trump's inaugural committee. Adelson hoped Trump would reverse President Barack Obama's policies on Israel, but, according to recent press reports, he has been angered and disappointed with Trump over his broken promise on the embassy move.
Another Jewish billionaire has been in the headlines recently: Ronald Lauder, who has been advising Trump on the peace process and whose message has apparently been the exact opposite of Adelson's. While the Las Vegas tycoon opposes a two-state solution, Lauder shares the position of the vast majority of Israel's security brass: a peace agreement could be a strategic asset for Israel. Lauder, like Trump, also believes such a deal can be reached and that Trump is the one U.S. president who can deliver it.
In the background of this power struggle is the complicated relationship that each billionaire has with Netanyahu. Adelson has spent hundreds of millions of dollars in recent years on Israel Hayom, a free newspaper that many in Israel consider Netanyahu's very own Pravda. Lauder was once very close to Netanyahu, but their relationship has soured in recent years. The names of these two billionaires have come up in recent news reports on the corruption investigations plaguing Netanyahu, with Adelson set to testify on the matter soon.
In addition to Lauder and Adelson, another billionaire with Trump's ear is Thomas Barrack, a real estate investor with Lebanese roots who is a personal friend of the president and helped arrange his inauguration events. Barrack has reportedly been advising Trump on the Middle East (not specifically the Israelis and the Palestinians), and also used his vast regional network to help the Trump administration in its early days. Barrack said earlier this month that Trump's "lack of predictability" has "gained respect" in the Middle East and around the world. "Every foreign leader has come to the table for him," Barrack added.
The external advisers
Closing out the list are senior people who Trump or people close to him are in touch with, and have experience, connections or both regarding the peace process. These include former Secretary of State Condoleezza Rice, who spoke with Trump at the White House last month and is considered close to Dina Powell. There's also Tony Blair, the former British prime minister who has spent almost a decade as a peace envoy in the Middle East and who has discussed the issue with senior U.S. officials. There's also Dennis Ross and Elliott Abrams, two of the leading experts on the issue in Washington, who recently met with Greenblatt for dinner. Finally, there's Alan Dershowitz, the famous New York attorney who was asked by Trump to convey messages on the peace process to Netanyahu.
The unknown
History teaches that whenever peace negotiations get serious, there's usually a secret channel operating in the background. It would be premature to assume that such a channel already exists under Trump, But if and when the time comes, one will probably be created. Whoever represents the Trump administration in such a channel will have a lot of influence and his or her name won't necessarily appear on this list.
Click the alert icon to follow topics:
ICYMI
Ken Burns' Brilliant 'The U.S. and the Holocaust' Has Only One Problem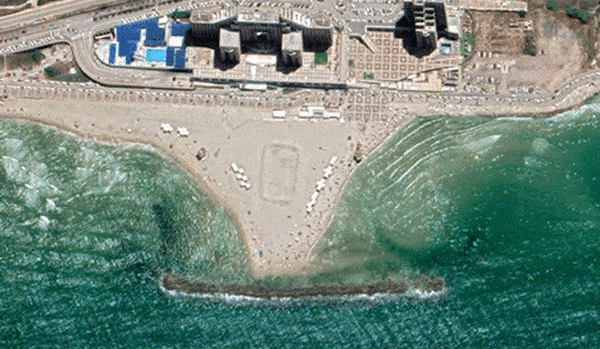 Facing Rapid Rise in Sea Levels, Israel Could Lose Large Parts of Its Coastline by 2050
As Israel Reins in Its Cyberarms Industry, an Ex-intel Officer Is Building a New Empire
How the Queen's Death Changes British Jewry's Most Distinctive Prayer
Chile Community Leaders 'Horrified' by Treatment of Israeli Envoy
Over 120 Countries, but Never Israel: Queen Elizabeth II's Unofficial Boycott