Visitors Not Welcome: Israel Taking Border Control to New Extremes With Tourist Bans
Tour operators say Israel increasingly doesn't want you here if you plan to spend a night in Bethlehem, oppose the settlements or have the wrong stamp in your passport
Israeli hostel owners and operators noticed recently they were all suddenly confronting a similar problem: Foreign visitors who had booked rooms but never showed up were notifying them the following day that they had been turned away at Ben-Gurion International Airport. These no-shows did not receive an explanation from Border Police for the decision to deny them entry into Israel.
"I can only speculate why they were sent back," says Maoz Inon, a founder and member of ILH-Israel Hostels, a network of dozens of lodging facilities that cater to independent travelers. "But what I can say is that this is a brand new phenomenon. For those of us who work so incredibly hard to persuade travelers to visit Israel, it's the equivalent of the government poking sticks in our wheels."
Hostel owners are not the only ones feeling the pinch. Last week, the Border Control Department at the Interior Ministry notified tour group operators that, as of mid-May, they would be prohibited from taking travelers for overnight stays in the West Bank. Unless they signed a form pledging to refrain from sleeping in the West Bank, the directive said, they would not be granted permission to bring overseas groups to Israel.
Under pressure from tour group operators, the Interior Ministry retracted the order, but only temporarily. In response to a request for clarification from Haaretz, a ministry spokeswoman said, "The draft of the letter that was sent out included some errors, and in the next few days, after the interior minister revisits the issue, we will be sending out a corrected version."
By preventing overnight stays in Bethlehem – a major destination for Christian pilgrimage tours to the Holy Land – this directive could deal a deadly blow to the industry. Yossi Fatael, chief executive of the Israel Incoming Tour Operators Association, says an estimated 1 million tourist nights are spent in the West Bank city every year.
Hotels in Bethlehem are significantly cheaper than those in nearby Jerusalem and therefore draw huge numbers of low-budget tourists, among them Christian pilgrims and backpackers.
The industry fears many might not be able to afford trips to the Holy Land if denied access to these hotels. (Although the Interior Ministry directive refers to the entire West Bank, Fatael notes that in practice it only affects Bethlehem, because most tour groups do not stay overnight elsewhere.)
Israeli law mandates that all travelers to Israel must obtain prior written permission from the Coordinator of Government Activities in the Territories – which operates under the auspices of the Defense Ministry – before visiting the West Bank. "The law has always been on the books," says Fatael, "but it has rarely been enforced. The letter that was sent [last] week was basically a reminder that this is the law, and that the Interior Ministry intends to start enforcing it."
Add to this the brand new law that would deny entry to foreign nationals who have expressed public support for a boycott of Israel, and it almost looks like an organized government campaign to keep certain tourists out – or at least make them think twice about whether they really want to come.
The controversial new law, passed in the Knesset in March, would allow Border Police at Ben-Gurion International Airport not only to send back anyone who has publicly called for an all-out boycott of Israel, but also for a more limited boycott of the West Bank settlements.
As many progressive Jews abroad refrain from buying products from the settlements to show their opposition to the occupation, the new travel ban has left large numbers of them deeply concerned. Border Police have not yet cited the law as grounds for turning away foreign nationals at the airport, but that hasn't alleviated anxieties.
Two weeks ago, in a preemptive move, U.S.-Jewish organization Americans for Peace Now notified supporters it would be canceling its annual trip to Israel, fearing that some participants might be turned away from the airport for supporting a boycott of the settlements. This was the first time since Americans for Peace Now began organizing trips some 30 years ago that it has been canceled.
And earlier this month, more than 600 Jewish-American students sent a letter to Birthright – the biggest sponsor of organized trips to Israel – requesting clarifications about the travel ban. Many of the signatories are planning to visit Israel this summer on the free 10-day trip sponsored by the organization. In particular, students wanted to know whether those who supported a boycott of the settlements would be disqualified from the trips, and whether Birthright would come to the legal aid of those who might be stopped at the airport and turned away.
Birthright issued a terse response, saying it does not question applicants about their political leanings. It refused to say, however, whether it would provide assistance to participants denied entry to Israel.
Echoing these concerns, the head of the international Reform Jewish movement sent a letter to Prime Minister Benjamin Netanyahu last week, expressing his opposition to the new law and requesting more details on how the government intended to apply it.
"I am frustrated that by passing this law, the Israeli government has, in essence, posted a giant sign by the door of the Jewish state saying, 'Don't come unless you agree with everything we're doing here,'" wrote Rabbi Rick Jacobs, president of the Union for Reform Judaism.
Under the Entry into Israel Law enacted in 1952, the Interior Ministry has always been authorized to bar individuals who have called for a boycott of Israel. In fact, quite a few visitors have been turned away in recent years for supporting a boycott or expressing criticism of the Israeli government. The difference now is that the ban is automatic.
According to a report published in Haaretz in February, the number of visitors denied entry into Israel jumped almost ninefold between 2011 and 2016. In 2016 alone, 16,534 visitors were turned back.
According to the report, the overwhelming majority were not boycott supporters, but rather citizens of certain Eastern European countries – specifically Georgia and Ukraine – who no longer required visas to visit Israel, as they had in the past. In some cases, Israel turned back entire planeloads of visitors from these countries, concerned that they had come to seek permanent asylum and had no plans of returning to their homelands.
The fact that so many were sent back shows that when it comes to its tourism agenda, the government of Israel is often at odds with itself.
The Israeli Foreign Ministry, hoping to improve relations with various Eastern European states, was behind the campaign to drop the visa requirements. But once the visa requirement was dropped, the Interior Ministry used it as an opportunity to launch a crackdown on visitors from these countries.
This tendency to give with one hand and take with the other is also evident elsewhere. The Tourism Ministry, for example, invests huge amounts of money each year on overseas campaigns designed to promote travel to Israel. But when the tourists finally come and want to extend their stays because they're enjoying themselves so much, they are discouraged from doing so by the Interior Ministry.
Until quite recently, Inon notes, travelers to Israel who wanted to extend their three-month tourist visas by another three months would obtain approval almost automatically. Not anymore.
"I hear from many travelers, who leave here after three months and go to Jordan in order to come back into Israel for another three months, that they're being held up at the border and told they can't come back. In some cases, their visas are renewed for only a week or a month – not three months like it used to be," he says.
"This is something we've been seeing more and more over the past year," Inon continues. "It's a real problem when stories like this get out, because we're waging this constant battle to persuade people to come here and convince them it's safe here. And then when they come – and many of them fall in love with the place and want to stay longer – this is what happens."
Israel has been known to turn back visitors with stamps in their passports from countries considered hostile or with whom it has no diplomatic ties. The list of suspect countries appears to have grown of late – at least according to the testimony of a blogger who participated in a major international travel conference in Jerusalem last month.
On a Facebook page created for participants to the TBEX 2017 conference, Canadian travel blogger Christopher Mitchell reported being subjected to interrogation not only because of stamps on his passport from Turkey and Qatar, but also because of one indicating he had traveled to Tasmania – an isolated island state off the coast of Australia not remotely hostile to Israel.
There is no question the Interior Ministry is cracking down harder, says Nicole Maor, a lawyer who represents travelers detained at Israel's borders. She sees it especially among non-Jewish spouses of Israelis. "Israeli law requires that a non-Jewish spouse open a file in the Interior Ministry and obtain a formal invitation before landing in the country. But until now this law was never really applied," says Maor, a lawyer for the Israel Religious Action Center – the advocacy arm of the Reform movement in Israel.
"Lately, I've seen dozens, if not hundreds, of cases of non-Jewish spouses being denied entry into the country because they never bothered requesting an invitation," she adds. "There's definitely a feeling that the Interior Ministry is more determined these days to enforce the law."
But if more and more visitors and potential visitors to Israel are feeling unwelcome, it has yet to take a toll on incoming tourism – in fact, quite the opposite.
In the first three months of 2017, according to figures published recently by the Central Bureau of Statistics, the number of tourists arriving in Israel was up almost 25 percent compared with the same period last year. "Business is booming," says Fatael, "and we have every reason to believe this trend will continue for the rest of the year."
His projections were confirmed by other tour operators contacted by Haaretz, who also reported a sharp increase in bookings this year.
When an organization like Americans for Peace Now cancels a trip for a few dozen participants, the effect is largely symbolic. It would take many more people deciding they would rather not subject themselves to the risk of being turned away at Israel's borders, or of being prohibited from traveling around as they wish, to create a real dent in the overall incoming tourism figures.
But Inon says the government's recent actions are still a huge cause for concern. "I'm talking now as a private citizen and not as a representative of the industry," he says. "But it seems to me that the government is floating a trial balloon to see how far it can push the limits of democracy in this country, and how far it can push the professional freedom of businesspeople like myself."
Click the alert icon to follow topics:
ICYMI
Ken Burns' Brilliant 'The U.S. and the Holocaust' Has Only One Problem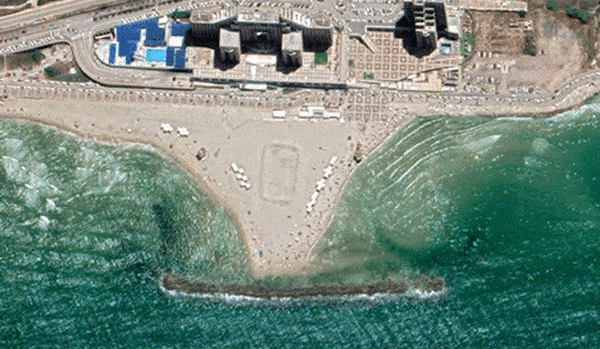 Facing Rapid Rise in Sea Levels, Israel Could Lose Large Parts of Its Coastline by 2050
As Israel Reins in Its Cyberarms Industry, an Ex-intel Officer Is Building a New Empire
How the Queen's Death Changes British Jewry's Most Distinctive Prayer
Chile Community Leaders 'Horrified' by Treatment of Israeli Envoy
Over 120 Countries, but Never Israel: Queen Elizabeth II's Unofficial Boycott