Most Palestinian Minors Arrested by Israel Claim Physical Violence During Detention
60 percent say experienced violence, only 10 percent met with a lawyer | In 2013, a UNICEF report said Israel was systematically abusing young detainees, new data shows little has changed.
Israeli border police arrest a young Palestinian during clashes following a protest over a Palestinian militant Basil al-Araj, killed by Israeli forces early Monday, in front of the Israeli Ofer priso
Credit: Majdi Mohammed/AP
The indictment against S.H. is vague and lacks specific details, as is customary in indictments filed by the military prosecution – especially in relation to stone throwing. Here's what it says: "The accused named above, on January 26, 2017, or near that date, threw an object, including a stone, at a moving vehicle with the aim of harming it or the person driving it, namely, on the aforementioned date, on Route 465, or in the nearby vicinity, the accused threw stones at a number of moving vehicles with the intention of harming them or a person traveling in them." Signed: Army Patrol Officer Sivan Speizer, Military Prosecutor.
Route 465 is 38 kilometers (about 25 miles) long. The vagueness of "near" and "nearby" indicates that the prosecution did not have evidence about a time and place when the offense was committed, but did have a confession. And the confession was easy to obtain from S.H., who even after his release said he hadn't thrown any stones.
S.H., who lives in Bir Zeit, was 12.5 when he was arrested on Thursday January 26. He is one of 111 Palestinian minors who, according to the Palestinian Prisoners' Society, have been arrested by the Israeli army or police since the beginning of the year in the West Bank. A further 125 were arrested in East Jerusalem.
The military judge accepted a plea bargain between the prosecution and the boy's lawyer, Khaled el-Aaraj, and sentenced S.H. to 31 days in Ofer Prison, three months probation and a 500-shekel fine.
>> Israel vows to cut detention times for Palestinians <<
S.H. could have been released on January 29 if his mother had been willing to pay a 5,000-shekel fine. "Where would I have gotten the money?" she shouted at el-Aaraj outside the Ofer military court, when he informed her of the prosecution's offer. "What do they want, for us to finance the occupation?"
S.H., a tall youngster whose height is a bit confusing but whose face accords with his age, was released on the evening of February 26, after being in prison for a month. With a wide smile, he hugged his father and brothers who had been waiting for him at the Ofer checkpoint since the morning.
The modest convoy of cars that brought him and his friends and relatives home honked and waved Fatah flags. However, a week later, his father related that S.H. "wasn't how he used to be before he was arrested.
"He used to joke, and he stopped doing that. He talked a lot, and now he is silent. It was hard for him to go back to his studies, and it was hard to get anything more than five-word sentences from him to describe his experience."
Nisreen Alyan, a lawyer for the Association for Civil Rights in Israel, says many imprisoned Palestinian minors experience such a regression when they return home. Under international law, she tells Haaretz, the principle of the good of the child must guide the actions and decisions of the authorities. This is not how it looks generally when Palestinian minors are arrested, and this is not how it looks in the arrest and trial of S.H.
It has been just over four years since the publication of a UNICEF report which found that Israel was extensively and systematically abusing detained Palestinian children and youth. But the stories of physical violence, threats, painful plastic handcuffs and naked body searches remain almost identical.
Despite the 2013 report and subsequent meetings between representatives of the military prosecution and UNICEF, the Israel Defense Forces and Israel Police in the West Bank are continuing to follow the same procedures that, in the view of observers, contravene the UN Convention on the Rights of the Child, according to testimonies taken by Military Court Watch. This nongovernmental organization monitored the treatment of more than 450 minors in Israeli military detention between 2013 and 2016. According to its data, 96 percent of the minors arrested in 2013, and 92 percent of those arrested in 2016, reported being handcuffed at the time of their arrest – many of them with plastic handcuffs they described as painful; and 81 percent and 83 percent, respectively, reported being blindfolded. In both years, 60 percent reported experiencing physical violence at the hands of their detainers, while 49 percent and 43 percent, respectively, reported verbal violence.
A futile dialogue
Public criticism of these arrest and detention procedures has been voiced for many years, by Palestinian organizations such as the Palestinian branch of DCI (Defense for Children International) and Israeli ones. Even prior to the publication of UNICEF's "Children in Israeli Military Detention" report, petitions to the High Court of Justice by ACRI, along with Yesh Din – Volunteers for Human Rights, the Public Committee Against Torture in Israel and the Palestinian Prisoners Society, led to the refreshment of orders and minor changes to military legislation (such as the establishment of a military court for youth in 2009 – for the first time since the occupation of the West Bank – and changing the definition of adult from age 16 to 18).
However, the accumulated testimonies about abuse of detained Palestinian minors and violations of their rights under interrogation led UNICEF to carry out an investigation of its own, the recommendations of which it published in its March 2013 report.
Based on its awareness of the UNICEF investigation and following the High Court petitions, the military prosecution announced a gradual reduction in the amount of time a minor can be detained until he is brought before a judge: from eight days to 24 hours for 12- to 14-year-olds; two days for 14- to 15-year-olds; and four days for 16- to 18-year-olds.
In an update published by UNICEF in February 2015, it reported that since March 2013 it had held talks with the Israeli authorities about the rights of Palestinian children during detention, and the measures that should be taken to protect them. The Israeli authorities were representatives of the Foreign Ministry, the military advocate general, the deputy attorney general, the military prosecutor in the West Bank, Israel Police and Israel Prison Service.
The talks focused "on what a child experiences when arrested and detained for alleged security offences in the West Bank and brought in contact with various Israeli authorities," according to the update, which is the most recent one to be published.
The 2015 update details a list of initiatives – among them a pilot to bring minors in for questioning by means of summonses rather than arrests in the middle of the night, and the provision of a written text in Hebrew about the minor's right to remain silent and consult a lawyer. The UNICEF update also noted that a letter from the military advocate general to commanders in May 2013 said blindfolds should be used only in the case of a security need and handcuffs should be employed only according to the commander's discretion – and only plastic handcuffs.
'I believed him and confessed'
The handcuffing, blindfolding and physical and verbal violence that emerge from the Military Court Watch data are some of the elements that make detention frightening from the outset, thus "softening up" the minor in advance of his interrogation. S.H. told Haaretz this was the most difficult stage in the experience. He was on vacation from school. He went down to the local wadi where he found two older children with a horse, who fled when, before noon, police or soldiers – "a lot of them, I didn't count" – suddenly appeared. They grabbed S.H. and pushed him face down onto the ground. He says they beat him, bound his hands and feet, and covered his eyes. He was taken in a jeep, blindfolded, to some military position. There, the men who detained him beat him again and demanded that he sing "Happy Birthday to You." He says he refused.
At around 2 P.M., S.H.'s father received a phone call telling him his son was being interrogated at "Rami Levy" – the Palestinians' name for the police station in the Sha'ar Binyamin industrial zone (named after the large supermarket there). It was 3 P.M. by the time his father arrived. He was not allowed to see his son until 4:15 P.M., after the interrogation had taken place.
"The investigating policemen told me I had thrown stones," S.H. tells Haaretz. "I said that wasn't true. He said he wanted to release me, if only I would confess. So I believed him and confessed."
The father was allowed to enter the room and see his son, whose hands and feet were bound, but he was not allowed to hug and kiss him. He saw that his son's clothing was slightly torn and concluded that this had happened at the time of the arrest.
"The investigator said to me, 'Your son is a liar. He said he threw stones and he also said he didn't throw stones.' I told him that he's a child, that he didn't throw stones, that he shouldn't be detained – and even if he did throw a stone, he hadn't hurt anyone. The investigator pointed to a car outside and said a stone thrown by a child had broken its windshield."
In 2013, 4 percent of the detained minors who testified to Military Court Watch said they had been allowed to see their parents during the interrogation. By 2016, that number had risen to 5 percent. In 2013, the number of minors who were allowed to consult an attorney was zero. By 2016, that had risen to 10 percent. Perhaps this year the number will go up even more, after a precedent set by military judge Col. Yair Tirosh who, at the end of February, disqualified a minor's testimony because he had not been allowed to consult a lawyer prior to his interrogation.
However, even if S.H. had consulted a lawyer, it's highly likely the lawyer would have advised him not to deny what he had been accused of, but rather to confess. An evidentiary trial, in which police and soldiers are summoned to testify, can take many months – far longer than the punishment imposed for throwing a stone that didn't cause an injury – and the military court usually orders detention until the end of proceedings.
According to the full data ACRI received from the military and police authorities for 2015, during the course of that year 1,638 Palestinian minors were detained (767 of them in East Jerusalem).
Detention of a minor until the conclusion of proceedings, write Alyan and her colleague Sapir Slutzker Amran in the March 2017 ACRI report, ought to be the exception and not the rule. The authors of the report conclude that this is an intentional policy, contravening the Convention on the Rights of the Child and also contrary to the spirit of the youth law that applies in Israel, which "seeks to provide support and rehabilitation instead of arrest and punishment." Conducting legal proceedings during detention until the end of proceedings is liable to "undermine the chances of a fair trial, since the remand increases the chances for a plea bargain in order to avoid a protracted detention." In 2015, 95 percent of the West Bank Palestinian minors against whom indictments were filed were convicted, more than half of them for "causing disturbances to public order," about a third for "hostile terror activity" and the rest for illegal entry and criminal or traffic offenses.
S.H.'s mother was present at his trial. Talking to Haaretz, S.H. smiles broadly – for the first time – when asked what he felt when he saw her. "Did you cry?" his father asked. "How couldn't I?" he replied.
The IDF Spokesman responded: "The IDF has been dealing in recent years with a growing phenomenon of involvement of minors in the West Bank in offenses, among them serious security offenses. Enforcement of the law against minors is done with consideration for their age. Thus, for example, as a rule they are questioned by specially qualified youth interrogators; their periods of detention are shorter than for adults; and their case is brought before a military court for youth.
"The IDF acts at all times to ensure that in cases in which it is necessary to enforce the law with regard to minors, this is done while maintaining their legal rights and with consideration for their age. Military prosecutors have been in touch with UNICEF personnel on matters connected to the rights of minors and concerning allegations raised in the last [UNICEF] report. IDF soldiers are instructed about the rules applying to the treatment of minors, especially regarding the ages at which it is possible to hold minors in detention. Every claim concerning a specific case will be investigated as to its particulars."
Click the alert icon to follow topics:
ICYMI
Ken Burns' Brilliant 'The U.S. and the Holocaust' Has Only One Problem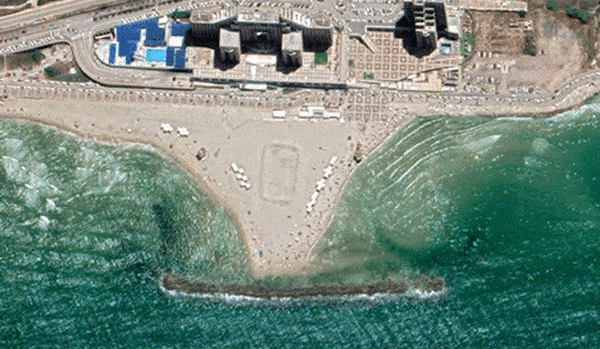 Facing Rapid Rise in Sea Levels, Israel Could Lose Large Parts of Its Coastline by 2050
Lapid to Haaretz: 'I Have Learned to Respect the Left'
The Mossad's Fateful 48 Hours Before the Yom Kippur War
As Israel Reins in Its Cyberarms Industry, an Ex-intel Officer Is Building a New Empire
How the Queen's Death Changes British Jewry's Most Distinctive Prayer