The Israeli Left's Politically Incorrect 'Cool Grandpa' Has a Radical New Vision for Zionism
Can Ilan Gilon, described by fans as the Israeli Bernie Sanders, widen the appeal of the tiny, out-of-touch left-wing Meretz party?
Knesset Member Ilan Gilon at the Meretz conference in Tel Aviv, March 14, 2017.
Credit: David Bachar
MK Ilan Gilon likes to pay surprise visits to medical institutions and check how accessible they are to people with disabilities. Not long ago, in the offices of Jerusalem District Health Bureau, he asked for directions to the supposedly accessible toilet. "I enter with my armored personnel carrier," he said at a meeting in his home in Ashdod, referring to his motorized mobility scooter, "and what do I see? The facility is marked 'accessible,' but in reality is just a regular toilet. It struck me then that we'd succeeded, that the revolution is happening. Some people make fake money, some fake orgasms, and now there are people who fake toilets for the disabled. That means that people have internalized the idea that accessibility is part of life. That's how deep it's trickled down."
Gilon is not being facetious. As an avowed socialist and incorrigible optimist, he perceives every dark tunnel as a finite passage that draws us closer to the light at its end. That's a captivating way of looking at things, but it holds out the danger that one will ignore or refuse to look reality in the face. Perhaps it's a metaphor for his party, Meretz – the joint smallest in the Knesset, along with Yisrael Beiteinu – whose relevance diminishes the more it wraps itself in self-righteousness, so much so that in the 2015 elections it almost failed to enter the House at all.
No fewer than 25 speakers, five for each Knesset seat the party has, asked for the floor at Meretz's convention, held earlier this month in Tel Aviv. On the agenda was an emergency plan devised by Meretz leader MK Zehava Galon to shake up the party. She proposed moving up the election for party leader and holding it as an open primary in which all registered members could take part. In an emotional speech, Galon urged the convention, which is the body that chooses the party's Knesset candidates, to discard the "private club" method.
Outwardly, Meretz is eager to project vitality, but its apparatus is a sure-fire recipe for rejecting far-reaching, instant initiatives. Gilon, No. 2 in the party, led the opposition to the plan. A primary, he told the delegates, "is an opening for bias and corruption." It's a method that will help "mainly those who are very famous, or who can raise half-a-million shekels [about $136,000]," he warned, adding that he feared a distorted result, in which "we will have more party members than voters in the polling booths."
Gilon saved the most important part of his speech for the end: his announcement that he intends to run against Galon for the party leadership, irrespective of which method is adopted. "I'm ready to run in any type of race, with the possible exception of the hundred-meter dash," joked Gilon, who suffered from polio as an infant, which left him with a disabled leg. But the moment he linked opposition in principle to Galon's proposal with the announcement of his own candidacy – the dry procedural issue of the internal election mechanism turned into a personal battle. The vote became the first round in the fight for the party's leadership.
A local Bernie Sanders
'Some people make fake money, some fake orgasms, and now there are people who fake toilets for the disabled. People have internalized that accessibility is part of life.'
Among certain young circles in Meretz, which are the driving engine of Gilon's candidacy, it is fashionable to unabashedly compare him to Bernie Sanders, the Jewish senator from Vermont, who generated a mass movement last year and made a formidable bid to be the Democratic candidate for president. Like Sanders, Gilon, who will turn 61 in May, is a pious socialist with a somewhat slovenly exterior, a dyed-in-the-wool ideologue who's identified with the radical wing of his camp. Speaking the anti-corporatist language of the class war, he wants to rock the boat, not just tilt the bow. And he's the person who was always there in the background but never got the chance to lead.
Gilon himself doesn't draw the Sanders analogy, but is undoubtedly flattered by it. "I've found many similarities in mode of thought and analysis of the situation, but there really is no comparison," he replies finally, with obvious embarrassment. "But do you know in what way Sanders persuaded me? Not in the large ideology – with which I agree – but in the small, human approach to life. In the middle of a speech, he noticed that someone had fainted in the back and stopped everything in order to help him."
In the eyes of Gilon's young supporters, Sanders' loss to Hillary Clinton in the primaries, followed by the Democrats' election defeat, form a narrative with PR potential. According to a Meretz source, as the internal leadership race heats up, admirers of Gilon/Sanders will market their candidate as a cool grandpa who doesn't give two hoots about political correctness – a supposed mirror image to the conservative Galon/Clinton who will lead the party to failure.
In the meantime, Gilon himself is doing good work in transforming outmoded into vintage: "I'm so ancient that I leave my children voice messages," he relates, "and don't read chats. If I have something to say, I write it out for my assistant and he puts it on Twitter."
I joined Gilon for a meeting at the Knesset with Meretz Youth, before he announced his candidacy. During the question period, Anna, a 13-year-old from Tel Aviv, said, "This isn't exactly a question, more of a request. Could you be the leader of our party? With you we can get to new publics." At the conclusion of the event, the kids gathered around him for a selfie and to sing the socialist anthem, "The Internationale" – a custom at events with Gilon.
He couldn't have wished for a better illustration of his popularity among the party's young supporters. But how spontaneous is this phenomenon? Enter Tomer Reznik, 27, until recently the chairman of Meretz Youth, who has been at Gilon's side for a decade. Beginning as a volunteer, he became Gilon's parliamentary assistant and is now his campaign manager. Two years ago, Gilon backed Reznik in the election for Meretz's secretary general, against former MK Mussi Raz, who had Galon's support. Raz won by just 10 votes, sparing both himself and Galon acute embarrassment, but Reznik's achievement reflects his clout in the party.
Gilon controls another significant power base in Meretz: its representation in the Histadrut labor federation. Reznik was recently appointed trade union secretary in the Tel Aviv branch. According to a senior Meretz figure who is not from Gilon's camp, "Reznik is considered a veteran party functionary despite his young age. Gilon speaks against old-style recruitment drives for new members, but Reznik, his right-hand man, has been doing just that for years. And Reznik still controls the young guard."
The same source adds that Reznik and his cohorts term themselves "the Reds." Since Reznik lost the election for secretary general, "They are doing all they can to undermine Zehava's status. You see it in meetings of Meretz's MKs in the Knesset, in demonstrations, on internal internet pages. They come to disrupt. Sometimes it looks like the Likud Party Central Committee. They're a group that's afraid of change, and they want to preserve their power in the party's apparatus."
A source close to Reznik denies allegations of having vested interests, noting that Reznik has held his Histadrut position for only six months and "doesn't have the power to impose anything. It's true that Ilan comes from the party apparatus, but the feeling is that the approach he represents in Meretz – folksier, more grass roots – has never been tried by the party. Until now it's been a kind of ongoing missed opportunity."
Tom Wagner, an experienced strategic consultant who was Gilon's spokesman when he first entered politics but now heads a PR firm, also sees Gilon's trendiness among Meretz's younger generation as a natural development.
"It's a personality thing," he explains. "Even though Ilan has been in the system for 40 years, he's not perceived as a worn-down, irrelevant, stagnant institution. Not even the establishment considers him establishment. You can treat him as a longtime brand, but interactive. In many ways, his style and manner of delivery are more relevant today than ever."
'That's my baggage'
'We are the reddest party socially, the greenest ecologically, the most transparent when it comes to integrity and the most nose-to-the-grindstone in work. Only one thing is missing: voters.'
Gilon is hard-core Meretz. Born in Romania, he grew up in Ashdod, where his family settled, is married to Yehudit and has four children and eight grandchildren. He began his career in Israeli politics in the now-defunct left-wing Mapam party (one of the components of Meretz) and was coordinator of Meretz Youth and deputy mayor of Ashdod from 2003 to 2009. He served in the Knesset from 1999 to 2003 and has been back in the House since 2009. Gilon is the Meretz floor leader in the Knesset.
He first ran against Galon for the party leadership in 2012. It's been a contest between "Meretz of the workers" and "Galon's Meretz designer boutique," Gilon says. He lost by a wide margin. Five years later, the message is the same, only the imagery has changed: "The different between Zehava and me is that she is a piano and I am a camel, and maybe the time has come to try the camel."
Explain, please.
"Zehava plays classics that are more pleasant for certain publics, I carry my humps. I am first of all a boy with special needs and the son of a simple working mother who packed oranges, and an electrician father. I am the battered and tattered kid from Block 2503/10 in the Ashtrom [a construction company] neighborhood of Ashdod. That's how my identity is structured, that's my consciousness and that's my fuel. I collect the scratches that I picked up from the barbed-wire fences I encountered, they made their mark on me. And I'm not trying to be a poet here. That's what there is and that's my baggage."
And Zehava?
"There is no ideological rift between us. The difference is in nuances, in minute things, like 'Galon' and 'Gilon.' She has a particular style for expressing the voice of the left, and I speak in a different language. Ultimately, the decision is emotional, and as a French philosopher once said, 'It doesn't matter what you say, but what people think you said.' I generate a different emotion – I don't know if it's better, but when I look at what's happening, I don't know if it's such a big deal. What does pain me is to see the Labor Party bleeding Knesset seats [in the polls], but us not getting them, because they're going to [Yesh Atid leader MK Yair] Lapid again. There's a problem here."
Maybe Galon's call for an open primary is an attempt to address that problem?
"Do you really think that Israel's masses will vote for Meretz if the party changes its internal election system? That's not serious, and there's no new message here. Meretz needs to forge a new pact with the public. Socialism with a soul – that's the vision."
Gilon goes on to elaborate that vision: "Zionism in its new version must be class-based. Enough with: We built a state, the national project is done with. The coming Zionism has to speak the language of the non-enfranchised class, which I don't call the 'working class' in order to avoid being accused of being anachronistic. This entails three levels of division: dividing up the national wealth, dividing the country and dividing religion from the state. There is broad agreement to these divisions, and if they were presented to the public with a warmer hand, they could take hold.
"Why do people think Menachem Begin was Tunisian, even though he was hard-core Polish? Because he succeeded in touching people. He too walked a bumpy road for years until he was given a chance."
Gilon thinks the time has come to give him a chance, too. "Let me be finance minister for one year and then I'll resign," he says. "Try me – what do you have to lose? If I'm no good, replace me. My goal is for people to be opportunists, for them to ask themselves once a day what they're getting from the state. The rest will happen by itself. My idea is to crisscross the country and infect people with a red rash. I call it 'Zen and the art of mobility-scooter maintenance.'"
Recently, the Meretz MK spoke to some 15 participants in a leadership-development course. He began by lifting himself out of his scooter, without betraying the effort this entails. "My advantage over others is that I can tell the whole truth on one foot," he jokes, using the Hebrew idiom for "in a nutshell."
Gilon is an inveterate punster and wordsmith, but if his jokes sound well-worn and flat on paper, in life they fit well with his overall demeanor, which makes intelligent use of the image of the embarrassing uncle at a family reunion, and adds another layer of potent charisma. It worked in the leadership course, to judge by the sympathetic questions. "You say all the right things, so why isn't it reflected in the elections?" one would-be future leader asked. Gilon nodded his head. "In the youth movement, we were taught how to sow, but we never really learned how to reap," he replied.
Gilon's verbal facility seems a refreshing change in the political arena, but his arsenal of one-liners turns out to be limited and repetitive. He follows the same rituals with journalists, too. In 2012, reporters meeting with Gilon described his habit of greeting them with an embrace and a jar of homemade jam. I too was treated to the same ceremony – hug plus jam – when I came to his home to interview him early this month. He then persuaded me to partake of a huge sausage-on-toast smeared generously with butter, and urged me to add a teaspoon of cream to my coffee.
'Rights for Ethiopians, gays, the disabled, Arabs – all are social phenomena. This divisiveness is a tool of the authorities, and in the end everyone eats the same shit.'
Thanks to gestures like these, Gilon is perceived as folksy, accessible and happy in his party. "I'm just an arse from Ashdod," he says, using a slang word for a "lowlife." The problem is that this warmth is not reflected in electoral terms. "We are the reddest party socially, the greenest ecologically, the most transparent when it comes to integrity and the most nose-to-the-grindstone in work. Only one thing is missing: voters," he laments.
Is that partly your fault, too?
"Of course, I'm No. 2."
In Meretz you are the great advocate of distributive justice. You were the first to rally to the assistance of workers of Pri Hagalil during the dismissals in the food-processing company up north. Yet Meretz hardly exists in the Israeli periphery.
"We have to stop this type of cataloguing. The people at Pri Hagalil and those in Ramat Aviv, in Kiryat Malakhi and in Safed are all the same. Disastrously, we are partly to blame for the categorization, but I don't accept it. It's all social. The occupation is a social phenomenon. Religion-and-state is a social phenomenon. Rights for Ethiopians, gays, the disabled, Arabs – all are social phenomena. This divisiveness is a tool of the authorities, and in the end everyone eats the same shit."
No legislation, no cry
Recently, the Knesset marked anti-poverty day alongside gay-community rights day. "They want to get everything out of the way together," Gilon said on the way to the Knesset. As an alternative, he suggested the establishment of a "poor gays day"; in his perception, the battles being waged by all the weak population groups are intertwined. Speaking at a meeting of the parliament's Finance Committee, Gilon said it was time "to change the public discussion" and recognize that "poverty expresses an incorrect distribution of wealth." Thus, when a disabled person reaches retirement age "he suddenly becomes an Olympic sprinter from the state's viewpoint. He's told: Decide whether you are disabled or old [in terms of state allowances]. But he's a disabled old man, damn it!"
Gilon also suggested a transformation in tax policy "that the millionaires won't like: of 85 percent taxation at the high-income levels." The Knesset committee chairman, MK Roy Folkman (Kulanu), thanked him for his "radical remarks" and termed the tax proposal a "communist approach." The meeting ended shortly afterward.
Gilon acknowledges that as an MK from the opposition back benches, his influence is mostly marginal. "It's very frustrating," he admits. "You mainly try to fix things that shouldn't be broken in the first place." The day I spent with him in the Knesset constituted a melancholy demonstration of that parliamentary adversity. Gilon went from plenum to panel to committee, and finally to an interview on the Knesset Channel ("I'm fed up with listening to myself," he said at one point). Everywhere he uttered the same burning and just mantras, while the opposite policy was being set in places to which he is denied access. "And you should know that this was a relatively successful day," he told me on the way home.
In this atmosphere, indifference can be a healthy response. "When the Akunises speak," he said, referring to Likud cabinet minister Ofer Akunis as an example, "I play Candy Crush. And I almost don't cry anymore – only on Wednesdays."
What happens on Wednesdays?
"All my bills are defeated."
There was a day last December when, if Gilon cried, it was for joy. A bill he submitted to equalize the state's disability allowance with the minimum wage passed in its first reading, thanks to abstentions by four coalition MKs. But that doesn't necessarily herald a policy shift. The treasury is against the measure – which would cost about 7 billion shekels ($1.9 billion) a year – and the government announced that it would submit a parallel bill, more moderate and cheaper, which Gilon calls a "diversion."
He adds, "I don't believe that the government intends to spearhead significant change. So I went to [Prime Minister Benjamin] Netanyahu and told him: Listen, you're in a real mess now with all the [police] investigations. Take my bill and advance it yourself. I'm ready to take the thickest felt marker and erase my name. The credit will be yours – just lead the way."
What did he say?
"The same thing he said to [Yedioth Ahronoth publisher] Noni Mozes: 'It's gonna be okay.'"
'Especially disappointing'
Back to the Meretz convention. Following a long evening, Galon's primary proposal was rejected by a large majority. "The Meretz convention this evening chose stagnation and politicking," Galon wrote in a sharp web post following the event. "It was especially disappointing to see MK Ilan Gilon vote against an open primary immediately after announcing that he would contest the party leadership."
When I met Gilon the next day at a seaside restaurant in Ashdod, he said, "I don't know why she wrote that. She had a bad evening. To say that I chose politicking? I don't have anyone in the party apparatus, except for four youth coordinators in part-time positions. Among all the Meretz employees, they're my only supporters."
But the point is to project openness, even if only outwardly. You're identified with the party's veteran establishment. Where is the new message here?
"I don't claim to be a new message. But maybe it's time to try the old message."
'National salvation front'
Gilon, who in the past rejected the idea of even a Meretz-Labor hookup, is now proposing a far-reaching move.
"We need to establish a broad national salvation front – from Yesh Atid to the Joint Arab List – whose very polarity will dramatize the need to topple the 'Bibennett' government," he told me. "I am talking about an ad hoc large, democratic movement that will represent most of Israel's citizens – and after the election, everyone will go his own way."
Even at the price of erasing the Meretz brand?
"Meretz is not a holy brand. It represents a group of people who think alike, and if it can wield greater influence within a large group, it's worth considering."
According to Gilon, however, his idea was "cold-shouldered" by Yesh Atid: "I didn't get to Lapid himself, but that's the message I got from people around him. There's tons of ego there, so it was clearly hopeless from the start."
As for Labor leader MK Isaac Herzog, he agreed completely, Gilon says, including with the possibility of former Chief of Staff Gabi Ashkenazi leading such a coalition if needed.
Gilon would be happy to see MK Amir Peretz as leader of the Labor Party. The two have an ongoing channel of dialogue. A scenario in which Peretz wins the Labor leadership and Gilon wins in Meretz could pave the way for a joint run in the election. The MK doesn't deny that this is his preferred scenario.
Click the alert icon to follow topics:
ICYMI
Ken Burns' Brilliant 'The U.S. and the Holocaust' Has Only One Problem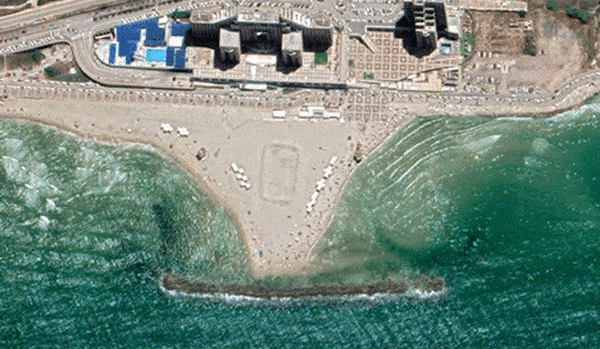 Facing Rapid Rise in Sea Levels, Israel Could Lose Large Parts of Its Coastline by 2050
Lapid to Haaretz: 'I Have Learned to Respect the Left'
The Mossad's Fateful 48 Hours Before the Yom Kippur War
As Israel Reins in Its Cyberarms Industry, an Ex-intel Officer Is Building a New Empire
How the Queen's Death Changes British Jewry's Most Distinctive Prayer