'It's Good to See the Deep Ties Between You, the Jews in Israel'
A British-Indian on eco-trip to Israel is 'surprised to discover that Christianity and Islam actually sprang from Judaism'; two young friends, one from Israel and the other from Japan, reunite on the tarmac.
Abhinav Ummat.
Credit: Tomer Appelbaum
Abhinav Ummat, 34, from London and flying there
Hello, can I ask how you spent your time in Israel?
I usually go on regular vacations, to nice hotels. But this year I decided to go for ecotourism.
Ecological tourism?
Yes, you visit a place but you also do something there. At first I wanted to go to a kibbutz, but I'm more of a city person. I did research on the GoEco website and found a place called the Jaffa Institute here. They have a program for volunteers in which you distribute food to people and help children. It was all very organized and the people were wonderful.
How did you help?
It was Purim so we prepared gift packages, which was nice. In general, it was good to see the deep ties between you, the Jews. Everyone was smiling and talking with others.
Doesn't that happen in London?
Absolutely not. In London, I've been taking the train with the same people every morning for the past five years and no one has ever spoken to me. And if I were to talk to them, they would think I was insane. Everyone in the hostel was also very nice. A lot of people told me that hostels are terrible places, but the one I stayed at in Tel Aviv and Jerusalem, the Abraham Hostel, is superb. It was the first time in my life in a hostel. They also organized trips to all the sites: the West Bank, Bethlehem, Ramle, Jericho, the Dead Sea. I saw Banksy's famous [wall] painting.
What did you most enjoy?
The sunrise at Masada. We climbed for 45 minutes, and then the sun came up and it was very beautiful. It has such a sad story. Then we went to the Dead Sea and it really stank. That surprised me. It was also refreshing to discover that Christianity and Islam actually sprang from Judaism.
It's refreshing to meet someone for whom that's a surprise.
I was born in India. We learned in school about Israel, World War II and the Holocaust. But it was all in one line in the textbook. We learned about Israel in a historical context, and it was interesting to discover the history from the biblical viewpoint. They pushed the Bible at us a little.
You're not observant.
I have friends from all the religions. I was born Hindi and I consider myself a spiritual person, but I'm against labels. I was born in Chandigarh, which is the capital of the state of Punjab. When I was 19, I went to Switzerland to study tourism. Afterward, I got a job in a London hotel and I stayed. My sister also lives in London, and my parents come to visit a lot. London is home now. I miss my home, and especially my dog.
What kind of dog do you have?
An anxious Labrador who throws up in the car. I want to get back to him and to good food without carbs.
Curry?
I like to eat out. I like Indian curry, but Pakistani curry is better. I mustn't say that, but it's true.
Do you still work in tourism?
No, I work for a law firm, I have a terrific job. Hotel work means long nights. I'm glad I switched.
As a migrant in London, do you feel a change lately?
Everything that's happening with Brexit and [Donald] Trump changes things politically, but everyday life looks exactly the same. You get up in the morning and go to work. For me it's dog, work, friends, gym, club. Life revolves around them. Life in London is good. I make a point of being grateful for everything.
Thankfulness as the basis of a spiritual life.
For me, spirituality means asking if I was good that day, and hoping to be better tomorrow. It's important to be good to everyone. But I don't go to holy places; that's too much for me. In Bethlehem, the tour guide said, "Jesus was born here, touch it." And I said, "Uh, okay, but why?" I understand that faith moves mountains, but that was so long ago. I can try to follow the Ten Commandments, for example – that's something that does people good – but it's more important for me to take home the idea of talking with people. I hope to speak to someone on the train I always take, and I only hope he won't call the police.
Saki Ohashi, 18, from Middletown, Connecticut, and Tamar Kahanoff, 18, from Mevasseret Zion; Saki is arriving from Toronto
Hello, sorry to disturb the whoops of joy. Can I ask where you know each other from?
Tamar: We went to high school together in Tokyo.
Saki: An international school – American, actually.
Tamar: School ended last June, and I came home for the army.
Saki: I enrolled in a college in the United States. This is my spring break, and I wanted to visit Tamar before she is inducted. I'll be here a week, we'll see the Old City of Jerusalem, the Dead Sea, Tel Aviv, Masada.
Just a minute, let's go back: Why were you both in an American school in Tokyo?
Saki: I have dual citizenship. I was born in the U.S., but when my parents saw that I was losing touch with my culture, we went back to Japan. My Japanese still isn't as good as my English. It was easier for me to get into the American school.
Tamar: My mother is Israel's ambassador to Japan. My parents are still there. I lived in Tokyo for three years. My mother was also sent to Thailand, New Zealand and other places, and I always went with her. But some places I don't remember well, because I was little. When I was in the third grade we returned to Israel for a period – my parents wanted me to have a normal Israeli childhood.
So how was Tokyo?
Saki: Tokyo is fabulous, because it's a really safe city, you can go anywhere. At night we went to karaoke and walked around the city and ate tasty food.
Where did you go?
Saki: Shibuya, Harajuku, Shinjuku for shopping. In Harajuku there's a really good place for crepes.
Tamar: Which in the end we only ate once.
You could have stayed to eat them until your induction.
Tamar: I wanted to come back to be with my friends here. All my girlfriends in Japan left for college anyway.
Saki: I'm taking economics and psychology at Wesleyan University.
Weren't your parents upset because you went back to the United States?
Saki: Tokyo has the best universities, but I wanted to go to school far from home so that wasn't an option. Today I feel a lot more Japanese than American and I'm proud of my culture. On the other hand, I connect more with American culture. I'm planning to work for an American company that's located in Japan.
What are your plans, Tamar?
Tamar: I'm being drafted into the air force in two weeks, and afterward I plan to go to university. I'm thinking of following my mother into the foreign service. I think it was good to grow up like that – I'm what's called a third-culture kid.
Why third?
Tamar: I think it's third because a lot of people have two cultures from home, from each of their parents, and the third culture can no longer be family.
Does the third culture change you?
Saki: Maybe it makes us more tolerant.
Tamar: I'm more tolerant, too. [To Saki:] Even though here it's not Japan, it's the opposite.
Less tolerant?
Tamar: Things are said directly and not quietly; everything is more open here.
Do you think you'll stay in touch?
Tamar: I think so. We're five really close friends. The others are students in Seattle, Portland and Michigan.
Saki: On the day we finished school in Tokyo, we went to Tamar's place and slept over there.
Tamar: We also went to Copenhagen together.
Saki: We were at a nice Airbnb in a house by the coast. It's Europe, so at 10 P.M. it was still light. We sat on the dock drinking beer, and then a woman stripped at the other end of the dock, and swam nude to us and back. Then our friend Jasmine said, "I have an idea. Let's all strip and go in." At first we said "No way!" It was cold, but then we said, "Actually, why not?" We went for towels, came back and all stripped and went into the water. It's the sea, so it's really easy to float, and it was freezing cold. But by then it was dark and there were stars, and it was beautiful.
Click the alert icon to follow topics:
ICYMI
Ken Burns' Brilliant 'The U.S. and the Holocaust' Has Only One Problem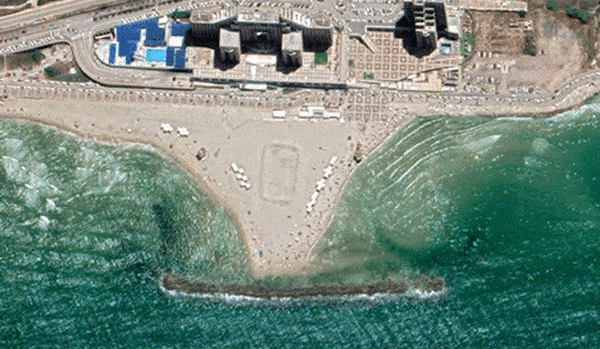 Facing Rapid Rise in Sea Levels, Israel Could Lose Large Parts of Its Coastline by 2050
Lapid to Haaretz: 'I Have Learned to Respect the Left'
The Mossad's Fateful 48 Hours Before the Yom Kippur War
As Israel Reins in Its Cyberarms Industry, an Ex-intel Officer Is Building a New Empire
How the Queen's Death Changes British Jewry's Most Distinctive Prayer