Analysis |
Can Trump's Real Estate Lawyer Really Make Israeli-Palestinian Peace Happen?
Israel will be looking to see if Jason Greenblatt is up to the task, after he arrived in the country on Monday for nearly a full week of meetings.
Trump's Mideast peace envoy Jason Greenblatt with Prime Minister Benjamin Netanyahu in Jerusalem, March 13, 2017.
Credit: Kobi Gideon, GPO
Donald Trump has called resolving the Palestinian-Israeli conflict the "ultimate deal" - and during his first 100 days, he has dispatched his top dealmaker to see whether it can be done. Israel, for its part, will be looking to see if that dealmaker - Jason Greenblatt - is up to the task, after Greenblatt arrived in the country on Monday for nearly a full week of meetings that will take him from Jerusalem to Ramallah in hope of laying the groundwork for the still-amorphous Trump approach to Middle East peace.
>> Get all updates on Israel and the U.S.: Download our free App, and Subscribe >>
As much of a question mark as the approach is the man who will be in charge of devising it. Greenblatt, Trump's special representative for international negotiations first hit the public eye when named as the then-presidential candidate's Israel advisor last April. At the time, it seemed as if the decision to name him as the campaign's point man on Israel was something of a last-minute whim. The announcement was made during a press conference with Jewish reporters last April, when he and now-U.S. ambassador to Israel David Friedman, Trump's attorneys at the time, were summoned to the room to help their boss answer questions about Israel and the West Bank.
The choice of the two lawyers, both from right-wing Orthodox Jewish backgrounds who spent time in their youth studying at West Bank yeshivas, has raised eyebrows in foreign policy circles ever since. Could such men, it has been asked - more intensely since they were named to their key roles by Trump - really stand with their boss in the face of the fierce opposition of settlers, Israel's right wing, and members of their own American Jewish communities should the White House get tough at the negotiating table in order to clinch their deal?
Even Greenblatt seemed a little stunned back in April when Trump first indicated that he would be the campaign's point man on the Middle East. "I knew that he was relying on me for certain aspects of Israel, but I didn't know I was his top adviser," Greenblatt confessed in an interview shortly afterwards.
By now, the 49-year-old Orthodox attorney and father of six has presumably adjusted to his sudden career switch that has taken him from corporate to diplomatic negotiations. For the past two decades, he has worked for Trump climbing to the rank of executive vice president and chief legal officer of his company, dealing with real estate and other transactions for the company around the world.
One of those deals has, in recent days, come under the microscope for its connection with a corrupt family in Azerbaijan with ties to the Iranian regime. A much-buzzed about New Yorker article "Donald Trump's Worst Deal" details how Donald Trump and Ivanka Trump developed a hotel project in Baku in partnership with the Mammadov family, nicknamed "the Corleones of the Caspian." The article says U.S. officials believe that the family laundered money for the Iranian Revolutionary Guard, and points to what seems like a deliberate decision by Trump's company to look the other way and ignore the fact that their partnership could put them in violations of U.S. sanctions in place against Iran. The name the New Yorker said appeared on the contract between the Trumps and the Mammadovs, making him responsible for any lack of due diligence or a thorough audit: Jason Greenblatt.
A carrot-and-stick approach
Greenblatt will be meeting with Abbas, following his sit-down with Prime Minister Benjamin Netanyahu in Jerusalem, and with Abbas in Ramallah. Other meetings include President Reuven Rivlin, and opposition leader Isaac Herzog and other officials and Knesset members.
In his April interview, when he was still speaking freely about his own views as to how to approach the conflict, Greenblatt, corporate lawyer that he is, seemed to favor a carrot-and-stick approach when it came to getting the Palestinians to the negotiating table, with both enticements and punishments coming in the form of cash. He suggested that threatening to hold back funding to the Palestinian Authority could be a powerful tool.
The U.S. he said, needs to "lay down the law and explain that (they are) not going to get the benefits they get from the United States unless they come to the table. I think they need to say: 'Over the course of the next period of time, we will continue to provide funding, but in order to do that you need to do X, Y and Z, set concrete goals, and if you don't we need to start tapering off the funding.'
"If you take out the emotional part of it and the historical part of it, it is a business transaction," he said. "Land is going to be negotiated, water rights are going to be negotiated, security issues are going to be negotiated. So you need to say to them, 'Listen, we want to discuss these two issues in this quarter, and then you'll get your check, and these two issues in this quarter, and then you'll get your check."
When it came to the hot potato of West Bank settlements, Greenblatt said back in April that "it's certainly not Mr. Trump's view that settlement activity should be condemned and that it's an obstacle for peace - because it is not the obstacle for peace."
Since he took office, however, that position seems to have evolved, or, at least, taken on nuance. Last month, the White House released a statement most interpreted as working to put the brakes on Israeli settlement construction: "While we don't believe the existence of settlements is an impediment to peace, the construction of new settlements or the expansion of existing settlements beyond their current borders may not be helpful in achieving that goal."
It has been pointed out, however that Greenblatt's pre-election on-the-record views - both on settlements and Palestinians - have been more moderate than Friedman's and in September, he publicly praised Palestinian President Mahmoud Abbas for making "the right decision" to attend the late Israeli President Shimon Peres's funeral despite criticism since "respect not only in death, but in life, is the key to forging peace between Israelis and Palestinians."
In the end, it may be something of a futile exercise to dwell on what Greenblatt himself believes or wants. He may lack any formal background in international relations and diplomacy, but he does have one crucial qualification: 20 years of loyal service working for Donald Trump. As he has put it himself: "I know how he thinks, I know how to get his bidding done."
As big a concern as what Trump thinks, however, a major headache for Greenblatt may be what the parties in the region think of Trump. Experience has shown that in order for any real progress to be made, both Israelis and Palestinians need to have some kind of faith in assurances made by the White House and the president. The continual doubts being sown in regard to Trump's relationship with the truth makes Greenblatt's mission even more daunting than that of previous U.S. envoys seeking a peace deal.
Perhaps, knowing that, the Orthodox Jew did his best to show he was rallying a higher power to his cause. Making the expression "on a wing and a prayer" a reality, he showed the world that he found time to worship during his flight to Israel Monday morning by tweeting out a photograph of his prayer book, prayer shawl and tefillin (phylacteries).
That said, Greenblatt has notably removed his yarmulke when appearing in public, including during his visit in Israel. When he was campaigning for Trump, the attorney was always seen wearing a large black skullcap. But since November 8, his head has been bare - sources acquainted with him say that during his years with the Trump organization he didn't cover his head while at work.
ICYMI
Ken Burns' Brilliant 'The U.S. and the Holocaust' Has Only One Problem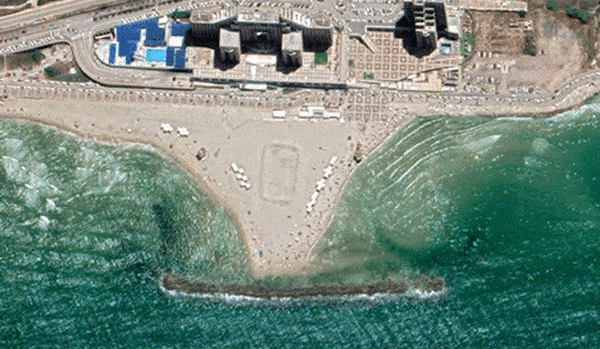 Facing Rapid Rise in Sea Levels, Israel Could Lose Large Parts of Its Coastline by 2050
As Israel Reins in Its Cyberarms Industry, an Ex-intel Officer Is Building a New Empire
How the Queen's Death Changes British Jewry's Most Distinctive Prayer
Chile Community Leaders 'Horrified' by Treatment of Israeli Envoy
Over 120 Countries, but Never Israel: Queen Elizabeth II's Unofficial Boycott