A Palestinian Was Standing Still at a Checkpoint. Why Did Israeli Troops Shoot Him Dead?
A video shows that Nidal Mahdawi, a mentally unstable Palestinian on his way to visit his wife and kids in Israel, could have been arrested without being shot.
Naima Mahdawi, this week.
Credit: Alex Levac
The home of Nidal Mahdawi's mother – where he grew up and to which he fled whenever his mental condition worsened – looks like something between a junkyard and garbage dump. It's hard to know what the house looks like inside; Nidal's sister, who has cancer, is lying in bed inside and their mother doesn't allow visitors to enter.
So, we're sitting on broken, filthy plastic chairs in the neglected yard of the house, in the Shweika neighborhood of Tul Karm in the West Bank, east of Netanya. Heaps of refuse and scraps of food litter the ground; empty plastic bottles, some floating in muddy puddles, abound. A wasteland. The path leading to the house also passes through piles of junk that no one will ever remove. Someone has written the word "Allah" in red on the cactus plant opposite the structure.
The mother's traditional embroidered dress is stained, and some of her front teeth are missing. She weeps at her fate: Her husband died of natural causes at the age of 46, about 20 years ago, and now her son has been killed by Israeli soldiers, at 44.
This is Naima Mahdawi, 67, the widowed mother of five sons and two daughters, whom she essentially had to raise herself. Naima's only income comes from foraging for edible herbs from the fields around her house, which she then sells at market. This is her home, in a hardscrabble section of Tul Karm that used to be known as the center of the chop shops, a cemetery for cars stolen in Israel.
The drivers who pass by on the ascending dirt road give us hostile looks because of our Israeli license plates. The atmosphere is rife with suspicion. Naima arrives at the house with her son Mahmoud, 37, a car painter who until recently worked in Israel; now, after soldiers killed his brother, his work permit has been revoked, as have those of all his siblings and his cousins – standard procedure after every terrorist attack or attempted one.
But what sort of attack occurred on the afternoon of January 17? The video clip that was posted immediately after the event was shocking, but not totally clear.
A man is seen standing next to the big concrete cubes at a checkpoint. He seems to be rooted to the spot, apparently petrified with fear. Israel Defense Forces soldiers are shouting all kinds of unclear orders at him – someone yells "Go" in Arabic – and then they start to shoot at him, while he continues to stand there, motionless, next to the cubes, not seeming to pose a danger to anyone, below the armored watchtower whose projector lamp illuminates the area.
A line of cars waits by the side. After shots are fired at him, the man starts to walk toward the soldiers who are surrounding him on all sides; he walks slowly at first, but as the shooting intensifies he quickens his step, then breaks into a run. In the clip it looks as though he's desperately trying to escape the shots, more like an animal caught in a fire trap than a terrorist intent on attacking soldiers. Then he collapses to the ground, wallowing in his blood.
What is clear is that soldiers shot and killed Nidal Mahdawi, a 44-year-old mentally disabled man who until recently was a resident of Israel, and whose wife and four children are Israelis and live within the Green Line. The event occurred at checkpoint 104, which the Palestinians call the Netanya checkpoint, near Tul Karm.
Nidal Mahdawi was born in 1972. In 1997, he married Holod Ayat, from the Israeli Arab city of Baka al-Garbiyeh. The couple remained there and had a son and three daughters, now aged 12 to 17. About a year after he was married, Nidal received a blue ID card, making him an Israeli resident: At that time, Palestinians in the territories could still qualify for residency under family-unification regulations. Nidal worked in an auto body repair shop in Baka al-Garbiyeh. On holidays the family visited Nidal's mother and his siblings in Shweika.
At some point, more than a decade ago, Nidal began to have outbursts of violence and fits of rage. Over time, his condition worsened; a few years ago, his wife was compelled to file a complaint against him to the police. He was convicted of exhibiting violent behavior against his wife, and served a year in prison. His condition did not improve and he returned home. About two months before he was killed, his wife wanted to hospitalize him in the Sha'ar Menashe Mental Health Center, near Hadera. He preferred to go to his mother's house and seek refuge there. So it was that Nidal returned to his childhood home a few weeks before he was killed.
In the meantime, his Israeli ID card expired and he was denied permission to live in Israel. He told his brother that he would deal with it – it was just a matter of bureaucracy, Nidal said. His brother says that on the day he died, Nidal tried to enter Israel to see his family. The soldiers told him he didn't have a permit.
A few weeks before the incident, his mother asked Nidal to visit the graves of his father and several other family members, in the Tul Karm cemetery. Subsequently, he started to visit the cemetery every few days.
Early on January 17, Naima recalls, she heard an odd noise from the street: Nidal was throwing stones at the electrical pole next to the house. He told her he was going to the cemetery. She never saw him again.
For some reason, during the final days of his life he stopped taking his regular tranquilizing medication. He'd been taking it for 10 years, his mother says now, adding that when he stopped he became even more edgy and aggressive than usual.
Now Naima takes two faded photographs out of an embroidered bag that she carries with her: faded passport shots of her husband, who died of illness, and her son who was killed. She kisses Nidal's photo with pride, repeatedly, and then breaks into tears. "He used to call me 'Nana' affectionately," Naima says, sobbing.
In the evening, on January 17, neighbors told her that her son had been killed at the checkpoint. At first she refused to believe it, but then relatives arrived with the same bitter news. Now she blames the family for his death: They abandoned him and didn't see to his treatment – and because of them he was killed.
"No one took care of his problems," Naima says, accusingly. She still has no idea what happened at the checkpoint; all she knows is that Nidal was shot by IDF soldiers.
The video clip shows that Nidal could have been arrested without being shot, certainly without being killed, says Abdulkarim Sadi, a field researcher for the B'Tselem human rights organization. Indeed, it's not clear why the soldiers started shooting while he was still standing statue-like next to the concrete cubes. "He was far away from the soldiers," says Nidal's brother, Mahmoud, in his workman's broken Hebrew.
It was not until January 27 that Nidal's body was returned to his family and his funeral took place in Tul Karm, under circumscribed conditions imposed by Israel.
This week the IDF Spokesperson's Unit told Haaretz, in reply to a query about the results of the investigation: "The investigation of the incident shows that on January 17, 2017, at 'Crossing 104,' Nidal Mahdawi ran with a knife toward IDF soldiers who were present there, and tried to stab them. The force responded with the suspect-arrest procedure, at the conclusion of which they shot at Mahdawi in order to remove the threat he posed. As a result of the shooting, Mahdawi was killed."
Nidal's widow and four children attended the funeral, then returned immediately to Baka al-Garbiyeh. The family is torn. Nidal's mother has seen her daughter-in-law only once since then, in Tul Karm. She wanted to apply to have her son officially recognized as a shahid – martyr for the cause – in the offices of the Palestinian Authority, possibly to receive the allowance that's given to martyrs' families. She was told, however, that her daughter-in-law must submit the request. She has not yet completed the process: A few more documents must be supplied before the mentally unstable Nidal Mahdawi can be declared a martyr of Palestine.
ICYMI
Ken Burns' Brilliant 'The U.S. and the Holocaust' Has Only One Problem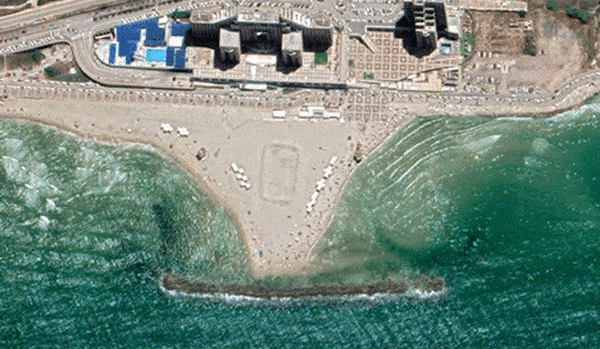 Facing Rapid Rise in Sea Levels, Israel Could Lose Large Parts of Its Coastline by 2050
As Israel Reins in Its Cyberarms Industry, an Ex-intel Officer Is Building a New Empire
How the Queen's Death Changes British Jewry's Most Distinctive Prayer
Chile Community Leaders 'Horrified' by Treatment of Israeli Envoy
Over 120 Countries, but Never Israel: Queen Elizabeth II's Unofficial Boycott