Searches, Detentions, Arbitrary Decisions: Israeli Refusal of Visitors' Entry Surges Ninefold in Five Years
Americans saw a 500 percent leap in entries denied, while the number of Russians barred from Israel increased more than fourfold. Visitors describe searches, detentions and arbitrary decisions.
Katie Parkinson and Andrew Hart. The couple spent four days at the airport facility for people denied entry.
Credit: Katie Parkinson
The number of refusals of entry into Israel has jumped almost ninefold over the past five years. In 2016 alone Israel refused entry to 16,534 people, compared with 1,870 in 2011, the Population and Immigration Authority told Haaretz in reply to a query under the Freedom of Information Law, revealed here for the first time.
The main reason for the steep jump is continuing rise of citizens of Ukraine, Georgia and Egypt whose entry into Israel was refused. In 2016 citizens of these three countries comprised 68 percent of those refused entry to Israel.
Israel also denied the entry of thousands of citizens of Western countries in recent years, led by the United States, Germany, Britain, France and Italy. According to Central Bureau of Statistics figures, the leap in the number of refusals happened at a time when tourism to Israel dropped by 9 percent, from 3.36 million in 2011 to 3.07 million in 2016.
The figures on those refused entry relate to all the entry points into the country, including airports, seaports and border crossings.
In its reply to Haaretz, the Population and Immigration Authority split those refused entry into two groups, according to the reason for the refusal. The first group is those refused entry based on "consideration of preventing illegal immigration." These comprised 82 percent of all those refused entry last year. The authority explained that this reason includes non-cooperation, suspicion that they will settle down and people for whom the purpose of their entry to Israel was unclear.
The second group, which included 18 percent of those refused entry last year, was rejected due to "considerations of preventing illegal migration and considerations of public security, public safety or public order." This group includes those who pretended to be someone else, crime suspects, those who acted violently or were not allowed to enter for security reasons.
The official reason for refusing entry may not be the real one. For instance, two months ago, the Population and Immigration Authority blocked Dr. Isabel Apawo Phiri, a Malawian citizen living in Switzerland and a senior official in the World Council of Churches. The authority itself stated that it was the first time Israel was denying entry to a tourist explicitly because of "activity against Israel and in promoting economic, cultural and academic boycott against Israel". Yet the decision by the border control authority given to Phiri states that her entry was denied for considerations of "preventing illegal immigration." Phiri herself said later, in conversation with Haaretz, that the boycott against Israel never arose during her interrogation at the Ben-Gurion Airport.
About half-a-year ago, Public Security Minister Gilad Erdan and Interior Minister Arye Dery announced the establishment of a joint team to block foreign boycott activists from entering Israel. A month ago the Interior Affairs committee of the Knesset passed a bill sponsored by Bezalal Smotrich (Habayit Hayehudi) and Roy Folkman (Kulanu), forbidding anybody who called for a boycott on Israel to enter the country, except with the permission of the interior minister. The upshot is likely to be even more entry refusals.
Ukraine and Georgia
The most noticeable jump was in citizens of Ukraine and Georgia whose entry to Israel was banned in recent years. Under pressure from Yisrael Beiteinu chairman Avigdor Lieberman, the government in 2011 scrapped the need for visas from Ukrainian citizens, and in 2014 also exempted Georgian citizens. They now receive a visa on entry to Israel. The direct result was a rise in the number of people coming to Israel from those countries.
In the past two years many of them have requested asylum – more than 10,000 requests last year alone. The Population and Immigration Authority maintains that these asylum requests were designed to allow those who made them to work in Israel, as they cannot be deported until their requests have been finally refused, a process that takes a long time.
It is apparent that in parallel with the sharp rise in asylum requests, there has been a significant rise in the number of those refused entry from these countries – last year some 5,700 Ukrainian citizens and 3,500 Georgian citizens were not allowed into the country.
The number of Russian citizens not allowed in also jumped more than fourfold within five years, and 962 Russians were refused entry last year.
Travelers from the former Soviet Union aren't the only target. There has been a steady rise in refusals of entry to citizens of friendly Western countries who receive their visas on entry to Israel. For example, in 2016 entry was refused to 548 citizens of the U.S., compared with 92 in 2011 – a 500-percent leap in five years. Israel also banned last year the entry of 160 British citizens (a 300-percent increase in five years), 109 Germans, 52 Italians, 42 Canadians, 40 Swedes and 33 Australians. In many cases these are human rights activists or are in contact with Palestinians.
American couple denied entry
Two months ago, Ben-Gurion Airport border control denied entry to a young American couple, claiming they were lying and would seek work illegally. The couple, Katie Parkinson and Andrew Hart, is traveling the world and work as online English teachers. They had come to Israel in September 2016 on tourist visas and rented an apartment in Tel Aviv.
Three months later they wanted to extend their stay, but meanwhile flew to Barcelona for a weekend, intending to get a new visa on their return. A British friend had done it the week before, so they weren't anticipating a problem, Parkinson told Haaretz over the phone from the U.S. on Tuesday night. She had meant, after returning, to participate in a training course given by an organization that helps refugees seeking asylum.
But upon their return, the two were questioned at Ben-Gurion Airport, starting with Hart, who was questioned for half an hour.
"My boyfriend was interrogated for about 30 minutes, and he was basically told he was a liar, that we were working illegally in Tel Aviv," she said, adding that the investigator "refused to look at any evidence. We have these contracts with an online company, we make our living online."
Taking Hart's phone, the investigator found a half-year-old text message, dating before their visit to Israel, about civilian aid. It had nothing to do with Israel or Tel Aviv, Parkinson stresses, adding that he probably thought they worked in the West Bank. "As soon as he saw that he became very angry. Then they took me in and only talked to me for about two minutes before denying us both entry."
She asked for a 24-hour stay so they could get their things in Tel Aviv, but the couple spent the next four days at the airport facility for people denied entry. She and Hart were kept separate, she in one room with nine other women and he in another with five men, none of whom spoke English, she says.
Through law student Idan Moldovsky, who represented them pro bono, Hart and Parkinson appealed the decision to bar them and asked to at least be able to collect their property from the apartment in Tel Aviv. The Tel Aviv appeals court denied their motion but did order the Population and Immigration Authority to accompany them to the apartment to get their things.
The authority objected but finally coordinated with American embassy people to collect the items. Parkinson says, "My boyfriend definitely will never return. I'm disappointed with the way I left things. I have a lot of friends in Tel Aviv. I made a lot of Israeli friends. And I had a great time, so it's kind of disappointing."
"The figures paint a worrying picture, but it isn't surprising to anybody who works in this field," says immigration and status lawyer Yadin Elam. "The meteoric increase in tourist entry denials to Israel in recent years, including denying entry to thousands of citizens from countries friendly to Israel, badly hurts Israel's image abroad."
Israelis with foreign partners
Many cases concern the partners of Israeli citizens who have yet to begin to arrange their status in the country. Israelis with foreign partners have to file a request to resolve their status and after that send an official invitation to their partner. Sometimes many months elapse before the partner is allowed into the country.
Thus, for example, the authority prevented two years ago the entry of a Swedish woman married to an Israeli citizen. When they reached Ben-Gurion International Airport, they said they were married and presented official documents, but immigration officials informed the couple that the Swedish woman could not enter the country for fear of illegal immigration and that she will be put on a plane back to her country. She was held for several hours in a facility for those banned entry until the authority finally agreed to allow her visit to Israel if she pays a high bail. The couple left Israel and now lives in Sweden.
Relating to this issue, the Population and Immigration Authority told Haaretz that "refusal of entry of travelers from countries with which there are agreements is usually due to a suspicion of settling down in Israel or when the person arouses suspicion when he is questioned and there are contradictions between what he says and the permit he arrived with. Suspicion can arise, for example, when a tourist turns up many times in a year, for long periods. This is certainly not a tourist, and as such he has to arrange a suitable permit for the reasons he arrived."
Click the alert icon to follow topics:
ICYMI
Ken Burns' Brilliant 'The U.S. and the Holocaust' Has Only One Problem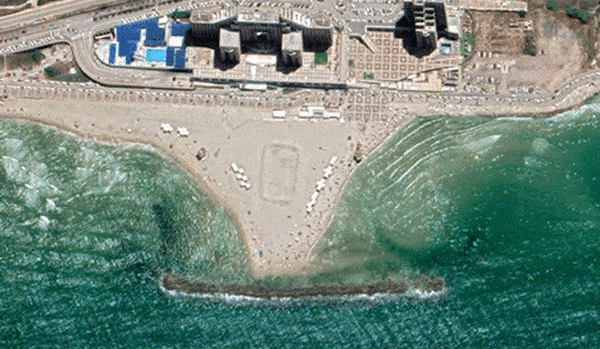 Facing Rapid Rise in Sea Levels, Israel Could Lose Large Parts of Its Coastline by 2050
Lapid to Haaretz: 'I Have Learned to Respect the Left'
The Mossad's Fateful 48 Hours Before the Yom Kippur War
As Israel Reins in Its Cyberarms Industry, an Ex-intel Officer Is Building a New Empire
How the Queen's Death Changes British Jewry's Most Distinctive Prayer