Analysis |
On Eve of Netanyahu Summit, Will Peace Fans Whitewash Trump?
If the new U.S. president pushes a Palestinian deal, Israeli leftists could easily declare him completely kosher.
Are Israeli leftists about to declare Trump kosher?
Credit: Manuel Balce Ceneta/AP
The Book of Proverbs enjoins us: "Do not rejoice when your enemy falls and do not let your heart be glad when he stumbles." But the Hebrew saying "There is no joy like joy at the misfortune of others" seems far more realistic. U.S. President Donald Trump's latest statements on settlements and achieving peace are a case in point. They have sweetened the bitter pill of Trump's Wednesday summit with Prime Minister Benjamin Netanyahu by giving the Israeli left a reason to gloat over the growing discomfort of the Israeli right.
>>> Get all updates on Israel and President Trump: Download our free App, and Subscribe >>>
After all, something funny happened to hardcore Israeli expansionists on their way to what was supposed to be their ultimate moment of triumph. Encouraged by pro-settlement and anti-Palestinian statements made throughout the election campaign by Trump's so-called representatives on all things Israel, David Friedman and Jason Greenblatt, Israeli settlers were convinced that the Messiah had arrived, and if not him (or her), then at least the donkey on which, according to the Prophet Zechariah, he (or she) will ride to set up his "dominion from sea to sea," which works for both Israel and the U.S.
Buoyed by the administration's tepid reaction to the announcement of thousands of new building units and complete disregard for the land-grab law approved by the Knesset last week, an ebullient ultra-right rushed to Sunday's cabinet meeting to push Netanyahu to seal its deal with Trump. But in a scene worthy of a classic cartoon double take, they were suddenly blindsided by Trump's increasingly vocal reservations about settlements and by indications that, like presidents before him, Trump is also yearning to take a crack at solving the Israeli-Palestinian conflict, the Rubik's Cube of international diplomacy.
Waves of Schadenfreude engulfed the left. The confusion on the right alleviated the leftists' pain and diluted their distress. The dark vision of an Israeli prime minister that they abhor hugging and kissing the populist rabble-rouser who now occupies the White House suddenly showed some encouraging bright spots. Israeli right-wingers may have rejoiced at Barack Obama's departure, but Trump's apparent about-face has wiped the smiles off their faces. If we're not having fun, the leftist sentiment seems to be, nobody else will either.
Since then, the tone and tenor of media commentary on Trump has subtly started to shift, on both sides of the political divide. Nervous right-wingers wondered who got to Trump to make him change his music – perhaps Netanyahu himself? – while left-wingers began to sing his praises. Trump was coming face to face with reality, and he could still surprise us all, was the new mantra.
Just as Israeli right wingers had conveniently ignored the anti-Semitism sprouting under Trump's wings and his blatant affront to Holocaust commemoration, in order to focus on settlement expansion and annexation, it's only a matter of time before the Israeli left starts to downplay the Trump administration's xenophobia, sexism, racism and general obnoxiousness. As long as Trump continues to infuriate the right and to press for a two-state solution, the hitherto disgusted Israeli left will deem him nice and kosher.
It is a complex philosophical question, of course, a subsidiary reflection of decades of debate about the rule of realism versus the role of morality in states' behavior and in international relations. Should citizens of a foreign country – as opposed to its leaders – be concerned about the integrity or morals of the leader of another country, especially one as influential as the United States – or should they only look out for themselves? Is it excusable that Netanyahu and his ministers haven't said a word about outbursts of anti-Semitism in America and Holocaust denial in the White House because they didn't want to upset Trump or to mar the chances for a positive realignment of U.S.-Israeli relations? Will it be OK for Israeli leftists to turn a blind eye to Trump attacks on Muslims, immigrants, judges, the press and even American Jews, if he is suddenly seen as advancing the cause of Israeli-Palestinian peace?
Spokesmen of Benjamin Netanyahu himself are openly – and perhaps desperately – promoting the same kind of trade-off in recent days. It has a special name in Hebrew, itrug, coined a dozen years ago by Israeli journalist Amnon Abramovich who said that Ariel Sharon should be shielded from criminal investigations like an etrog, the precious citron that is used in the Sukkot festival, because of his pledge to disengage from Gaza. In a similar vein, the Prime Minister's Office reacted over the weekend to media reports that the police are likely to recommend an indictment of the prime minister on charges of breach of trust and even taking bribes, by telling reporters: "On the eve of potentially momentous historic achievements, is it really wise to put the prime minister on trial for receiving gifts?" Even if Netanyahu broke the law, the message implies, this is a time for the country to go for broke, not to insist on legal niceties and the rule of law.
But how far should self-interest go – and is the standard for other countries different than for one's own? Was it okay for Israelis to ignore Watergate and to adore Richard Nixon for approving the U.S. airlift in the 1973 war? Was it moral to idolize brutal dictator Nicolai Ceausescu because he maintained good relations in the Communist era and allowed Romanian Jews to emigrate? Is it moral for Israel and the U.S. to foster so-called moderate Arab countries, which, in many cases, are anything but? And even if it's OK for conservative right-wingers, who openly subscribe to self-interested "America First" or to self-righteous Israel versus The World worldviews, is it acceptable behavior for left-wingers, who claim to adhere to universal values of human rights, decency and equality before the law?
And that's before we even get to the utter ludicrousness of the thought that it would be Trump, of all presidents, who might succeed in achieving Israeli-Palestinian peace. That it would take an ignorant and narcissist bully, totally lacking in experience or knowledge or any kind of empathy for others, to broker one of the most delicate and impossible peace deals in history. That the barely-coherent reality show star will succeed where Barack Obama, George Bush, Bill Clinton, another George Bush, Ronald Reagan and Jimmy Carter failed so miserably. Or that he would do so in conjunction with Netanyahu, his interlocutor on Wednesday, whose idea of an historic breakthrough is an entrenched status quo and with a Palestinian leadership whose only strength is its weakness. Or that it isn't far more probable that Trump will change his mind several times over, especially if anyone, anywhere, dares to insult him.
The chances that Trump will prove to be the godfather of an Israeli-Palestinian accord or a salvation for Israel's beleaguered left are so minuscule, if they exist at all, that they can hardly justify a suspension of moral judgment on Trump's – and Netanyahu's – personal failings and corrupting leadership. But hope springs eternal, our penchant for self-denial is limitless and the power of delusion, judging by recent history at least, will always win the day. Even this writer, to tell the truth, isn't quite certain.
Click the alert icon to follow topics:
ICYMI
Ken Burns' Brilliant 'The U.S. and the Holocaust' Has Only One Problem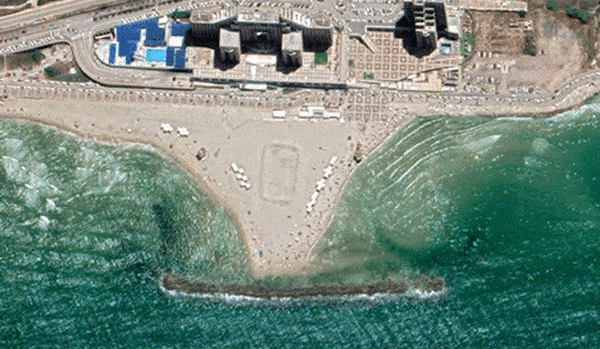 Facing Rapid Rise in Sea Levels, Israel Could Lose Large Parts of Its Coastline by 2050
As Israel Reins in Its Cyberarms Industry, an Ex-intel Officer Is Building a New Empire
How the Queen's Death Changes British Jewry's Most Distinctive Prayer
Chile Community Leaders 'Horrified' by Treatment of Israeli Envoy
Over 120 Countries, but Never Israel: Queen Elizabeth II's Unofficial Boycott