Analysis |
Fighting for the Spoils: The Real Lesson of the Netanyahu Newspaper Scandal
It's not about right or left. It's about money and power.
Illustration: Prime Minister Netanyahu, Yedioth Ahornoth publisher Arnon Mozes and Hollywood producer Arnon Milchan are on display at a store window. U.S. casino mogul Sheldon Adelson stands outside.
Credit: Amos Biderman
Israeli politics is often portrayed, in Israel and especially abroad, as an ongoing struggle between right and left on security issues. Do you support West Bank settlements or an end to the occupation? One state or two? An Israel that's more Jewish or more democratic? Israel's course, it's widely assumed, is determined by the way Israeli voters feel about these questions at any given time.
For years, however, a number of political insiders have contended that this picture is misleading at best; that ideology's role in driving Israeli politics has been significantly exaggerated. That Israel's leaders are preoccupied with more mundane matters like the pursuit of money and power. That "left" or "right" matter to the country's leaders only insofar as these positions can serve as tools in a battle for political and economic control.
This counter-narrative has gone underreported and understudied; it has often been absent from the political debate. To many, it sounded like a conspiratorial thriller. Until last month, that is, when it was revealed that Prime Minister Benjamin Netanyahu had been taped while secretly negotiating with his biggest rival, Arnon Mozes – the publisher of Israel's most influential tabloid, Yedioth Ahronoth, and one of the country's most popular news sites, Ynet.
To many Israelis, this was more than a bit surprising. Netanyahu and Mozes are ostensibly bitter ideological rivals representing two ends of the political spectrum. They had been waging a very public war against each other.
And yet, based on quotes from the tapes, Haaretz and Israel's Channel 2 have shown that the two discussed a deal in which Mozes would reverse his newspaper's coverage of Netanyahu. The reporting would go from overwhelmingly negative to positive in return for pushing legislation that would weaken Yedioth's biggest competitor, the Netanyahu-affiliated and Sheldon Adelson-backed free daily, Israel Hayom.
To understand why these revelations are so astounding, imagine the same scenario concerning Donald Trump and Arthur Sulzberger Jr., the publisher of The New York Times.
The thing is, the influence of Mozes' media empire in Israel far exceeds that of The New York Times in the United States; it's more akin to the three networks' power before the advent of cable TV.
The Netanyahu-Mozes deal never panned out, but in light of this corruption scandal (which the police call Case 2000) and other graft allegations plaguing Netanyahu, some people are speculating about an end to the Netanyahu era. Some legal scholars say the Bibi-Noni discussions constitute bribery.
But Netanyahu's fate isn't necessarily the most important aspect. "The real significance of the story isn't Netanyahu's corruption, but the fact that it lays bare the power structure of Israeli society. What was revealed is that Israeli politics is organized on an almost arbitrary axis: Are you a part of this gang or that gang? Bibi's or Noni's?" says Doron Navot, a senior lecturer at the University of Haifa's School of Political Science and an expert on corruption in Israel.
"In universities, we teach that Israeli politics is driven by divisions between right and left on issues like security or the occupied territories. We know from countless polls that this is what the Israeli public cares about," Navot adds.
"And then we see the Netanyahu-Mozes affair; we see that while there's a right and left in Israel, these aren't taken into account in the political struggle. There are no ideologies, no values, no settlements or occupied territories – just two rival elites fighting for spoils."
Undoubtedly many readers outside Israel hadn't heard the name Noni Mozes before, while in the past decade countless words have been written about Adelson, his entry into the Israeli media with Israel Hayom and the paper's effect on the country's democracy. A lot less has been written about Mozes, although he's arguably Israel's most powerful political player.
"The powerful man in this story is Noni, not Bibi," says Shuki Tausig, the chief editor of The Seventh Eye, a media watchdog and online investigative magazine. "Noni was here before Bibi, and he'll be here after. He's already seen a number of prime ministers come and go, all of which he had the upper hand on."
Excerpts from the Netanyahu-Mozes talks reveal the particular importance of this Israeli scandal. "I will do everything I can to make you stay [prime minister] for as long as you like," Mozes reportedly told Netanyahu.
To this end, Netanyahu and Mozes also reportedly discussed which of Yedioth's journalists should cover the prime minister. He also warned that changing his newspaper's 20-year-old editorial line of being anti-Netanyahu would cause an "earthquake."
But in recent years, as Yedioth's profitability was crushed by Israel Hayom, Netanyahu and Mozes waged an all-out war against each other. Israelis were encouraged to take sides; in Israel Hayom, Yedioth was often called "Noni Mozes' evil empire," and Netanyahu accused the paper of being part of a global leftist conspiracy to bring him down. As Netanyahu acknowledged last week, a bill to ban the free distribution of Israel Hayom triggered the 2015 general election.
And yet these ostensible ideological rivals were willing to shuck all traces of ideology and cooperate to protect their political and economic interests. Netanyahu was willing to curtail Israel Hayom, which Adelson created for him with the sole purpose of promoting Netanyahu's political career. (And on which the U.S. casino magnate has lost $190 million.)
Netanyahu even reportedly tried to help Mozes find a buyer for his media business. To weaken Israel Hayom, Mozes was reportedly willing to completely reverse the editorial stance of dozens of editors and reporters. (Yedioth journalists deny any knowledge of this, and editor in chief Ron Yaron has written that he and his colleagues would have resigned en masse had they known.)
But as Navot and other experts put it, the real significance is what was previously known only to a select group of insiders: Israeli policies largely stem from various oligarchic interests masquerading as right and left while they divide the spoils – often with the help of corporate media outlets linked to conglomerates and monopolies.
"They're trading in human consciousness and fate in order to augment business and political power," says Yaron Ezrahi, a political theorist and professor emeritus at Hebrew University who co-founded The Seventh Eye.
The silver lining is that the Netanyahu scandals provide a first look into the workings of a political economy in which ideas and principles have become subservient to economic interests. The man and the institution most emblematic of this are Moses and Yedioth, Ezrahi and other experts say.
Who is Noni Mozes?
It's impossible to write a political history of Israel over the last two decades without acknowledging that a significant part it stemmed from the power struggle between Netanyahu and Yedioth (and politicians and businesses affiliated with it).
Mozes, who inherited Yedioth from his father, also owns the financial daily Calcalist, the Russian-language newspaper Vesti, a number of magazines and lifestyle portals, and one of Israel's biggest publishing houses. Even though he has controlled Israel's most powerful media group for over two decades, Mozes remains little-known and shuns interviews and public appearances.
To understand just how powerful Yedioth is, consider its history. Established in 1939, Yedioth dominated the domestic newspaper business since the 1970s to the point that the Israel Antitrust Authority declared it a monopoly in 1995 – a title it would lose in 2010 thanks to Israel Hayom.
During that time, Yedioth had a profound impact on Israeli politics, economy and culture; to many Israelis it represented a certain kind of Israeliness. To this day, even with print journalism in decline, many Israelis indulge in the Friday ritual of buying its expanded weekend edition. Yedioth is a privately held company, so it doesn't release earnings reports, but at the height of its power in 2005, more than half of Israelis were exposed to the weekend edition in some way – the so-called exposure rate.
This gave Mozes, who took over the paper after a bitter inheritance fight, tremendous power. According to Ezrahi, this was when the paper's journalism became subservient to its publisher's economic interests. "He [Mozes] discovered that Yedioth is a great vehicle to have power over businessmen," Ezrahi says.
Israel's most powerful tycoons flocked to Yedioth. "You could see this gravitation of big businessmen," Ezrahi adds. "Public strength is a currency with which they could get big loans from the banks. The banks are also sensitive to their image in the press. The rise and fall of businesses is very much connected to what banks are willing to do, and most of all to the power of businessmen vis-a-vis politicians."
This, says Ezrahi, created an ecosystem of cronyism in which capital and political power became symbiotic, a phenomenon known in Israel as hon-shilton, based on the words for capital and political power. Yedioth was the most important actor in this ecosystem; it would use its power to influence regulators, politicians, bankers and businessmen.
"Noni Mozes became the master of hon-shilton," Ezrahi says.
Crucial to the maintenance of this ecosystem was a reward-punishment system known at Yedioth Ahronoth as "white" and "black" lists. As Haaretz's Nati Tucker has written, "members of the club received glowing coverage, while enemies took fire or were ignored altogether." On the "white list," wrote Tucker, were senior politicians, regulators and businessmen who maintained warm relations with the group.
As MK Miki Rosenthal (Zionist Union), a former investigative reporter who worked for over a decade at Yedioth, put it, "Members of the white lists are the newspaper's darlings in that it's very rare that any negative information about them is published. All communication ministers Israel has had – outside of Netanyahu – enjoyed favorable treatment."
Ariel Sharon and his sons were vaunted members of this group. So was Yitzhak Rabin. So was current Defense Minister Avigdor Lieberman, former Foreign Minister Tzipi Livni and many more.
Although it's considered a centrist newspaper, Yedioth has also promoted some of Netanyahu's biggest rivals from the far right such as Naftali Bennett, Ayelet Shaked, and Lieberman.
"Yedioth Ahronoth has Knesset members who serve as functionaries," Rosenthal says. "There's no written agreement, but everyone knows on which side their bread is buttered."
Then there were the "black" lists; people who for whatever reason were considered enemies of the group. They sometimes received brutal treatment. In a recent Facebook post, Rosenthal wrote that memberas of the black lists (such as himself) were subjected to "vindictive" exposés, as he put it. Often they simply weren't covered.
"The newspaper uses its ability to publish, but maybe even more so, its ability not to publish, certain kinds of information – the newspaper as a tool for blackmail," says Tausig, whose site has documented Yedioth's diverse commercial and political interests since its inception. "Yedioth uses journalistic practices, both legitimate and illegitimate, not to get scoops but to fulfill the political and economic interests of its owner."
The last few years have been a turbulent time as a number of Israeli tycoons fell from grace, went to jail or went bankrupt following protests that led to reforms – particularly in telecommunications – and greater accountability. Yedioth, wrote Haaretz's Tucker and Amir Teig, rushed to the defense of tycoons, bankers and politicians charged with corruption, fraud or other crimes. This reflected the norms among members of Israel's ruling elite, they wrote.
Coddling Olmert
One of those figures was Nochi Dankner, once Israel's most powerful businessman, who has since gone bankrupt and been sentenced to two years in prison for fraud. Another was his cousin, Danny Dankner, a former chairman of Israel's largest bank now serving two years for bribery. Both Dankners were favorites of Yedioth, especially while Nochi was Israel's biggest advertiser.
The biggest beneficiary of Yedioth's graces, however, was Ehud Olmert. Israel's former prime minister is currently serving 19 months for fraud and breach of trust. When other newspapers, among them Israel Hayom, started covering the various Olmert corruption cases, Yedioth rushed to his defense. During his trial, the paper brutally attacked legal officials; its support of Olmert was so blatant that even the newspaper had to acknowledge it.
"I suppose there's a certain relation between Noni Mozes and Ehud Olmert. It's true that Yedioth was much more sympathetic to Olmert than any other newspaper; that's 100 percent true. On that issue, that was the [editorial] line," said the paper's most senior journalist, Nachum Barnea, in a 2012 interview with The Seventh Eye.
"You'd be hard-pressed to find one page in Yedioth that isn't related to some interest," Tausig adds. "It has consistently sided with preserving power in the hands of the few, and has always been resistant to any attempted reform."
Yedioth has repeatedly denied all of the claims above as the products of baseless smear campaigns.
The biggest enemy of Yedioth, by far, has been Netanyahu. Netanyahu and Mozes have been fighting each other since Netanyahu first became prime minister in 1996 – Netanyahu was seen as an outsider to Israel's political elite. But the acrimony really escalated after Israel Hayom appeared in 2007.
Ever since losing the 1999 election, Netanyahu wanted to create a right-wing counter to Yedioth's media monopoly that would let him set the public agenda instead of Mozes. He tried to accomplish this with the help of Israel Hayom, which he reportedly has been in constant contact with. But in that regard Israel Hayom didn't live up to expectations. As an agenda-setting media outlet it simply failed, Tausig says.
But in breaking the Yedioth media monopoly, Israel Hayom has been a rousing success. Israel Hayom has killed Yedioth's business model; the free daily charges significantly less for advertising space than its competitors. This severely harmed Yedioth's bottom line, contributing to a 60 percent decline in advertising rates, according to advertising-industry insiders quoted by Tucker. Compounded with the already-existing decline in print readership, this threatened not just Yedioth's finances but the power structure that sustained it.
At first, Yedioth didn't take the Adelson threat too seriously. But around 2009, when Israel Hayom geared up to launch a weekend edition, thereby threatening Yedioth's biggest revenue source, things reached a tipping point. This, as we now know, was the impetus behind the Mozes-Netanyahu talks. Mozes reportedly thought he had appeased Netanyahu and the threat of an Israel Hayom weekend edition had been averted.
But a few months later, the weekend edition was launched. Shortly thereafter, Knesset members initiated the so-called Israel Hayom bill, which would have made it illegal to distribute a newspaper for free.
The 2015 election reflected the worst of the Mozes-Netanyahu rivalry. In December 2014, Netnayahu called for an early election, which he won resoundingly three months later. Ostensibly the cause for the election was that then-Finance Minister Yair Lapid and then-Justice Minister Tzipi Livni (both Yedioth darlings) had undermined him.
The real reason, as Netanyahu himself has confirmed in a Facebook post, was the passing of the Israel Hayom bill in a preliminary vote. In a number of lengthy Facebook rants, Netanyahu made clear he considered Mozes his only rival.
In most countries, competition in the newspaper market is hardly a cause for breaking up a government. Thanks to the new revelations, we now know that Netanyahu was willing – at least tentatively – to support the bill, essentially giving up his strongest asset for positive coverage from Yedioth. That alone is telling of Yedioth's influence.
Whether the Netanyahu-Mozes tapes will lead to Netanyahu's end remains to be seen. Ezrahi, Navot, and Tausig all think it's unlikely. This story, however, goes beyond Bibi. The scandal, says Navot, lays bare a version of the political reality that's almost too cynical to believe. "It displays Israeli politics in an almost absurd light," he says.
According to Ezrahi, the real disturbing detail of the Bibi-Noni scandal is the fluidity of ideological positions. "The political elite has discovered that being right-wing empowers it," he says. "But the ideological positions between left and right are subservient to the logic of the will to power. If you could mobilize the public more easily by nationalism than by compassion to Palestinians, then the first one will take, and vice versa."
The big question, however, is what Israelis will do with this newfound knowledge of their political system. Ezrahi, Navot and Tausig are not optimistic. As Tausig puts it, "The Israeli press has become a gang war, and the Israelis are the residents of the bad neighborhood who keep getting hit by stray bullets."
Click the alert icon to follow topics:
ICYMI
Ken Burns' Brilliant 'The U.S. and the Holocaust' Has Only One Problem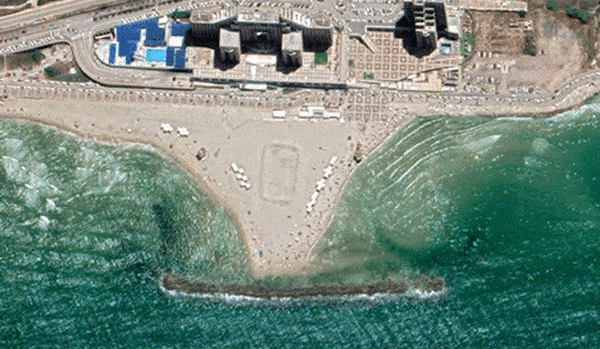 Facing Rapid Rise in Sea Levels, Israel Could Lose Large Parts of Its Coastline by 2050
As Israel Reins in Its Cyberarms Industry, an Ex-intel Officer Is Building a New Empire
How the Queen's Death Changes British Jewry's Most Distinctive Prayer
Chile Community Leaders 'Horrified' by Treatment of Israeli Envoy
Over 120 Countries, but Never Israel: Queen Elizabeth II's Unofficial Boycott