Despicable Terrorist? Bedouin Village in Israel's South Mourns a Beloved Teacher
No one in Umm al-Hiran believes Yakub Musa Abu al-Kiyan, a father of 13, intentionally ran over a police officer; residents remember his calls against violence: 'Let them demolish the house, only let no one be hurt.'
Residents look at the remains of homes demolished in the Bedouin village of Umm al-Hiran in southern Israel, January 25, 2017.
Credit: Alex Levac
Raba al-Kiyan wanders amid the ruins. She steps through them silently, alone, not uttering a sound. A woman in a traditional dress and a faded pink sweatshirt walking mutely on the desert sand among the remnants of her home, her gaze stricken and downcast. This is how she relives her last moments with Yakub, says her nephew, Akram, who is studying medicine in Moldova. Her sister, Shifa, relates that she woke up at 4 A.M. on Monday, the day we visited, and found her sitting next to the fire, forlorn.
Raba herself has hardly spoken since the tragedy that befell her last week. The signs of the shock are branded on her. She is mourning for her husband.
A few kilometers away, in the yard of a decorated stone house in the town of Hura, another woman, Amal, is also in mourning for her husband. She was married to Yakub Abu al-Kiyan's brother, who died a few years ago from illness; following an outrageous tradition, she immediately married Yakub and moved into her mother-in-law's home with him. In the yard, which is throbbing with women who have come to comfort her, Amal speaks in a whisper about the person who was her second husband.
Amal is an impressive, independent woman. She became a lecturer at Kaye Academic College for Education in Be'er Sheva by the age of 24. Her late first husband was the first Bedouin in Israel to obtain a Ph.D. in chemistry. She herself has a doctoral degree in education from Ben-Gurion University in Be'er Sheva. Her thesis was about teaching science and medicine, with an emphasis on how to teach people about the genetic implications of marriage between relatives in Bedouin society. With six children from her two husbands, Amal now heads the preschool teacher-training program for Bedouin community at Kaye College. She's 42; Yakub was 47.
'If you honk, you're not about to run people down.'

Salim Abu al-Kiyan
Last Tuesday, the day before he was killed, Yakub arrived at the house in Hura in the evening and told his mother and wife that an arrangement had been worked out for the family's houses in Umm al-Hiran that had been slated for demolition. "Don't worry," he told his mother, "we will soon sign." Others in the village said this week that they, too, had been under the impression that an agreement that would affect all the houses at the site was pending. They are now convinced that the authorities laid a trap for them, to lull them before the wrecking crews swept in. Amal also remembers that when work began on the new Jewish community of Hiran, which is slated to be established on the ruins of their village, Yakub told her, "We have to let them be. The workers are just doing their job."
On that last night of his life, Yakub left the house in Hura at 11 P.M. – his children were already sleeping – and returned to his house in Umm al-Hiran. He was shot to death the next morning before dawn by police officers who claimed that he deliberately ran over and killed their comrade-in-arms, Erez Levi. The minister of public security labeled Yakub a "terrorist" and the police commissioner branded him a "despicable terrorist."
No one in Umm al-Hiran believes that Yakub Abu al-Kiyan intended to run the policeman over. His sister-in-law, Shifa, saw him at the site putting his computer, television and a few more personal effects into his new Toyota jeep in order to save them from destruction, and then start to drive off, slowly. A person who protects his property is not about to ram people with his car, they told us when we came to pay a visit.
He drove along the sandy slope that starts at his house until the jeep stopped, where the police were standing – just a few dozen meters away. As he drove the police shot him, possibly before he hit anyone. Salim Abu al-Kiyan, Yakub's brother-in-law and one of the leaders of Umm al-Hiran, who hosted us in his home two-and-a-half years ago at the height of the struggle over the fate of the village, heard Yakub's horn honking nonstop. The horn may have sounded when he fell onto the steering wheel, wounded, or maybe he blew it deliberately. If you honk, you're not about to run people down, Salim says.
An oppressive sadness hung in the air over Umm al-Hiran this week. The body of the deceased had not yet been returned by the authorities for burial – that would happen only the next day – the ruins were heaped up like a monument, and in two large tents that were erected amid the eight demolished homes, the women and the men sat separately, grieving for Yakub and for their decimated village.
A young couple from Nazareth took blankets, hygienic products and cosmetics for the women's tent out of their small car. "It's the least we can do," the man said.
'What happened here is war. They came to kill. They wanted our children to wake up to the sound of shooting.'

Salim Abu al-Kiyan
Yakub's father, who is around 100 years old and lives in Umm al-Hiran, witnessed the demolitions and the killing of his son. Now he had been taken to a doctor. The mother, Sarah, who's about 80, sat at home in Hura and bemoaned her son's death. "Is it legal to kill like that?" she asked. Hussam, Yakub's son, who is studying medicine in Odessa, arrived in time for his father's funeral, which took place the following day, Tuesday. His brother, Nur, is a student at Sami Shamoon College of Engineering in Be'er Sheva.
The cashier in the gas-station convenience store at Hura Junction, Jihad Abu al-Riash, tells us about the mathematics teacher he admired. Yakub was Jihad's teacher at Yitzhak Rabin High School, from 10th to 12th grade. And even after he graduated, the math teacher helped him decide to study accountancy. In recent years, Yakub had taught at another school in Hura.
We're accompanied in Umm al-Hiran by activist Haya Noah, who has been assisting the Negev Bedouin devotedly in their struggles for many years. Everyone in the village is from the Kiyan family.
Salim, whose pink living room we visited last time we were here – his home hasn't yet been demolished – is overwrought.
"What happened here is a war," he says. "They came to kill. They wanted our children to wake up to the sound of shooting. After we paid with [the life of] Yakub, we have nothing left to lose. Our situation is no better situation than Yakub's. This is a time in which we are lost."
Salim and other local residents relate that they heard Yakub say that if his home were demolished, he would leave so as not to have to see the ruins, and that violence must on no account be used, for fear it would lead to further bloodshed. "'Let them demolish the house, only let no one be hurt.' Those were his words," Salim recalls. When hundreds of police raided the village around dawn, Salim called Yakub and suggested that he remove his new vehicle ("It was just unwrapped") so it wouldn't be damaged. That was their last conversation. Shortly afterward, Salim heard the gunshots.
He notes that as an Education Ministry employee, Yakub avoided being in the forefront of the struggle for the future of their village. "If I'd suspected anyone of planning to commit a terrorist act, I'd have suspected myself before him. The whole Negev will tell you that. And so will the teachers from the North and from the Triangle who knew him. We have simply lost him. I say to the police commissioner: You demolished the homes – that does not worry me. But to murder in cold blood someone whose absence we will all feel? To kill a policeman who also has a wife and children and a family and to blame it on us? And to call someone a 'despicable terrorist'? I say to you, commissioner, neither you nor I nor any cabinet minister is more deserving of respect than that man was."
Yakub had 13 children, 10 from Raba and three from Amal. After he married Raba, he went to Germany to study medicine but returned after a year.
At the edge of Umm al-Hiran, the authorities have put up a fence to hide construction work on the new town of Hiran, which will be established on the ruins of the 62-year-old Bedouin village. When we visited we were told the children didn't go to school this week in the wake of the shock, and because their schoolbags, textbooks and notebooks were crushed under the bulldozers together with all the rest of the property belonging to eight homes in the western section of the village. The residents weren't even allowed to save anything before their homes were razed.
"We share in the grief for the policeman who was killed and in his family's grief," says Yakub's sister-in-law, Akla, whose home was also destroyed. Her son, Akram, the med student in Moldova, adds, "I don't think there is any place I love more than this place, where I was born and raised."
In Hura, the widow, Amal, laments her loss. "I don't understand how we came to this," she says. "I never imagined that they would come to demolish and use live ammunition in order to kill. This isn't the first time they came for demolition. Sometimes violence breaks out after it happens – but from the first minute to start shooting with live ammunition? I have no explanation for that. I know Yakub told his mother: 'If the situation comes to the demolition of the house, I am leaving.'
"I want to tell the people of Israel to wake up," says Amal. "We don't want to reach a situation of being enemies. Our fate – like the fate of Yakub or the fate of the policeman – our fate is for us to live on the same soil, in the same land, and it is up to every government to sanctify human life."
Yakub liked sheep. He had a small pen – also now destroyed – where he bred them, next to his house in Umm al-Hiran. Yakub felt most comfortable with sheep, Amal says now. He liked their silence.
All her memories were buried at Umm al-Hiran: her wedding album and the photographs from the university ceremony at which she was awarded her doctoral degree and irreplaceable family pictures, memories of her life with the two brothers to whom she was married and both of whom are now dead.
ICYMI
Ken Burns' Brilliant 'The U.S. and the Holocaust' Has Only One Problem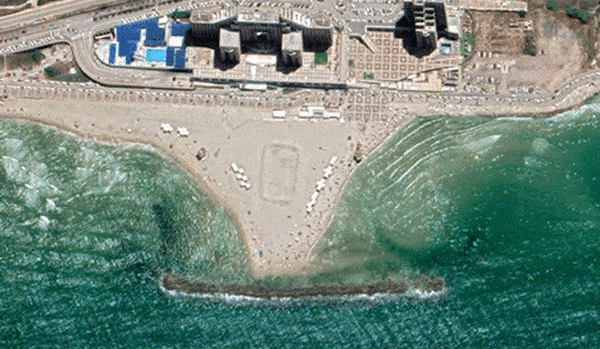 Facing Rapid Rise in Sea Levels, Israel Could Lose Large Parts of Its Coastline by 2050
As Israel Reins in Its Cyberarms Industry, an Ex-intel Officer Is Building a New Empire
How the Queen's Death Changes British Jewry's Most Distinctive Prayer
Chile Community Leaders 'Horrified' by Treatment of Israeli Envoy
Over 120 Countries, but Never Israel: Queen Elizabeth II's Unofficial Boycott