Citizen Mozes: The Shady Media Mogul Who Might Bring Netanyahu Down
Arnon Mozes' Yedioth Ahronoth gave positive coverage to the strongest players at the height of their power. If the media's function is to critique the powerful, Yedioth did the opposite.
Illustration: Prime Minister Benjamin Netanyahu and Yedioth Ahronoth publisher Noni Mozes loom over Israel's Knesset
Credit: Adi Emanuel
One after another they've gone down: Danny, Nochi, Eliezer and now Noni – these powers in the closed club of the Israeli rich and powerful. Banker Danny Dankner, his cousin Nochi Dankner, real estate baron Eliezer Fishman and now newspaper publisher Arnon Mozes – the smoke has cleared and the four have fallen.
Eight years ago, Nochi Dankner, Mozes and U.S. casino magnate Sheldon Adelson were put on the cover of TheMarkerWeek as the epitome of economic concentration in Israel.
Adelson was the newest figure to Israelis: Benjamin Netanyahu's new patron who poured hundreds of millions of dollars into a propaganda machine for the prime minister. There can be no other name for the free daily he launched, Israel Hayom, which doesn't especially strain itself to seem like a real newspaper. That freebie surpassed Mozes' paper Yedioth Ahronoth in circulation while braying the prime minister's messages to the people in hundreds of thousands of copies.
Eight years ago, Nochi Dankner was chairing IDB, then the biggest business group in the land; Danny Dankner chaired Bank Hapoalim. Together the cousins controlled about 400 billion shekels ($105 billion) worth of the public's money. Danny is now in prison for fraud and Nochi has been found guilty of manipulating shares. Both are bankrupt today.
Adelson isn't bankrupt, but he does have something in common with Nochi Dankner – Arnon Mozes.
Dankner gained control over vast sections of the economy, corrupted watchdogs, tapped banks owned by public shareholders for billions of shekels without adequate collateral, and made most of the business sector quake at the very thought of him. All this happened thanks to an alliance with Mozes. One protected the other: Mozes' media outlets protected Dankner and Dankner's companies protected Mozes' media outlets.
As for Adelson, Mozes is the reason he came to Israel. Adelson has no business interests in the country and doesn't particularly understand or like newspapers. To him, Israel Hayom is a political tool.
Netanyahu wanted to be prime minister. Mozes didn't want him to be prime minister. What else could Netanyahu do? With Mozes pulling the strings, his chance of being prime minister was remote.
As in Jurassic Park, if you want to take down a vicious velociraptor who has been weaving a network in the jungle for 20 years, you don't hire a butterfly. You hire a Tyrannosaurus rex. And one came – from Las Vegas: Sheldon Adelson.
Make no mistake, Yedioth's power isn't based on its circulation or its website Ynet, but on the system: There are enemies and there are friends. There are white lists and blacklists. There's no ideology, no occupied territories, no security or peace, no left or right, no Likud or Labor. Just power.
Mozes has stayed behind the scenes, never granting interviews, never writing. The hundreds of thousands of Israelis who read Yedioth don't know him or his ideals or values.
For years his only contacts were with a handful of senior editors and some correspondents, though in the last five years, as his newspaper's finances turned parlous and the threat to his power grew, he couldn't restrain himself and contacted editors directly. He simply handed down orders – add, truncate, raise, lower. No explanations were necessary.
Murdoch's method
Yedioth isn't Israel Hayom; its seams are sewn straight. Along with the manipulative power that promotes friends and destroys enemies, Yedioth always maintained serious quality journalism.
This was the Rupert Murdoch method; he didn't settle for owning one paper, he had a portfolio of them. One would offer sensation and terrorize politicians; another was serious and distinguished. Meanwhile, hundreds of journalists who worked at Yedioth over the years did honest work; some knew what was going on and stayed silent, but most didn't know.
Government's slimy ties with big money and big media are complicated. Economic interests change, and to keep track of the process is a full-time job.
That's what I do – I keep track of the Israeli capital market, regulation and politics, and the third pillar, the critical one: the media. I've been keeping an eye on the kind of journalism performed by Yedioth from the day I became a markets correspondent for Haaretz, which means for more than 25 years.
Quickly enough, I realized that Yedioth gave positive coverage to the strongest players when they were at the height of their power. If the media's function is to critique the powerful, Yedioth did roughly the opposite – it allied with them. In some cases, this was a flak jacket when bad things hit the fan.
I first noticed this in the early 1990s when the two most powerful businessmen in Israel were Itschak Shrem and Aharon Dovrat. Kings of the stock market, they were involved in both legal and illegal corruption. But all cases against them were dropped, and Yedioth was almost always there to defend them.
After Shrem and Dovrat came Benny Gaon, then Eliezer Fishman, then the Dankners, then Yitzhak Tshuva and many more. Yedioth was almost always on the side of the powerful and was rewarded for its pains.
In the last decade, TheMarker has run six campaigns: 1. To weaken the banks, introduce competition into the financial system and reduce conflicts of interest. 2. To open the mobile communications market to competition. 3. To get an economic concentration committee up and running. 4. To expose the corruption of the two Dankners at Bank Hapoalim and IDB. 5. To thwart a plan to rescue tottering tycoons using taxpayer money. 6. To gain a fare tax bite into Israel's natural resources, including natural gas.
We have had some successes in most of these campaigns, and in all six cases, the interests that Haaretz and Yedioth supported were categorical opposites.
Maybe it's a matter of a different worldview. Maybe at Yedioth they think that concentration in the banking industry, mobile communications and natural gas is a good thing. Maybe they think business pyramids are a good structure and Danny and Nochi Dankner really were great businessmen who should have remained at the top of Bank Hapoalim and IDB.
I don't buy it. I don't buy it not only because of the testimony we've heard from a long list of editors and businessmen. It's also because time after time I've seen that weeks or months after a tycoon or banker comes a cropper, Yedioth's editorial position on that person flips.
I don't buy it, because alongside protracted anti-Netanyahu campaigns in the last decade, Yedioth ran campaigns promoting Avigdor Lieberman, Naftali Bennett and Ayelet Shaked – precisely when they were posing competition to Netanyahu.
I don't buy it because it's hard to see an ideological line in Yedioth's editorial decisions other than supporting giant conglomerates and sweetheart politicians.
Corrupt Yedioth
But were there actually quid pro quo dealings? I'm sure there were. After 25 years I've become convinced that Yedioth is a dirty, corrupt organization that's a hazard to democracy. Don't make light of this, it has had a huge effect on Israel because of the influence on the public debate, regulation and politics of course.
That's my opinion. It's based on dozens of anecdotes, hundreds of articles, and dozens of events with politicians, regulators, tycoons and journalists who once worked at Yedioth, left and told me things. I especially appreciate the testimony of Gidi Weitz, who seven years ago had the guts to tell everything he'd witnessed to the courts, describing how Mozes and his editors coddled cronies and punished enemies. (Weitz now works for Haaretz.)
Thirty years ago Yedioth lent money to my employer, the Haaretz Group; in 2002 I wrote a column calling on the state comptroller to investigate the connection between Yedioth and Haaretz, which I called a danger to democracy. I think only Haaretz would have let me write that, in direct contrast with my publisher's interests.
Such freedom is rare, not only in Israel. And despite that loan, I was free to write about Mozes and his tycoon friends. Over the past decade, I've written dozens of articles about the corrupting practices of Mozes and his correspondents, but we never had a smoking gun. For good reason.
Twenty-five years of writing about the powerful has taught me that the more power a politician or whoever has, the more he can make other people, from his lawyers to legislators, do what he wants without leaving tracks, even if it's rotten. This isn't only because people cleave to power and avoid conflict, but because they accept the status quo unthinkingly.
Mozes had more clout than any other player in Israel for 30 years. Maybe for a few years the cousins Danny and Nochi were more powerful because together they controlled the biggest bank and biggest conglomerate in the land, but nobody was in competition with Mozes, during whose time Israel has had seven prime ministers.
And now we have a smoking gun – transcripts of phone conversations between Mozes and Netanyahu in which the publisher offers the prime minister a deal: You constrain competition against Yedioth and I'll do everything I can to keep you in the prime minister's chair.
The smoking gun
What was Mozes offering? He has only one service he can give the prime minister, an invaluable one: good press. He can also signal to rivals, both real and potential, not to even try.
How could Mozes make journalists and editors reverse from 20 years of attacking Netanyahu, albeit intermittently, as the worst prime minister in Israeli history? And don't forget the attacks on his wife as an insane woman who actually runs the country – like a dictatorship.
Maybe Mozes was offering goods he couldn't supply. Or Mozes sees no problem in this editorial line because Yedioth's culture is groomed for that sort of thing. Everything needed for a change in direction was there. The newsroom won't rebel; questions won't be asked. It's within the norm.
Anyway, whatever Mozes and Netanyahu discussed, nothing came of it. Maybe the conditions weren't ripe; maybe neither party thought the deal was sustainable over time. Maybe they were blowing smoke at each other to drag out time.
Clearly this behavior is still considered normal, as we learn by analyzing the responses (or lack thereof) by senior politicians. What have we heard from Yair Lapid, prime ministerial stuff in his own eyes? Or from his right-hand man, the former journalist Ofer Shelah? What have we heard from opposition leader Isaac Herzog, or from promising young Knesset members like Stav Shaffir? The list of MKs who should know better but stay mum, or mumble, is long.
Does the opposition not recognize the gravity of the event? Or the importance of the media? Well, they do know about the importance of the media. Politicians live on it more than the journalists do. But the opposition seems fixated on getting rid of Netanyahu, not fixing Israeli democracy and Mozes' stranglehold on Israelis' perception of reality.
In the opposition, only Zionist Union's Miki Rosenthal and Meretz's Zehava Galon have spoken up clearly – both have already been burned by Yedioth anyway. The rest still slaver for upbeat Yedioth coverage, which just goes to show how petrifying a news group can be where one person calls the shots and decides whom to punish and whom to reward without any moral or ideological compass, just his changing whims.
It's time to forge a new apolitical coalition, not left or right, not conservative or liberal. Rather, we need people from all walks of life who believe in freedom and who know there can be no freedom where the few control not only all the money and resources, but all the information and ideas – and mainly, the perception of reality.
Click the alert icon to follow topics:
ICYMI
Ken Burns' Brilliant 'The U.S. and the Holocaust' Has Only One Problem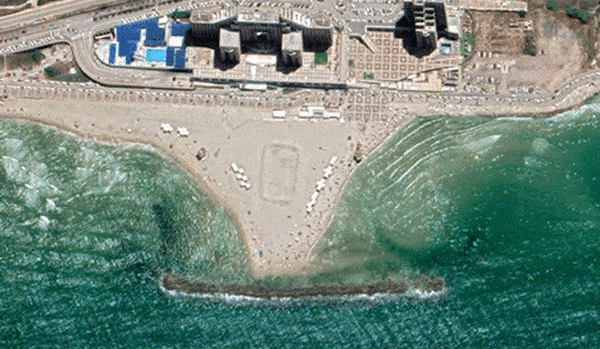 Facing Rapid Rise in Sea Levels, Israel Could Lose Large Parts of Its Coastline by 2050
As Israel Reins in Its Cyberarms Industry, an Ex-intel Officer Is Building a New Empire
How the Queen's Death Changes British Jewry's Most Distinctive Prayer
Chile Community Leaders 'Horrified' by Treatment of Israeli Envoy
Over 120 Countries, but Never Israel: Queen Elizabeth II's Unofficial Boycott