Unlikely Alliance: Why Israel's Secular Labor Party Woos the ultra-Orthodox
The Haredi world is changing, and new political initiatives are starting to emerge in this community.
An illustrative photo showing ultra-Orthodox Jewish men in the West Bank Jewish settlement of Modiin Illit.
Credit: Baz Ratner, Reuters
Labor has long struggled with the stigma of being the party of Israel's secular elites. Not quite as left as the smaller Meretz perhaps, but nonetheless, a problematic fit for strictly Orthodox voters.
Yet in recent months, thanks to an unprecedented and largely under-the-radar recruitment drive, several hundred ultra-Orthodox Israelis have signed up with the party. Not enough to sway election results one way or another, but a sufficient number to have doubled, if not tripled, the size of the existing ultra-Orthodox contingency in Israel's largest opposition party.
Celebrating the success of this effort, Labor – the party that ruled Israel for its first three decades of existence – voted two weeks ago to establish a new ultra-Orthodox, or Haredi, division charged with strengthening this newfound alliance.
An act of desperation by a party headed toward decimation? The polls would seem to suggest so. Indeed, were elections held today, the latest polls show that the once mighty Labor (now known as the Zionist Union, following a merger with the small Hatnuah party) would lose anywhere from half to two-thirds of the seats it holds in the current Knesset.
Yet surprisingly, the initiative did not arise within the party ranks but rather from outside – from within the ultra-Orthodox community, where a small but growing number of social activists have come to see in this particular party, strange as it may sound, a natural political home.
"Many of the issues that concern us are the bread and butter of a social democratic party like Labor," says Michal Zernowitski, one of the driving forces behind the new partnership.
"In our community, there are so many women who are exploited in the workplace and have no recourse. Our schools are in terrible condition, and youth at risk has become a growing problem. Many Haredi Jews fall between the cracks in Israel because issues like these are not addressed by their own political parties."
Although she is strictly observant, Zernowitski does not fit the classic ultra-Orthodox mold. Besides being an outspoken feminist and organized labor activist, this 36-year-old mother of four is employed full-time as a computer specialist at a high-tech startup in Tel Aviv. If her political mentor, MK Amir Peretz, has his way, she could become the first Haredi woman ever to run on the Labor party ticket.
"Politics run strong in my blood," she says, "but it took me a while to find myself the right political home." Five years ago, as she recounts, she met Peretz by chance, "and there was an immediate click." Since then, she has assisted him on a volunteer basis and is an active member of Labor.
Peretz, who recently announced plans to run for party chairman (a position he has already held), calls Zernowitski "a natural leader – a symbol of something very new and different going on in the Haredi world."
Because Labor is viewed with so much suspicion in the Haredi world, Zernowitski, who lives in the ultra-Orthodox community of Elad, did not speak publicly about her political affiliation for quite a few years – in fact not until she was outed in an article in her own local newspaper while running for city council. She had been running in a new all-women's list because the existing Haredi parties ban women.
The overwhelming majority of ultra-Orthodox Jews in Israel vote for Haredi parties. For ultra-Orthodox Ashkenazi voters, the party of choice is United Torah Judaism, and for ultra-Orthodox Mizrahi voters, the party of choice is Shas. Together, these two parties account for 13 of the 120 seats in the Knesset today. Zernowitski estimates that ultra-Orthodox Jews who don't vote for either of these parties potentially represent another two Knesset seats.
But even if she can ultimately convince another 1,000 ultra-Orthodox Israelis to join Labor, which is her long-term goal, Zernowitski understands that they are not the key to the party's salvation. So does Peretz.
"It's not that Haredi Jews are going to start coming out and voting for us in large numbers," he tells Haaretz. "But having Haredi members in the party gives us much more credibility with traditional voters from Israel's periphery because these ultra-Orthodox party members are proof that we don't, God forbid, have anything against religion. That's why I am so excited about this initiative."
Peretz has often claimed that as a Moroccan-born immigrant from Israel's geographic periphery, he has the ability to connect with populations long considered out of Labor's reach, including the ultra-Orthodox.
Similar values
And he is not the only big name in his party to derive hope from this unusual new partnership. MK Hilik Bar, secretary general of Labor, refers to it as a "breakthrough."
"Many ultra-Orthodox Israelis feel justifiably that they have lots in common with us and that the values championed by the Labor party are very relevant to them as well," he says.
Labor is not the first big party to reach out to the ultra-Orthodox community. Hoping to ride the wave of a rightward shift among ultra-Orthodox voters, Likud opened its own Haredi division almost a decade ago. But its message never appealed to Zernowitski and, it turns out, many like her.
"As I see it, Likud is the problem – not the solution," she says. "The things they stand for, like less government intervention and less regulation, are exactly the opposite of what the Haredi community needs."
Moreover, she notes, ultra-Orthodox Israelis care little about settlement expansion, a cause that has long galvanized the Israeli right wing, including much of the rest of the Orthodox world. "The Haredi rabbinical leaders of the past always supported exchanging land for peace," she says. "True, many ultra-Orthodox Jews live in the territories, but it's only because housing is very cheap out there."
Her tendency to view ultra-Orthodox Israelis as a largely dovish lot is not borne out empirically, though. In fact, the latest Israeli Democracy Institute 2016 survey, published last month, found that the ultra-Orthodox are among the most right-wing groups in Israeli society. According to the survey, 75 percent of Haredi Jews identify clearly on the right of the Israeli political spectrum, as opposed to 51 percent of the non-Haredi Jewish population.
Dr. Lee Cahaner, an IDI expert on Israel's ultra-Orthodox community, says that those ultra-Orthodox Jews who do not vote for Haredi parties vote overwhelmingly for parties on the right. Her findings are based on a separate survey she conducted of voting patterns in three prominent Haredi enclaves.
"I don't see the ultra-Orthodox moving to the left," she says, "but at the same time, I wouldn't be completely surprised if they were because there are some very new and interesting developments happening within this community."
Cahaner, who also heads the social sciences and humanities department at the Oranim Academic College, cites several factors behind growing Haredi engagement with Israeli society that could explain the hook-up with Labor. Cuts in government stipends to yeshiva students have forced many ultra-Orthodox Jews into the workforce, she notes, where some are receiving their first exposure ever to the non-Haredi world. In addition, she says, the Internet, in particular social media, has allowed ultra-Orthodox Jews to converse and express themselves as never before and explains many new civil society initiatives in this community.
Daniel Yativ, a 27-year-old father of two from Bnei Brak, is another prominent figure in the new Haredi-Labor alliance. The manager of a private school that offers courses in event planning and flower arranging, Yativ says many ultra-Orthodox Israelis like himself can no longer bring themselves to vote for the Haredi parties. "These parties do a lot for those who sit all day and learn in yeshivas but not for people like me who work," he says.
Why Labor though? "You don't have to be terribly intelligent to see that the country is headed in a bad direction, to put it mildly," he responds. "For those of us who believe that Israel should separate from the Palestinians, for those of us who believe in social justice and for those of us who believe in democracy, the Labor party is a natural home."
Another key activist is Pnina Pfeuffer, a divorced mother of two and founder of several Facebook groups that provide a voice to ultra-Orthodox leftists like herself. In pitching Labor to members of her community, Pfeuffer says she only approaches individuals known to be social activists and avoids those identified with the hard right.
Even then, it is not an easy sell. "It involves a lot of work, let me tell you," she sighs.
Click the alert icon to follow topics:
ICYMI
Ken Burns' Brilliant 'The U.S. and the Holocaust' Has Only One Problem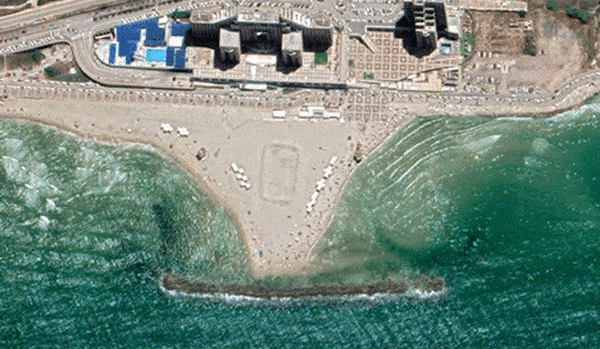 Facing Rapid Rise in Sea Levels, Israel Could Lose Large Parts of Its Coastline by 2050
As Israel Reins in Its Cyberarms Industry, an Ex-intel Officer Is Building a New Empire
How the Queen's Death Changes British Jewry's Most Distinctive Prayer
Chile Community Leaders 'Horrified' by Treatment of Israeli Envoy
Over 120 Countries, but Never Israel: Queen Elizabeth II's Unofficial Boycott