What Does Jason Greenblatt, Trump's Int'l Negotiator, Really Think About the Israeli-Palestinian Conflict?
Hint: Jason Greenblatt, Trump's special representative for international negotiations, is not a clone of David Friedman, the hardline Israel ambassador-designate.
Jason Dov Greenblatt, Donald Trump's top real estate lawyer and an Orthodox Jew, in a conference room at Trump world headquarters in Manhattan.
Credit: Uriel Heilman, JTA Photo Archive
When it came time to choose advisers on Israel during the election campaign, Donald Trump didn't have to look far: He appointed his two Orthodox Jewish lawyers. A week ago Friday, one of them, David Friedman, was tapped to become the next United States ambassador to Israel. This past Friday, the other lawyer, Jason Greenblatt, who also served as chief legal officer of the Trump Organization, was appointed special representative for international negotiations – a job that is expected to include Israeli-Palestinian peace talks.
>> Get all updates on Israel and the Trump administration: Download our App, sign up to Breaking News Alerts, and Subscribe >>
Although both are frequent visitors to Israel, neither of the two lawyers – both, incidentally, graduates of New York University Law School – has experience in foreign diplomacy. Friedman's area of expertise is bankruptcy, while Greenblatt's is real estate.
Friedman and Greenblatt hold many similar views on the Israeli-Palestinian conflict. They don't see Israeli settlements as an obstacle to peace and they don't think the United States, or any other foreign entity, should try to impose an agreement on Israel. As co-chairs of the Trump campaign team's Israel Advisory Committee, Friedman and Greenblatt put out a statement a few weeks before the election articulating their joint position.
But are the new ambassador and the new senior negotiator really of one mind on the issue of the Palestinian-Israeli conflict? Not entirely, it would seem. A closer look at some of Greenblatt's written and spoken statements reveals that he is not as dogmatic as Friedman and certainly far less abrasive.
Among the many objections raised about Friedman's appointment to the ambassadorial post were his vicious attacks on Jewish organizations with which he did not see eye-to-eye. Friedman famously likened supporters of J Street, the pro-Israeli anti-occupation group, to "kapos" (Jews who collaborated with the Nazis) and described the Anti-Defamation League, the largest American organization engaged in combating anti-Semitism, as a group of "morons."
Greenblatt, as a matter of principle, avoids such name-calling.
The differences are not only in style, but also in substance. Friedman is a strong supporter of the West Bank settlement of Beit El, and in particular, its yeshiva. He serves as president of American Friends of Beit El Institutions, an organization that raises about $2 million a year for this particular settlement, and he enjoys close ties with many of its residents. Trump himself made a $10,000 donation to Beit El in Friedman's honor.
Greenblatt is also connected to the settlement movement, though much less tightly and to a very different branch of it. In the 1980s, he attended Har Etzion Yeshiva in the Gush Etzion settlement of Alon Shvut. Among settlement yeshivas, Har Etzion is considered to be among the more moderate. It was founded by the late Yehuda Amital, a rabbi who ultimately came to support territorial compromise and a two-state solution. Amital was one of the founders of Meimad, a pro-peace religious party that eventually merged with Labor.
By contrast, the Beit El yeshiva is headed by Rabbi Zalman Melamed, a founder of the far-right political party Tkuma (today part of Habayit Hayehudi, a member of the governing coalition.) In 1995, following the Oslo agreement, Melamed was among a group of rabbis that declared the evacuation by soldiers of Israel Defense Forces bases in the occupied territories a violation of Jewish law. In 2005, he urged Israeli soldiers to resist orders to evacuate the Gush Katif settlements in the Gaza Strip.
Unlike Friedman, Greenblatt is not actively involved in fundraising for the settlement movement. Neither has he expressed as much disdain as Friedman for the notion of an independent Palestinian state. In the joint statement they issued while serving as co-chairs of Trump's Israel Advisory Committee, Friedman and Greenblatt wrote the following: "A two-state solution between Israel and the Palestinians appears impossible as long as the Palestinians are unwilling to renounce violence against Israel or recognize Israel's right to exist as a Jewish state." Yet, several days before the election, when questioned by a reporter for the Israeli Ynet news site about whether this meant the end of a Palestinian state, Greenblatt said: "It doesn't really say that."
In an interview with the Cleveland Jewish News in June, Greenblatt also denied reports that the two-state solution was dead.
"So it's not that the two-state solution has been rejected, but to try to impose a two-state solution on the parties doesn't make sense to him," he said, referring to Trump. "Nor does it make sense to the parties. Let's let the parties involved figure out what they want, and we'll be there to help them get there."
Back in April, when Trump held a meeting with members of the Jewish media in New York, he deferred to Greenblatt when asked how he would describe land under Israel's control located beyond its internationally recognized borders. Greenblatt said he would not use the term "occupied territory," but would have no problem with the term "settlements."
Many who live in the settlements would take issue with him, including Marc Zell, chairman of Republicans Overseas Israel. Zell, for example, has been known to chide reporters for using the term "settlements" rather than something more neutral like "communities." The fact that Greenblatt does not shy away from this terminology is revealing.
In an interview with the New Jersey Jewish Standard after he was appointed Trump's Israel adviser, Greenblatt proposed using money as an incentive to expedite negotiations between Israelis and Palestinians and definitely did not reject the notion of territorial compromise. "If you take out the emotional part of it and the historical part of it, it is a business transaction," he said. "Land is going to be negotiated, water rights are going to be negotiated, security issues are going to be negotiated. So you need to say to them, 'Listen, we want to discuss these two issues in this quarter, and then you'll get your check, and these two issues in this quarter, and then you'll get your check.'"
Greenblatt lives in Teaneck, New Jersey, with his wife Naomi, a psychiatrist, and their six children, including a set of triplets. He and his wife write a parenting blog called "Inspire Conversation," to which their children also contribute. They have also written a book about family travel to Israel.
Published last year, "Israel For Families: An Adventure in 12 Days" recommends a few settler-themed activities: a day in the Gush Etzion settlement bloc and a visit to Jerusalem's Gush Katif Museum. These recommendations, however, are not meant to promote settler movement, as the authors note, but rather, to spark conversation. As the Greenblatts write: "Settlements are an often controversial, but also integral, part of the story of Israel. A full understanding of the modern nation should include a discussion of Gaza and the West Bank and those who settled there, despite any personal feelings on the matter." It is worth noting that they use the term "West Bank" to refer to the area – rather than the "Judea and Samaria" preferred by the settlers.
In a column he published on the Medium website in September, Greenblatt expressed great admiration for a political figure long considered the nemesis of the Israeli right because of his outspoken support for a Palestinian state: Shimon Peres. On the occasion of the former president's funeral, Greenblatt lauded Peres as an individual "who worked tirelessly for peace with Israel's neighbors." He also showered praise on Palestinian President Mahmoud for attending the funeral "notwithstanding the heavy criticism he faces from some constituents for doing so."
"Respect not only in death but in life is the key to forging peace between Israelis and Palestinians," wrote the man who might not have been aware back then that this task would soon fall into his own hands. "I hope that the attendance today by Mahmoud Abbas shows a willingness by him to take meaningful steps towards peace."
Click the alert icon to follow topics:
ICYMI
Ken Burns' Brilliant 'The U.S. and the Holocaust' Has Only One Problem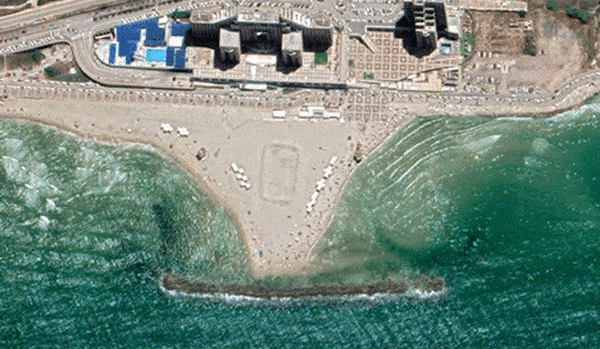 Facing Rapid Rise in Sea Levels, Israel Could Lose Large Parts of Its Coastline by 2050
As Israel Reins in Its Cyberarms Industry, an Ex-intel Officer Is Building a New Empire
How the Queen's Death Changes British Jewry's Most Distinctive Prayer
Chile Community Leaders 'Horrified' by Treatment of Israeli Envoy
Over 120 Countries, but Never Israel: Queen Elizabeth II's Unofficial Boycott