Analysis |
In Trump, Netanyahu Sees a Leader to Emulate
The Israeli prime minister is enthralled by Trump, talking about their joint tenure in almost messianic terms. Meanwhile, an initiative aimed at spurring an investigation of the premier in the submarine affair may actually help him more than it harms him.
Illustration.
Credit: Amos Biderman
With his eyes red and swollen from the flu, Prime Minister Benjamin Netanyahu appeared on the CBS program "60 Minutes" last week. Veteran interviewer Lesley Stahl said she found him to be "surprisingly optimistic," in part because of Donald Trump's election and the change Netanyahu hopes the new president will foment, both in policy and in the soured relations between the leaders of the two countries.
Netanyahu didn't look optimistic. He looked sick and out of sorts. Prime ministers don't have the privilege of burrowing under a blanket, binge-watching TV shows and pitying themselves.
Asked what he and Trump would talk about in their first meeting, the premier replied that he will ask the president to help him advance the two-state solution, with appropriate security arrangements. "I'd like to have President Trump, when he gets into the White House, help me work on that. I'd like to see if the Arab states can help me achieve that," Netanyahu told Stahl.
That remark seems surprising in content and peculiar in its timing. Trump has never expressed an interest in the two-state vision. The Republican Party removed the relevant clause from its platform. So why was Netanyahu in a rush to inform the American people and the president-elect that he wants to raise this topic at their meeting (along with annulling the nuclear agreement with Iran)?
The master of labyrinthine formulations and verbal evasion could have replied in a thousand different ways to the question of the empathetic interviewer. He could have said, for example, that he'd put forward ideas to promote the peace process or improve the lot of the Palestinians in the territories. Instead, he chose a message that sounded disconnected from reality.
As long as Barack Obama was president, it made sense for Netanyahu to keep up the pretense. And that message certainly would have been the one likely to be conveyed had Hillary Clinton been elected. But at present, spotlighting the two-state idea, which not even one major player in the international arena believes in anymore – especially in light of the fuss generated here by the plan to evacuate one illegal settler outpost – is puzzling.
One possible explanation is that Netanyahu is still concerned about a possible hostile move by Obama in the UN Security Council. He doesn't feel he's on firm ground with the outgoing president, and perhaps his two-state remark was aimed at him, as a preventive gesture. Or perhaps Netanyahu somehow found out that Trump intends to execute a U-turn with regard to the Middle East conflict. If so, it's best to flow with the new guy, soften him up ahead of the meeting, be seen as proactive.
Equally interesting is the silence of Israel's right wing. In other circumstances, a declaration by the prime minister that he intends to seek American assistance to advance establishment of a Palestinian state would have sent shockwaves through his coalition. But this time, nothing.
MK Bezalel Smotrich, of Habayit Hayehudi, tweeted something. The party's leader, Naftali Bennett, who doesn't miss an opportunity to challenge Netanyahu on the issue of a Palestinian state – and who on the day after the last election, declared that the subject was now permanently off the agenda – was silent. Either he doesn't take what the prime minister says seriously, or he was busy surveying the proposed new site for the Amona outpost's settlers.
I asked Bennett this week if his tongue had cleaved to the roof of his mouth. "It really is disappointing," he replied, referring to Netanyahu's remarks in the "60 Minutes" interview. "I have a deep disagreement with the prime minister on that subject. I intend to wield my political clout in the government in order to bring about an alternative agenda to a Palestinian state. The new era is creating quite a few opportunities for us. I intend to exploit it in a way that will bring about a completely opposite result to the establishment of a Palestinian state that Netanyahu is talking about."
I asked for details. Bennett, unusually, chose to make do with that vague promise. In this twilight-zone period between presidents and administrations, he too has decided that suppression is the better part of holler.
Anything he can do
"You're overrating the importance of the media," Netanyahu told his cabinet ministers recently. "Look at Trump – he conquered America with Twitter." Trump-Trump-Trump is what ministers and Netanyahu's advisers have been hearing since November 8. Our prime minister is in love. He's found a new superhero. His eyes glitter when he shares impressions from his meeting with Trump on the eve of the election. He talks about their impending joint tenures in their respective offices in almost messianic terms. "It sounds as if they shared a tent in the Unit," a minister who's tired of the Trump trumpeting said, referring to Sayeret Matkal, the elite commando unit Netanyahu served in.
What captivates the prime minister most of all about Trump is his approach to the established media and his trampling of every existing rule of political correctness. If the vulgar billionaire was elected without the support of any newspaper – apart from the mouthpiece of the Ku Klux Klan – maybe Netanyahu can get along even without the freebie Israel Hayom, whose diplomatic correspondent was thrown (metaphorically) out of the premier's plane for daring to wonder in a tweet about the increasing presence of the Lady in the official posts of the prime minister's Facebook account.
And if Trump paved his way to the White House while abusing, insulting and systematically inciting against leading press and electronic media outlets and journalists in the United States – what's an unrestrained, crass dig at Channel 10 and its investigative journalist Raviv Drucker, or a baseless rant against Ilana Dayan's "Fact" program on Channel 2?
On Sunday morning, after a family weekend, Netanyahu burst into the cabinet room and, like one possessed by a divine vision, announced to the ministers that the time had come to rule! "With Trump there are 4,000 appointments being made on a personal basis, and we need a few hundred appointments that don't go through tenders," he said. "Trump's officials will carry out his policy, and we need to be able to rule, too."
Space limitations preclude an analysis of the vast differences between America's system of checks and balances, and ours. The truth is, no one knows this subject better than Netanyahu. But he's in the thrall of Trump mania.
In his media briefings last summer, he spent hours describing his prodigious, incomprehensible achievements in the realms of economy/security/social affairs and whatnot, from his first term, in 1996, to the present. At no stage did he claim that the civil service was blocking his drive to make Israel a paradise on Earth. Suddenly, under the influence of Trump, Netanyahu's lamenting that he is "not able to rule." If only he were allowed to appoint a "few hundred" functionaries, cronies, pals and donors to key positions in the government, Israel would experience happy days, and its citizens, who on aggregate are the poorest in the West (according to the annual report of the National Insurance Institute), won't know what to do with all the riches that will befall them.
The sorrows of young Bennett
It took nine hours from the first report on Army Radio until the chairman of Habayit Hayehudi party found the time to voice an opinion about his Knesset colleague, who has been accused by eight women of harassment and sexual assault. If complaints are filed with the police and proven true, said party leader Naftali Bennett, Nissan Slomiansky can no longer serve as a Knesset member. In other words, we have to wait for an investigation, an indictment, a hearing, trial, appeal and final conviction, all in the distant future.
The forgiveness Bennett demonstrated towards MK Slomiansky holds no moral, educational or leadership message and the education minister may well regret it. Although he can't fire a Knesset member, he should have taken a cue from Knesset Speaker Yuli Edelstein and from his own party's Knesset faction head, MK Shuli Moalem-Refaeli, both of whom declared that in light of the number and scope of the complaints, believed to be true by three rabbis, Slomiansky should suspend himself, at least as head of the Constitution, Law and Justice Committee. Bennett's anemic attitude is puzzling. The silence of Justice Minister Ayelet Shaked is reprehensible.
This is a major embarrassment to a party that takes pride in its lofty values and is known for preaching morality to all and sundry. It comes on top of the slap in the face Bennett and Shaked received from Amona residents who rejected their painstakingly-devised plan for relocating their outpost. Two of six of its male MKs have become entangled in libido matters. That's one helluva critical mass. The first, Yinon Magal, resigned from the Knesset and from political life after being accused of harassment (though the case against him was closed due to lack of evidence). He also confessed and apologized.
Slomiansky, on the other hand, is entrenching himself. On Thursday night, after initially denying the allegations, he issued a sort of apology for anyone who may have been offended. He did not offer an explanation for the similar stories told by eight religious women. The longer he drags this out, the worse his party leader's distress will get.
It's no exaggeration to say that the events of this week likely made Bennett nostalgic for the grueling basic training of Sayeret Matkal. On Wednesday night he went to sleep with the humiliation inflicted on him by the dear 'bros in Amona, most of whom rejected the proposed plan for their quiet evacuation. The next day he awoke to a report on Army Radio that Slomiansky was the MK from Habayit Hayehudi who was being accused by a number of women of sexual harassment.
The party leader thus found himself facing two tumultuous fronts. The evacuation of the illegal settler outpost will likely be violent and grim, and hard for the national-religious public to swallow. And evacuating Slomiansky from his Knesset seat is also not going to be easy, at least according to his statement on Thursday morning.
In recent weeks, Bennett, party colleague and Justice Minister Ayelet Shaked, and no less than Prime Minister Netanyahu himself devoted many hours of discussion to coming up with an alternative that would satisfy the Amona settlers. Netanyahu coerced Attorney General Avichai Mendelblit to agree to a dodgy solution based on "absentees' property."
On the day before the meeting with the settlers, Bennett and Shaked said they were confident that the latest evacuation plan would be approved. The result was a slap in the face that showed their disconnect from the wild weeds that are springing up, under the auspices of Israel's governments, across the hills and valleys of the West Bank.
It's been a long time since we saw systemic governmental and political mobilization in favor of a group of lawbreakers who settled on someone else's land. Only in a government that has lost all shame and has discarded nonpartisan governance is this possible. The Amona settlers made the government and the defense establishment and the judicial system dance to their grating tune for a long time – only to spit in their face at the 11th hour. The government's pathetic behavior and self-inflicted humiliation reached new levels this week, when it waited expectantly for the offenders' response to the far-reaching plan that was presented to them. Late on Saturday, Netanyahu made the settlers a new offer, on which they are yet to vote.
As for Slomiansky, he claimed Thursday that his "warm and friendly behavior" was misconstrued by the women who submitted complaints about him to a committee of rabbis. He is behaving like someone from a long gone era, not realizing that the rules have changed. He'll understand soon enough.
Waiting game
If we ignore the ridiculous clip in which MK Erel Margalit (Labor/Zionist Union) and political activist Eldad Yaniv scream at viewers, it has to be admitted that the initiative to get people to sign a petition in favor of an investigation of Netanyahu concerning the German submarine affair is a worthy opposition move. This political act, aimed at moving Margalit closer to the party leadership and Yaniv closer to a Knesset seat, shows that there is still some life left on the left-wing benches, and not only with respect to issues like the length of the skirts worn by MKs' parliamentary assistants.
The affair of the submarines stinks to high heaven, but has already been largely forgotten. While the Margalit-Yaniv initiative got good media coverage here, the foreign media outlets devoted even more time and space to it. The story is being taken seriously in the international community.
In Israel, the case of the submarines has taken its place on the stack of "Netanyahu affairs" that are being "examined" by the country's flaccid law-enforcement system. That system is headed by an attorney general who lost no time this week ordering a criminal investigation of an art student who created a tasteless poster showing Netanyahu looking gloomily at a threatening hangman's noose. The ludicrous "investigation," which lasted a quarter of an hour and concluded that there were no grounds for criminal indictment, nevertheless serves as another brick in the wall of silencing of opinion and running roughshod over freedom of expression that the Netanyahu years have inflicted on us.
While the submarines petition should benefit its two sponsors politically, however, it doesn't necessarily hurt its target. On the contrary, it may just play into Netanyahu's hands.
Netanyahu's declared, official and effectively exclusive enemy today – and most likely in the next election – is "the media and the left," who are supposedly persecuting him, bad-mouthing him and, God forbid, trying to topple him. The Margalit-Yaniv gimmick is fuel for his campaign. If a formal investigation is launched in the future, rest assured he will accuse the attorney general of yielding to the left and the media, of subordinating his professional judgment to their political pressure.
"People here are dealing with trivialities. Recycled bottles and garden furniture [a reference to possible improprieties at the Netanyahus' households] – that's nonsense. I am not going to chase after any prime minister for traveling at someone else's expense. That doesn't interest me," Margalit told me this week, fortunately in a tone of voice that didn't threaten to split my eardrums.
"In this affair," he said, "I have no doubt that the state was taken for a ride. I spotted it a while back in the Mimran affair [referring to the French millionaire whose name was linked with that of Netanyahu's personal lawyer, David Shimron]. It stank already then. I also have no doubt that Netanyahu knew every detail about the submarine deal. As for Shimron's involvement, either Netanyahu knew or those around him are twisting him around their little finger. That's what I want to investigate."
I asked Margalit whether he would want decisions to be made on the basis of petitions and not evidence. "No," he admitted, "at the legal level it makes no difference how many people sign. Justice [Menachem] Mazuz said recently that he's discerned signs of laxity in the law enforcement system. We want to wake up the nation. As long as there's no official investigation, Netanyahu and Shimron can coordinate testimonies under their lawyer-client relationship. We sent a letter of caution to the attorney general. If he doesn't order an investigation within two weeks, we will petition the High Court of Justice and add all the signatories to it."
Earlier this week, Margalit told Army Radio that Labor/Zionist Union leader MK Isaac Herzog "is not relevant, he's not opposition, he's coalition in waiting." Herzog retorted: "You don't buy leadership with arrogance and disdain. You can buy movies and advisers, but not people's opinions. We'll see in the election who's relevant."
I asked Margalit if he'd tried to get Herzog to take public action on the submarines issue. "I spoke to him privately," he replied. "I explained to him what's going on, who's profiting, why a certain agent was fired and replaced with a different agent. I have an eye for business transactions. I told him that the whole party has to pursue this. I understood from him that as long as his case isn't closed [a criminal investigation related to suspicions he received illegal campaign contributions during the 2013 Labor primary], he doesn't feel comfortable going after Bibi."
Does Margalit really believe that Herzog is still waiting for Netanyahu to invite him into the government? "I have no doubt of it," Margalit said. "A ministerial post will allow him to survive. In the present situation, he will not survive – politically."
I put it to Margalit that Herzog has proved he has capabilities. Margalit guffawed. "Bougie has an advantage," he said, using Herzog's nickname, "which is that people aren't aggressive toward him. Other than me, or [Zionist Union MK] Shelly Yacimovich here and there. But he isn't going to last, because he's proved he isn't capable of being a national leader."
I reminded him that he had supported Herzog in the last internal election in Labor. "I had high regard for him, I thought he would succeed, that we could work together," Margalit said. "I hoped he would move the camp forward. But he doesn't move anything, he's only burying the camp."
ICYMI
Ken Burns' Brilliant 'The U.S. and the Holocaust' Has Only One Problem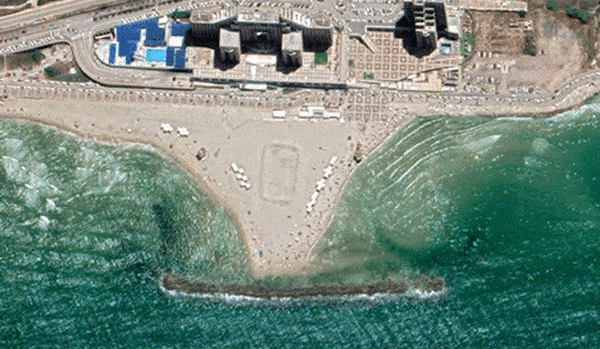 Facing Rapid Rise in Sea Levels, Israel Could Lose Large Parts of Its Coastline by 2050
As Israel Reins in Its Cyberarms Industry, an Ex-intel Officer Is Building a New Empire
How the Queen's Death Changes British Jewry's Most Distinctive Prayer
Chile Community Leaders 'Horrified' by Treatment of Israeli Envoy
Over 120 Countries, but Never Israel: Queen Elizabeth II's Unofficial Boycott