The Israeli Saving South Sudanese Children Deported by His Country
Rami Gudovitch watched hundreds of refugee kids ripped away from the only home they knew - Israel - as they were deported to war-torn South Sudan in 2012. He has since dedicated his life to rescuing those he could from jails and battlegrounds and providing them with education in Uganda.
Children in the Come True project, at the Uganda school.
Credit: Rami Gudovitch
Talking to: Dr. Rami Gudovitch, 47, philosophy lecturer, program director of the Come True project of the Become nonprofit organization; lives in Tel Aviv. Where: A coffee shop in Tel Aviv. When: Tuesday, noon.
In the past few years, your life has been devoted to raising funds to finance schooling for the children of South Sudanese refugees who grew up here in Israel and were deported in 2012 to their [then-newly established] home country, South Sudan.
Yes. Everything is done on a volunteer basis. Attorney Lea Miller Forshtat and I codirect the project, Come True, and have succeeded, through much effort and the support of private donors – without foundations or large organizations, with only the help of hundreds of wonderful Israelis who've opened up their hearts – to send 136 children who grew up in Israel and were deported to South Sudan to study at a good boarding school in Uganda.
If we set aside for a moment the irony of this [i.e., in light of Herzl's proposal at the 1903 Zionist Congress to settle Jews in Uganda] – why Uganda, of all places?
It's very simple. In South Sudan there is nothing you could even legitimately call an "education system." Lea traveled there [by herself] to get a grasp of what is really happening on the ground. We sat down together with the deportees, and they explained that there is no horizon, education-wise, for children in South Sudan. They had to send them to Uganda, where there is a well-established education system.
A young girl in South Sudan has a better chance of dying from pregnancy complications than of completing seventh grade.
Let's go back to the beginning. How did this story evolve? After all, you have a doctorate in philosophy.
It began almost by accident. In 2007, I completed my doctorate in the United States and my wife and I returned to Israel. We rented an apartment in South Tel Aviv and she started teaching art at Bialik Rogozin [a local elementary school], at two after-school programs for the children of foreign workers and asylum seekers. That's how our connection was made with the children.
But when summer came and school vacation began, we saw that these children were simply walking around the streets. They were lost, with nothing to do, and their parents were engaged in their own struggles for survival. We began to arrange informal activities at Levinsky Park in Tel Aviv, and that's how we eventually met the parents. These were Eritrean families, South Sudanese families, and refugees from Darfur [Sudan].
I found their stories compelling. I began to learn why they had come here, and what was happening in Sudan and South Sudan. I learned about the massacre in Mustafa Mahmoud park [in Cairo, in 2005, when Egyptian security forces opened fire on a protest camp of Sudanese refugees, killing and injuring dozens] in Egypt, in the aftermath of which many of them arrived in Israel.
When they realized that I was interested, more and more people came up and told me their stories. I heard firsthand testimonies about the torture camps in Sinai long before they were publicized in the media. People simply came up and showed me their scars and wounds. And then they told me things like, "My little brother is still there [in Sinai]; they want $6,000 in ransom money to free him. Maybe you can help?"
The turning point came in 2011, once South Sudan declared its independence.
Yes. I was very concerned that this would be a pretext for the State of Israel to deport the Sudanese families to South Sudan. From what I knew and had learned about the place, I understood that it was hell, particularly for families with children. South Sudan became an independent state, but it was and remains one of the most backward countries in the world. There is no infrastructure, no education, welfare or health system. There aren't even basic sanitary conditions. This is the reality that awaited them.
Israel [has] deported a total of about 1,000 people, about half of them children. There's nothing there. The UN's World Food Program has defined South Sudan as being at serious risk of famine. A study by the World Bank described it as having the weakest school system in the world. Think about it: Out of all the countries in the world, in terms of infrastructure you can sum up its situation in a single word – nothing. In addition, malaria, typhus and cholera are running wild there.
One of every seven children does not live to age 5. A young girl in South Sudan has a better chance of dying from pregnancy complications than of completing seventh grade.
The country was certainly not ready, not by any means, to absorb the refugees that returned. And that's even before the outbreak of the violent civil war.
There are cautious estimates that since the establishment of South Sudan, nearly 200,000 people have been killed in this internal conflict.
Were you a witness to their deportation from Tel Aviv?
Very much so. [In 2012] I was in the home of a family when the authorities came to expel them – a mother whose entire family was murdered in front of her eyes before she fled, and a father who fought against the regime of [Sudanese President] Omar al-Bashir, and who had been incarcerated and tortured in prison. This was the first family in Tel Aviv that the Interior Ministry decided to take to prison, together with their children, so that the others would see them and be seen by them. I was at their house when the police came to take them, along with their children – including their little girl, who was then 2 years old. Today, they are scattered: the mother is in Egypt with the little ones, the father is in South Sudan, and three other children are with us in the project [at the school in Uganda]. They spent 22 days in jail until they signed the documents [stating that they agreed to deportation], and then they left.
You saw the neighborhood [in Tel Aviv] as it was being emptied.
Bus after bus. A week or two after the expulsion, I started getting phone calls from South Sudan, from the children. "I have malaria. The medicine isn't helping, what should I do?" And "Rami, there isn't even a school here."
These are kids who grew up and went to school in Israel. These are kids who would go to the beach, who dressed up in costumes on Purim, who ate falafel and ice cream at McDonald's.
It wasn't long before the only thing they talked about was food. "We're hungry, there's no food and we haven't eaten in three days." "Rami, maybe you can send us potatoes." Phone calls from children whose vitality I had seen, whose strength I knew. And suddenly they don't have a voice, they don't have the strength to talk, because they are hungry.
Conversations in Hebrew, of course.
Obviously. Fluent Hebrew. These are kids who grew up and went to school in Israel. Israel, which was the first country to ever accept them, is the place they identify as their home. These are kids who would go to the beach, who dressed up in costumes on Purim, who ate falafel and ice cream at McDonald's. Their friends are Israelis. They'd watched Israeli TV shows, listened to Israeli music. This is their childhood.
By contrast, they didn't know South Sudan at all. They weren't even born there.
They didn't have the slightest idea where they were going. I don't think the children who were in their classes with them here in Israel, year after year – who played with them, studied with them, argued with them and laughed with them – can even imagine the life into which they have now been hurled. These kids, who grew up in apartments, even if they were at times modest and crowded, found themselves in mud huts without a roof. No school, no flowing water, no food.
How did the locals receive them?
Very poorly. We're talking about people struggling for survival – and all of a sudden other people arrive, with different norms of behavior, who are competing with them for the little that there is.
Girls telephoned me and cried that they'd been sent to bring water from the well with a pitcher on their heads. They didn't even know there were such things. And suddenly, on the way to the well, they were attacked. Stones were thrown at them because they were wearing pants.
Also, the locals are absolutely against the boys and girls who studied together in Israel talking with one another and getting together; it is considered inappropriate behavior. As a general rule, these children are different. They have opinions, they express criticism, and they know how to stand up for themselves. That sort of behavior is simply unheard of there.
Where do you even start when coming to help them?
These children are different. They have opinions, they express criticism, and they know how to stand up for themselves. That sort of behavior is simply unheard of in South Sudan.
It was clear to me that I would move heaven and earth for these children. To me, this is a continuation of my work with the group of children I'd come to know, and whose lives had now become a living hell. They'd become children who don't have a chance, don't have a horizon. We're trying to give them the right to dream once more of their life. Not even necessarily a good life, just a life. Something that has change in it, development, that gives a return on the investment. The saddest thing is that we don't always succeed. For all sorts of reasons. But the children with whom we are working mustn't fail, because if they do, it isn't that they'll have to opt for a less ambitious path: If they fail, they will be pulled into the void – no future, no present, nothing.
There is one girl with whom I've seen since 2008 in an after-school program in Tel Aviv. I helped her learn how to read, how to write, how to be a storyteller. At the beginning, she only knew how to draw – but in her drawings she described a life story that we cannot even begin to imagine. Today, she is in another place. Her family, like the families of many other refugees, were on a desperate journey to find something to eat. In the country in which she is now living, the chances of her being able to resume her studies in a school setting are nil. It's hard, because I started the project out of a profound belief that my yardstick for fulfilling this vision was to accompany this girl along a path of her choosing, to be a writer or a painter, to realize her immense talent. But I came to realize that the reality is that not all of us are born equal. Having a dream or having talent isn't everything. It is extremely hard for me to internalize this insight and move on.
It is difficult to deal with that.
My role is particularly upsetting, because my main job [these days, due to a lack of funding] is not managing the educational project: My primary role is to tell the children and their parents – meaning, the parents of the hundreds of children who have not yet returned to school since their deportation from Israel: "We do not have a scholarship for you. We have no way to help you. We are sorry. Call again in another month, in another year."
And they call, and they call again [from South Sudan], and eventually you stop answering, because you can't stand these conversations. Often I find out, too late, that I might have actually been able to help somehow. That they called because they had been robbed or someone became sick and they did not have money for a doctor, but we do not always answer the calls from these people. Even from the children. That's the bad taste that remains in my mouth before I fall asleep. Not the taste of all the things that did happen thanks to the project, but [thoughts] of those who didn't get anything, who like animals in a cage are sitting and waiting for something that will probably never come. You become their dream. And it is so unfair – all this power you have simply because you were born with better luck, with different citizenship than theirs.
I have no words.
There is one youngster, actually no longer a youngster, he's now 20. As with many others, we've haven't been able to get a scholarship for him to continue his schooling, and when the [civil] war broke out he fled with his brothers to the Kakuma refugee camp in Kenya. I'm talking about a well-spoken young man who studied at a top boarding school in the Negev, where he graduated with honors. And for what? To be stuck in a refugee camp in Kenya.
Last year, he called me and was absolutely hysterical. He told me he had played soccer with kids in the camp and lost his wallet. A few Somalian youths found the wallet, which contained his Israeli resident visa. It turned out they were fans of an extremist Muslim Somalian team, and from that moment on they started looking for him and for his family in order to murder them. He and a brother escaped, and telephoned me from a mountainous region where they were in hiding. I tried to move heaven and earth until I finally found the UN person responsible for the safety of [refugee] children in Kenya. With the help of the wonderful people who enlisted to help them, their lives were saved. For now. But we still don't have anything to offer them. They have been sentenced to a life without any prospects, in one of the largest and saddest refugee camps in the world. He continues to telephone me, I simply don't have any way to help him.
In December 2013, the civil war in South Sudan broke out. The Dinka and Nuer tribes were once again fighting one another.
One day, at 5 A.M. I received a phone call from one of the girls involved in our project, who had gone home to South Sudan on vacation from the boarding school in Uganda. She was shouting: "Rami, they are shooting at us, what should I do?" We started making phone calls, and realized that war had broken out. In the meantime, increasingly more children were calling. I tried to locate additional kids; the situation was completely insane. Some of them had fled to a nearby refugee camp, but then armed assailants entered the camp and began massacring the refugees. We raised money for a rescue mission and with the help of extremely courageous representatives from the community [that is, refugees who had lived in Israel and were deported to South Sudan], we simply went from house to house there and gathered up the children in order to smuggle them out.
Just so that we can imagine the magnitude of what was happening – this war, which supposedly ended with a treaty in August 2015, caused a situation in which approximately 2 million people, about half of them children, were displaced. There has been severe starvation and outbreaks of epidemics. How many members of the community who were deported from Israel lost their lives after returning to South Sudan?
Over 60, many of them children. And that is, of course, a partial list that is certainly not final. The majority died of diseases. A few were killed in the fighting itself. I think that one of the high points, in terms of the value of our activity there, was when a brother and sister – two amazing children whom I've known since 2008 – escaped on their own from the battles taking place in the heart of a forest, in a region in which a massacre took place. A region in which there was nonstop warfare, with government forces taking over and perpetuating murders, and alternating with the rebels taking over. People were hunted down; there is no other word for it. They were murdered and raped, and anyone who could be was drafted into the army.
That was the [2014] massacre in Bentiu. And from the outset these children have been at high risk, because they are seen as foreigners to both sides.
Yes. We didn't hear from them for weeks. We turned over every stone, in cooperation with their incredible priest, who was himself hiding in a refugee camp with the murderers on his trail. The international aid forces didn't dare to get close to the region. We got hold of the telephone numbers of residents in the village next to where the massacre occurred – a village whose residents were nearly all murdered or had fled. They helped us. During the lulls between shooting, they went into the forest and searched for them [the two children]. About two weeks later, all of a sudden the children appeared at the home of some relatives. I spoke with them; it was the most emotional conversation I've ever had in my life. And then they again heard gunfire and fled to the forest. Another two weeks of nightmare. All alone in the forest, stepping over corpses. Without water. Without food. The fighters would urinate in the puddles so that if someone was nevertheless hiding in the forest, he wouldn't have anything to drink. By means of an impossible route, we managed to get them out of there.
I flew to Kampala to meet them. I can't even describe that encounter. We went to a restaurant and the girl says to me, "Rami, I want to tell you something." And then she simply said to me, "Thank you." I think it was the first time in my life that I understood the meaning of the word.
No Israeli, as furious as he may be about the Africans and about the refugees here, would want to stand in front of a starving child and look him in the eyes.
This whole operation was waged from your apartment in Tel Aviv. The basic functioning of the organization essentially depends on a network of people in the field, refugees who were here in Israel and were then deported.
Yes. Incredible, truly courageous people. Anyone who is reading these words and thinking, "Wow, I take off my hat to him," should understand that the real credit goes to them. People who are prepared to endanger themselves and their families and everything they have so as to extend a hand, to put their own lives at risk over and over again, for the children of other people, for the community, for a slightly more optimistic future that their country might have. People who want to speak with passion about the greatness of the human spirit should focus on the right place: on these people.
These are people that you met here, in Israel? Can you name their names?
I don't want to. It could put them at great risk.
The situation there is dangerous right now. And that's the norm.
Very much so. Not long ago some people in the street heard someone who was talking with me on the phone. They grabbed her solely because she was speaking Hebrew. But just then, some bombing began and luckily she managed to escape. Everyone there is paranoid about who is against them or who is for them. Someone who belongs to our community and speaks Hebrew or in a foreign accent is in danger. There is very severe starvation now in Juba, the capital city. There has been a serious outbreak of cholera. And a wave of violence directed at women. I have the feeling that the state is now totally collapsing. Many people who remained behind during other periods of conflict are now leaving. Anyone who can do so, and has a little money, is fleeing.
This is a difficult and depressing conversation. Partly because there are people who will read this and say that you're just a bleeding-heart liberal, and that this isn't "our" problem – that the poor of our own city should take precedence [as per a talmudic dictum].
I'm no bleeding-heart liberal. I don't think that the refugees are good and those in favor of their deportation are bad. I have met refugees who are not good people. I understand the distress and confusion of Israeli citizens and politicians in face of the refugee crisis, but I think the time has come to restore it to its proper proportions. Today, given the reality in which we are living, we should take upon ourselves this part in tikkun olam (repairing the world) and we should pay our dues – because we ourselves are former refugees, because we are human beings – and assist the asylum seekers who are still living here to find their place in Israeli society.
As you know, the wind is not blowing in that direction. If it's blowing at all, it's in the opposite direction.
That is specifically why, due to all I've seen in the past few years, that I would like to say [to the authorities]: Don't deport more people who will be left without work and without education for their children, who will starve and suffer, and perhaps also lose their lives. We can and should offer a constructive and humane response to the refugees. It's true that there is the alternative, the other solution, which may be worth a few extra seats in an election. But when you see the meaning of that solution in the field, it is too hard to bear. A starving child who has no idea when and from where his next meal will come. Nobody, as furious as he may be about the Africans and about the refugees here, would want to stand in front of this child and look him in the eyes.
ICYMI
Ken Burns' Brilliant 'The U.S. and the Holocaust' Has Only One Problem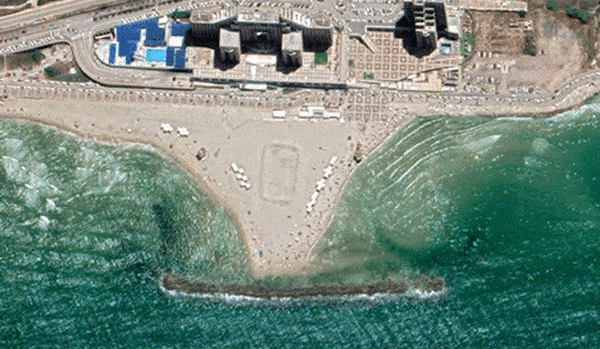 Facing Rapid Rise in Sea Levels, Israel Could Lose Large Parts of Its Coastline by 2050
As Israel Reins in Its Cyberarms Industry, an Ex-intel Officer Is Building a New Empire
How the Queen's Death Changes British Jewry's Most Distinctive Prayer
Chile Community Leaders 'Horrified' by Treatment of Israeli Envoy
Over 120 Countries, but Never Israel: Queen Elizabeth II's Unofficial Boycott