The Palestinian Professor Who Took Students on Auschwitz Trip and Paid a Heavy Price
After leading a group of Palestinian students on a visit to the Nazi death camp, Prof. Mohammed Dajani Daoudi received death threats and moved to the United States. A perpetual exile who refuses to see himself as a refugee, he explains why education has the power to breach the cycle of violence.
Prof. Mohammed Dajani Daoudi.
Credit: Natan Dvir
WASHINGTON, D.C. — The various stamps in the Jordanian passport and Israeli laissez-passer of the Palestinian scholar Prof. Mohammed Dajani Daoudi are a veritable Rosetta Stone for deciphering the hieroglyphics of the Israeli-Palestinian conflict. His life has been marked by wandering and political exile: initially in Jerusalem and Lebanon, and afterward in Syria, England, the United States (Michigan, South Carolina, Texas), Jordan, Jerusalem again, and in the past year or more, following another outburst of violence, in Washington, D.C. Yet when this Palestinian peace activist is asked whether he considers himself a refugee, he answers with a resounding no.
"I want to tell you a story," he says in English, attired in suit and tie, when we meet in the lobby of the elegant Washington apartment building where he's living. "In 1948, my grandfather was forced to leave West Jerusalem for East Jerusalem." Sometime after that, while he was in his store in the Old City, Dajani's grandmother heard from a neighbor that UNRWA, the United Nations refugee agency, was distributing "refugee certificates" to East Jerusalem residents. She immediately obtained certificates for the whole family, so they would be eligible for food rations and aid packages.
Dajani maintains that, because the Israeli-Palestinian conflict is between two conflicting narratives, the only way to resolve it is to make each side walk in the other's shoes.
Dajani's grandfather was furious when he got home from work and saw the packages. He then tore the certificates to shreds. "We have self-respect, we are not refugees, we will rebuild the business," he said. For him, says the grandson, being classified as a refugee meant being dependent on someone else. And the moral of the story for Dajani is that the refugee condition is a state of consciousness. Technically, he observes, he has been forced time and again throughout his life to leave his home and property and live in different countries, "but I never called myself a refugee and I never felt like a refugee."
In 1993, when he returned to Israel after years of living in the United States, his father wanted to take him to Jerusalem's German Colony neighborhood to show him the house in which he'd been born. However, he refused adamantly. His father told him, "If you don't want to do it for yourself, do it for history." To which Dajani says he replied, "I believe that the past is like a museum: It's a place to visit, but the moment you leave, you have to look to the future, not the past."
Nevertheless, to understand why Dajani found himself again leaving Israel under tragic circumstances in 2015, it's necessary to return to his fraught past. He was born in Jerusalem's German Colony in 1946 to one of the city's wealthiest and most privileged families. When he was 2, Israel's War of Independence erupted, and he and his family — his parents, sister and two brothers and other relatives — fled to Egypt and afterward to Jordanian-ruled East Jerusalem. He attended Quaker schools in Jerusalem and then went onto the American University in Beirut, where he joined Fatah, which advocated an armed struggle against the "Zionist enemy" to liberate Palestine.
In 1975, Dajani was deported from Lebanon for his activity as head of the Fatah student organization; at the same time, he was barred from returning to either Jordan or Israel. He managed to obtain an Algerian passport and went to England, and from there to the United States, until his father persuaded Jordan's King Hussein to grant him amnesty. In 1990, he returned to Jordan and subsequently to Jerusalem.
As part of his effort to shift the emphasis to the future, Dajani — who was scheduled to speak at the Van Leer Jerusalem Institute on Tursday in a culture festival session about "alternative realities" — maintains vehemently that, because the Israeli-Palestinian conflict is ultimately one between two conflicting narratives, the only way to resolve it is to make each of the sides walk in the other's shoes. In 2007, he and his brother, Munther Dajani Daoudi, cofounded Wasatia ("moderation" or "the middle way" in Arabic), an organization for promotion of nonviolence and compromise. Through it, he has published more than 20 articles and books on issues such as the need to teach the Holocaust in the Palestinian education system and on the Palestinian struggle for the right of return.
His calls for conciliation and dialogue through the study of history were not greeted with enthusiasm, but did not prevent him from obtaining senior posts at Al-Quds University in Jerusalem.
In the spring of 2014, however, a radical change of climate occurred after Dajani organized the first-ever visit by Palestinian students to Auschwitz and other death-camp sites in Poland. Shortly after the visit that March, a report in Arabic on a Palestinian news site claimed, mistakenly, that the trip had been funded by Israeli universities and Zionist organizations. Dajani was branded a "traitor" and subjected to death threats. In April 2014, he resigned from the university; the following January, his car was set ablaze.
When did you come up with the idea of taking Palestinian students to Auschwitz?
"In 2012, I was invited by a French organization to visit Auschwitz. That was an eye-opening experience for me. We were invited to go with over 150 religious leaders. It was in February and it was extremely cold, and that helped us to see how the prisoners there were living under extremely harsh conditions. It was an educational experience. My impression of the Holocaust, like that of other Arabs, was framed in terms of denial, or that the Holocaust was exploited to create Israel and generate sympathy for Israel. There was a very strong link [in our minds] between the Nakba [the Palestinian term for the establishment of the State of Israel] and the Holocaust, and at that time we felt that the Holocaust issue was an exaggerated narrative by Israel."
Having grown up in East Jerusalem and attended university in Beirut, when did you first hear the term "Holocaust"? Was the subject part of your curriculum?
"It was not part of my education and not part of my schooling. It was more hearing it in the public arena, in the political discourse. The first time I heard about the Holocaust was at the American University in Beirut, and that, written in Arabic, was the denial narrative. My encounter with the term 'Holocaust' was that it didn't happen or was part of the atrocities of World War II, but not something that was uniquely Jewish or aimed at the annihilation of the Jews. Eventually, I coauthored a book about the Holocaust in Arabic, because I couldn't find a text that documented it in terms of what really happened. We felt we had to fill that gap."
In recent years, Dajani has devoted most of his time to promoting the study of the Holocaust within Palestinian society. In March 2011, even before his first visit to the camps, he and the Jewish-American historian Robert Satloff published a joint op-ed piece in The New York Times, titled, "Why Palestinians should learn about the Holocaust." The article explained why it was necessary to introduce the subject into the curriculum of the United Nations schools in the Gaza Strip. "Without discussing the Holocaust, discussing genocide is meaningless," the authors wrote.
'I thought there would be controversy, but not on the scale of what happened.'
These efforts reached a peak in March 2014, when Dajani took 27 Palestinian students on an educational visit to Auschwitz as part of a long-term cooperative project between Wasatia, Friedrich Schiller University Jena, in Germany, and Ben-Gurion University of the Negev. (The visit was funded by the German university, Dajani notes, and not by Israeli organizations or institutions of higher learning.) The visit was the high point of a broader project intended to advance conciliation and coexistence, called "Hearts of Flesh Not Stone," in which Israeli students also visited the Deheisheh refugee camp near Bethlehem.
Dajani was well aware, he says, that he was breaking a major taboo in Palestinian society, and that the visit might spark criticism. Nonetheless, he did not foresee the intensity of the adverse reaction.
When you first came up with the idea, it must have crossed your mind that some people would be resistant.
"I was told openly. When we were preparing for the trip and discussing it in class and recruiting students to go, I received an email from the president of Al-Quds University in which he said he had heard rumors that I was taking my students to Auschwitz to learn about the Holocaust. 'If these rumors are true, I would like to ask you to inform the students that it's not part of the university program and that you are doing it on your own and do not represent the university.' I wrote him back that we had already informed the students it was not part of the university [program], but that it is educational and that it is the purpose behind it."
But did you imagine that your life would be threatened and your car set on fire?
"No, not to that extreme. One of my students who was going told me he had a message for me from certain people: We should not go, because 'If you do, the reaction against you personally will be very negative once you return.' I thought people would be critical and there would be controversy, but not on the scale of what happened.
"There was a lot of incitement. For example, the day before we came back, when we were still in Auschwitz, Haaretz published a report on the visit, which was translated online by a Palestinian newspaper in a way that misrepresented the events. They were not honest in their translation of the Haaretz article, which said it was funded by a German university. The Arabic article stated that it was funded by Zionists and sponsored by two Israeli universities. That made it sound like a propaganda trip.
"There was a huge attack on me personally and against the students. The teachers federation at Al-Quds University expelled me and canceled my membership in the federation. And then the student unions on campus issued a statement claiming that the visit was aimed at normalization [of Palestinian relations with Israel]; they titled their communique: 'Normalization equals treason.' Students demonstrated on campus and came to my office and left me life-threatening messages."
Did any of the students who went on the trip encounter similar reactions?
"The students got no backlash, because people did not know who they were. They remained anonymous. I felt that the university was not supporting me. It was shocking. That's why I thought that if I tendered my resignation [giving them a wake-up call], they would reject it. So I submitted my resignation, stating that I could not work in the present hostile academic environment and that the university's academic freedom was under threat."
In April 2014, Dajani was summoned to a meeting with the university's outgoing president, Prof. Sari Nusseibeh, and his successor, Prof. Imad Abu Kishek.
'Palestinians tend to feel that if you learn about the Holocaust, it's as though you are acknowledging the narrative of the other. They do not want to acknowledge the Israeli narrative, because they feel it would undermine the Palestinian narrative.'
"They asked me why I had submitted my resignation and I explained the situation that had developed. President Nusseibeh said he had been informed that there was a threat to my life if I came to the campus and said he would provide security for me on campus but not outside. They told me to inform the university's security unit whenever I was coming. I found that unacceptable." Dajani had hoped the university would expel the students who had threatened him, instead of forcing him to protect himself, but the students remained. "I was hoping they would reject my resignation and thus send the message that they were not against the trip. However, a few days later, I received a letter from the university stating they had accepted my resignation," Dajani adds.
That was not the end of the affair, though. A few months after his well-publicized resignation, he posted a call on the Wasatia site for Palestinian students to sign up for another Auschwitz visit. In the wake of that, his car — which was parked outside his house in Jerusalem — was set alight. Dajani maintains it was an assassination attempt that went wrong. He also says Al-Quds University continued to hound him, even after he moved to the United States.
"When I came to the United States last year, the university sent me a warning that I was spoiling their fundraising by giving them a negative image. They said they would sue me. I informed them that if they sued me, I would sue them for what happened to me. I felt they incited against me — not necessarily the administration but the student unions, for which the university is responsible. So there is some responsibility that falls on them. They did not stop the students. They did nothing to put an end to it, as they could have done."
In an email correspondence with Haaretz, Al-Quds University's former president, Nusseibeh, rejected Dajani's allegations: "It is a great pity Prof. Mohammed wishes to implicate the university in his unfortunate affair. His trip to visit Auschwitz was organized as an independent initiative by a separate organization he led. We had no problem with that, of course. When he returned, students on campus who found out about it wrote aggressive leaflets against him. He thereby tendered his resignation. I met him, together with Prof. Imad Abu Kishek, to ask him to withdraw his resignation, as we very much wished him to stay at the university. We also assured him we would do everything in our power to make sure he would come to no harm. We offered him private security guards, and we also spoke with student factions and received assurances they did not intend to go beyond having written those leaflets.
"However, he refused," Nusseibeh continued. "We assumed he simply did not wish to continue teaching with us. Later, we read in various news reports that he had wanted us to refuse his resignation, as this, he believed, would be a sign that we stood by him. He could have told us there and then during that meeting that this was what he wanted. In any case, the university has had an exceptional record in supporting the positions of professors like him, and indeed in supporting him as an individual, even beyond his retirement year.
"I am personally very upset with the way he seems to have tried to exploit this affair at the expense of the university, which did so much for him over the years and which offered him assistance and support, and insisted to him that we wished him to continue being affiliated with us. I told him that the best way to react to the criticisms and threats was to stand up to them, as many others before him have done, and continue to do."
Notwithstanding Nusseibeh's claims of support, Dajani continues to talk about the affair in a tone of disappointment and indignation. The resistance to his visit to Poland reflects broader currents in Palestinian society, he says.
"There are many reasons for that resistance," he explains. "Educationally, there is deep ignorance about what happened in the Holocaust. Politically, attempts to research the Holocaust are seen as being aimed at normalizing the occupation. Another reason is religious. After the second intifada, there was much anti-Jewish teaching in Islamic studies; the Koran was taught from an anti-Jewish perspective. Many verses in the Koran were misinterpreted as anti-Jewish. That is why people believe the denial narrative and don't care to learn about the Holocaust. And psychologically, people tend to feel that if you learn about the Holocaust, it's as though you are acknowledging the narrative of the other — and they don't want that. They do not want to acknowledge the Israeli narrative, because they feel it would undermine the Palestinian narrative."
After all these responses, are you planning to organize another visit to the remnants of the Nazi death camps in Poland?
"We are hoping and thinking about organizing a second trip. But I don't want any details about it published."
Unmediated encounter
The price Dajani is willing to pay to promote conciliation and coexistence is particularly surprising in light of his personal history. He was active in Fatah during his twenties, and organized anti-American and anti-Zionist demonstrations in Beirut. His personal volte face is a living example of how an unmediated encounter with the other is the best solution for breaching the cycle of violence and rebuffing enmity and anger.
He was first exposed to anti-Israeli and anti-American activity, and joined Fatah, at the American University of Beirut in the late 1960s. "It was a national feeling," he says about his reasons for joining. "We felt we needed to liberate our country, our homeland. Fatah at the time seemed to be the national liberation movement that was popular. I think I liked their ideology because at the time they were calling for nonintervention in the affairs of Arab countries, and it was a national movement that drew a distinction between Zionism and Judaism. There were many things that appealed to me, but basically it was their call for the liberation of Palestine."
In 1967, he says, he underwent military training in southern Lebanon and in Syria, though he never took part in military actions. "Because I spoke English well, I got more involved in political affairs and in publishing newspapers, books and articles, pamphlets and posters, and so forth, in Beirut. I was in charge of that."
He remained in Fatah until 1975, but left for a variety of reasons. "Possibly I was too idealistic, and when you're idealistic and see what's actually going on, you may not like it. There was a great deal of nepotism and corruption, there was much intervention in Arab affairs. They wanted control of Jordan and then Lebanon, to create a state within a state. I saw that a confrontation with the Lebanese government was coming, and I didn't approve of that."
'Driving my father to an Israeli hospital for treatment opened my eyes to the humanity in the other. It helped me to see Israelis not as soldiers or as manning a checkpoint, but as therapists or doctors. It was a different perspective.'
In addition, he looked askance at Palestinian leader Yasser Arafat's style: "I felt he was authoritarian and too centralistic. What was most important for him was to have power for himself at any cost."
How is it that an ardent opponent of the United States finds himself living there for more than a decade?
"I was expelled from Lebanon and couldn't go back to Israel, so I went to Britain to study. After a year there I went to the United States, where I entered the master's program at Eastern Michigan University and then did a PhD at the University of South Carolina and a second PhD at the University of Texas in Austin. It was a choice between a Green Card marriage or a wedding with academe, because I had to renew my visa and residency. I never married."
In time, his attitude toward the United States underwent a sea change – the prelude to a similar transformation regarding Israel. In 1990, after years of concerted efforts, Dajani's father was able to take advantage of his ties with Jordan's King Hussein to obtain an amnesty for his son. Dajani moved to Amman, where he established a political science department in a private university. In 1993, after he had spent two decades in political exile, Israel, too, agreed to allow him to return to Jerusalem in a family unification program.
Dajani: "When I went back to Israel in 1993, my father had cancer and was getting chemotherapy at Hadassah Medical Center in Ein Karem, Jerusalem. He took me with him to drive him home after the treatments. It was a totally new experience for me. The doctors and nurses there did not treat him as an Arab or a Palestinian or a Muslim, but as a patient. I noticed there were other Palestinians receiving medical care there. It opened my eyes to the humanity in the other. That was very important for me: It helped me to see Israelis not as soldiers or as manning a checkpoint, but as therapists or doctors. It was a different perspective."
You have been trying for years to further ideas of moderation and coexistence, but in the meantime the situation is only deteriorating. Where does your optimism come from?
"This situation is exactly the reason why we should put more effort into reconciliation. When you are in a crisis, you have to make a greater effort to get out of it. The enmity prevalent today only means we have to try harder to move away from hatred, toward peace and empathy and coexistence. The solution is to study history but not focus on the past. You have your narrative, I have mine. Yours might clash with mine, but in order to move on, you respect my narrative and I respect yours. We don't need to fight over these narratives. We need to look toward the future. Let the past be the past, let us see how we can coexist together."
Are you referring to the binational state solution or the two-state solution?
"I believe in the two-state solution. I believe it is not dead: that the Jews for their national aspirations want a Jewish state and the Palestinians for their national aspirations want a Palestinian state, and that we can bring about a two-state solution. From there we can continue to work and cooperate on certain issues, like security and trade. I think the creation of a Palestinian state and the end of the occupation will undermine extremism, because extremism thrives on conflict and occupation. Much of what is happening in terms of hatred and enmity is related to the occupation. Once that ends, once people can trade and travel freely, and just be free, I think there will be no reason for violence or terrorism."
There are two major approaches in regard to pressuring Israel to end the occupation: violent resistance or economic sanctions, such as boycott, divestment and sanctions. Do you support either approach?
'Netanyahu has to ask himself how he wants history to remember him. Will he be a footnote, or a leader who strives to foment true change?'
"I don't support the use of violence, I don't support BDS and I don't support anti-normalization. I believe we need to empower the peacemakers within the Palestinian and Israeli societies. We cannot empower them by boycotting them or by not having joint projects with them or not working with them, and that's why I don't support BDS or anti-normalization — what we need is more dialogue. I'm not saying dialogue will end the occupation, but I do believe that if the Israelis don't think that the Palestinians want to kill them or throw them into the sea or utilize a Palestinian state to ruin Israel, then that might help people support the end of the occupation."
Rhetorically, you are careful to assign symmetry to the two sides. But many will argue that it's impossible to equate the occupier with the occupied.
"If we consider military capability, or technological and economic capacity, there is no doubt that Israel is the strong side in the conflict. But those aspects are of less interest to me. I am talking about symmetry in psychological and human terms. A parent who loses a child is a parent who loses a child, no matter his national or religious affiliation. But I agree with you that because Israel is militarily superior, it's incumbent on Israel to take practical steps toward a peace agreement. That is the historical role of [Prime Minister Benjamin] Netanyahu. I'd hoped that he would want to enter the pages of history as a peacemaker, like [Yitzhak] Rabin and [Menachem] Begin. He has to ask himself how he wants history to remember him. Will he be a footnote, or a leader who strives to foment a true change, like Rabin?"
In a peace treaty, would you support the Palestinians' right of return?
"I believe that the right of return is a sacred principle, but agreement can be reached on the way it will be implemented in practice. I don't believe the forecasts that, if Israel recognizes the right of return in a peace treaty, millions of Palestinians now living in exile will flood Israel and demand to live there. The Palestinians now living in Europe and the United States have no interest in being a minority in Israel. And those living as refugees in Syria and Jordan will want to move to the new Palestinian state, not to Israel. So the recognition will be largely symbolic."
Returning to Jerusalem (again)
After about a year in the United States, Dajani now lives in a densely furnished one-bedroom apartment, in a handsomely appointed building that's a five-minute drive from the White House and Washington's mall, lined with museums and historic monuments. Like the city he lives in, his small apartment is crammed with historical items, including an elegant chessboard, a bookshelf of volumes in English and Arabic ("I don't speak or understand Hebrew, unfortunately") and, surprisingly, a jar filled with Hanukkah chocolate coins.
Still, the apartment exudes a sense of temporariness, as though its resident had just recently moved in. And, in fact, Dajani will soon be packing again and returning to Jerusalem. Asked if he fears for his life, he takes a deep breath and says, "No, I'm not afraid. As Muslims, we always believe in what God plans for us, in destiny. I resigned from the university and I don't think they will take me anyway. But I am working with Friedrich Schiller University on a PhD program in reconciliation. I have an agreement with them to have Palestinian students study for two years in Palestine for their degree and in the third year go to Germany, to Jena, to complete the degree and get a diploma from them. We don't have funding yet, but we are hoping to raise funds."
Why did you decide to go back?
"I was a fellow in the Washington Institute [for Near East Studies] until June. And now that my fellowship is ending, I'm planning to go back to Jerusalem in November when my visa expires," he says drily, as though vanquished by bureaucracy.
Click the alert icon to follow topics:
ICYMI
Ken Burns' Brilliant 'The U.S. and the Holocaust' Has Only One Problem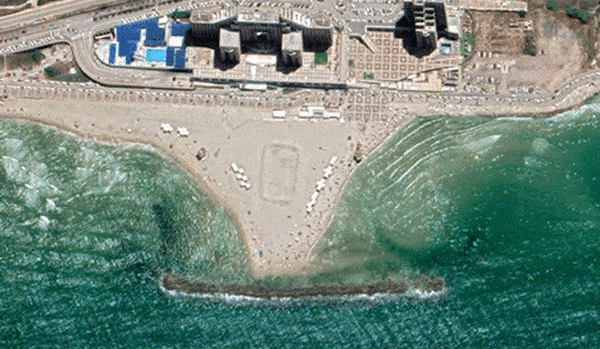 Facing Rapid Rise in Sea Levels, Israel Could Lose Large Parts of Its Coastline by 2050
Lapid to Haaretz: 'I Have Learned to Respect the Left'
The Mossad's Fateful 48 Hours Before the Yom Kippur War
As Israel Reins in Its Cyberarms Industry, an Ex-intel Officer Is Building a New Empire
How the Queen's Death Changes British Jewry's Most Distinctive Prayer