Commuter Aliyah: Living in Israel, Working in France
Israeli researcher of French immigrants says he discovered a wave of immigration unlike any other - meet the Boeing aliyah: Jews who moved to Israel but work in France.
French olim enjoying a seaside cafe in Tel Aviv.
Credit: Nir Kafri
Dr. Yitzhak Dahan's Bar-Ilan University doctoral dissertation about French immigration to Israel is the only comprehensive study of its kind on the subject of aliyah from France. He has also studied Jews from North African countries Algeria, Tunisia and Morocco who chose to emigrate to the West, particularly to France but also to Canada.
A considerable proportion of France's pre-war Ashkenazi Jewish population was killed in the Holocaust, and Jews from North Africa now constitute a majority of French Jewry. Thirty to 50 years after their arrival in France, Dahan deems their integration into French society a success from every standpoint. "They have been successful in the media, in art, in academe, in law" and other professional fields, he notes, adding that until not long ago, 80 percent of the worshippers at the synagogue in the eastern French city of Strasbourg were doctors. "You go to hospitals in France and a considerable number of the department heads are Jewish and it's also the same with dentistry."
Their success, he said, was less pronounced in business, but there are a few French Jewish business people of North African origin, such as Patrick Drahi, who controls Hot, the Israeli cable television service provider, and Michael Golan, who founded the cellular service firm Golan Telecom, who have also made their mark in Israel.
Asked how the fate of North African Jews who went to France compares with those who emigrated directly to Israel, Dahan said there was a major study of families who split up, with some going to France and others to Israel. From a professional and economic standpoint, those who went to the West, to France and Canada, achieved greater success, he says.
Easier in France
Their integration into France was eased by knowledge of French and the French system, Dahan notes. "An Algerian Jew who was a mailman or a teacher arrived in France and obtained the same job, including a pension and social security, making it a rather smooth transition," he said, adding that the generous social and educational benefits in France also provided a receptive setting.
And in Israel?
Israel had just been established, he replied, and, referring to a relatively isolated Negev desert town, added: "And they were sent to Yeruham instead of Paris. The disparities have begun to shrink over the years, but in Israel we have simply skipped a generation or a generation and a half."
When challenged over his claim of shrinking disparities, when French immigrants to Israel may have three apartments in Paris and one in Tel Aviv while North African immigrants to Israel still may not be able to afford a home, Dahan replies: "That's not accurate. There are also immigrants who settled in Ashdod in the 1960s, for example, and they own apartments. The disparities are not so great, and not all French Jews live in the prestigious 16th Arrondissement [of Paris]."
Are there also poor Jews there?
"In small numbers, but there are. Maybe one of the reasons that aliyah from France is expected to be down by 20 percent this year is that we have already reached the weaker segment that wants to move to Israel. The strong segment that can and wants to invest is already coming – the middle class, the ones who have bought up half of the Tel Aviv seafront promenade, like Laurent Levy, who has 60 apartments in the center of Jerusalem."
Who is this guy?
"He's a brilliant and successful 45-year-old Jew who controls an optical company. He has also opened two branches in Israel."
Motivations
Overall, are they making aliyah out of Zionist or economic considerations?
"You can say that their motivations for immigrating to Israel are mostly religious-Zionist and include thinking about education for their children. There are of course also family ties and a love of the beach."
What about anti-Semitism and a fear of violence?
"Yes, there is also anti-Semitism and the growth of the Muslim population. France currently has 8 million Muslims. Every terrorist attack against Jews sparks a wave of aliyah. The attack in Toulouse in 2012, in which a teacher and three children were killed, was one of the first factors prompting shock and a rethinking in the community. People began to ask themselves if this was where they belong. So, true, personal safety is one parameter, but we have a community that is prepared to lower its standard of living to provide a Jewish education and to live in a Jewish community. The major terrorist attack that took place in July in Nice, where the target was not Jews but rather France, actually hurt the desire to make aliyah."
What does France as a country say? Is it bothered by Jews leaving? After the terrorist attack at the [Hyper Cacher] Jewish grocery in 2015, we heard [Prime Minister] Benjamin Netanyahu invite the Jews to immigrate to Israel.
"We saw that French Prime Minister Manuel Valls wasn't comfortable with what Netanyahu said and [Valls] repeated the famous phrase, 'France without Jews is not France.' So to maintain their personal safety, every Jewish school is a military fortress. There is a guard post outside and inside. From that standpoint, France is doing everything to protect its Jews, who play a central role in the economy. And Jews also don't want to come because they are forced to by factors such as anti-Semitism. They say: 'We simply want to make aliyah.'"
So why did they suddenly discover Israel?
"Their connection to Israel didn't just begin now. Instead of flying to Tunisia on vacation for half the price, they have been coming here. Even currently, 80,000 French people flood the beaches of Tel Aviv all year round," Dahan notes, adding that French Jews also want to invest in Israel. "It's different from any other immigration. You don't immigrate to Israel to improve your economic situation."
Do they lower their standard of living?
"Absolutely and sometimes they also fly back and forth for work. Are you familiar with the concept of Boeing aliyah? You've moved to Israel but you don't have a source of income so you fly to France on Sundays and return on Thursdays. At Ben-Gurion Airport there are flights full of people like that." Referring to a Tel Aviv suburb, Dahan says: "A considerable portion of the immigrants who live in Ra'anana work in France, such as the dentist who flies every week to work at his office and comes back on weekends."
Effect on family
Is that a problem?
"Yes. It generates income but it harms Israel. It creates problems for couples. The children feel an absence because the mother is there but the father isn't. The problem is that the Israeli economy hasn't sufficiently opened up to this aliyah, so in addition to the Boeing phenomenon, when they work here, it's usually in an independent setting that they set up. They intended to integrate into Israeli society, but ultimately they live near one another."
And there are also French Jewish immigrants to North America.
"Yes, like other French people, they also go to Los Angeles, Miami and Montreal. Three hundred French-Jewish families recently arrived in Montreal, and we need to ask ourselves if we are doing enough to absorb them."
How hard is it for them to find work in Israel?
"Yes, a significant proportion have a hard time finding employment in Israel since some of the professional [qualifications] for which they are trained and licensed for in France, such as medicine and nursing, are not accepted in Israel. They get less than what they are worth here. In Israel, there are 1,000 [French] doctors who studied for free [in France] and Israel got them all prepared. Twenty-five percent of the dentists in Jerusalem are French."
Enclaves
Residentially, they are concentrated mostly in Netanya and Ashdod.
"Yes, but the nature of the population is different. In Netanya, most are retirees, primarily originally from Tunisia, who prefer downtown Netanya."
And Ashdod?
"In the past, a relatively weak population from the standpoint of social capital went to Ashdod. Apartments there were cheaper 20 to 25 years ago, but now we're beginning to see people leave Netanya and Ashdod. It's one of the major changes in 2016. There is a group of 200 immigrant families in Hadera and in Netanya, there are those leaving the center of the city for more distant neighborhoods, mostly young people." Also, Dahan noted, there are French immigrants moving to West Bank settlements, including 150 families who live in Eli.
There is the claim that they have pushed up real estate prices in Israel.
"They have invested a lot, but I can't say how much. In Neveh Tzedek [in Tel Aviv] there are entire buildings with them, but clearly not all of them have the money to buy a home in Tel Aviv or Jerusalem."
North African pride
What else did you discover in your research?
"That to a great extent, French aliyah has restored North African heritage. It's a fascinating phenomenon. In Netanya, they established synagogues not simply for Jews from Algeria but for people specifically from the city of Constantine or Oran. That means that on one hand, they have French culture, and on the other hand, they have preserved North African culture better than the Jews who came to Israel in the 1950s and 1960s."
The early waves of immigrants to Israel from North Africa were not only pressured to become Israeli and leave the religious world behind, but also encouraged to give up their North African heritage, Dahan said. "And it's interesting," he noted, that it's actually those coming from the West, meaning France, who are reestablishing the traditions of Jews from Morocco, Algeria and Tunisia in Israel."
Click the alert icon to follow topics:
ICYMI
Ken Burns' Brilliant 'The U.S. and the Holocaust' Has Only One Problem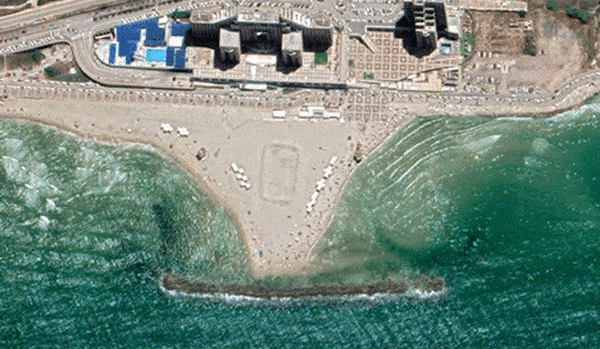 Facing Rapid Rise in Sea Levels, Israel Could Lose Large Parts of Its Coastline by 2050
Lapid to Haaretz: 'I Have Learned to Respect the Left'
The Mossad's Fateful 48 Hours Before the Yom Kippur War
As Israel Reins in Its Cyberarms Industry, an Ex-intel Officer Is Building a New Empire
How the Queen's Death Changes British Jewry's Most Distinctive Prayer