Israel's Shabbat Wars Are Not Just Another Political Crisis
The furor over rail maintenance on Shabbat highlights inherent contradictions in Israel's political system and real problems with its structure.
A protest in Tel Aviv against the lack of public transport on Shabbat, September 3, 2016. The main placard says, "Waiting on a bus for Shabbat."
Credit: David Bachar
A senior Western diplomat stationed in Israel admitted last week his exasperation at the difficulty of having to explain in clear terms the latest political crisis here to his superiors back home. And with good reason. The three-way struggle between Benjamin Netanyahu, Yisrael Katz and the ultra-Orthodox parties over the knotty issue of rail maintenance work on Shabbat seems like just another one of those periodical bouts of jealousy the prime minister suffers from when one of his Likud underlings receives too much favorable attention, coupled with the eternal state-and-religion tension of the Jewish State.
And then, just like that, it all seems to have blown over. Another Shabbat rolled on, work on the rails resumed, and the ultra-Orthodox parties are turning a blind eye once again. But even if the furor seems to have died down and the warring sides are edging back from the brink, this wasn't just your standard coalition crisis. The events of the last two weeks highlighted three of the contradictions inherent in Israel's basic framework – and you can't just blame Netanyahu for them, as they go back all the way to the foundation of the state.
A prime minister who cannot tell his ministers what to do.
The principle of joint cabinet responsibility is actually written into Israeli law – it's part of a Basic Law no less, which is the closest thing we have to a constitution. It says that "a minister is responsible to the prime minister for the positions he is in charge of." But as we saw quite clearly last week, Netanyahu can't even get his transportation minister to sort out which projects will go ahead when. A few days earlier, it also seemed like he couldn't direct Education Minister Naftali Bennett which schools will be closed down in Tel Aviv and where the children of African migrants can be enrolled.
The prime minister's critics repeat the mantra that "Bibi is weak." But this weakness is in no way unique to Netanyahu. With the exception of Ariel Sharon who swiftly fired ministers who openly defied his policies, all Israeli prime ministers have swallowed dissent. One explanation for this is the fact that no ruling party has ever held a Knesset majority and therefore all governments were coalition-based, but that is an insufficient explanation as also ministers who are members of the prime minister's own party have been openly defiant.
Go as far back as the mid-1950s and you have the poisonous relationship between David Ben-Gurion, Moshe Sharett and Pinhas Lavon, all members of Mapai. Likud leaders were no more authoritative; both Menachem Begin and Yitzhak Shamir stomached colleagues who openly abused them.
The weakness of prime ministers in the face of their own ministers is largely due to the tiny size of the proportionally-representative Knesset. With only 120 members, Israel has one of the smallest parliaments in the world. Even the most successful Israeli prime minister can ill afford having a fired minister on his party's back-benches stirring up trouble, when he may need that minister's vote at any moment.
Netanyahu threatened to fire Katz last week, and if half of what his aides were briefing him on the way Katz was allegedly plotting against him was true, he would have been fully justified in doing so. Ultimately, Katz continues to sit at Netanyahu's right hand in cabinet meetings because he can cause him much worse damage from outside. Every Israeli cabinet is a cabinet of rivals and they don't have to hide it. In some ways it is a useful check on a prime minister's powers, but it also leads to governmental paralysis and makes it nearly impossible to affect change.
The plausible deniability of religious desecration.
Everyone knows Israel has an inbuilt tension between the Jewish State and the Jewish religion. Ostensibly this is somehow solved by sticking to the 70-year-old "status quo" that Ben-Gurion agreed upon with the rabbis. But there's no way that the status quo can work smoothly in a 21st-century society and economy. Sticking religiously to those arrangements would in reality mean imposing unbearable restraints on Israelis.
Instead of the status quo, we have a system of plausible deniability, in which on the surface Israel officially does not work on Shabbat, the rabbinate controls all matters of family and marital status, and the health and education systems abide by the ultra-Orthodox version of Jewish law. In reality, tens of thousands work seven days a week, keeping the economy running nearly-smoothly, thousands of couples get hitched abroad without a rabbi and are registered as married upon their return, a quarter of all new immigrants in the last three decades receive citizenship under the Law of Return despite the rabbis not considering them Jews, and hospitals provide free-for-all abortions under the rubber-stamp of the "social clause." Each side can turn a blind-eye and believe that they are living in a secular, or religious society.
Except when either the "desecration" of the Torah's commandments, or their coercion, becomes too blatant to ignore and someone – usually the media, as in the latest case of rail maintenance work on Shabbat – decides to draw unwanted publicity to the convenient arrangement.
In such cases, politicians scramble to take advantage of the crisis, as Netanyahu and Katz both seem to have done. Others try to find ways to damp down the flames as quickly as possible, as Social Affairs Minister Haim Katz has done by taking charge of the Shabbat work permits and resuming the usual quiet arrangements with the Haredi politicians. But this will become more difficult as time passes, with the inevitable transparency of government and an increasingly boisterous and independent Haredi media.
As the pressures mount on an Israeli society, which is at once becoming both more religious and more Westernized, the plausible deniability that is the foundation for the façade of the status quo will be even more difficult to maintain.
Startup Nation on crumbling infrastructure.
Beyond the political strife and serial state-and-synagogue clashes, another inherent weakness revealed by the Shabbat work crisis was the woeful state of Israel's civil infrastructure. First-time visitors taking the bus or train can barely believe this is the fabled Startup Nation, especially when stuck in a fighting mob trying to board a bus in one of the sooty central bus stations reeking of urine and falafel oil.
There is only one functioning line on the central rail link with Tel Aviv; the train ride between Tel Aviv and the capital takes, if you're lucky, 81 minutes (twice what it takes by road, and it's not as if Highway One is anything to write home about); and families moving to one of the new suburbs in places like Modi'in and Shoham have little choice but to run two cars if both parents want to continue working, as public transport plans are lagging about a decade behind the inadequate supply of housing.
So why does a technological powerhouse have such an inadequate transportation infrastructure? Why do tens of thousands of software engineers waste valuable hours daily in traffic?
Those who were around in the early 1980s can remember very similar questions being asked of the discrepancy between Israel's military prowess and its financial shambles. How come a small, resource-poor country managed to build and maintain an advanced strategic advantage over the vastly larger and wealthier Arab world, but its economic sector was capable only of growing deficits?
The answer was, of course, within the question – ensuring its survival in a hostile neighborhood had spurred Israel to build an efficient army where an emphasis on the technology of its weapons and infrastructure made up for shortages of manpower. But prioritizing material and human resources on defense meant stagnation of the civilian economy.
On the brink of financial meltdown in 1984, Israel finally began reordering its priorities with major cutbacks in the military budget, a package deal with the manufacturers and trade unions on temporary price and wage freezes, and an emphasis on incentivizing the private sector, particularly in its areas of strength. By the late 1990s, the country was already a low-inflation, high-surplus dot.com superpower and it was easy to forget that only 15 years earlier, waiting time for the installation of a new phone line was measured in years. But with all the advance in high-tech communications and Israeli know-how being used in California to pilot driverless cars, physical infrastructure has continued to crumble.
It's not enough that the underground train in Greater Tel Aviv, first envisaged in 1935, is only now in its first stages of excavation. It takes the chaos of the rail system shutting down because of Shabbat and the tragedy of the collapse of a new multi-story car park for Israelis to begin to wake up to the absurdity of the situation.
How much worse does it have to get before another historic shift in national priorities finally drags Israel's roads and trains to the level of its military and communication networks? If past experience is anything to go by, it will have to get worse until a weak prime minister can finally overcome Israel's structural contradictions and make the necessary decisions.
Click the alert icon to follow topics:
ICYMI
Ken Burns' Brilliant 'The U.S. and the Holocaust' Has Only One Problem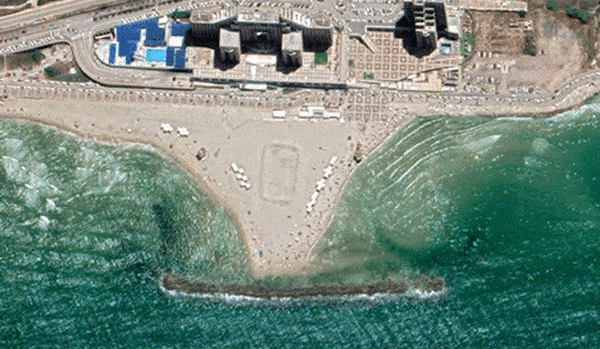 Facing Rapid Rise in Sea Levels, Israel Could Lose Large Parts of Its Coastline by 2050
As Israel Reins in Its Cyberarms Industry, an Ex-intel Officer Is Building a New Empire
How the Queen's Death Changes British Jewry's Most Distinctive Prayer
Chile Community Leaders 'Horrified' by Treatment of Israeli Envoy
Over 120 Countries, but Never Israel: Queen Elizabeth II's Unofficial Boycott