Netanyahu Declares War on Israel's Media, Gets Lesson in Constraints of Power
The prime minister has shamelessly set out to annihilate free press – zeroing in on one newspaper in particular – Yedioth Ahronoth. Members of his cabinet step in to teach him a lesson on the constraints of power.
Illustration.
Credit: Amos Biderman
At the week comes to an end, it's hard to know where to begin. Maybe with the new law enacted by the Knesset to oust MKs, just a week after passage of the so-called NGO law? Two right-wing blog posts posing as laws that smack of fascism and shame Israel as a democracy. They also drew a host of condemnations from the international community that a smart leadership would have spared itself.
The law allowing MKs to unseat their peers was originally touted as a whip to hold over wayward parliamentarians like Haneen Zoabi (Joint List). Given all the conditions included (the votes of 90 MKs, 10 of them from the opposition, are needed to oust an MK), it's clear that implementation of the legislation is not feasible and that it's neither a whip nor even a twig – only another ugly stain on Israel's law books. The same goes for the NGO law (which requires nonprofits supported by foreign governments to publicize that fact), which won't change anything in the already-transparent behavior of the left-wing organizations that are persecuted by the right. But it will help Justice Minister Ayelet Shaked when her party, Habayit Hayehudi, holds its next primary – a fair exchange by all accounts.
This was a week in which the LGBT community, which yesterday marked the first anniversary of the murder of 16-year-old Shira Banki at the annual Jerusalem pride march, elicited from one of the esteemed sons of the religious-Zionist movement sinister and ignorant remarks. But while Rabbi Yigal Levinstein from the pre-military academy in the West Bank settlement of Eli can't be accused of cynicism – he believes fully in the shocking statements he made – Jerusalem Mayor Nir Barkat reached a new low. We'll come back to him later.
And of course there are the latest pronouncements from our pitiful commissar, Culture Minister Miri Regev: against the Tel Aviv Cinematheque (offense: an event in honor of Tair Kaminer, who was released from a lengthy series of prison terms for refusing to do army service) and Army Radio (offense: broadcasting a program about the Palestinian poet Mahmoud Darwish). On the day that Regev finally comes to understand the meaning of the word "culture," Army Radio should devote a special day of broadcasts to her.
Joining the witch hunt that Regev has been engaged in against the army station from her first day in office is the new defense minister, Avigdor Lieberman. He "summoned" the station's commander, Yaron Dekel, in the wake of its "University of the Air" program about Darwish. The message of the public reprimand is clear, and was certainly internalized.
Former Prime Minister Ehud Barak noted recently that he detects buds of fascism in Israel. Well, they're no longer just buds.
For his part, Moshe Ya'alon, the former defense minister, said sarcastically that under his successor, Army Radio will henceforth broadcast only the truth, which is known as "Pravda" in Russian. Ironically, that's the word Lieberman, who is from the former Soviet Union, has used to describe Israel Hayom, the freebie newspaper and Netanyahu mouthpiece.
One of the first things Lieberman did after assuming his new post was to set up a committee under his director general, Maj. Gen. (res.) Udi Adam, to ponder the future of Army Radio. Lieberman has to learn the ropes of a monstrously huge establishment – and he's poking around at the radio station. He didn't eradicate Ismail Haniyeh in 48 hours, as he'd promised, but he could execute Army Radio within 48 days.
A step too far
There is also the political furor – whose reverberations will probably not dissipate for two weeks, when the Knesset adjourns for its summer recess – that has erupted over other issues relating to Israel's media market. We're talking about the media that the minister responsible for communications, who serves as prime minister in his spare time, has set his sights on annihilating, or at least on making it grovel.
Prime Minister Benjamin Netanyahu's craving to smash and bash every channel, site or newspaper, whether important or not, has made him lose his sense of direction. He long ago lost all shame and restraint. His hubris in the wake of the results of the March 2015 election is still surging, maybe more than ever. This week, though, he went one step too far – which led to a countermove by leaders of the coalition parties. Their eyes were opened, albeit belatedly. It became apparent to them, as Education Minister Naftali Bennett said, that Netanyahu is charging ahead with heavy machinery to crush parts of the free media in Israel, determined to break them. Why? Because he can.
We'll start with the lesser issues. Last week, I wrote about a bill submitted by MK Miki Rosenthal (Zionist Union) that would limit hidden advertising in news items. The most ardent supporter of the legislation, which if implemented will hurt primarily the Yedioth Ahronoth Group, turned out to be none other than Netanyahu. But, cognizant that his support would generate legitimate suspicions in the political arena, he preferred to act behind the scenes.
In the wake of the Haaretz report, however, Netanyahu no longer felt a need to hide behind the broad back of coalition chairman David Bitan (Likud). On Sunday, at the weekly meeting of heads of coalition parties, he asked the ministers to vote in favor of Rosenthal's bill when it came before the Knesset on Wednesday.
Bennett objected. Health Minister Yaakov Litzman (United Torah Judaism) explained that the legislation might hurt the ultra-Orthodox media, where the precept of using hidden advertising is sacred. To which Netanyahu whipped out a prepared amendment: "Let's say the law will only apply to newspapers with a circulation of 50,000 and more."
Litzman asked for more time. The next day, despite heavy pressure from the prime minister's aides, he stated that his position was unchanged: against. Litzman knows that what starts with 50,000 can slide to who-knows-where. Some initiatives are best destroyed in the embryonic stage.
Unbalanced tactics
The second target in the sights of Communications Minister Netanyahu is the Knesset TV Channel, which has been broadcasting for the past 12 years. It's unbiased, balanced, of high quality, and original and illuminating. There's only one problem: It's operated and managed by Channel 2 News, which tops the blacklist of the minister and his family. Netanyahu wants to remove the current operator in favor of a more convenient one. The name being bruited in the Knesset is Netanyahu's good friend Shaul Elovitch, the billionaire owner of Bezeq Communications and the Walla News site (Elovitch's activity on behalf of the Netanyahus was detailed in Haaretz a few months ago by Gidi Weitz). The weapon: legislation that would allow Walla to submit a bid in the soon-to-be-issued tender for the Knesset Channel.
The Knesset's House Committee discussed the legislation this week. One committee member (whose identity is known to yours truly) from a coalition party tried to amend the so-called "Elovitch clause." In the midst of stormy arguments, he got a furious call from a senior confidant of the prime minister. "Drop it immediately," the caller ordered. "Bibi is not willing under any circumstances for Channel 2 to continue there."
About a month ago, Attorney General Avichai Mendelblit forbade Netanyahu to be involved in any issue directly or indirectly connected to Elovitch. This responsibility was given instead to Minister without Portfolio Tzachi Hanegbi, a close associate of Netanyahu's – truly an impressive firewall. Now some people are asking whether the premier's active involvement, personally or via members of his staff, in discussions of the Knesset Channel's fate do not conflict with this ban.
Netanyahu's gluttony for controlling media outlets that aren't exactly experiencing a surfeit of high ratings or influence has no rational explanation. Just this week, it led to an assault on him by two ministers from his coalition, Bennett and Finance Minister Moshe Kahlon (Kulanu), along with Public Security Minister Gilad Erdan from Likud and President Reuven Rivlin. Rivlin, a former Knesset Speaker, remembers Netanyahu's complaints about the Knesset Channel from the old days. For example, he asked, why Prof. Mordechai Kremnitzer, from the Israel Democracy Institute, hosts a program on the station. "For us, it's a great honor," Rivlin responded to Netanyahu at the time. Under the wording of the legislation now under discussion, there would probably be no place for programs of that kind.
Corporate news
In 2011, Education Minister Gideon Sa'ar announced his intention to appoint Eldad Koblenz, an esteemed journalist and administrator, as director general of Educational Television. A professional search committee agreed with the choice. But Netanyahu, for reasons known only to him, delayed the appointment for months, before finally giving in. A few years later, during Gilad Erdan's tenure as communications minister, Koblenz was appointed CEO of the public broadcasting corporation that is destined to replace the Israel Broadcasting Authority. Like Koblenz, Gil Omer, the chairman of the new body, also did a stint at Army Radio.
To journalists, the two make for a terrific combination in terms of quality and professionalism. But the last thing Netanyahu wants is an independent, fighting, ambitious media outlet with execs to match. Koblenz's association with Sa'ar and Erdan only heightens the danger.
"Have you lost your mind?" Likud ministers who are close to Netanyahu asked Bennett this week, when he launched his broadside against Netanyahu this week. "Do you want another Channel 10? Another Army Radio?"
Bennett, actually, has no problem with either of the men. He's one of the rare politicians who is capable of accommodating and internalizing criticism, however nasty. He certainly has no interest in paving the way for a media organization that will serve the Prime Minister's Bureau.
By deciding to postpone by 15 months, from this October until January 1, 2018, the launch of the new broadcasting corporation, Netanyahu isn't necessarily out to kill that body. It turns out that his real aim is to humiliate and frustrate Koblenz and Omer so that they will resign, enabling the premier's appointment of two marionettes – of which he already has many in the realm of communications. At that point he will no longer have a problem with the corporation or its launch date.
Every political player who was exposed to Netanyahu's carpet-bombing of the media this week understands that, in addition to taking revenge and getting rid of anyone who doesn't venerate him, the man is focused on preparing for the next election. There's no other explanation for this frenetic activity. It's either because of the progress the police are making in the investigation about him, or he's doing all this to be on the safe side, come what may. The weaker and poorer and more subordinate to the chief regulator (Netanyahu) the variouso media outlets are, the better for the prime minister. And the more restrained and reeducated other media bodies – such as the new corporation or the Knesset Channel – are, and the more they are under Netanyahu's thumb, the better things will be in the election. That's the final destination.
Follow the money
On Monday, the prime minister, foreign minister, communications minister and economy minister answered MKs' questions in the Knesset plenum. One question, apparently "planted," dealt with the new broadcasting corporation. Netanyahu's reply sounded odd, unconnected. He mumbled something about "getting a lot of complaints" and then declared that the corporation "isn't coming together." He also said the corporation would broadcast exclusively from Jerusalem, despite reports that it would initially be based in Modi'in, until a proper space can be found in the capital.
A few hours later, the head of the Histadrut labor federation, Avi Nissenkorn, announced a delay in the launch of the new corporation (which he now undoubtedly regrets); only afterward did a similar statement come from Communications Minister Netanyahu. The latter cited the need for more time and the fact that no available premises have been located in Jerusalem. Nissenkorn promised that journalists and other personnel who had already left the IBA would continue to receive a salary until the new corporation becomes operational.
The justifications and excuses for the postponement decision are easily refutable. First, even if the corporation would be happy to have more time, the moment a date was set for this fall, some 220 staff were recruited, contracts were signed, and it was clear the deadline would be met. Koblenz and Omer would have seen to that.
Nissenkorn's promise to pay salaries – something he's not in a position to fulfill, as he's not the finance minister – is humiliating. Who wants to stay home for 18 months doing nothing and getting paid for it?
As for Netanyahu's argument about Jerusalem, someone remarked, "Bibi, of all people, the great freezer of construction in Jerusalem in the past seven years, is complaining that there's no available building. He's right. There is none, because he's not allowing construction."
On Thursday, Netanyahu's ambitious move seemed to be encountering obstacles. Bennett stood his ground in continuing to talk about defending freedom of expression, but equally enjoyed torpedoing the premier's media ideas. Erdan launched a campaign against the decision, explaining to every cabinet minister who asks why it's disastrous. Kahlon, the finance minister, learned by chance, without having been briefed in advance, that simultaneously funding the old IBA and the new corporation through January 2018 will require him to sign a check for 500 million shekels ($125 million), and said that he couldn't be counted on to play ball. He told Netanyahu that the state coffers will not be his private ATM to underwrite his purges or his takeover of the Israeli media.
The person who foiled Netanyahu in this case is the director general of the Communications Ministry, Shlomo Filber. He had told Netanyahu that the postponement would cost 30 million shekels and that the missing funds would come from "vehicle fees" or something weird like that. Filber promised? Well, let Filber pay, they said in the Finance Ministry on Thursday.
Pride and prejudice
Nir Barkat could have simply not attended the pride parade on Thursday night in the city of which he's the mayor. It would have passed quietly. Or he could have come, said a few words in memory of Shira Banki, consoled the bereaved family and left. He certainly didn't have to march if he didn't want to.
The way he chose to publicize his intended absence from the parade – with an exclusive front-page article in Yedioth Ahronoth accompanied by a flattering photo – will be remembered for a long time as one of the most cynical and shameful political displays ever seen in these parts. And we have plenty of politicians for whom "values" and "integrity" are dirty words.
Nor did he gain much from it. Most of the public is gradually getting used to the LGBT community and showing tolerance. Members of the national-religious movement were also planning to participate in Thursday's event, in solidarity with the girl who was murdered. Many on the political right said they were in favor of the parade.
What did Barkat hope to attain? More votes? Whose? Of a few fanatics on the religious right who support Habayit Hayehudi MK Bezalel Smotrich? Barkat is not a homophobe. Far from it. Does he really believe that turning his back publicly and provocatively on a community that is still licking its wounds will allow him to ascend another notch on Likud's Knesset slate? A secular mayor who's a millionaire, enlightened, a man of the world, in whose city an innocent girl was murdered, impugns an event that is in large measure being held in her memory.
His joining Likud was not welcomed very enthusiastically in the party. According to activists, he's having trouble recruiting supporters. Boycotting the pride parade is an attempt – perhaps desperate – by Barkat to allow himself to stand out over other Likud figures, but it's a move that won't get him even one extra vote. This is the man, who this week gave opportunism such a bad name, who aspires to be education minister in the next government, before continuing his race to the top.
ICYMI
Ken Burns' Brilliant 'The U.S. and the Holocaust' Has Only One Problem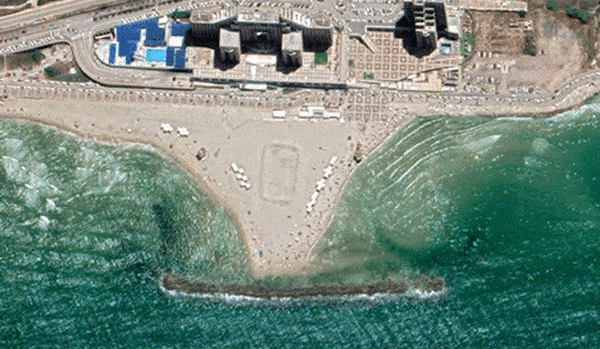 Facing Rapid Rise in Sea Levels, Israel Could Lose Large Parts of Its Coastline by 2050
As Israel Reins in Its Cyberarms Industry, an Ex-intel Officer Is Building a New Empire
How the Queen's Death Changes British Jewry's Most Distinctive Prayer
Chile Community Leaders 'Horrified' by Treatment of Israeli Envoy
Over 120 Countries, but Never Israel: Queen Elizabeth II's Unofficial Boycott